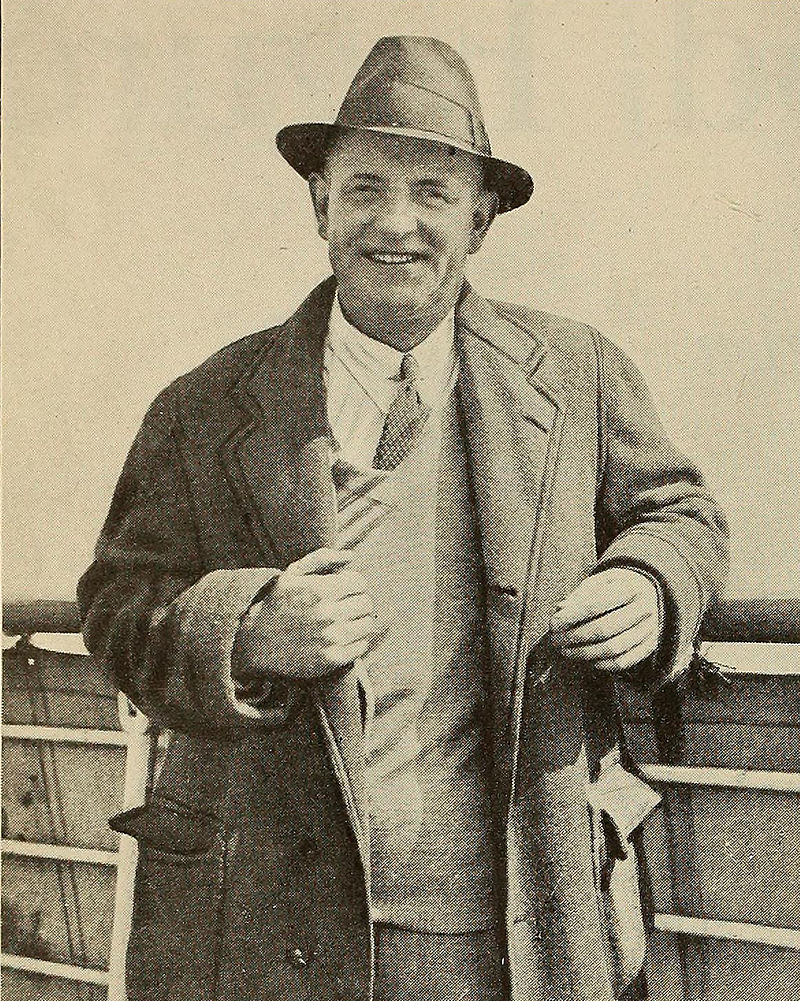 Nowadays comedy in popular culture comes from television or the internet, but there was a time when people depended primarily on books for humor. Hardly anyone was more well-known or prolific at this than P.G. Wodehouse.
Sir Pelham Grenville Wodehouse was born in 1881, the son of a wealthy magistrate. He originally became a banker, but got bored of the profession and started writing in his free time. When he started to get published, he quit and started writing full time, releasing massive amounts of work.
As the author of over 70 novels and dozens of plays, Wodehouse wrote from the beginning of the 20th century all the way until his death in 1975. He is known for his satirical pieces of work, particularly ones lampooning his own upper class social set. Whimsical, biting, and fun, it's no wonder how his novels have stood the test of time.
Jeeves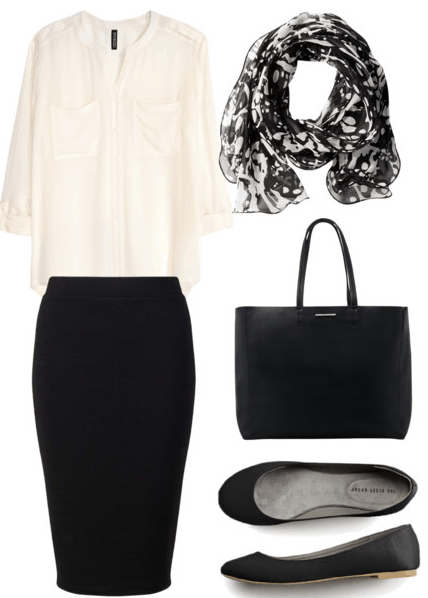 Products: Top, Skirt, Shoes, Bag, Scarf
Every American has that stereotypical butler imprinted in their head from books and TV shows. You know, the one who manages everything in the way only he can. The one that only answers "Yes, sir" or "No, sir." The ever-loyal Jeeves. That cultural icon can be traced directly back to Wodehouse's character by the same name. Jeeves is super competent, amazingly smart, and a little bit of a schemer. Take inspiration from this iconic character with this look.
The typical butler uniform in popular culture is a simple black and white suit with no frills, except maybe with a cravat. Create an efficient, polished, and professional outfit with a blouse with a classic pencil skirt. Keep it streamlined with plain black flats and a black carry-all tote. You could stop there for a minimalist vibe, or you could tie a scarf, black and white of course, in a bow on your tote for a nice girly touch.
Leisure Time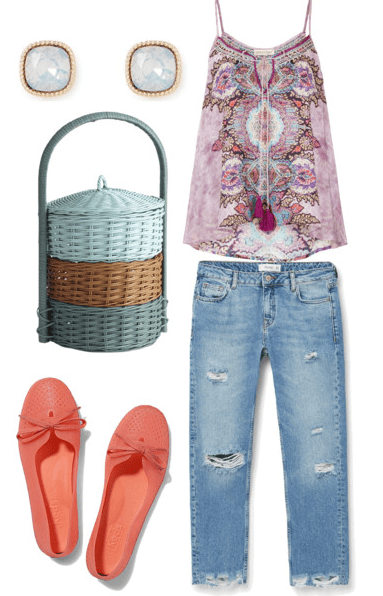 Products: Tank, Jeans, Earrings, Shoes, Basket
Most of Wodehouse's books follow the upper echelons of English society and their misadventures and worries over very silly things. Such plots include fighting over a cow creamer, or attempting to sabotage someone's reputation. These characters are people that have way too much time and money on their hands.
Channel these society characters with a leisurely look. This top really says springtime to me when you pair it with ripped boyfriend jeans for a comfortable day look. Add some simple earrings that don't get in the way and a pair of jelly flats for a quirky, practical shoe. Carry this picnic basket to a nice meal outside.
Snob Hill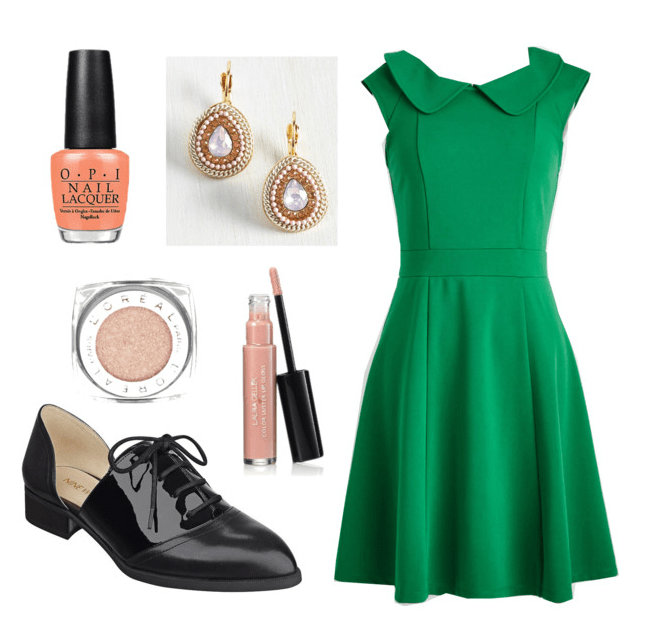 Products: Dress, Shoes, Earrings, Lip gloss, Eyeshadow, Nail polish
The plays and novels of P.G. Wodehouse usually follow high society characters, with troubles and turmoils that us modern folks won't quite relate to as much as people did earlier in the century. Still, satirizing these snobbish, silly characters is universally recognizable and enjoyable.
This polished, flirty green dress is easy to dress up or down – dress it up in this case for a classy event. Wear these shiny oxfords with a sparkly eye look and glossy lips. Wrap up the look with bedazzled earrings and another pop of color on your nails.
Brit Comedy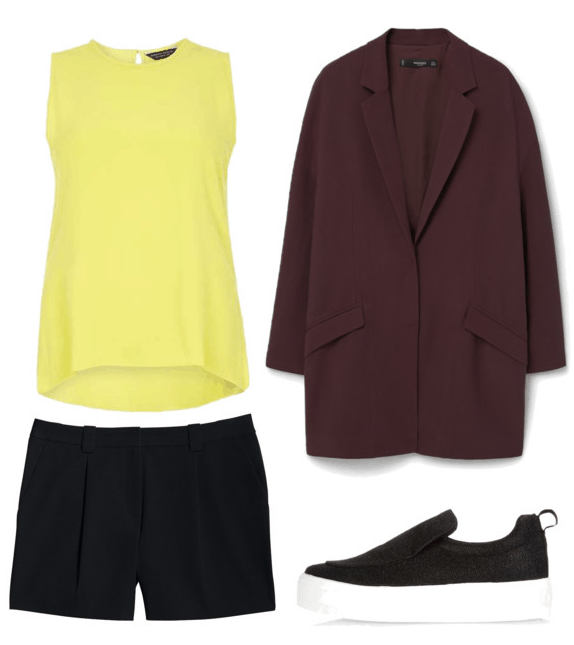 Products: Top, Shorts, Blazer, Shoes
Wodehouse and his work are unmistakably British, and not just in the setting and characters, but also in his diction, which is ripe with words like "laddie" and "chap". It is distinct and draws you into the world of the characters, and it is also a lot of fun to read from an American outsider's perspective.
For a British cool look, pair a burgundy blazer with black tap shorts for a chic spring vibe. This yellow top complements rather than clashes with the blazer, and makes the outfit lighter for the spring weather. Finish off with these comfy, trendy slip-ons and you're good to go!
Final Thoughts
P.G. Wodehouse is one of those classic humorist novelists that you either love or find dreadful to read. I believe his wit and classic characters are worth the praise.
So what did you think? Have you read P.G. Wodehouse? Which outfit is your favorite? What author would you like to see next? Let us know in the comments down below!