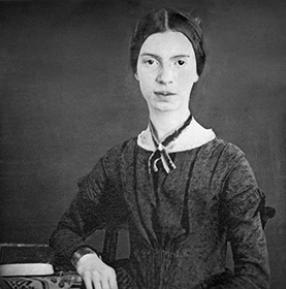 Think of your favorite poet. Who comes to mind? Is it the dark and mysterious Edgar Allan Poe? Perhaps sensitive and romantic John Keats? If you're like me, it's one female poet that stands out beyond the rest: Emily Dickinson.
Dickinson never had fame during her life. Her poems were published posthumously against her wishes by her sister Lavinia. While I don't often promote going against a person's last will, I believe Lavinia did the world a favor. Emily did not pursue a career, in fact, she rarely left the house! Close to her siblings and father, she kept mostly to her family home in Massachusetts until her death in 1886, dedicating her life to solitude, reading great authors such as Keats, the Brownings, and Whitman, and writing poems.
Since Emily wrote for enjoyment and fulfillment, and not for any profit, her work is a rare study in making it whatever she wanted it to be. She doesn't commit to one style of poetry, one strict form or another. Her work is completely unique, which is why it is remembered so many years after her death.
Let's dive into some tales of hope, death, and flowers, and take some fashion inspiration from the poetry of Emily Dickinson.
She's happy, with a new Content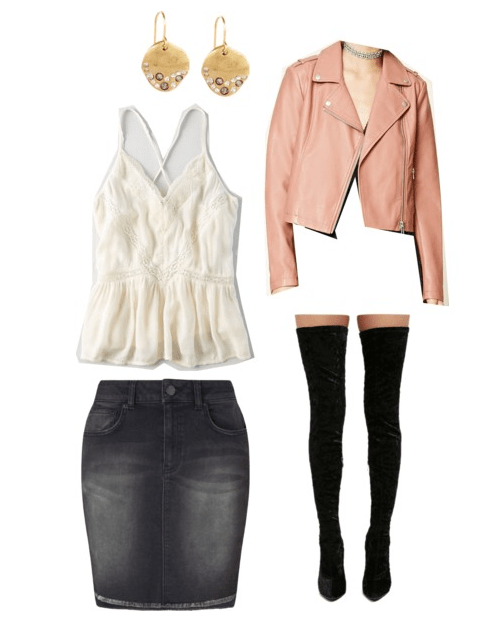 Products: Earrings – Chloe and Isabel, Tank – AEO, Skirt – Miss Selfridge, Jacket – Forever 21, Boots – Lulu's
If you think the titles of these outfits today are a bit strange, it's because Emily Dickinson never actually named any of her poems, so they are referred to by the first line of the poem. Let's start our inspiration with this poem, which focuses on the theme of happiness. In this poem, the narrator takes contentment from religion, which Dickinson featured a lot in her poetry.
For your own piece of contentment, take some pale neutral pieces, like this ivory top that's versatile for the upcoming season change, and this pink jacket. Pair these neutrals with a dark denim skirt and knee-high boots, both of which are definitely on trend.
Mixing dark and light neutrals not only creates a great look, it also reflects Dickinson's tendency to bounce between dark and light themes in her poetry. Finish off with some unique earrings.
Because I could not stop for Death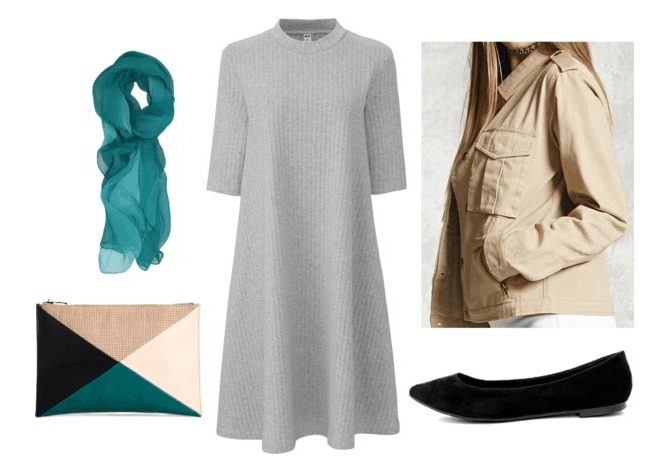 Products: Scarf – Amazon, Clutch – Sole Society, Dress – Uniqlo, Jacket – Forever 21, Flats – Lulu's
Dickinson often explored death in her poems: It is likely that she was influenced by the deaths of her parents and several close friends. In this poem, Death is a gentleman, yet still carries the narrator off to her grave, in a way that is paradoxically unsettling and peaceful.
A grey dress and black ballet flats provide a blank sartorial canvas to reflect any season or mood you choose. This versatile jacket will keep you warm, while these colorful accessories, the scarf and the clutch, add complexity to the look.
Hope is the Thing with Feathers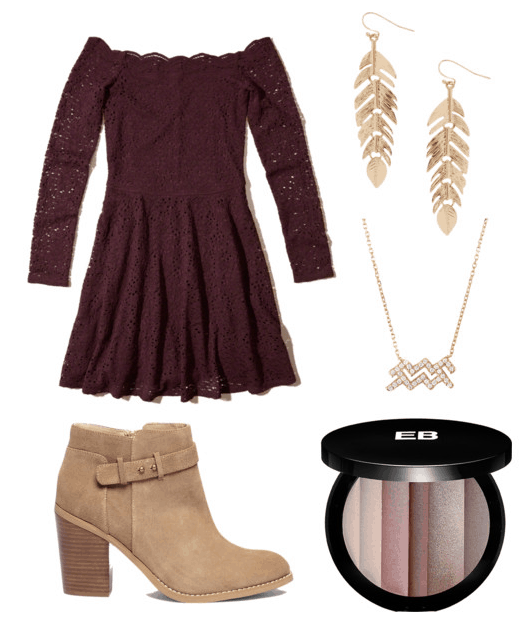 Products: Dress – Hollister, Booties – Sole Society, Eyeshadow – Bergdorf Goodman, Necklace – Popmap, Earrings – Humblechic
This is arguably Dickinson's most famous poem. No doubt you've seen this quote somewhere or another, but today let's dissect it for style.
Emily Dickinson is often depicted as the stereotypical lonely, shut-in spinster in a long, white, lace dress. Let's change this image up with a rich burgundy dress featuring that same lace look. It's both modern and traditional, like these classic neutral booties and shimmery eyeshadow. Finish the look with glittery jewelry for a classy and elegant look.
The bird in this poem is a clear metaphor for hope and strength, having the freedom to fly anywhere and do anything. The poem is about becoming strong, a lesson that can inspire every college-age woman.
Final Thoughts
Emily Dickinson may have been shut in throughout her life, but posthumously, she is one of the greatest American poets to ever live. From her universally deep themes to her unique meter and style, she is truly a poetry legend.
So what did you think? Have you read Emily Dickinson? Who is your favorite poet? Would you like to see more poetry-themed posts?
Let us know in the comments below!