I saw "Atomic Blonde" recently and was immediately inspired by the beautiful contrasts of the two sides of the Berlin Wall, the sultry visuals of the female spies, and the amazing clothes Lorraine (Charlize Theron) wears while kicking ass.
The focus on the fall of the Berlin Wall also has a special place in my heart because my family was separated by the wall, and its fall in 1989 is something my parents still talk about as some of the greatest days of the century.
"Atomic Blonde", based on the graphic novel "The Coldest City", centers around Lorraine, an MI6 agent. Lorraine is sent to Berlin only days before the fall of the Wall to try to re-capture "The List" (a list of all the spies infiltrating enemy territory) before it falls into Soviet hands. There, she brings both sexual tension and violence to foreign agents while beating up approximately 867 bad guys in her mission to obtain "The List" for herself.
Clothing-wise, Lorraine sticks with high end classics. Almost every piece she wears is designer: Think Dior, Burberry, Balmain, and Saint Laurent. (Yeah, you want to see this movie for the clothes alone!)
Today, I'll show you how to get some Atomic Blonde fashion for yourself. While we're all on a budget, note that some of the items featured today are a little pricier than our usual standards — that's because Lorraine's closet is made up of staple pieces you'll wear for years. Those, as we've discussed before, are worth saving up for.
Now let's get to the Atomic Blonde outfits!
Atomic Blonde Fashion: Outfit 1 – The Infamous Red Shoe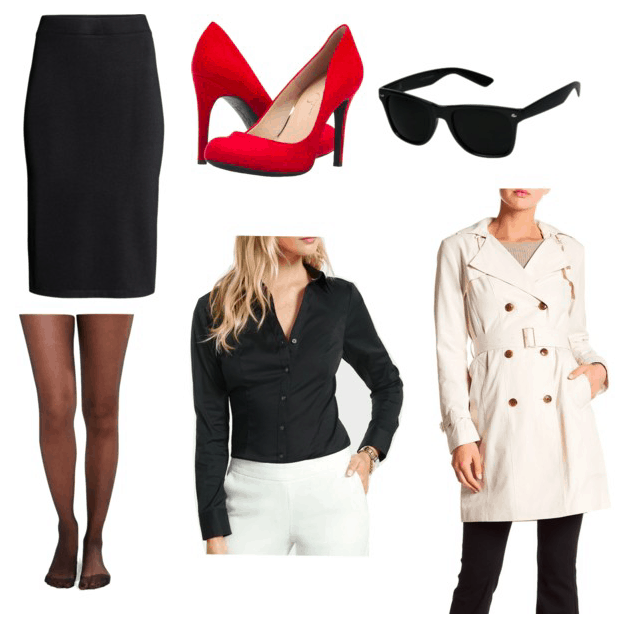 Products: Pencil skirt – H&M, Tights – ASOS, Shoes – Amazon, Blouse – Express, Sunglasses – Walmart, Coat – Nordstrom Rack
If you've seen a trailer for "Atomic Blonde", you've seen the part where Lorraine fights off and kills her abductors with her red Dior stiletto. (And if you haven't, watch the trailer here!)
Although we can't recommend using these shoes for murder, you'll be dressed to kill with an all black outfit and contrasting white coat. Red high heels add the dash of drama that defines Lorraine. Of course, don't forget her omnipresent black sunglasses!
Each of these pieces (except perhaps her stilettos!) are appropriate for a variety of professional occasions and can be considered investment pieces.
Atomic Blonde Fashion: Outfit 2 – The "Atomic Blonde" cover look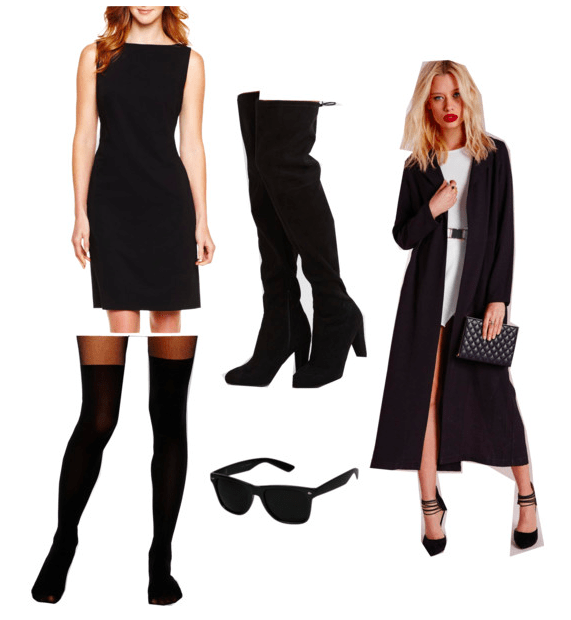 Products: Dress – JCPenney, Tights – ASOS, Boots – Charlotte Russe, Sunglasses – Walmart, Coat – MissGuided
Lorraine definitely represents the traditional "spy look" with the outfit seen on the cover of "Atomic Blonde". Start with a black sheath dress, then add faux thigh-high tights .
Lorraine's thigh-high boots are the bold statement piece of this look, exemplifying the daring attitude she brings to both her work and her clothing. Add a long black coat to mirror her trench and represent your own sense of spy-like mystery.
Although thigh-high boots can be tricky to incorporate into your everyday look (see our over-the-knee boot styling ideas for help), the black sheath dress is easy. It's a good choice for interviews or work! Finally, the black coat is a stylish transition piece to colder weather.
Atomic Blonde Fashion: Outfit 3 – Delphine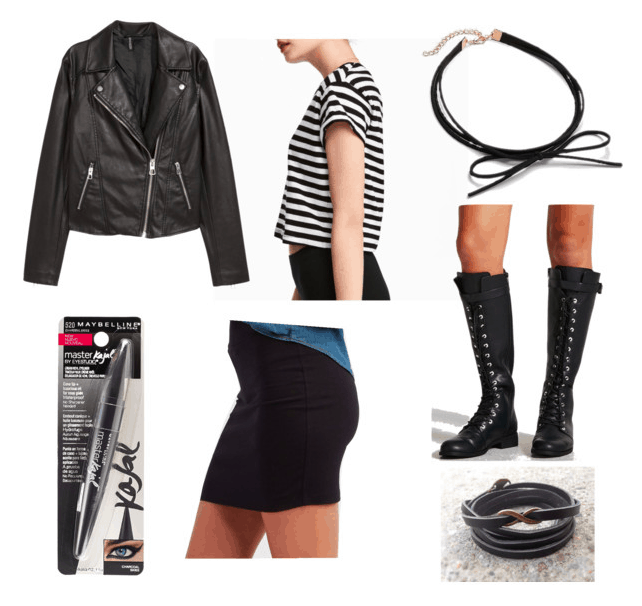 Products: Leather Jacket – H&M, Striped Shirt – H&M, Eyeliner – Amazon, Skirt – Charlotte Russe, Choker – Maurices, Boots – Forever 21, Choker – Etsy
* Here be spoilers, so beware: *
Delphine, the beautiful French agent who falls in love with Lorraine, has a much younger style that fits with the punk style of 1980s West Germany.
In the novel, Delphine is actually a man named Pierre. However in the movie adaptation, Delphine is a she and an important character to the story – Delphine offers Lorraine the few moments happiness she exhibits in the film.
Unfortunately for Lorraine and Delphine, however, Delphine is supposed to represent the infamous "Bond girls" – a woman who bewitches the main character but is suddenly and tragically killed off so our main character is open for the next love affair. Ouch.
Delphine's grunge look fits in fairly well with the current '90s throwback style we're seeing everywhere. She always wears some sort of choker necklace and some combat boots.
Her casual striped T-shirt and mini-skirt are easy everyday wear, but add tights and a leather jacket to elevate your look. Definitely include some bracelets as well, since Delphine is always well-accessorized.
Sofia Boutella, who plays Delphine, was born in Bab El Oeud, Algeria, before moving to France. Middle Eastern influence can be seen in the heavy kohl she wears throughout the movie. Traditional kohl is a powder applied with a wand. However, kohl is actually illegal to import or sell in the United States because of FDA concerns.
Maybelline's kajal eyeliner, however, is based on kohl (kajal is the Southeast Asian term for it) and is a way to recreate Delphine's look without having to start your own smuggling business. Line your eyes heavily on both upper and lower lids, and add some extra to your eyelashes to darken them as well!
Final Thoughts
Have you seen "Atomic Blonde"? Are any of these looks you would want to do in real life? Did you enjoy the random history facts? Leave a comment below!