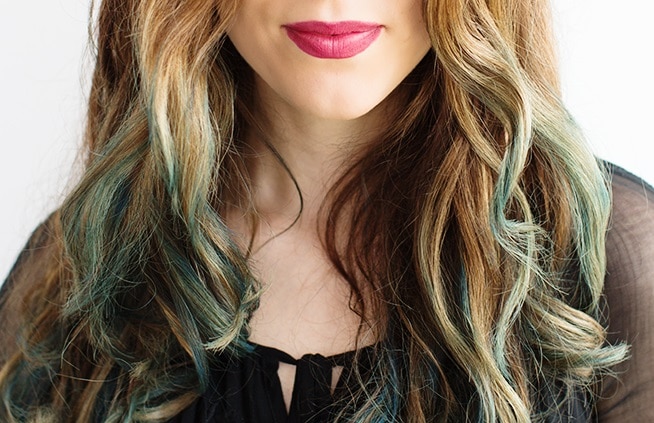 Have you seen Yona of the Dawn? It so good. I'd love to see you do a post on it sometime, it has some great characters and beautiful animation!- Mary Hannah J.
Thanks to recent reader requests, today's post will be based on the Japanese animated series, Akatsuki no Yona (literally translated as "Yona of the Red Dawn" but also known as "Yona of the Dawn" and "Yona: the Girl Standing in the Blush of Dawn").
Yona of the Dawn is an incredible series that does so many things right that most in its genre are unable to – and it does so with an amazing female lead supported by an equally stellar cast of male characters. It proves that the shojo (defined below)/historical combination isn't dead, can be successful and well-done, and ultimately it's a heartfelt series that manages to combine tragedy and comedy in an entertaining, colorful package.
shōjo: genre aimed towards girls, literally translated as "young woman"
Yona of the Dawn Crash Course
https://www.youtube.com/watch?v=pfgNlVdDnxs
What would you do if you lost everything to the one person you cared about most? Trust is easily extended when you live a sheltered life, and it makes betrayal all the more bitter of a pill to swallow. Yet it is not revenge that spurs our heroine ultimately — for the line between love and hate is thin and the subsequent balancing act is a chaotic mess of feelings too tangled to be measured in one simple word.
Princess Yona lives a life of luxury and ease, completely sheltered from the problems of the seemingly peaceful Kingdom of Kouka. She has it all. However, the sudden murder of her father, the emperor, and the betrayal of her beloved cousin, Soo-Won, shatters her near-perfect world and places Yona's life in mortal peril.
Forced to escape only under the protection of Hak, her childhood friend and bodyguard, the naïve princess soon discovers that Kouka is not the idyllic place she envisioned it to be. Poverty, strife, and corruption run rampant, making reclaiming the throne nothing more than a wishful fantasy given the kingdom's current state.
Based on the popular manga of the same name by Mizuho Kusanagi, Akatsuki no Yona follows Princess Yona on a coming-of-age adventure as she faces the harsh realities of her kingdom. With only a mysterious legend to guide her, Yona must discover a way to restore Kouka to its former glory while being pursued relentlessly by the forces of the new King of Kouka.
Yona of the Dawn Fashion Inspiration
Categorized as historical fiction, Yona of the Dawn is loosely based on the Three Kingdoms of Korea period and draws its inspiration from traditional Korean culture, retold as a Japanese anime that aired from October 2014 to March 2015.
Yona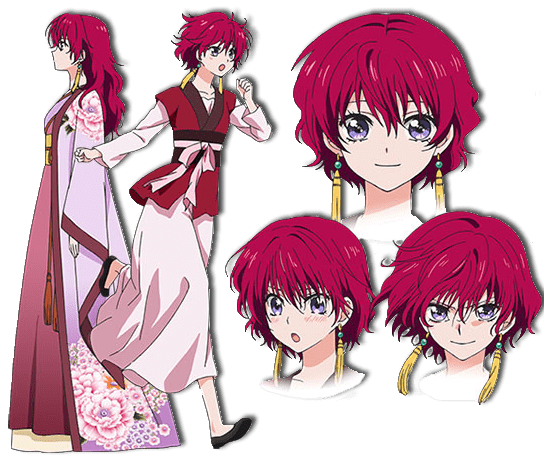 As the princess and the only heir of the Kouka Kingdom, Yona was raised with extreme care, luxurious gifts, and beautiful accessories and clothing. She starts off weak and fragile like a kitten but develops into someone more brave, powerful, and compelling. On her 16th birthday, she was forced into a life on the run after her father was murdered by Soo-Won.
At the start of the series, she is a girl in short stature with purple eyes and long, wavy red hair; however, after a series of events, she slices off her hair with a sword to avoid being captured. Yona changes from a spoiled princess into a strong young woman who lives for the people of Kouka Kingdom, while also paying back the friends who helped her survive.
Her current outfit is made up of a white gown and a red vest with dark burgundy trim and a light pink sash tied around her waist. She often wears a cape with a hood to hide her full appearance, particularly her red hair. She is also never seen without the same pair of elegant, long earrings. Throughout the series Yona's eyes have had a fiery look in them, this happens when her friend's life is in danger.
Outfit #1: Yona of the Red Dawn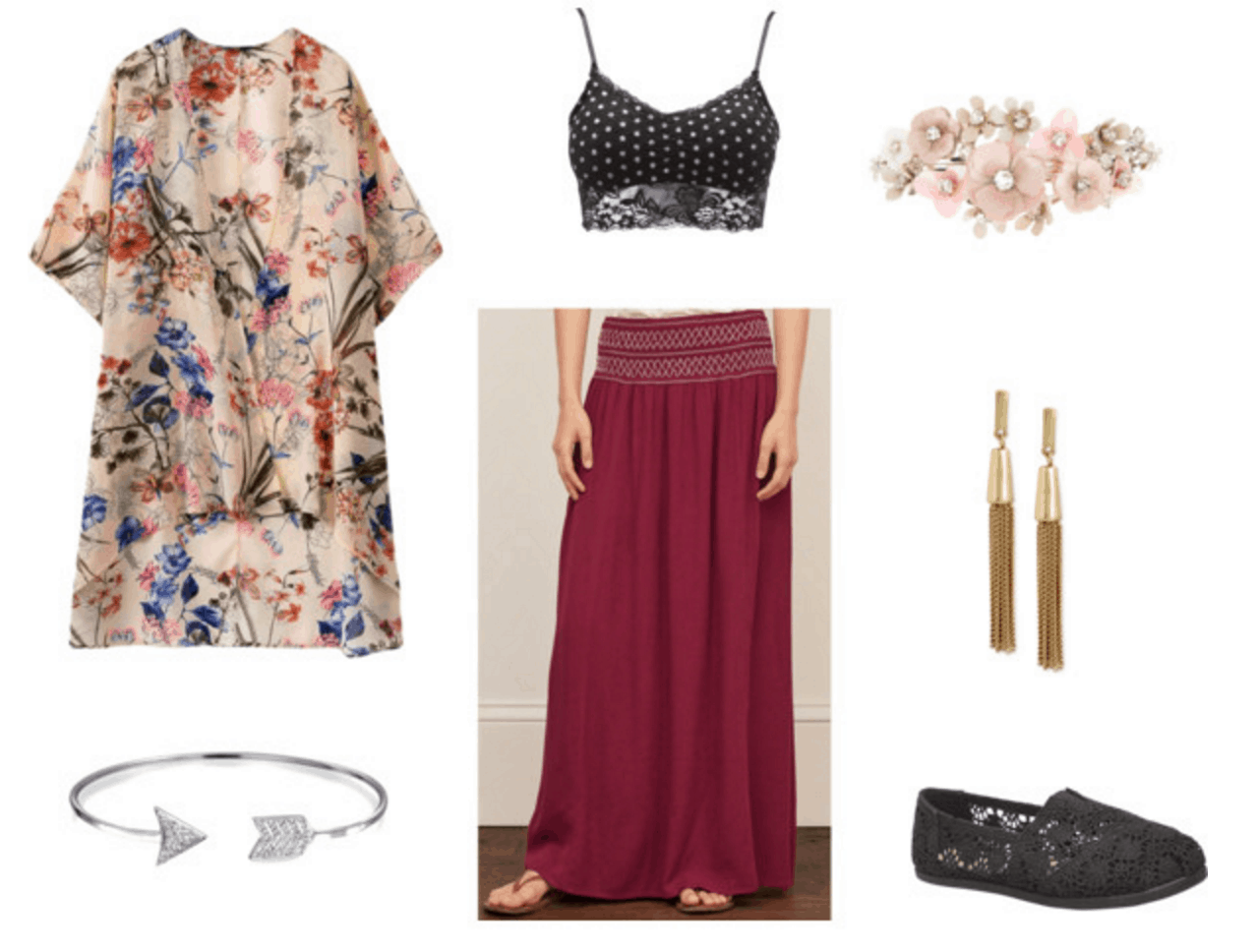 Products: kimono, bangle, bralette, skirt, hair piece, earrings, shoes
True to the title of the series, this look's focus is all about sunset tones. Stay consistent with Yona's princess-length silhouette by pairing a smocked maxi skirt in dramatic red with a feminine and floral kimono cardigan. To keep it from looking overly draped and drab, wear this combo with an interesting and smartly proportioned bralette or crop top.
Because of Yona's thorough character development, I created this outfit intending it to be feminine and elegant, while also capturing her fighting spirit. I also included a few fun accessories as references to the plot, such as Yona's elegant tassel earrings, her memorable hair piece birthday gift from Soo-Won, and a silver arrow bangle.
Hak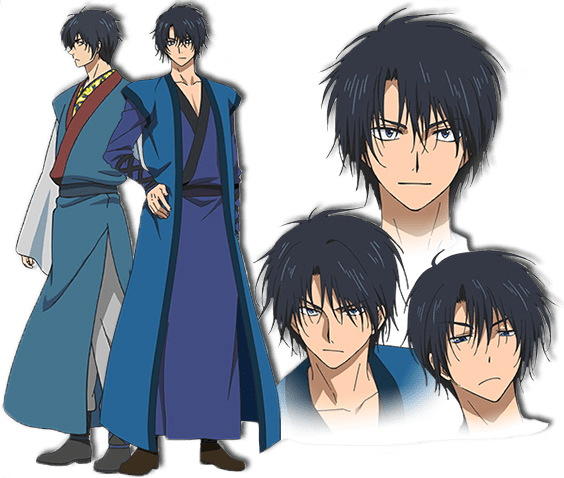 Hak is the former General and Chief of the Wind Tribe. Adopted into the Kouka Kingdom, he is the childhood friend of Yona and Soo-Won. He is notoriously known as "the Thunder Beast" due to his outstanding combat skills. After Soo-Won kills the Kouka emperor, Hak helps Yona escape from the castle. In love with Yona, Hak can't help but display his affection toward her.
Outfit #2: The Thunder Beast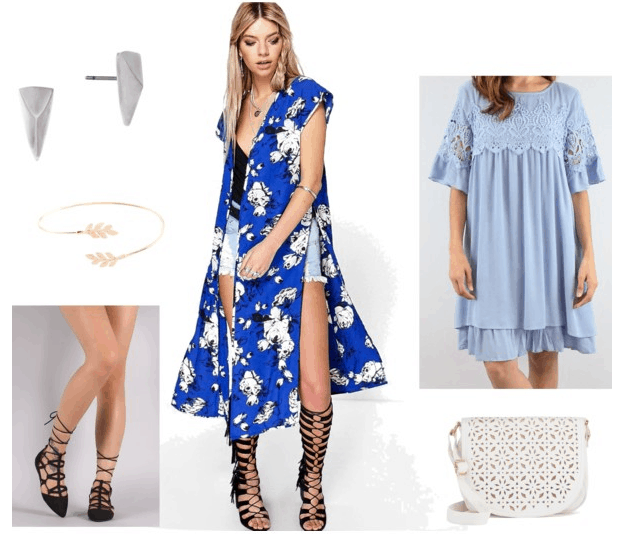 Products: earrings, bangle, shoes, longline kimono, dress, purse
This look incorporates Hak's outfit in monochromatic blue. For this, I found a beautifully detailed shift dress in this year's serenity blue and paired it with a longline floral kimono in a bold cobalt shade. Despite his mischievous and lone wolf attitude, Hak has a secret soft spot for Yona, so to portray this I incorporated soft, earthy accessories.
Soo-Won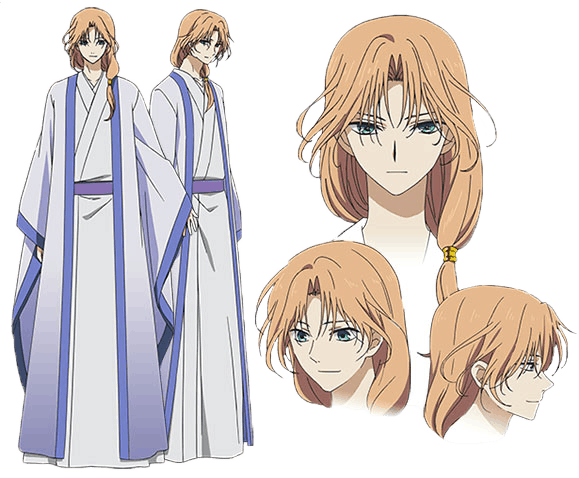 After the murder of his predecessor and the disappearance of the kingdom's only heir, Soo-Won became the current king of the Kouka Kingdom. He is the son of a deceased General, the older cousin of Yona, and the childhood friend of both her and Hak. Currently, he resolves internal conflicts inside Kouka in order to bring the country back to the strong nation it used to be, after Yona's father's reign.
Outfit #3: Betrayal in White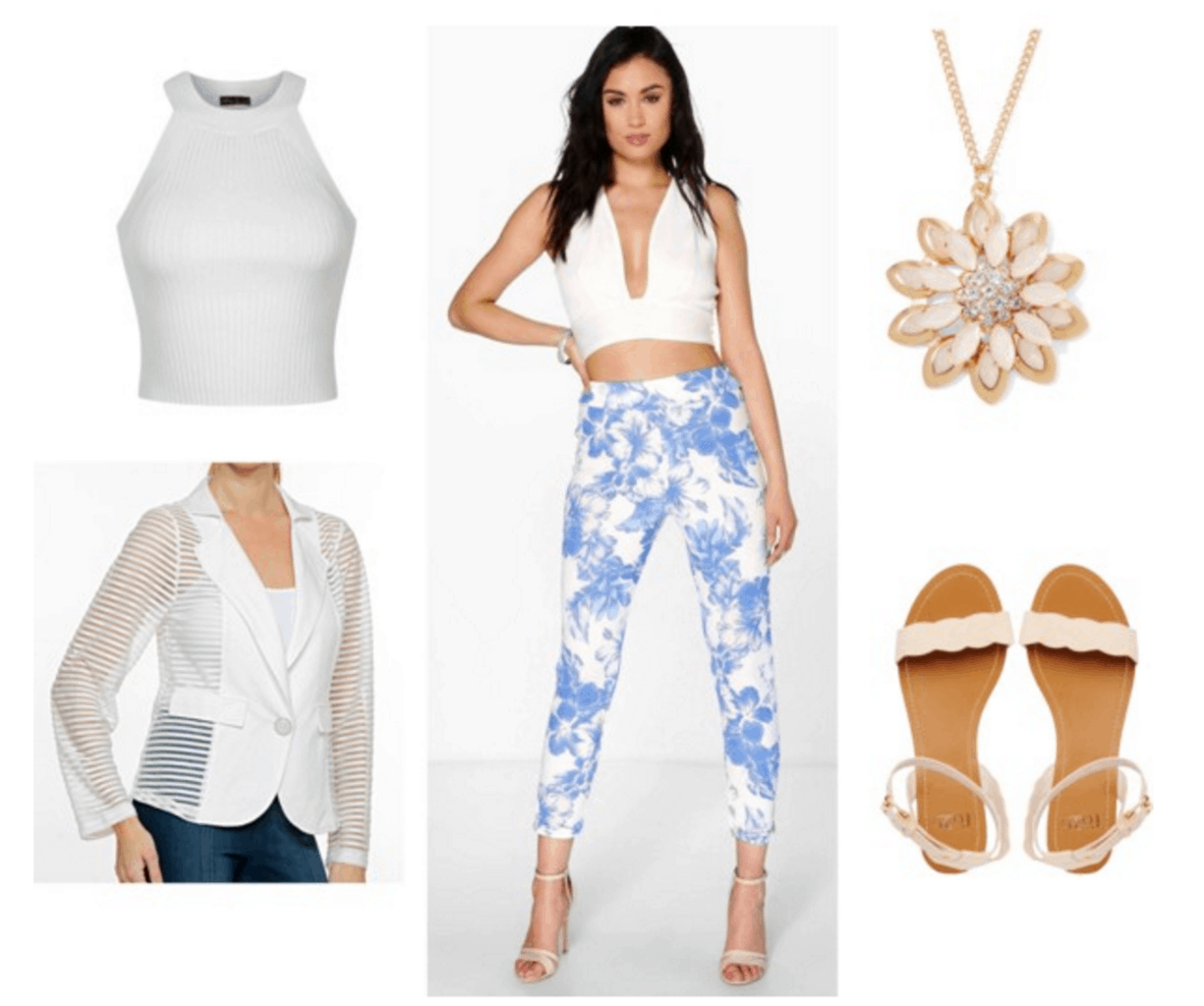 Products: top, blazer, trousers, necklace, shoes
Soo-Won is a tall young man with a feminine face, often described as being childish, angelic, and naive when he was young childhood friends with Yona and Hak. For this look, I created a feminine, smartly proportioned look in white, perfect for a cunning villain. I paired a white halter top with blue and white floral trousers, a mesh detailed white blazer and neutral and feminine accessories.
Final Thoughts?
What did you think of the looks? Any favorites or dislikes of the tips? Are you a fan of Yona of the Dawn? Would you like to request a series? Comment below.