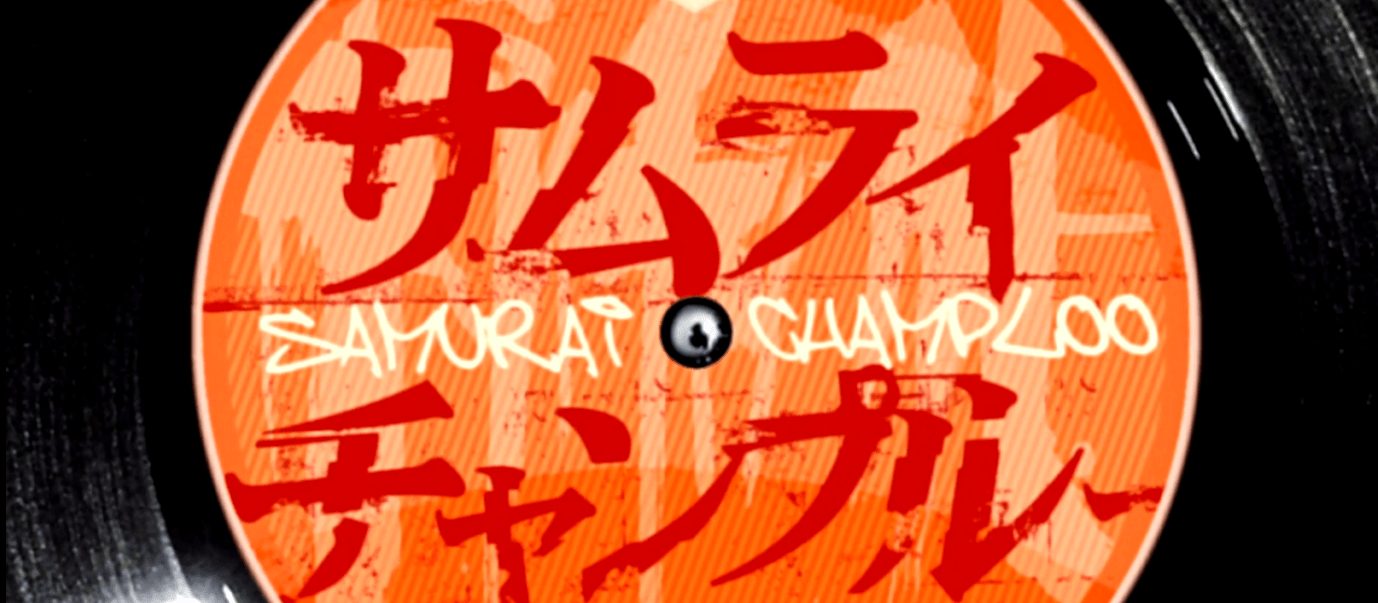 I do this thing where I associate weather and certain times of the year with certain music or shows, and nothing fires me up for Samurai Champloo quite like the transition from January to February.
Does this make any freaking sense? No. Well, maybe, since the anime is set mostly in the summer and by this point in the winter I'm basically huddled up under the covers with my laptop binge-watching anime on Netflix and daydreaming of cutoff shorts and kimonos, so.
BTW, Samurai Champloo is on Netflix, so you have NO EXCUSE. Watch it!
Samurai Champloo Crash Course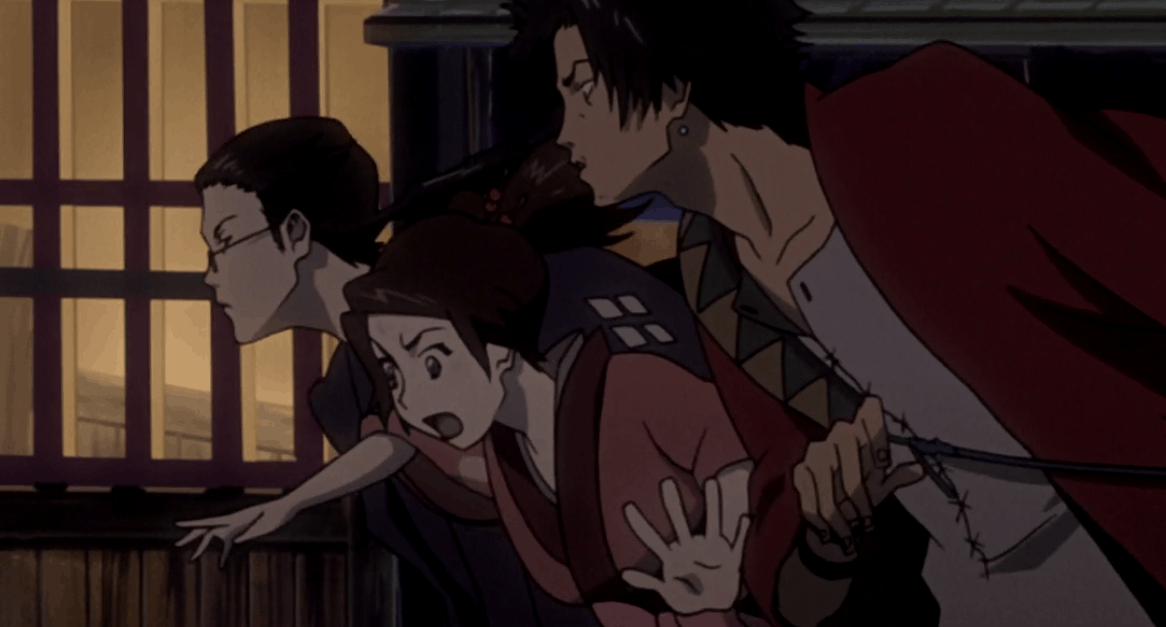 Set in Edo-era Japan, Samurai Champloo is the story of three unlikely companions who travel through Japan together in search of an enigmatic samurai who smells of sunflowers.
This anime comes from the brains that created the series Cowboy Bebop and follows similar thematic elements, including a huge focus on music – in the case of Samurai Champloo, hip-hop, R & B, and rap. In an anachronistic twist, hip-hop culture influences are seen throughout the anime, from the way characters dress and speak to the fighting styles of characters.
Samurai Champloo is a creative, funny, and moving re-imagination of the classic epic narrative and explores thematic elements of identity, family, conformity, loneliness, and the human condition. Its animation is excellent for an anime of its era, and its three main characters are interesting, robust, and dynamic, interacting and growing with one another in entertaining and unexpected ways.
Outfits Inspired by Samurai Champloo
Fuu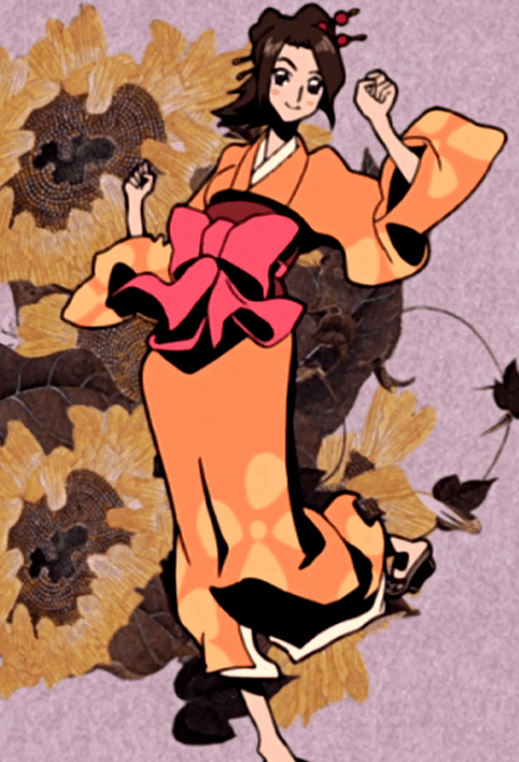 Fuu is the outspoken, free-spirited, and savvy female protagonist of Samurai Champloo. While Mugen and Jin act as foils to one another, Fuu is in some ways a foil of herself; her ultra-feminine appearance, with her pink floral kimono, girly accessories, and flushed cheeks, acts as a foil to her non-traditionally feminine traits of brashness, independence, and cleverness. In Japanese, Fuu's name means "wind."
Though she has a penchant for getting into trouble, it is often Fuu's ingenuity that gets Jin and Mugen out of tight spots. She is also compassionate and empathetic, making friends wherever she goes. It is Fuu who brings Jin and Mugen together when she asks them to accompany her on her search for the samurai who smells of sunflowers.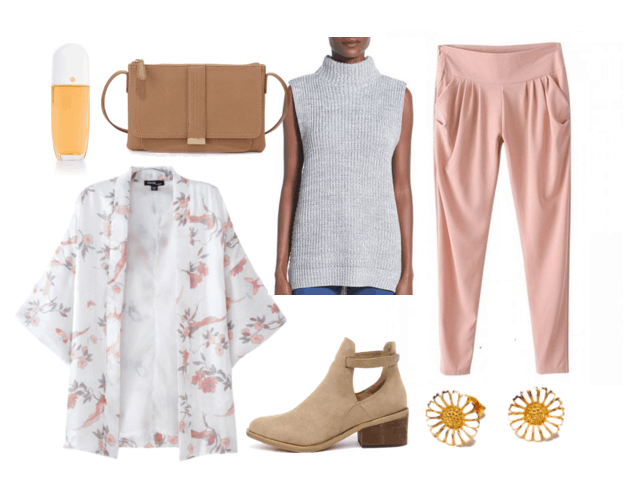 Products: Fragrance, Bag, Blouse, Pants, Kimono, Booties, Earrings
For a Fuu-approved look, pair unconventional silhouettes with comfy and breathable fabrics in soft colors. A pair of slouchy pants in a trendy rose quartz hue picks up an accent color in a feminine floral kimono, while a ribbed gray turtleneck shell adds texture and warmth.
Warm, neutral accessories in an earthy, taupe-y tan ground the look, while bright gold sunflower earrings nod to Fuu's search for her sunflower samurai. Finish the look with a hit of a sunshiney, summery perfume (that will help you forget it's only like 10 degrees out right now).
Mugen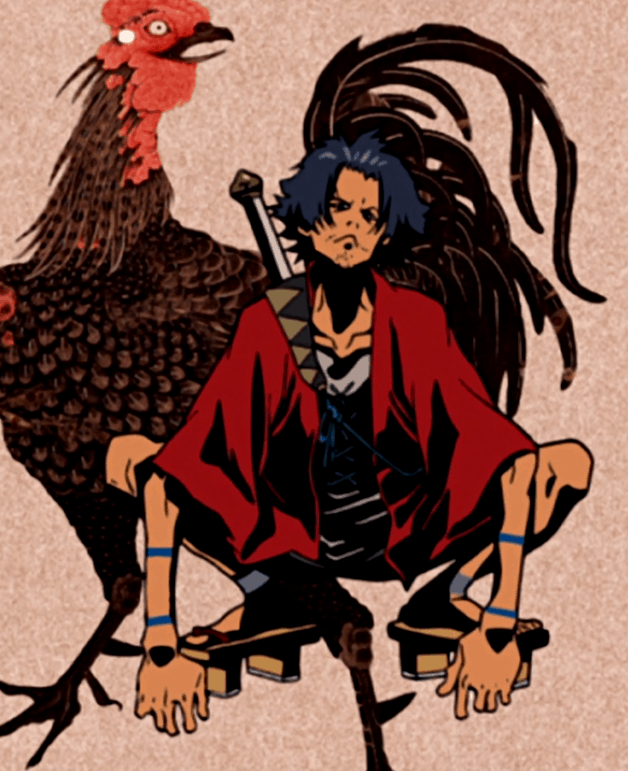 An ex-pirate raised in a penal colony, Mugen is a headstrong, volatile, and cocky misanthrope who seems to get by in life on instincts alone. Despite Mugen's lack of conventional swordsmanship training, he is virtually undefeatable due to his unpredictable fighting style (which is actually based on modern-day breakdancing) and his completely barren field of f_cks.
Mugen's capricious personality and disregard for others makes him a difficult travel companion at first, but he slowly opens up to Fuu and Mugen as the series progresses, even putting himself in harm's way to look out for them. Despite his wild outward appearance and rebellious tendencies, he has a strong moral code and pride in what he does – that is, as long as he remains undefeated. In Japanese, Mugen's name means "limitless" or "infinite."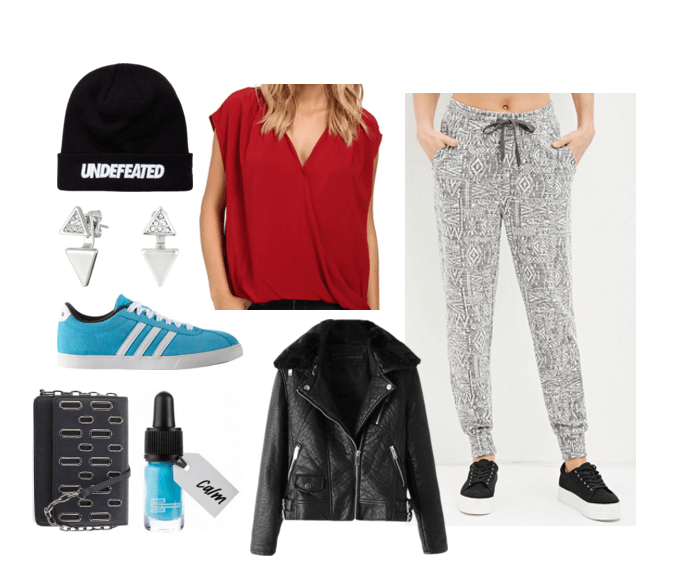 Products: Beanie, Blouse, Pants, Earrings, Sneakers, Bag, Eyeliner, Jacket
Mugen doesn't care much about his appearance unless it increases his chances for survival, so most of his clothing is tricked out to enhance his combat abilities, from spikes on his sandals to hidden daggers in his clothing.
You, of course, are not fighting for your life in a penal colony in the Edo era, but Mugen's breathable outfit translates wonderfully to a trendy and comfy athleisure-inspired look. Here, I mixed tribal print jogging pants, a deep red surplice top, and a warm leather jacket with cozy fur-trim that echos Mugen's devil-may-care hairstyle.
Turquoise sneakers and bright blue eyeliner add bright pops of color to this look, while a tough accessories like a grommeted bag and beanie give the outfit an urban edge. Finish with a pair of sparkly earring jackets for a tough but feminine touch.
Jin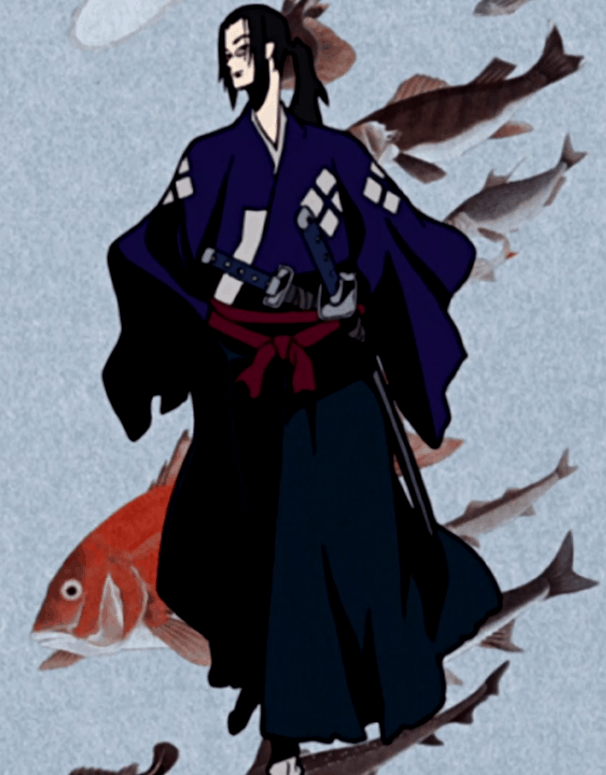 Stoic and taciturn Jin is a traditionally trained top student of a prominent dojo who also happens to be on the run and wanted for murder. Jin is educated, intelligent, and refined, and often plays the straight man to Mugen and Fuu's antics. He often finds himself frustrated with Mugen and Fuu's lack of knowledge.
Despite this, Jin is fiercely loyal to his companions and legendarily strong – like Mugen, he is virtually undefeated in swordmanship, and considers Mugen to be his only true match in talent and ability. He is also surprisingly perceptive and compassionate, and often picks up on the secret motives of others long before Fuu or Mugen. Jin's name is the character for one of the virtues of Bushido, meaning "kindness" or "benevolence."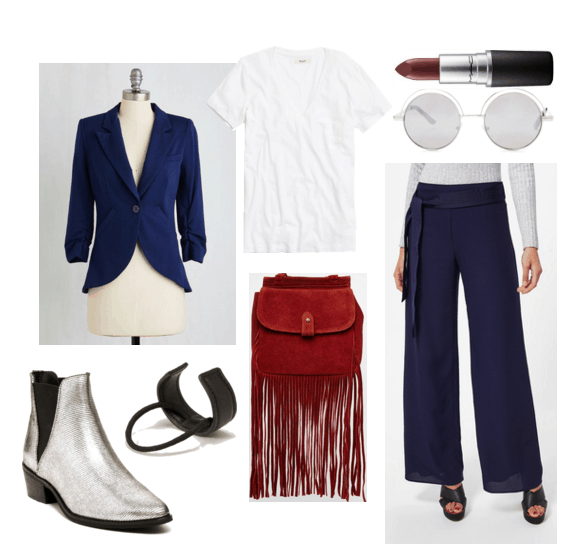 Products: Blazer, Tee, Lipstick (in Media), Sunnies, Booties, Hair tie, Backpack, Pants
Jin wears a fairly traditional get-up for someone of a the Samurai class with a couple of slightly anachronistic spins, like his glasses, so it's only fitting that your Jin-inspired outfit would be a badass and feminine twist on traditional suiting.
Create this look with some tie-waisted wide-leg pants, a slouchy white tee, and a ladylike blazer (or, y'know, go bold or go home with a white crop top, you do you bb!). A boho-y red suede backpack adds texture and an unexpected unpolished element, while pointy toed silvery booties add a bit of a mod, masculine flair.
Finish the look with some wire-rimmed sunnies, a sleek ponytail adorned with a leather hair tie, and a fierce red lip for a masculine-meets-feminine-meets-traditional-meets-futuristic mash-up.
What do you think?
Are you a fan of Samurai Champloo? Would you wear any of these looks? What are you bingewatching right now? Let me know in the comments below!