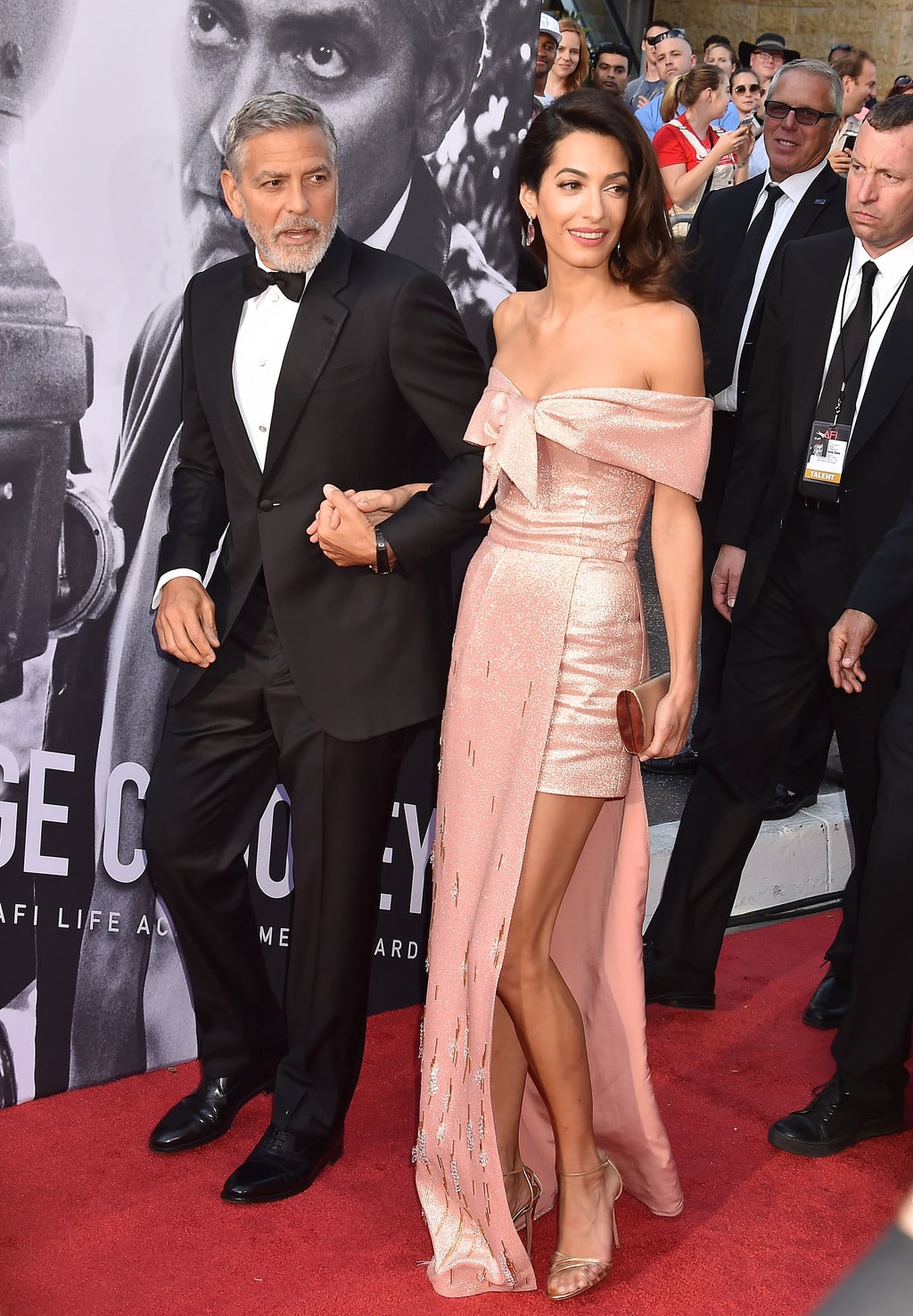 "Amal is a human rights lawyer who worked on the Enron case, was an adviser to Kofi Annan on Syria and was selected for a three-person UN commission investigating rules of war violations in the Gaza strip. So tonight, her husband is getting a lifetime achievement award."

Tina Fey at the 2015 Golden Globes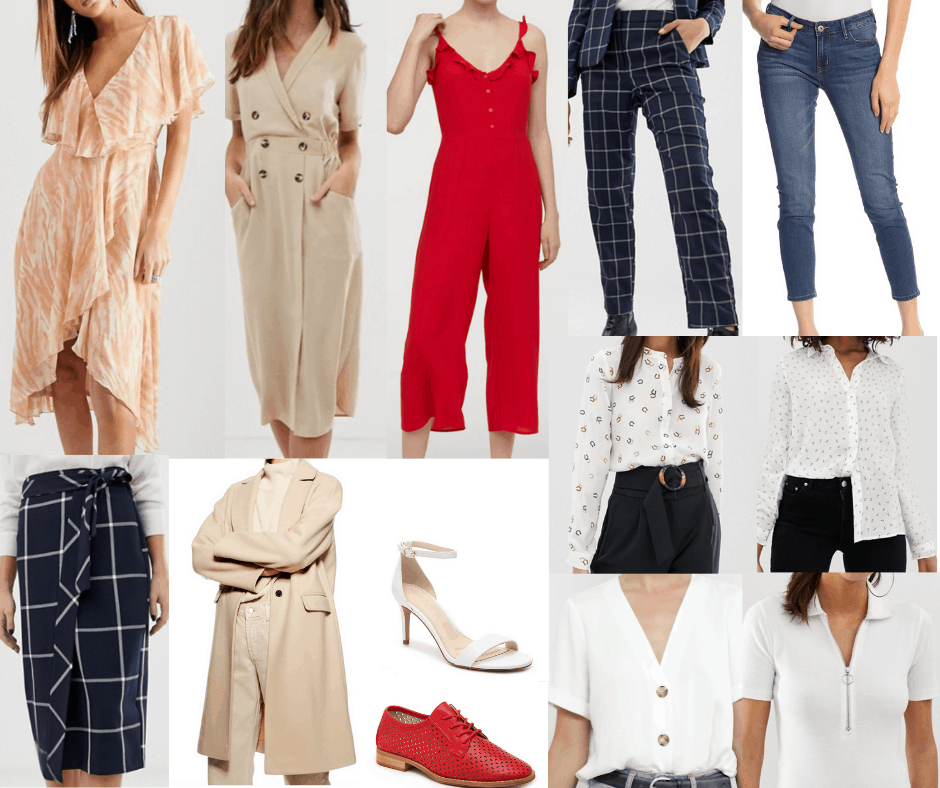 Products: Midi wrap dress – ASOS, Midi tux dress – ASOS, Jumpsuit – H&M, Pants – Vero Moda, Jeans – C&C California, Midi skirt – Warehouse, Coat – TOPSHOP, Heels – Kelly & Katie, Red oxfords – Wanted, Horseshoe shirt – Warehouse, Anchor shirt – Vero Moda, Button down shirt – ASOS, Zip-up t-shirt – Missguided
Amal Clooney is primarily known for her work as a human rights lawyer, but she became a household name, obviously, for her relationship with George Clooney. She is also well known for her impeccable fashion sense.
Amal's incredible street style has turned her into one of the world's foremost fashion icons, and her distinctly British, modest-yet-modern chic outfits are fantastic inspiration.
Amal's style is very deliberate; regular features include fitted cuts, bright accents, light/nude base colors, and sensible shoes.
Outfit 1: Chilly Spring Day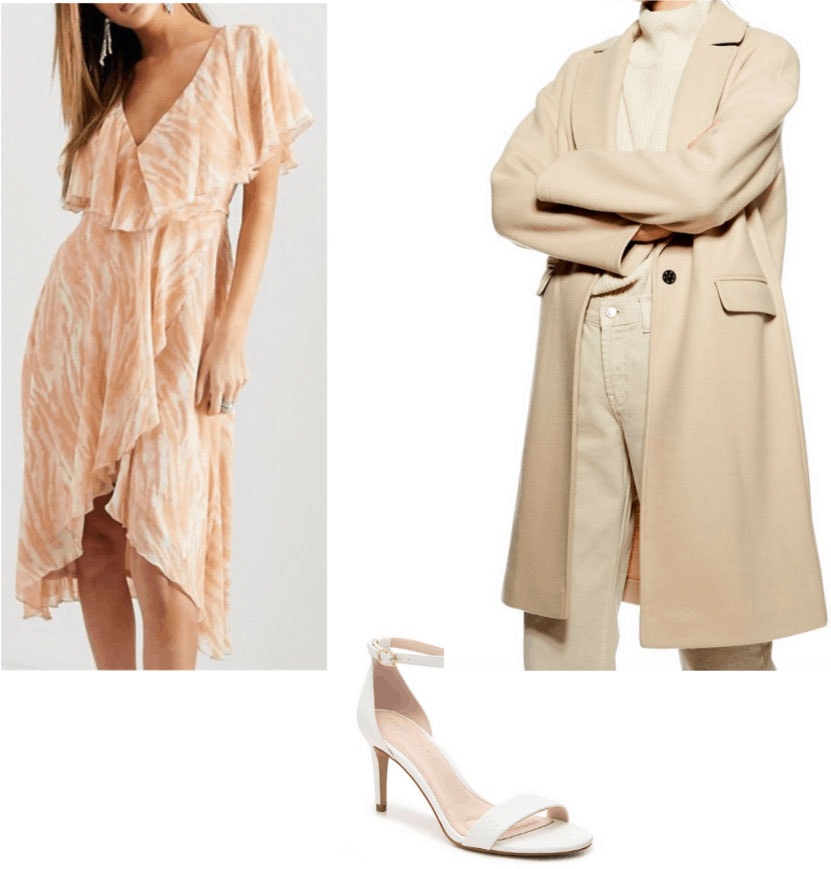 Products: Midi wrap dress – ASOS, Coat – TOPSHOP, Heels – Kelly & Katie
This peach midi dress is sophisticated and fitted enough for Amal's style while still casual enough for a day out.
The white heels accompany the dress perfectly and appear comfortable enough to walk around in yet add a touch of formality to the look.
To top it off, the coat would keep you warm while keeping with the color scheme and adjusting seamlessly to your specific figure!
Outfit 2: Casual Airport Look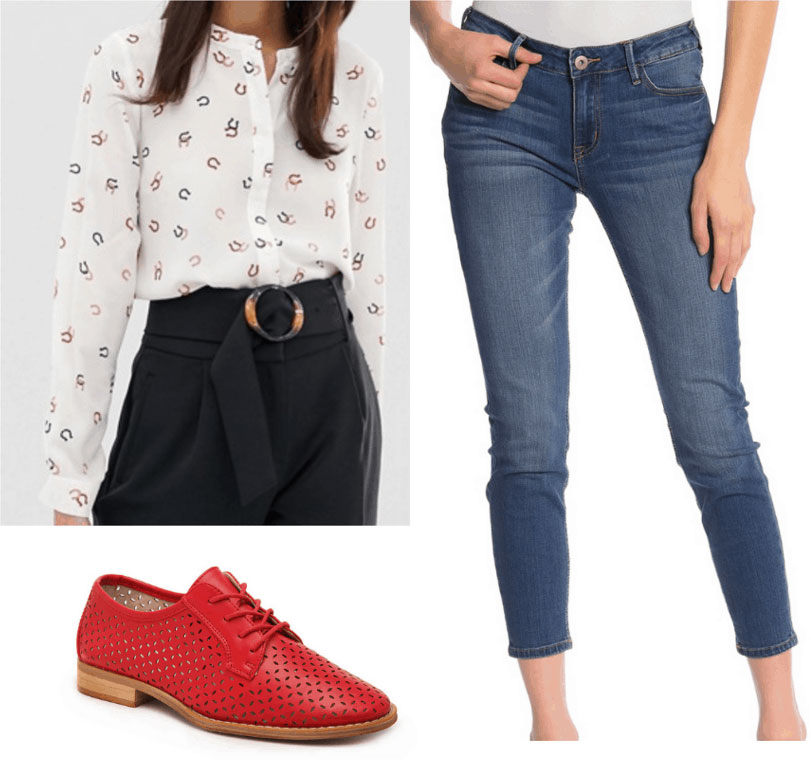 Products: Red oxfords – Wanted, Horseshoe shirt – Warehouse, Jeans – C&C California
Amal is often seen entering and leaving airports in the most put together, color-coordinated clothing, well, ever. And as anyone who has ever taken a long-distance red-eye flight can testify; that is NOT easy.
This Amal-inspired travel outfit is definitely more laid back than the last, as well as extremely comfortable.
Oxfords are an easy go-to formal flat shoe that will keep any outfit looking adorable, and your feet very very happy at the same time. Jeans are of course, any girl's staple, and this mid-calf cut would complement Amal's long legs. Lastly, the horseshoe print might be a little young for the accomplished lawyer, but for our class-going-selves, it's perfect!
Outfit 3: Brunch Casual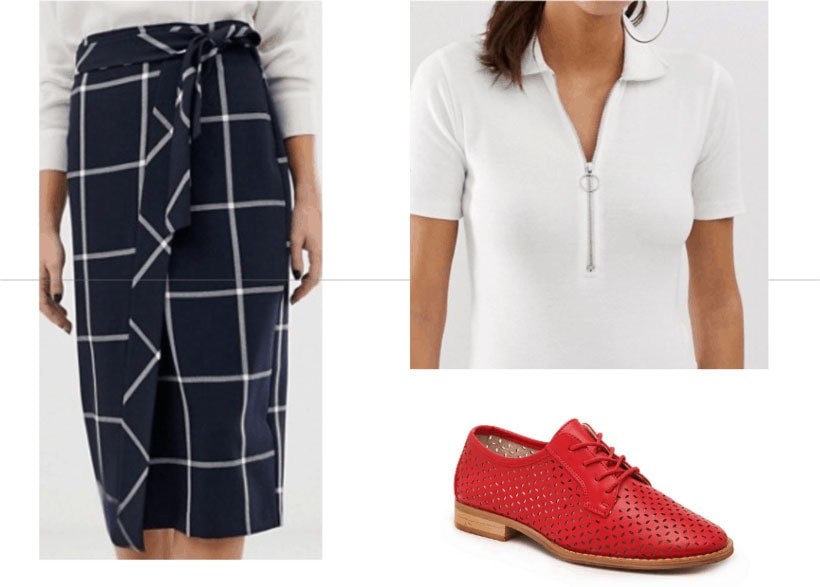 Products: Midi skirt – Warehouse, Zip-up t-shirt – Missguided, Red oxfords – Wanted
Everyone's favorite meal is brunch. An excuse to wake up late, dress up just a touch and eat a ton all at once!
This outfit pulls together Amal's casual fun side and ties it with her fitted/formal style for a brunch look.
The pieces blend in perfect harmony and come together in the bright red oxfords! This skirt flows a little more than it fits, which works really well with the body-hugging top. This outfit is perfect for a class presentation or just a fun meal with friends.
Outfit 4: Busy Day at the Office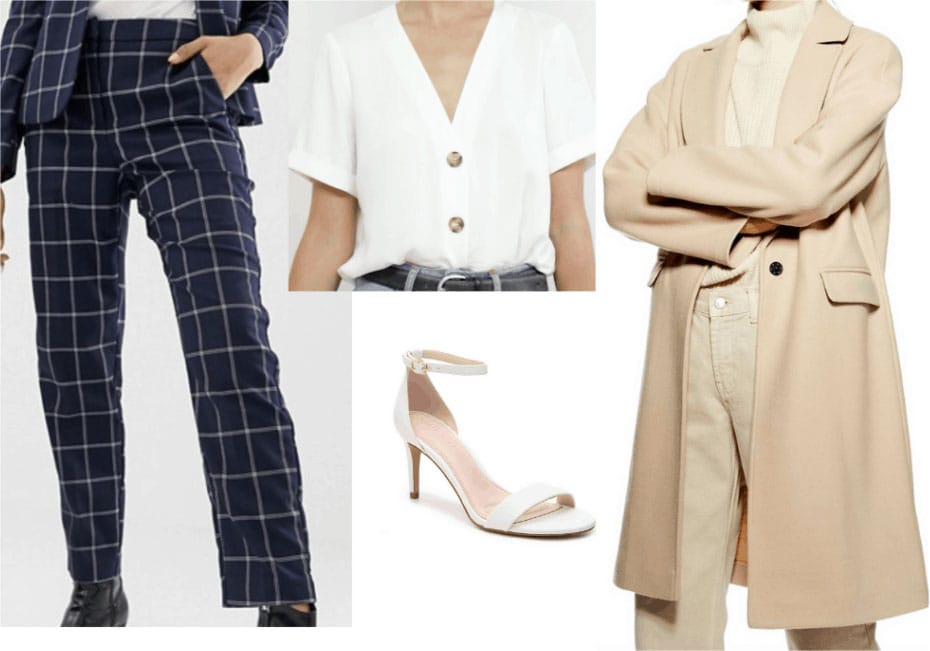 Products: Coat – TOPSHOP, Button down shirt – ASOS, Pants – Vero Moda, Heels – Kelly & Katie
My personal favorite ensemble, I envision this being something that Amal would wear when the weather is being unpredictable (as it often is in London). The simple removal or addition of the coat can transform it from a nice warm-weather stroll look to a windy day by the Thames outfit!
The pants are what stand out on first glance, and while Amal is known to wear some beautiful and interesting pairs, this set is a little more toned down and so can easily be worn around a college campus.
Outfit 5: London Day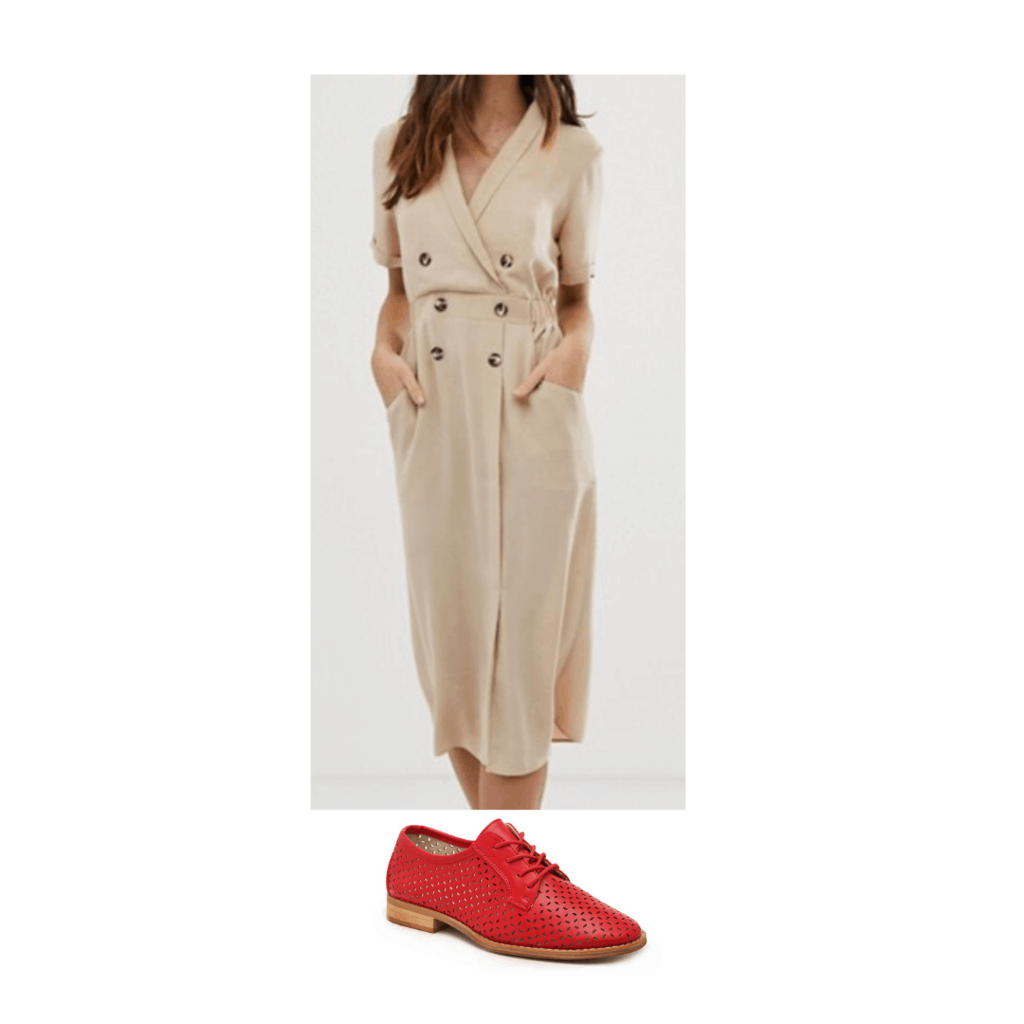 Products: Midi tux dress – ASOS, Red oxfords – Wanted
Last but not least is the simplest of the pairings; a tux dress in a subtle beige and some bright red oxfords that are just impossible not to love!
This dress is perfect to channel your inner Amal Clooney as it's chic and effortless, yet is guaranteed to make you look inexplicably put together and elegant. It's definitely the perfect staple to keep in your closet for any last minute wardrobe needs. From an interview to a meeting to a girl's night out, this dress is perfect for all occasions!
What about you?
Amal Clooney is a role model in every way. She's climbed to the top in her career, she carries herself with the utmost class, she fights for what she believes in, and she lives her personal life on her own terms. Amal is the perfect blend of pushing boundaries in the modern world and maintaining old-school etiquette. In every sense of the word, she is an icon, and her wardrobe encapsulates it all!
Are you going to channel your inner Amal with an Amal Clooney wardrobe? Is there something that you've seen her wear that you loved — a favorite outfit or accessory? Is there a favorite George and Amal moment that you loved to watch? Let me know in the comments below!