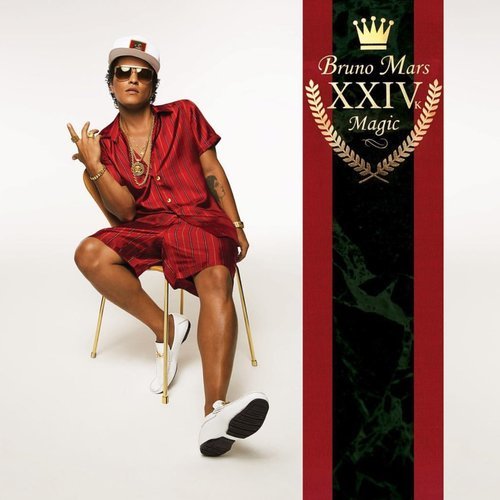 24K Magic is the third studio album by American singer Bruno Mars. According to the artist himself, the album pays homage to the '90s R&B music that he used to listen to as a child. The inspiration clearly shows: 24K Magic feels like a big batch of comforting musical nostalgia gift-wrapped in gold paper.
You can listen to the album in full here. And if you want to see Bruno Mars and hear songs off his new album live, dates for his 2017 tour have been announced here. I believe the tunes from 24K Magic are a perfect source of inspiration for festive fashion (gold and glitter galore!) so I've created three outfits inspired by songs from 24K Magic.
24K Magic
The album's title track is a '90s R&B revival, in the funky style that made us fall in love with Uptown Funk in 2014. 24K Magic is a catchy, feel-good song that's bound to get you dancing. Just watch the Victoria's Secret models jam to it at their 2016 Fashion Show.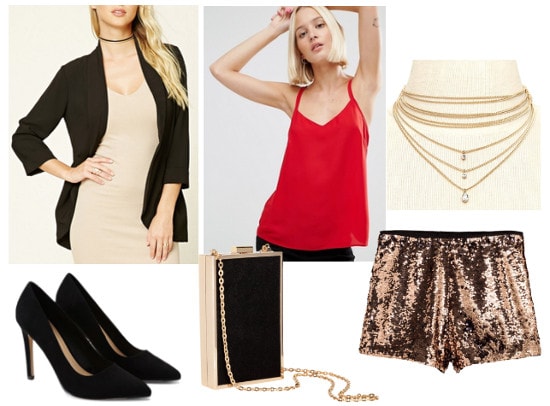 Products: Blazer – Forever 21, Top – ASOS, Necklace – Forever 21, Heels – Forever 21, Clutch – H&M, Shorts – H&M
Red, black, and gold is a winning fashion combo for the winter holidays. Even better, it's a perfect match for the album's vibe. For an outfit inspired by 24K Magic's title track, wear a red top with gold sequin shorts and a black blazer. Accessorize with a layered gold necklace, black pumps, and a black and gold clutch bag. If you want even more gold in your life, the clutch is reversible, with a gold texture on the other side.
Chunky
While it's more mellow than 24K Magic, Chunky is still upbeat and definitely playable at a party. It's an ode to independent women and curvy girls. My personal favorite lyric? "Shout out to the girls that pay their rent on time" – I'll always raise a glass to a song that tells me the 'Pay rent!' post-its above my desk are worth it.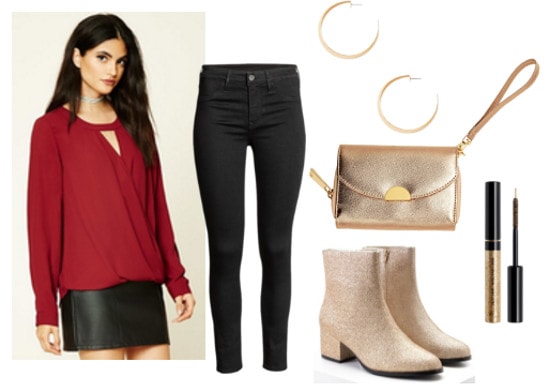 Products: Blouse – Forever 21, Jeans – H&M, Earrings – Forever 21, Mascara/Eyeliner – H&M, Boots – Forever 21, Purse – H&M
This outfit is smart casual, for when the occasion doesn't require a very formal dress code. Pair a red surplice blouse with black jeans, then glam up your look with gold accessories, namely hoop earrings and a purse. Add a pair of glittery gold booties that will surely turn a few heads, and use a gold mascara/eyeliner for a 24K gaze.
Finesse
Finesse is the type of song that captures the 'everyone's looking at us because we're amazing' attitude. And let's face it, sometimes we all need that type of ego boost. So if this song plays at a party, bring your partner/besties to the dance floor and enjoy yourself, because as Bruno says, you "got it goin' on".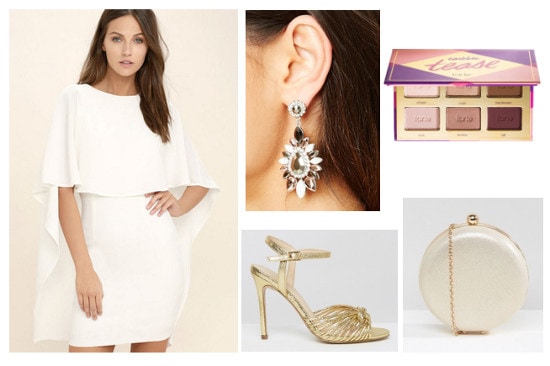 Products: Dress – Lulu's, Earrings – Forever 21, Palette – Sephora, Heels – ASOS, Bag – ASOS
This outfit is chromatically simpler than the previous ones to bring out the 'finesse', yet the gold accents are still present (and pretty essential). Combine a white cape-sleeved dress with gold heeled sandals, a metallic round clutch, and faux gem drop earrings. Use an eyeshadow palette for a shimmery touch. Now prepare to wow everyone at the party.
What do you think?
Are you a Bruno Mars fan? Do you like 24K Magic? Would you wear any of these outfits? Let us know in the comments below!