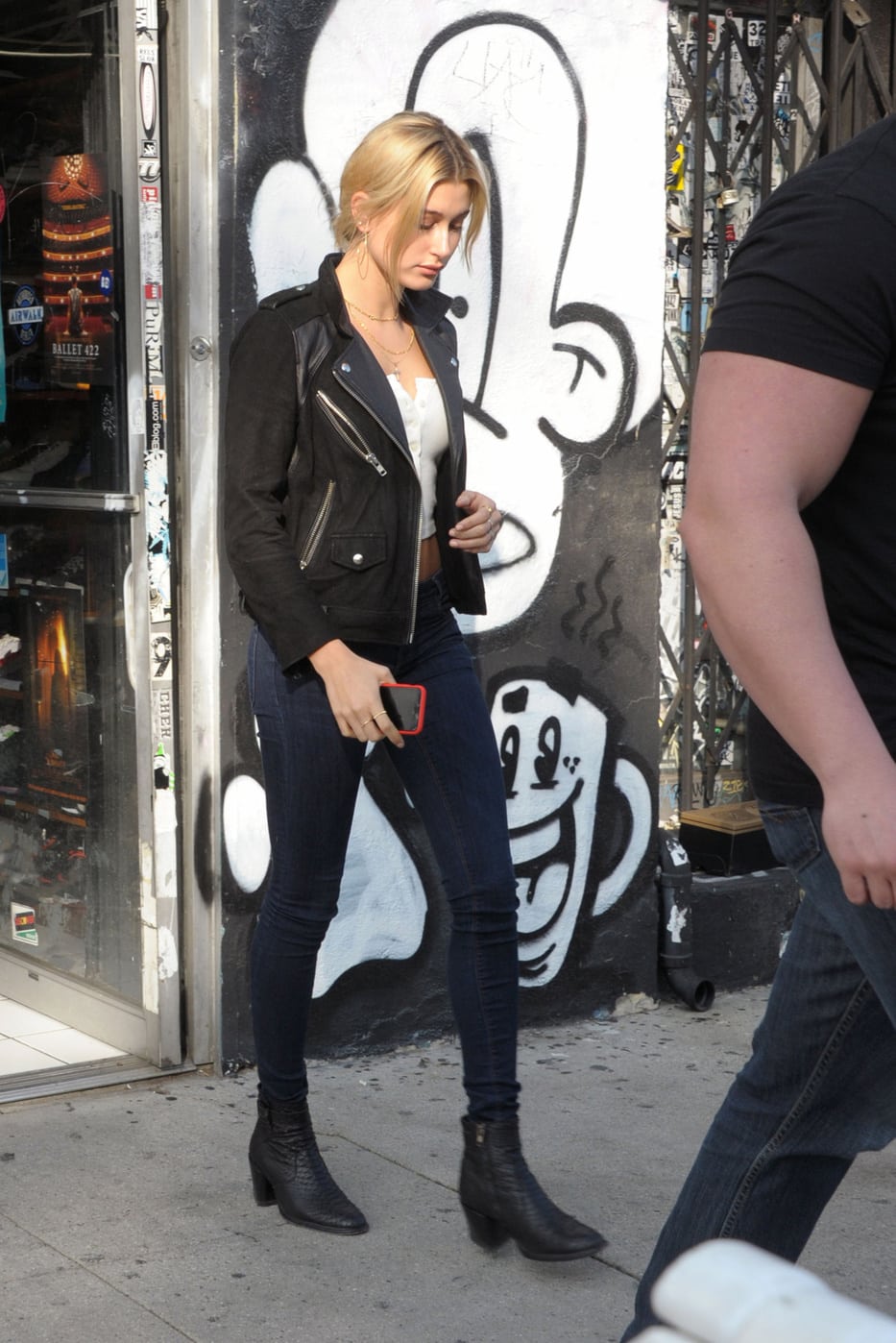 This has been a major year for up-and-coming model Hailey Baldwin. She was not only chosen as the face of Topshop Denim, she also walked in Tommy Hilfiger's spring 2016 show at NYFW.
Hailey is no stranger to the spotlight, though. She is a part of the superstar Baldwin family, her father and uncle are well-known actors, and her sister and cousin are also in the modeling industry.
Hailey obviously knows her way around the fashion world. She is best friends with Kendall Jenner and Gigi Hadid, and as they say, "you have to know how to dress to hang with the best." (Okay, maybe we just say that.) Below is a week's worth of outfits inspired by Hailey's trendy style:
Monday: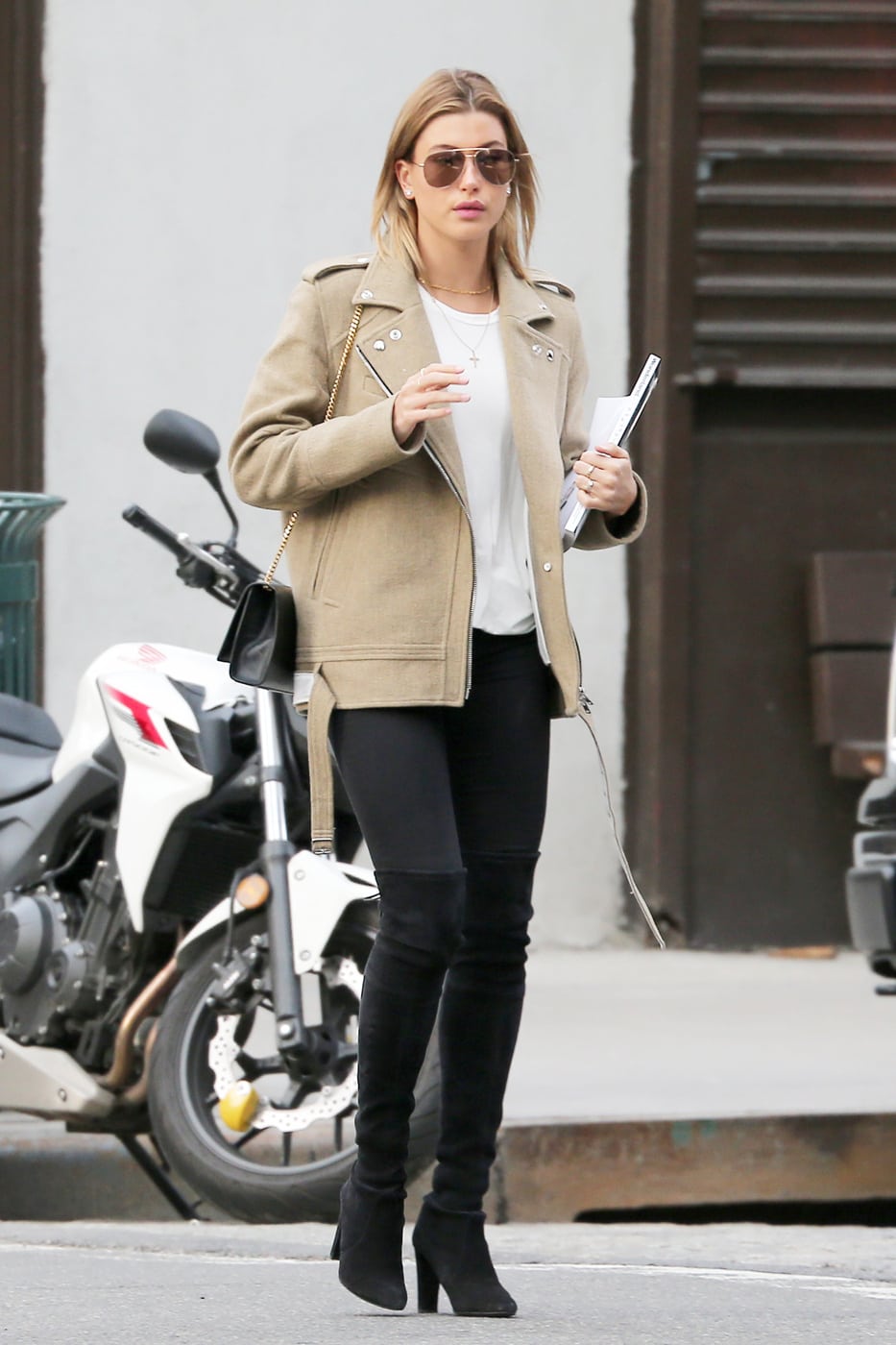 This has to be one of my favorite looks that Hailey has ever worn. It's the perfect mixture of simplicity and chicness.
There is no doubt that if you haven't already purchased a pair of over-the-knee boots you need to, like, NOW! They are a huge trend this fall and are the perfect way to transform any outfit. Take a simple t-shirt and jeans, throw on a jacket and the boots, and you will be ready to hit the streets of NYC (or your campus).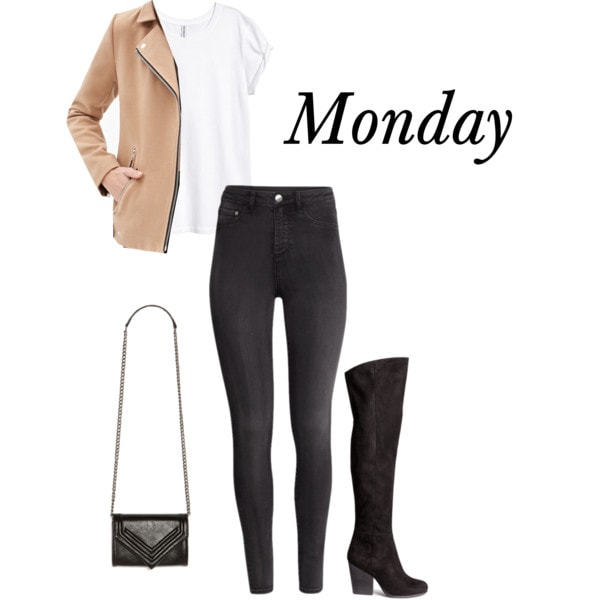 Products: Shirt, Jacket, Jeans, Boots, Purse
Tuesday: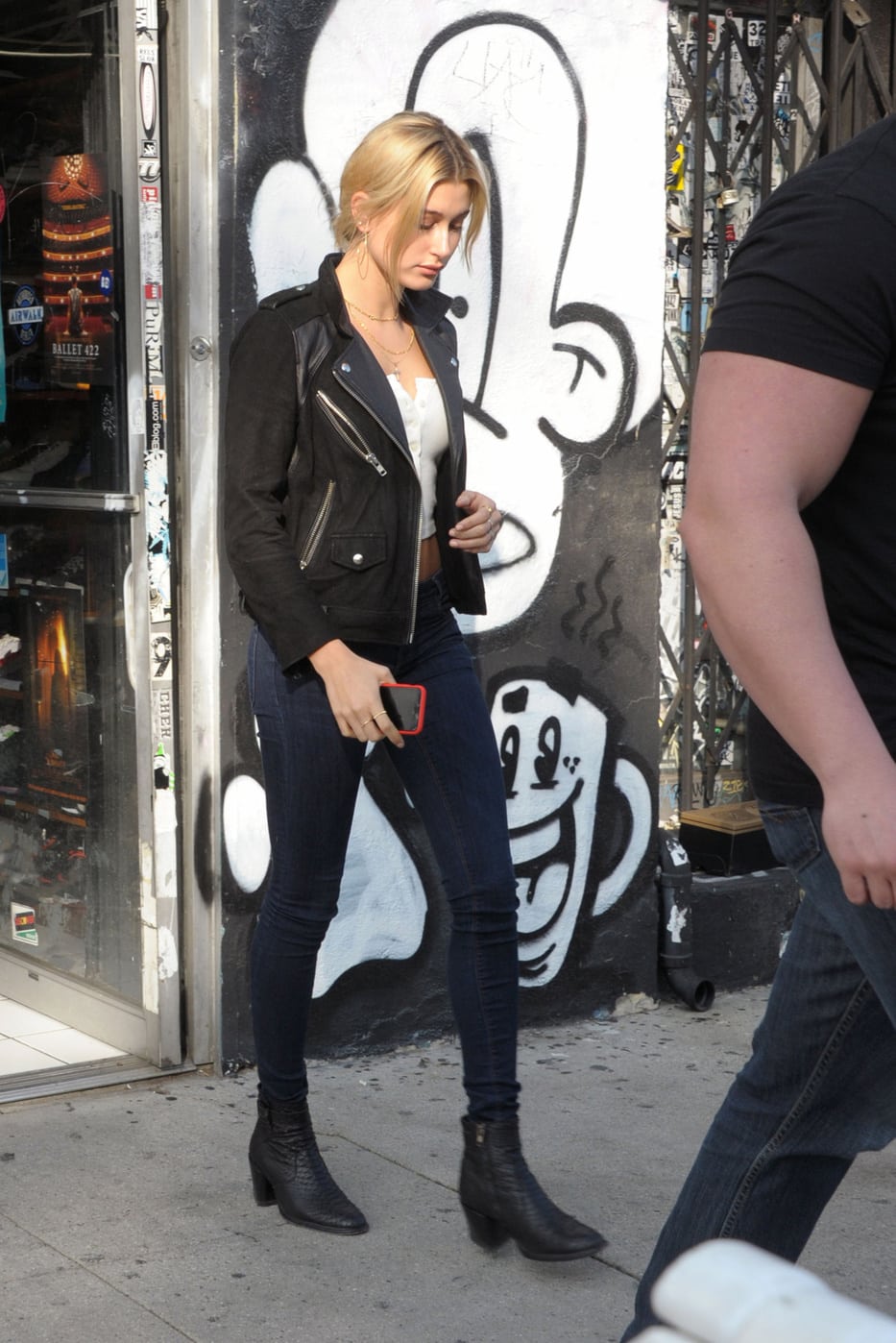 Get a few more uses out of your fave summer crop tops by pairing them with a cute jacket. Go for a leather jacket for an edgier look. Add some black ankle booties for the perfect casual ensemble.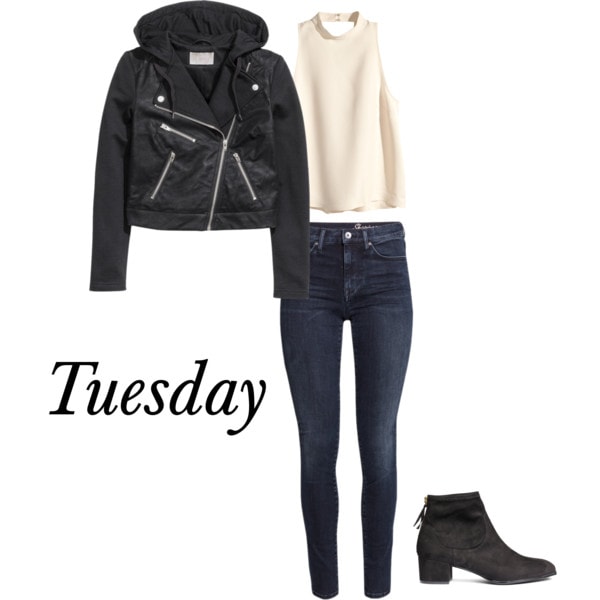 Products: Top, Jacket, Jeans, Boots
Wednesday: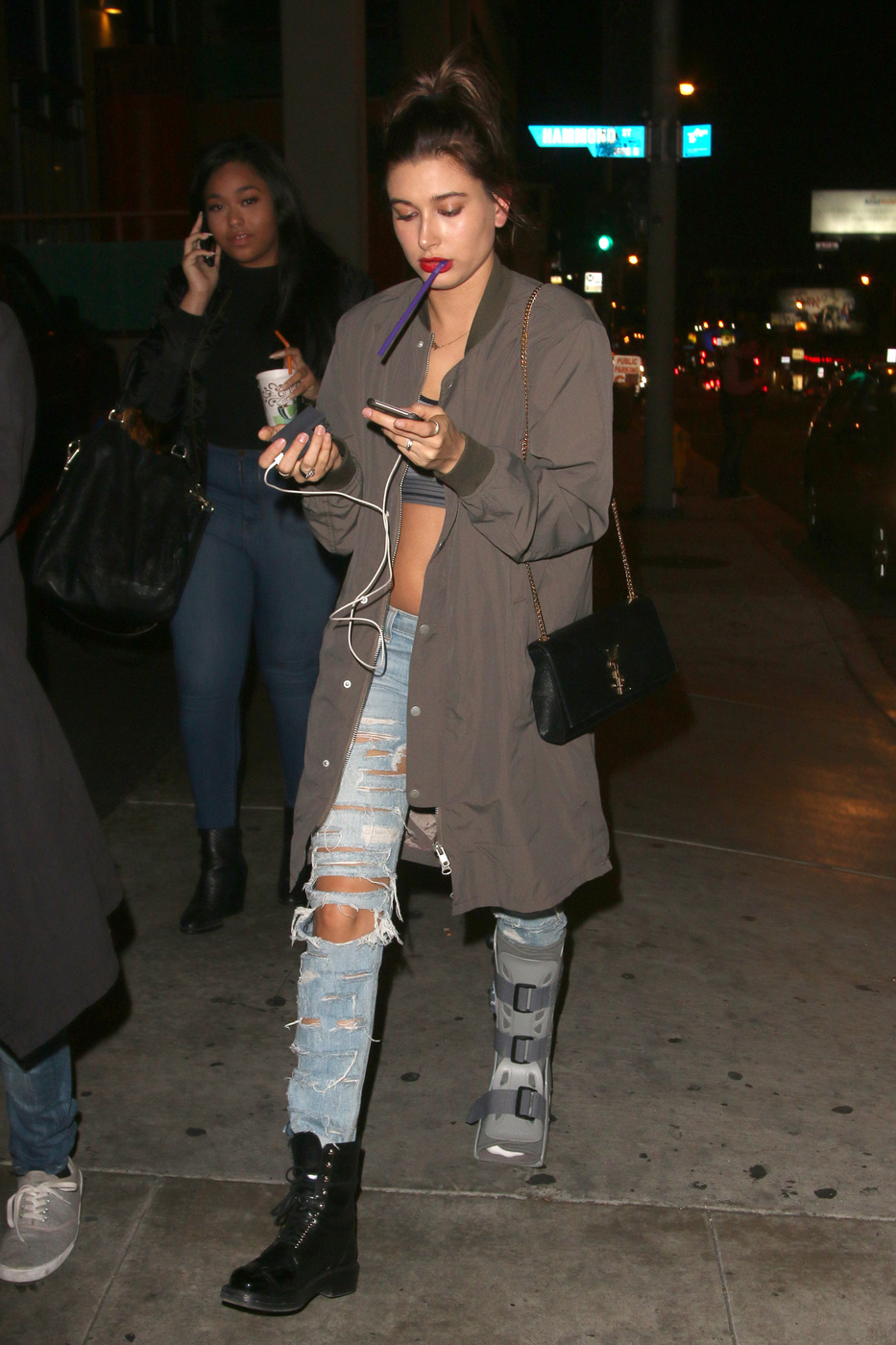 Seriously, this is impressive: Hailey is still slaying the fashion game with a broken foot! This outfit has a lot going on but I think it's safe to say there's a lot to love.
Distressed boyfriend jeans and an oversized jacket are perfect statement pieces so pair them with a simple fitted top for balance. Add combat style boots to give the outfit a little extra edge.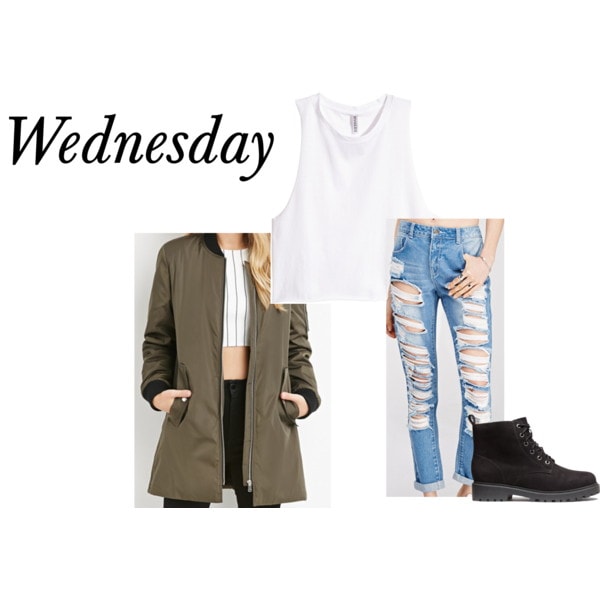 Products: Top, Jacket, Jeans, Boots
Thursday: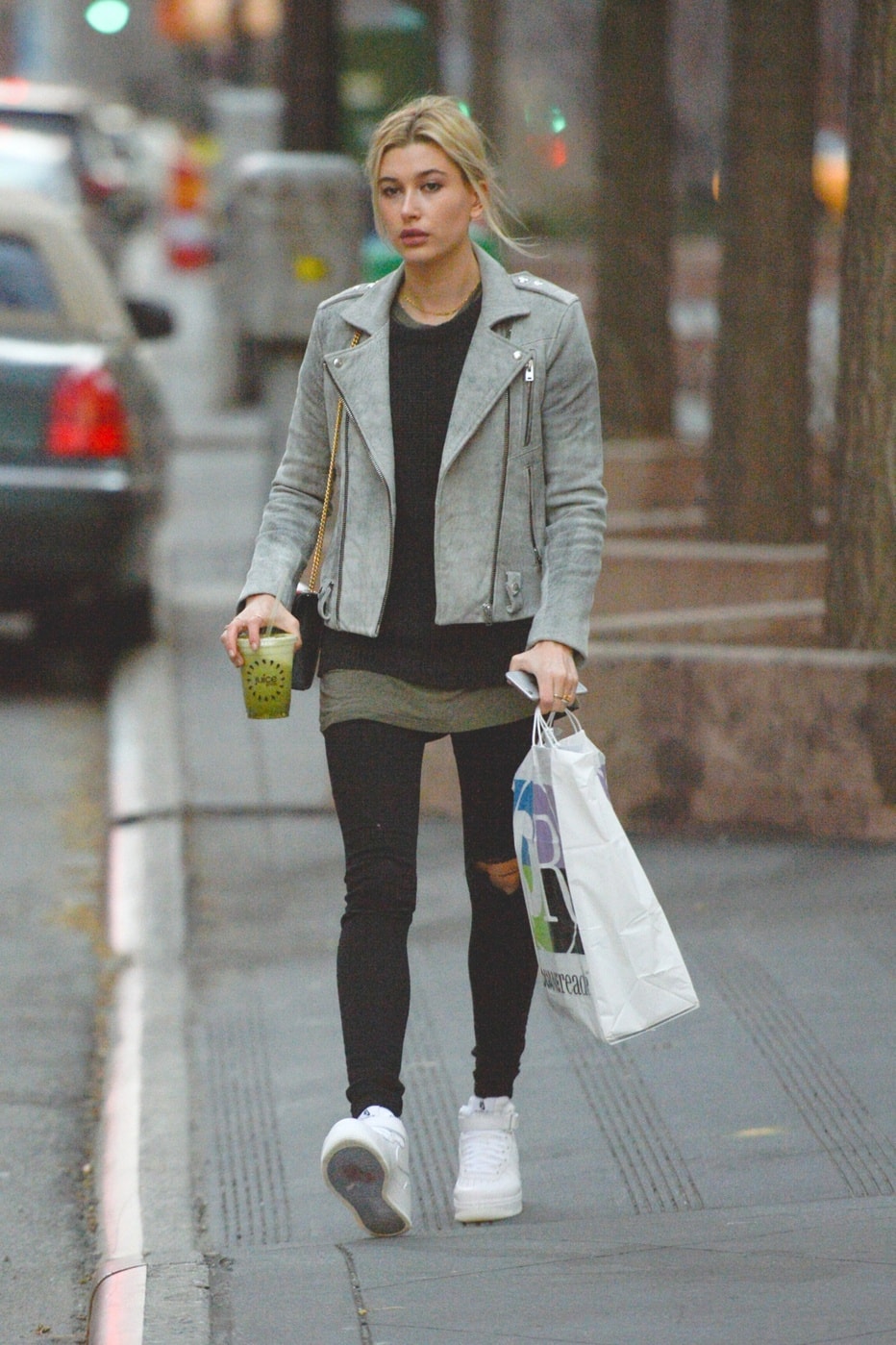 It's clear that Hailey loves a completing any and every outfit with a nice jacket. Here she dressed down a structured jacket with layered tees and sneakers. Wear this casual look during the day, and trade the sneakers for a pair of booties at night.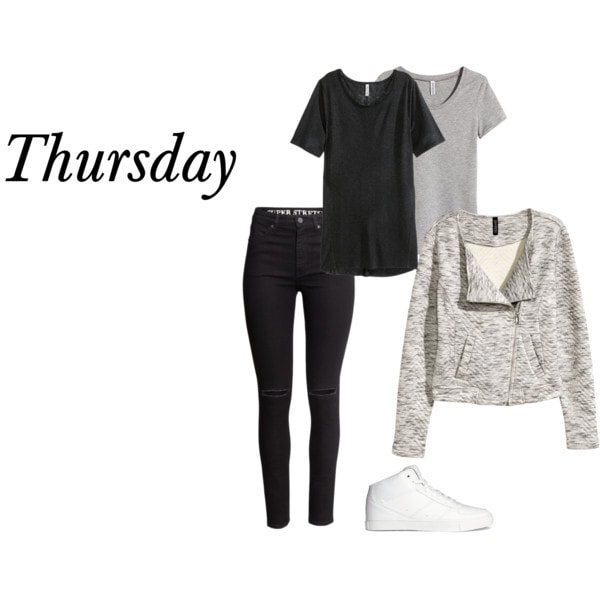 Products: Shirts, Jacket, Jeans, Sneakers
Friday: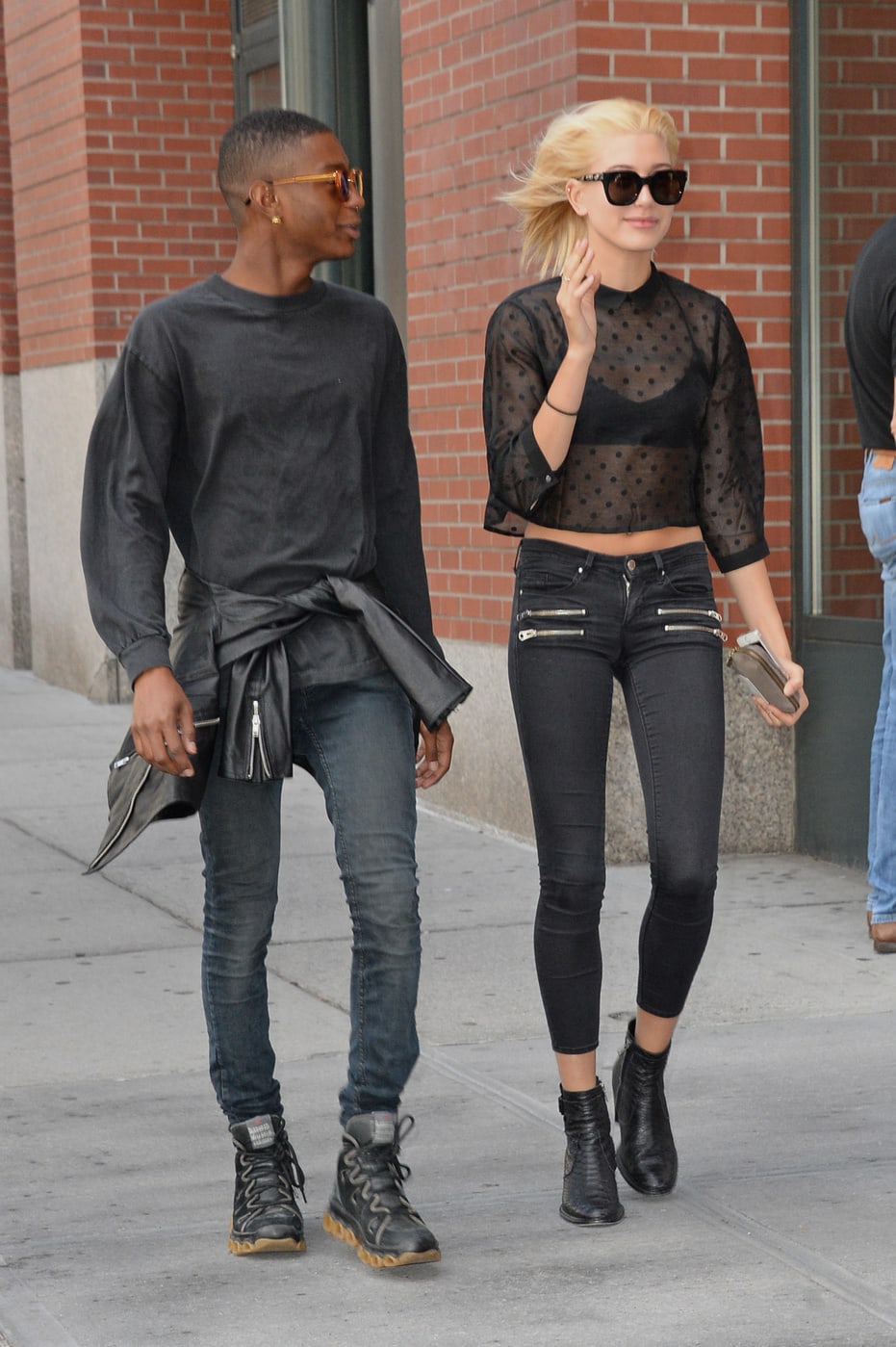 Bralettes have become must-haves in all of our closets. What better way to show off all those cute bralettes than a sheer top? Sheer tops are the ideal way to show a little skin without showing TOO much.
Keep the rest of the outfit simple with black jeans and booties for the perfect look on a night out.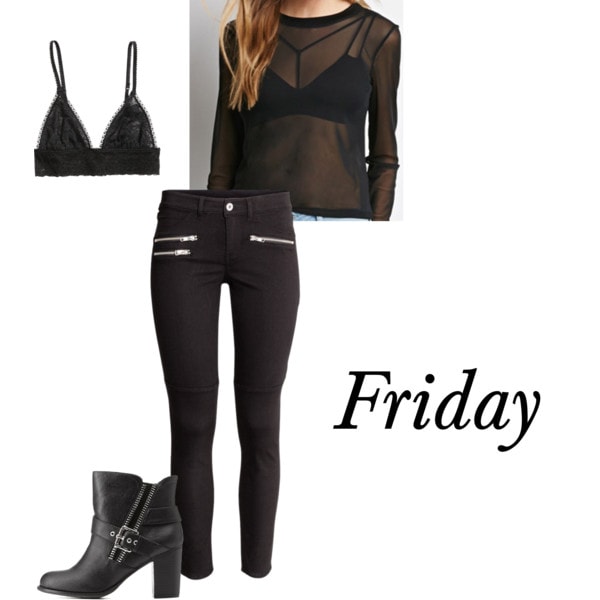 Products: Top, Bralette, Jeans, Boots
Saturday: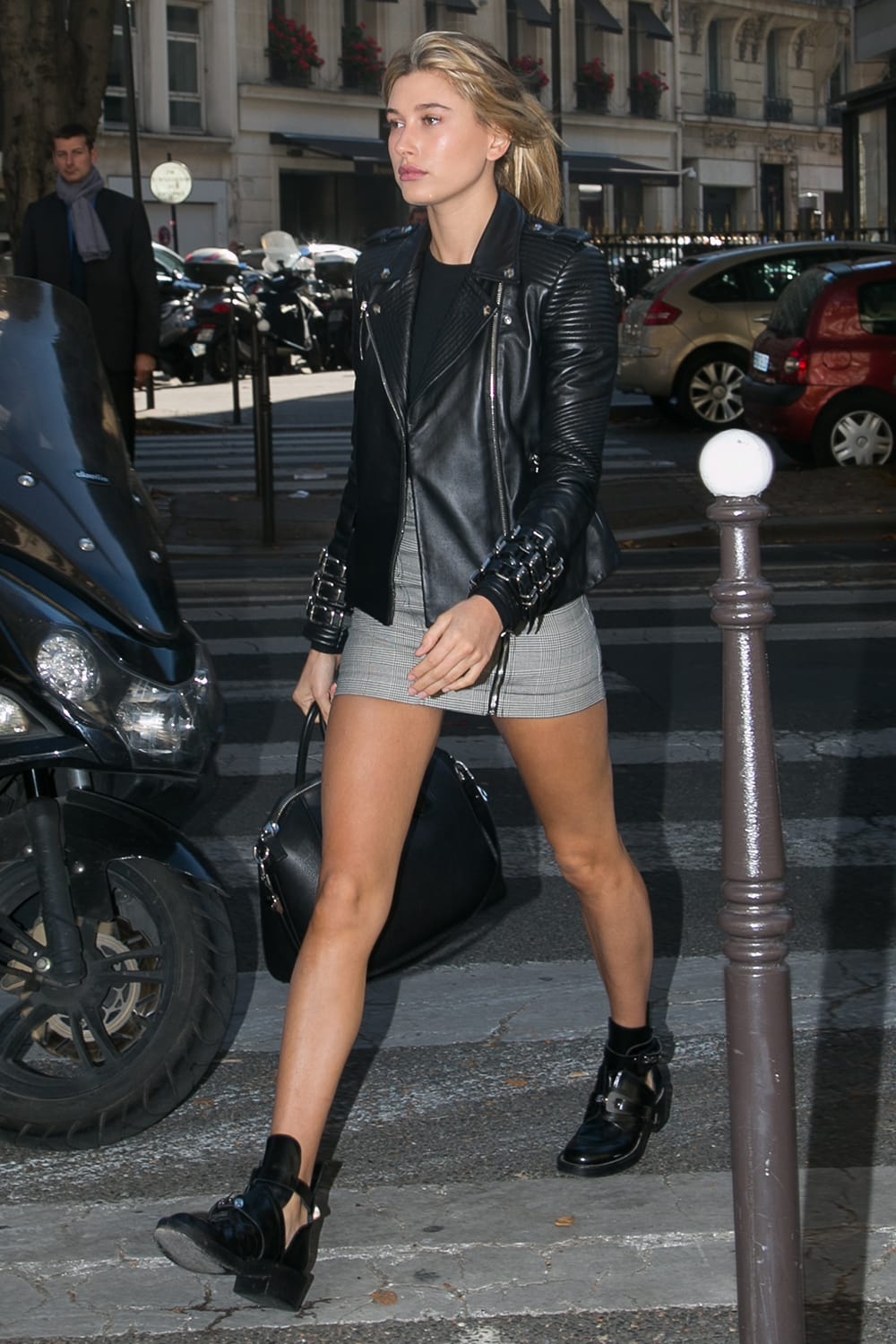 Look like you are a part of Hailey's model squad with this edgy and trendy look. This outfit consists of many pieces that are probably already in you wardrobe, so it should be easy to recreate.
Throw a leather jacket over a fitted grey skirt and a simple black tee. Complete the look with a pair of black booties. This look is perfect for girls night out!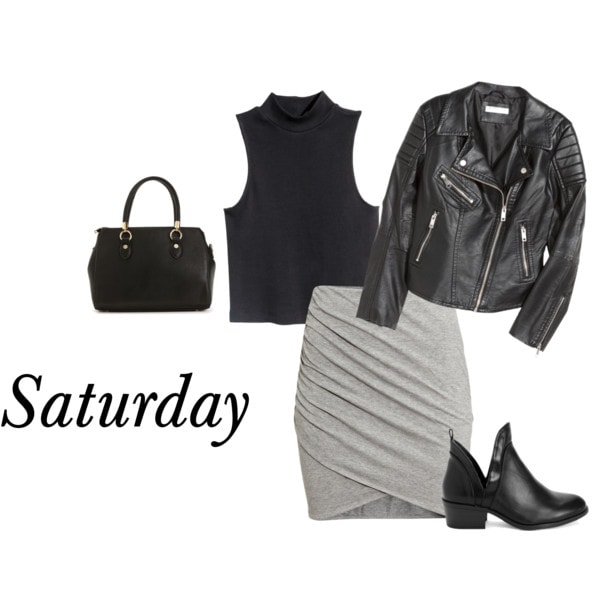 Products: Top, Jacket, Skirt, Boots, Purse
Sunday: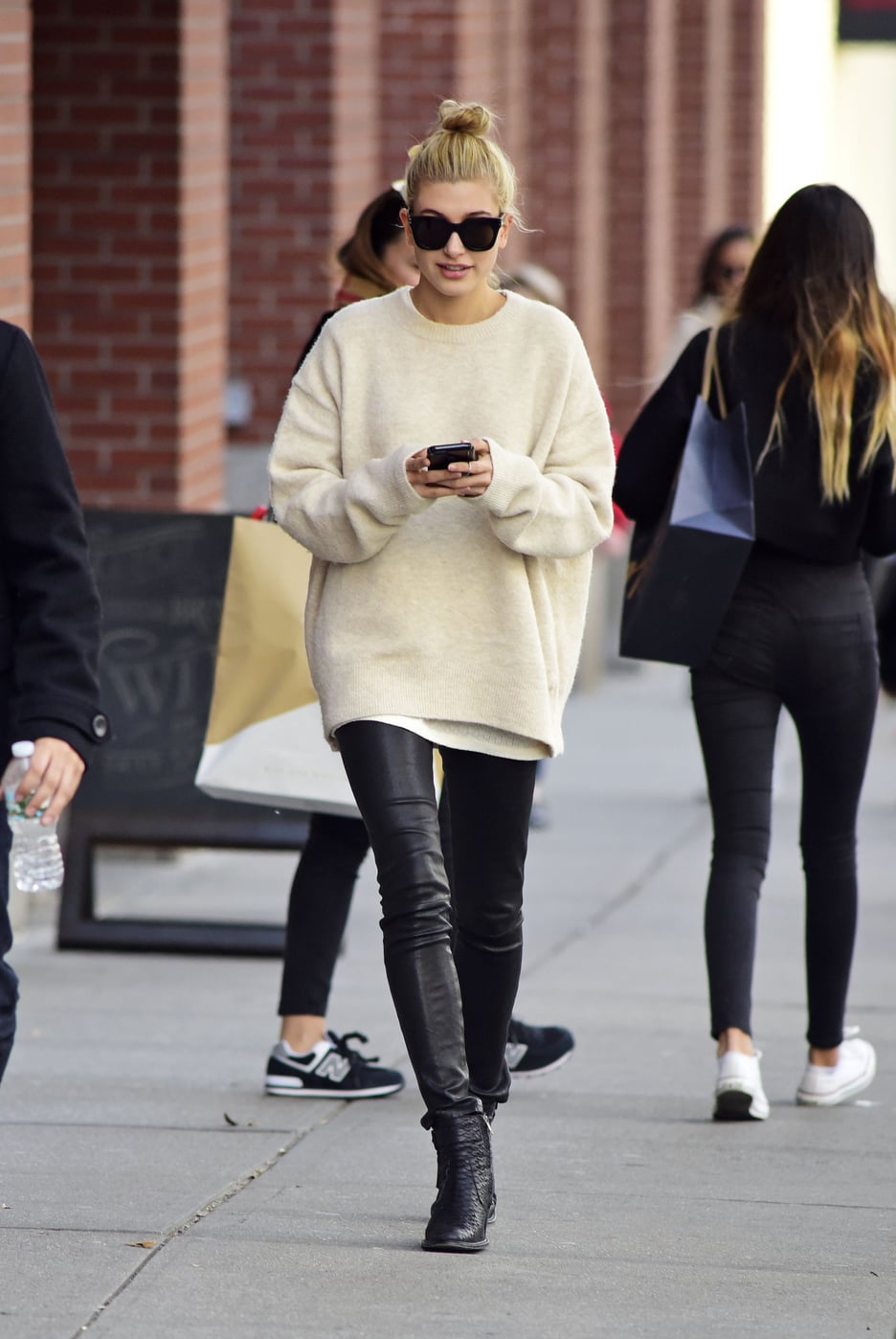 Who knew a crewneck could look so stylish? This look is perfect for Sunday – who doesn't want to walk around in the comfort of their favorite sweatshirt and still look stylish?
Pair your fave oversized sweater with a pair of faux leather jeans and booties for a comfortable yet stylish look.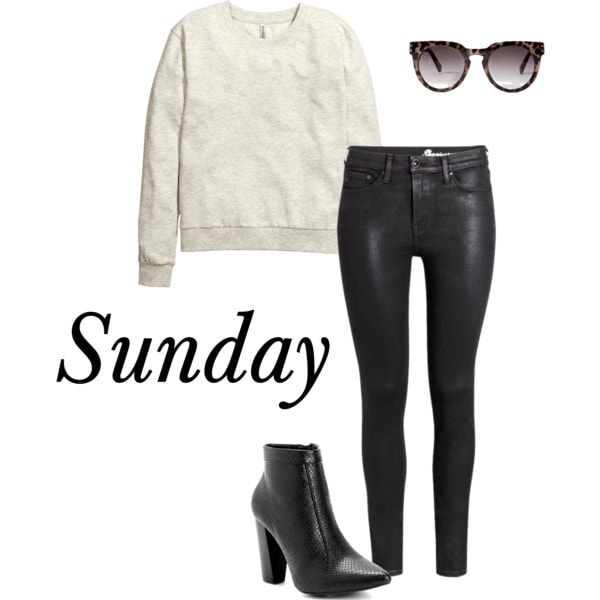 Products: Sweatshirt, Jeans, Boots, Sunglasses
Thoughts?
What do you think of Hailey Baldwin's style? Which outfit was your favorite? Whose street style would you like to see next?