Time for a little throwback fashion inspiration!
No matter what I'm doing, I always have to stop and watch A Cinderella Story whenever it's on TV. It's an updated fairytale that stars post-Lizzie McGuire Hilary Duff and One Tree Hill-era Chad Michael Murray, so what's not to love?
While evil stepmother Fiona and her daughters rock some wildly colorful outfits, I'm particularly fond of Sam's sporty, laid-back style.
Below are four looks inspired by the outfits she wears throughout the film. Don't worry about looking dated, though. I've updated her 2004 attire (can you believe this movie's 12 years old?!) into trendy ensembles you can wear right now.
1. PrincetonGirl818
Sam's school day style consists laid-back, comfy basics in mix-and-match neutral hues — perfect for the on-the-go college girl!
Snag her look for yourself with a soft green henley and deep olive, cargo-style skinnies. Shake things up with contrasting pops of color and texture. A faux suede baseball cap and plum-colored sneakers should do the trick, while nodding to the sporty vibe Sam often rocks. Complete the outfit with an on-trend layered cord necklace.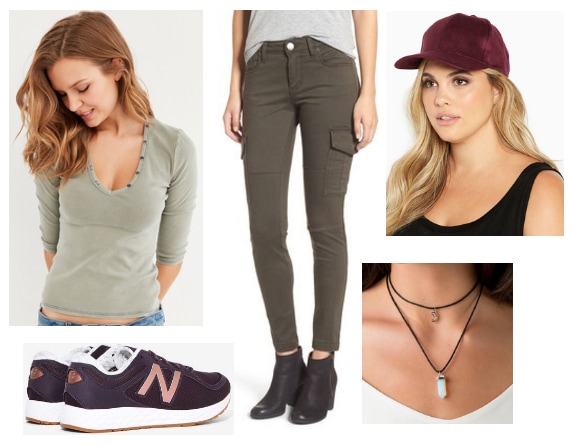 Products: Top-Urban Outfitters, Pants- Nordstrom, Hat- Torrid, Shoes- New Balance, Necklace- Francesca's
2. Diner Girl
Okay, so your stepmother may not force you to work in a cheesy themed diner where you have to glide around on roller skates. However, Sam's "diner girl" look would translate nicely into a cute, slightly retro business casual outfit.
Grab a pair of timeless houndstooth print trousers, then add a flowy black blouse on top. When you're on your feet all day, comfy shoes are key, so choose something like these chic ankle-strap d'orsay flats. Lastly, incorporate several soft pops of color. The blush pink wristwatch and structured handbag add to the office-ready vibe.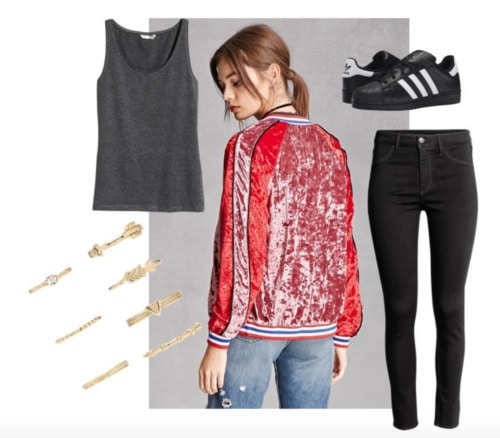 Products: Top- Mango, Watch- Princess Polly, Bag- Charming Charlie, Pants- Old Navy, Shoes- Old Navy
3. Cinderella
It'd just be wrong not to recreate this memorable outfit. The next time you're headed to a masked ball (…or, you know, maybe just a fancy event) opt for an elegant tulle dress, like the one below.
Continue the dressed-to-the-nines vibe in metallic ankle-strap heels, then accessorize with romantic earrings reminiscent of the dreamy backdrop of Sam and Austin's first dance. For the final touches, wear your hair half-up with loose curls and play up your eyes with several coats of a volumizing mascara.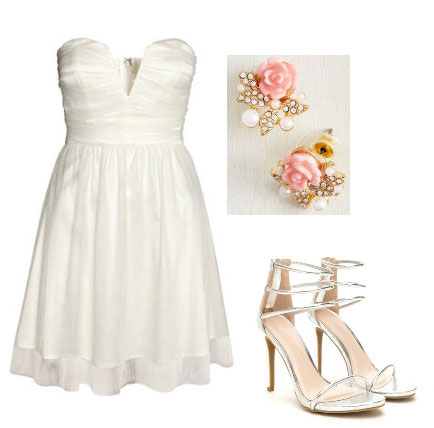 Product Info: Dress- H&M, Earrings- ModCloth, Shoes- GoJane, Mascara- Too Faced
4. Waiting for you is like waiting for rain in this drought….
Sure, that ballgown is iconic, but this outfit always stood out to me. Sam's combo of deep red and bright blue is so striking. It's a casual yet eye-catching getup that would look super-cool on campus this fall.
Start with a pair of dark wash, straight-leg jeans. Grab a long, chiffon tank top, then layer a burgundy bomber jacket on top. Have a little fun with your shoes; this butterfly print is a fun take on classic lace-ups. Add a few swipes of a kissable, pale pink lipgloss and you'll be good to go.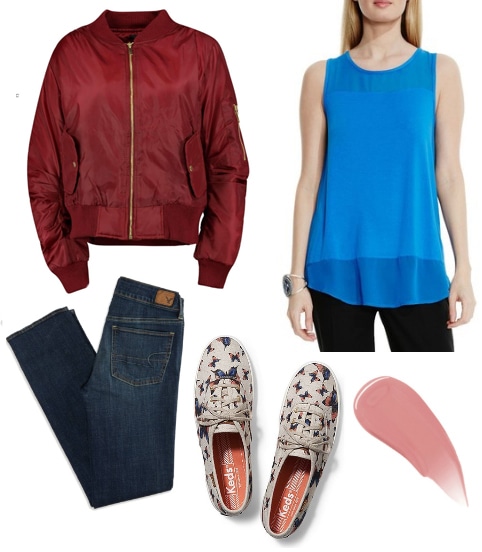 Product Info: Jacket- Boohoo, Top- Lord & Taylor, Jeans- American Eagle Outfitters, Shoes- Keds, Lipgloss- Burberry
What do you think?
Do you like Sam's style? Would you wear these looks? Are you a fan of A Cinderella Story? Have you seen any of the sequels? (A new one was released just this month!) Leave a comment below and tell us your thoughts.