From West Texas, I'm back in Atlanta, Georgia for the holiday visiting extended family and I'm determined to make the best of it! Although it's cold, the city is covered in vibrant holiday decor. I'm making my Christmas bucket list and checking it twice!
As a college student, you're probably in the same boat, leaving your small college town to see family in more metropolitan areas, excited to take advantage of what the nearby city has to offer.
Below are some items on my bucket list and outfits to match. The first item to check off my list is a girls night in Atlanta!
Girls Night in the City
As a recent grad, I've haven't seen many of my college friends in a while after we all moved to separate states. Determined to have our own Girls Trip, we're meeting up this holiday in the Peach City to eat good foods, hit up the pubs, and spend a wild night in the city!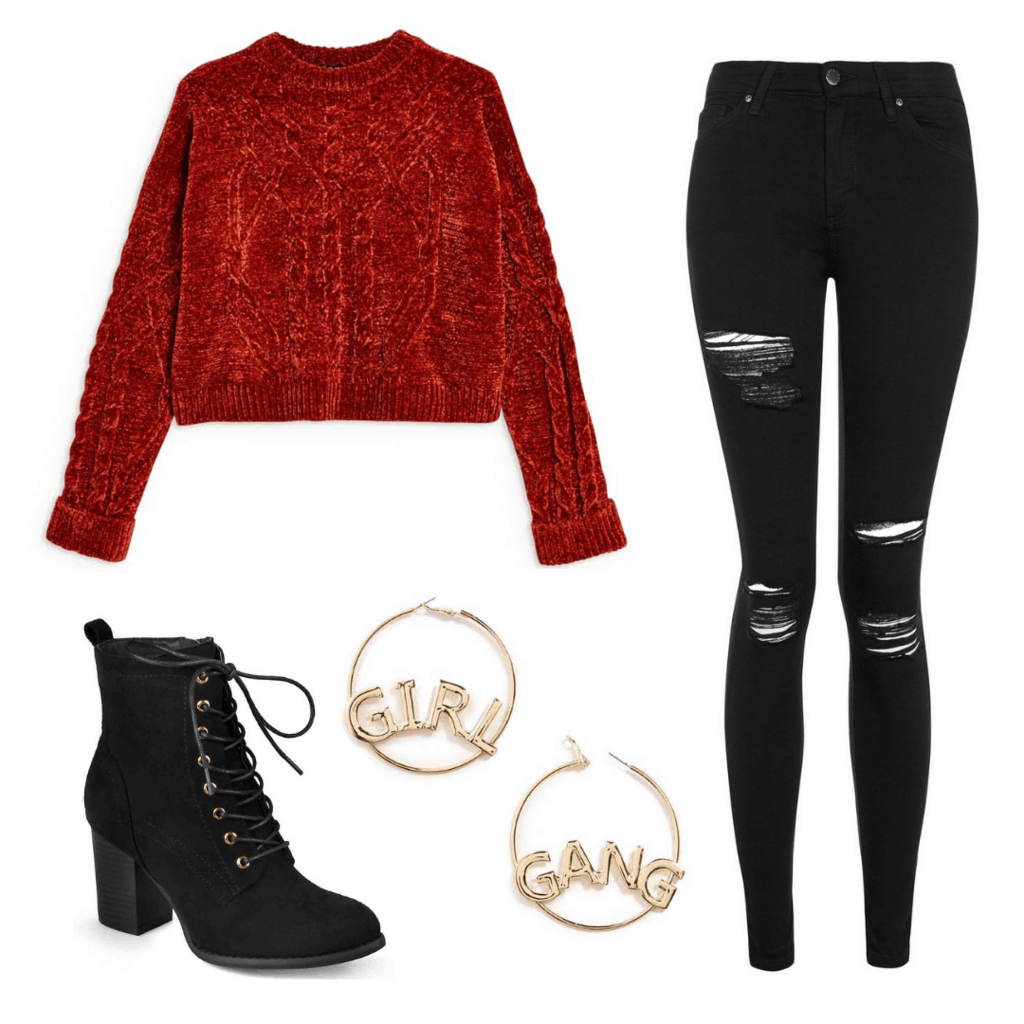 Products: Sweater – Nordstrom; Jeans – Hollister; Earrings – Amazon; Boots – DSW
Since I'm a wimp when it comes to the cold, I generally like to dress in comfy chunky sweaters. I found this beautiful velvety chenille cable sweater from Nordstrom that elevates this look to a dressier affair.
The "Girl Gang" hoops are a bit tongue-in-cheek, but my group of girls has never been known to take ourselves too seriously!
To elongate my stature, I've paired black skinny jeans with lace-up combat booties, giving the appearance of legs that go on for miles.
Christmas Lights in the Botanical Garden
As a tradition, my sister and I are always searching for a bigger and better Christmas light extravaganza than the year before. I believe the Atlanta Botanical Garden Lights might have them all beat!
A rainbow of sparkly lights covers oak trees, garden beds, buildings, and statues with Christmas Carolers abound, adding harmonious acapella to the atmosphere. The smell of campfires and s'mores will fill the air as we sip on our hot cocoas. Small electronic train models will speed on tiny railways for our eyes to feast on. All hopefully adding up to a magical night!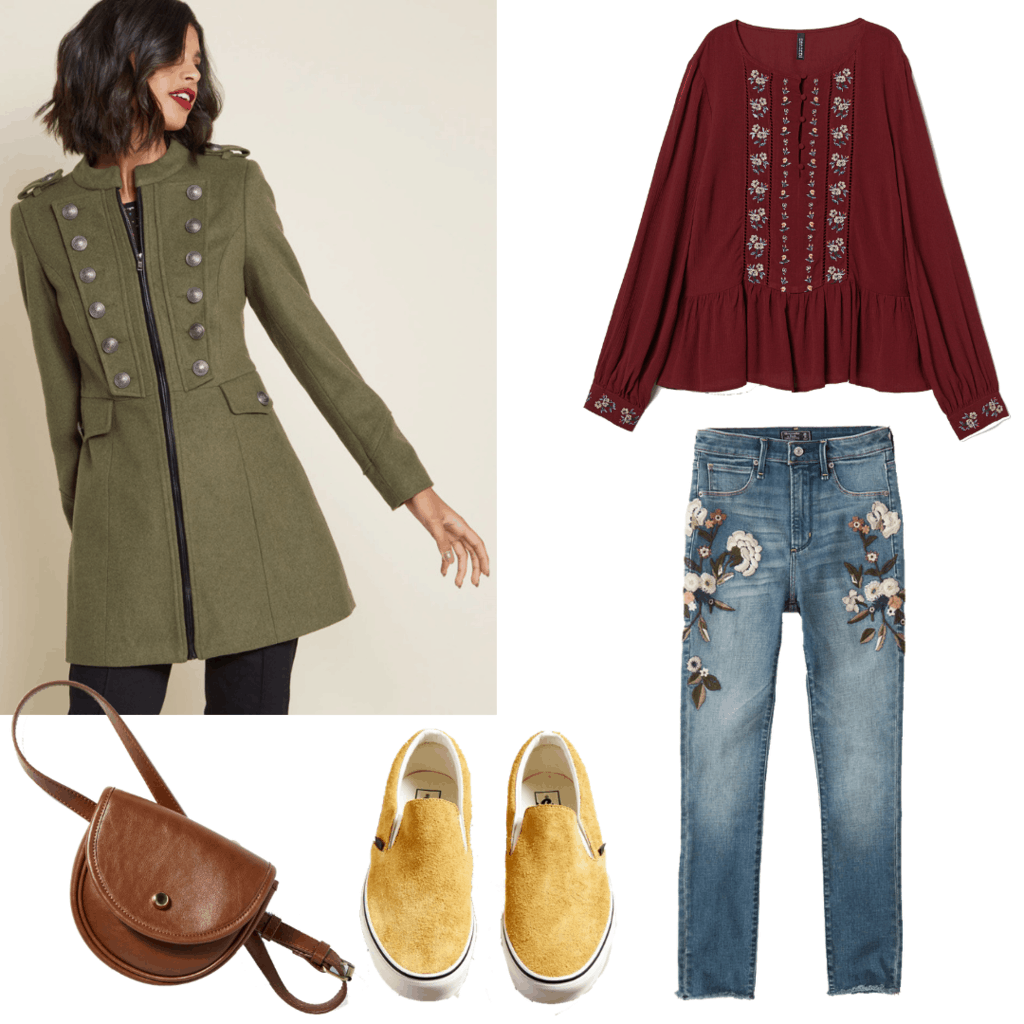 Products: Coat – Modcloth; Blouse – H&M; Jeans – Abercombie; Vans – Urban Outfitters; Bag – Modcloth
I've always been a quirky dresser and when there's a theme I like to dress accordingly. Since this is a colorful and floral event, I choose an outfit that matched the occasion. Florals don't only have to be for Spring and Summer; they can even lighten up a winter wardrobe to create a boho vibe.
The structure of a militarily styled coat contrasts nicely with the flowy-ness of the floral embroidered blouse. For a pop of color, I've added these dandelion slip-on Vans that prove comfort doesn't have to mean sacrificing style!
A Christmas Carol at the Theater
Although I've been back and forth from Atlanta for years now, the one thing I've put off for too long is visiting the Fantastic Fox Theater! This historic theater has been around since 1928 and hosts seating for nearly 5,000 guests. With a ceiling that touches the heavens, ornate gold leaf detailing and deep burgundy carpets, you feel transported back in time.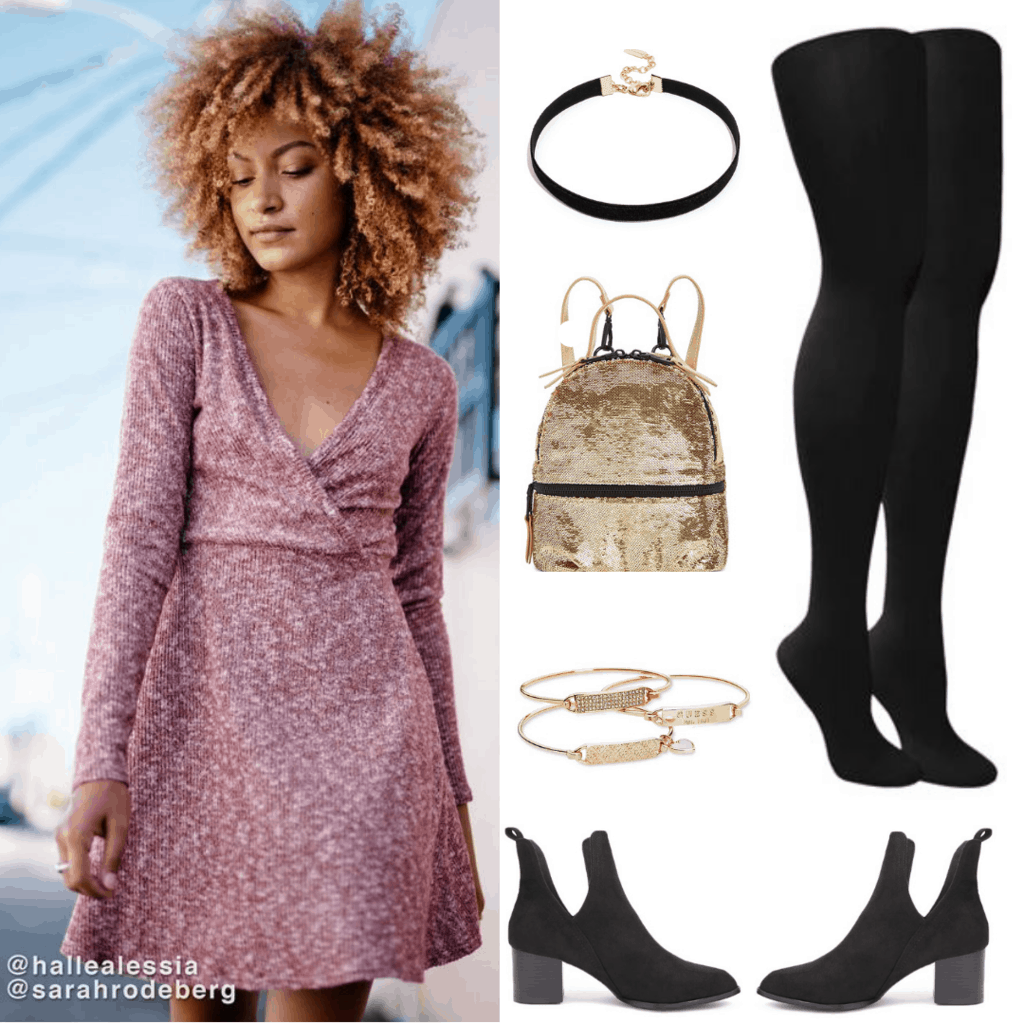 Products: Dress – Urban Outfitters; Choker – Bauble Bar; Mini Backpack – Macy's; Bracelets – Macy's; Leggings – Target; Booties – Forever 21
During the winter I like to recycle fall and spring dresses into my cold weather wardrobe by adding opaque tights. Since this is a fancier event, I wanted to keep to a simple color palette while turning up the glam.
While this dress combination can be perfectly suitable for day, adding gold jewelry and sequin accessories can transform it for nightwear.
What Do You Think?
Do these outfits fit your style? Is your holiday bucket list similar to my own? If not, what do you plan on doing during your holiday break? Tell us in the comments below!