Every season has its unique fashion trends and ways to make a statement, but sometimes you just want to rock classic styles that won't go out of fashion. One such example is denim. From jeans to denim shirts, pieces in this fabric are perfect summer choices.
Last summer, denim skirts made a comeback, but that's just one way to express your inner fashionista this year. For this summer, we're also craving denim dresses, jackets, tops, and shorts, all in dark or light wash, ripped or cropped. So.Many.Options.
Here are 5 stylish outfits incorporating classic denim for this coming Summer season.
Related reading: Jean Shorts Outfits: 6 New Ways to Style This Summer Essential
Outfit #1: The Denim Dress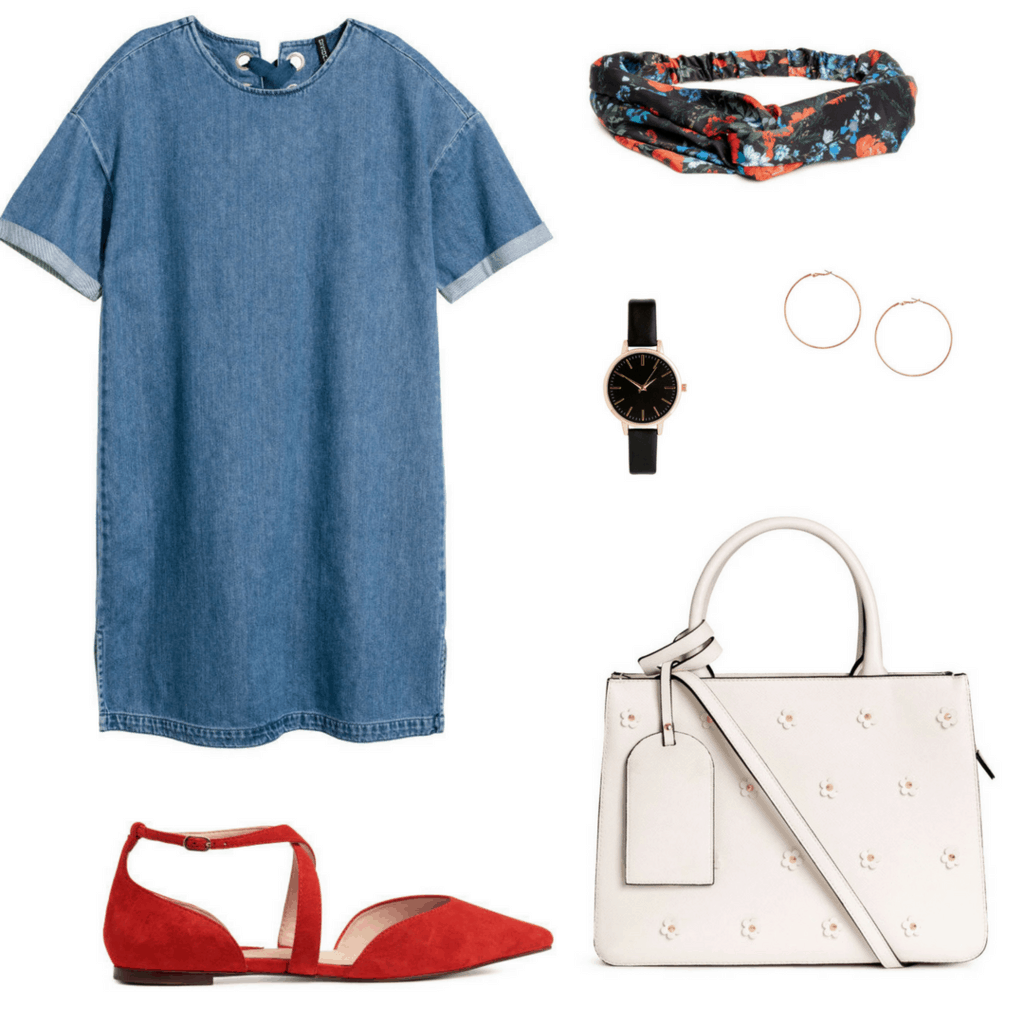 Products: Dress – H&M, Shoes – H&M, Headband – H&M, Watch – H&M, Earrings – H&M, Handbag – H&M
This outfit set is full of some of our H&M favorites. The "Denim 'T-Shirt' Dress" is a casual yet cute way to make a statement. To add a pop of color, the red suede flats are trendy and classy. To accessorize, you can never go wrong with adding a floral knot headband along with gold jewelry and a fabulous handbag.
Outfit #2: Denim Shorts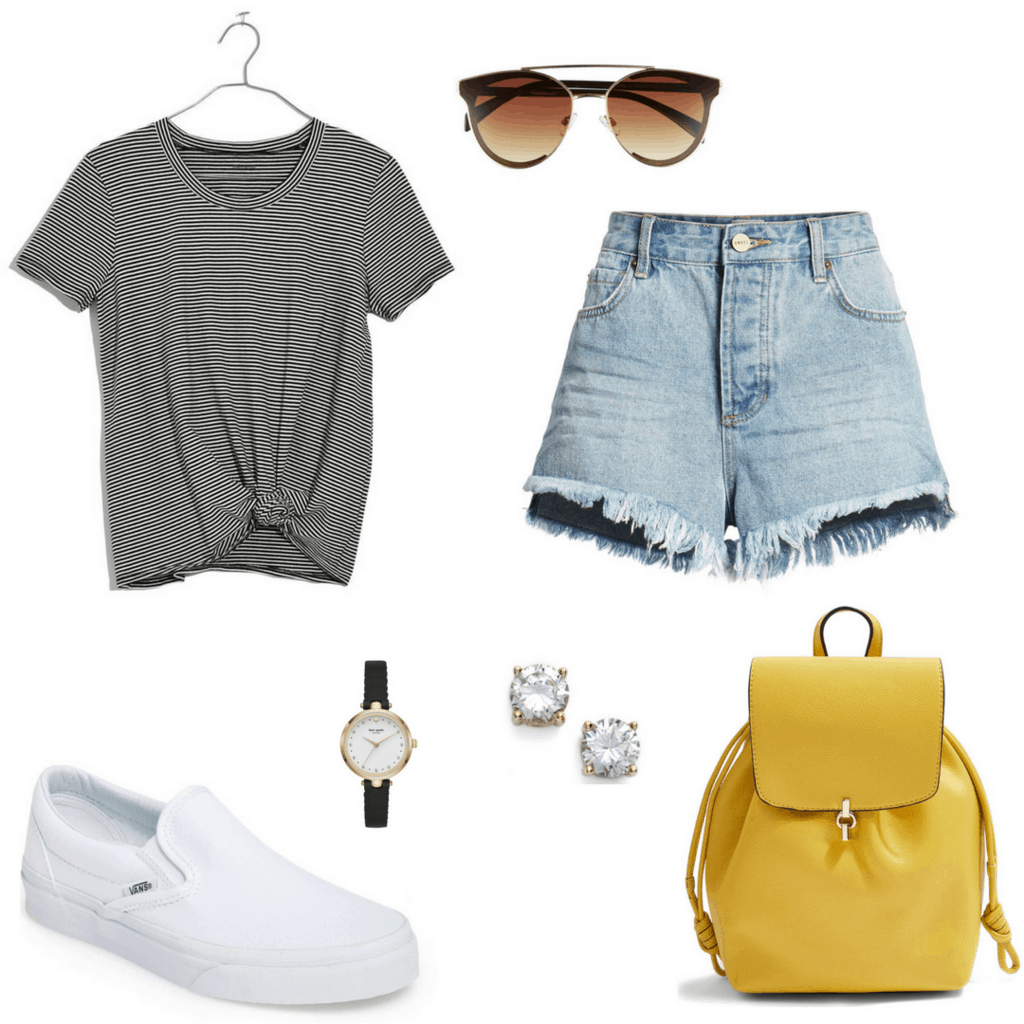 Products: Tee – Madewell, Shoe – Vans, Watch – Kate Spade, Earrings – Givenchy, Sunglasses – BP, Shorts – Amuse Society, Backpack – Topshop
Although the focus of this outfit is the bright yellow backpack, the Amuse Society "Shoreline Fray Hem Denim Shorts" make this casual outfit insanely fashionable. The classic Vans bring the whole look together for a classic summer vibe. You can never go wrong with an outfit like this.
Outfit #3: The Denim Jacket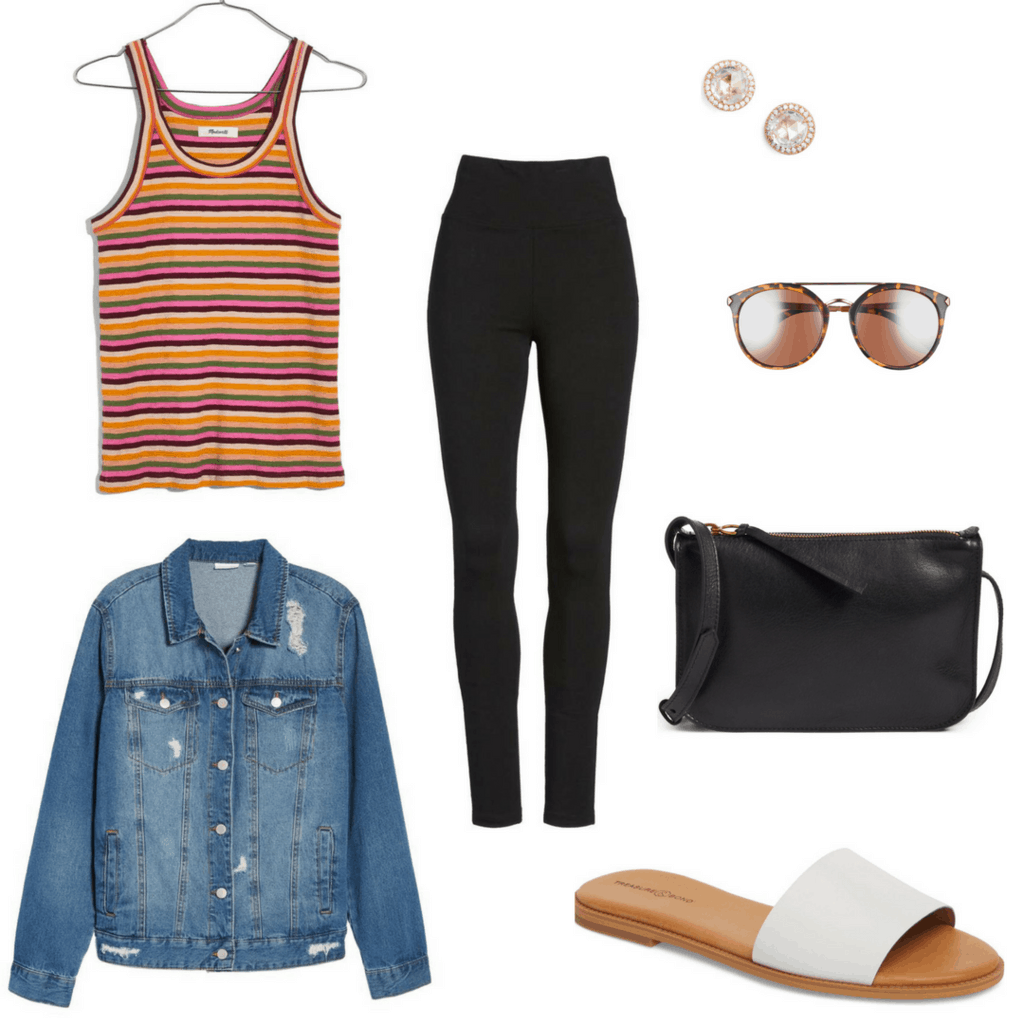 Products: Tank – Madewell, Jacket – Nordstrom, Leggings – Nordstrom, Earrings – Kate Spade, Sunglasses – BP, Purse – Madewell, Shoe – Nordstrom
Featuring some of Nordstrom's top selling items, this outfit is casual and stylish for a cooler summer day. A denim jacket is a necessity and can be worn with an outfit like this, a sundress, a romper, etc. You've got options! There are many types of denim jackets out there right now, from embellished to oversized, so there's a perfect jacket out there to fit your vibe. If you want to go classic, this is a great one to choose.
Outfit #4: The Denim Skirt
Products: Skirt – Topshop, Shoe – Nordstrom, Hoops – Nordstrom, Purse – Topshop, Top – Nordstrom
The 2000s' favorite denim skirt has been trending again for the past year or two. Whether you dress it up or dress it down, it's still a great option for summer 2018. For this look, we paired the denim skirt with a floral, off-the-shoulder top and strappy sandals. You will be the best-dressed girl at brunch this summer!
Outfit #5: The Original Denim Jeans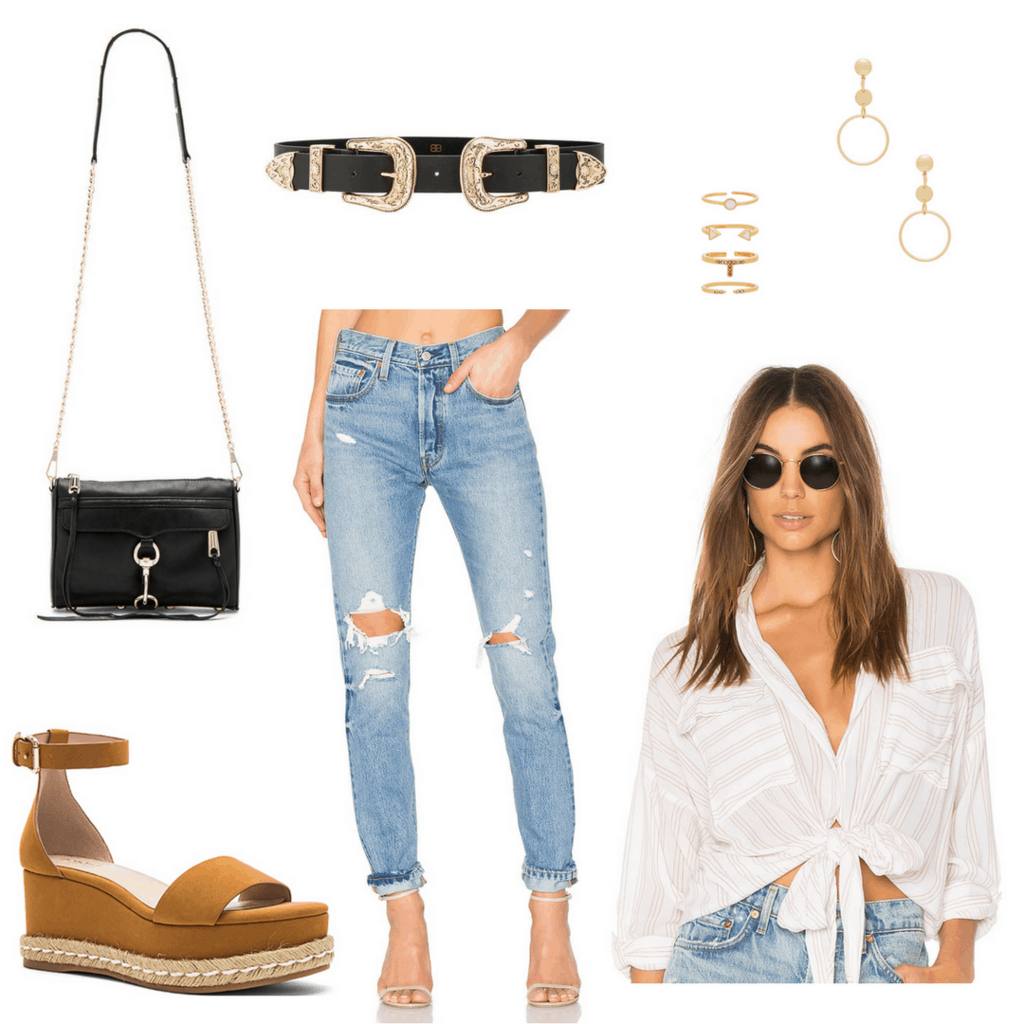 Products: Shoes – Revolve, Purse – Revolve, Belt – Revolve, Jeans – Revolve, Top – Revolve, Rings – Revolve, Earrings – Revolve
We all want the perfect summer outfit, and voila: Here it is. Featuring a few of our REVOLVE favorites, this outfit is everything. The gold accessories paired with chic wedges and a lightweight striped tie top look amazing alongside the ripped jeans. Jeans are a classic fashion go-to, but they're elevated and chic in this look.
Are you loving summer denim?
Those are just a few examples of summer denim outfit options. When in doubt, go for denim this summer. You really can't go wrong!