I don't know about you, but as soon as the summer months roll around, I crave simpler dressing, and outfits that are more relaxed, while still being style-conscious. How many times have I looked enviously at the guys around me, coveting their carefree summer style?
If you're like me and you want to channel the ease of the clothes sported by the boys in your life, look no further and envy no more! The outfits below are dedicated to the many boys that you see every summer – from your summer fling to your awesome grandpa. Each outfit contains a specific piece that's reminiscent of each of summer boy breed mentioned.
1. The Boy Best Friend: Cozy V-Neck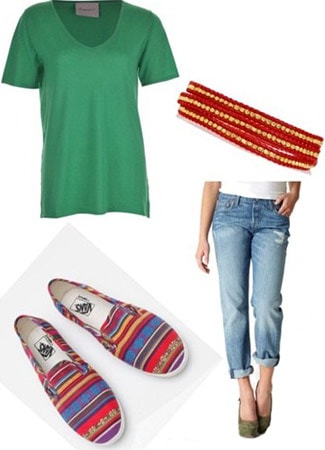 He's the guy who will gladly give you a ride when you need it, put a smile on your face, and act as your surrogate older brother.
To channel his relaxed style, don a super soft v-neck tee in a mellow color. Add a little flare to the outfit with patterned Vans, a wrap bracelet and worn-in boyfriend jeans (emphasis on "friend"). This outfit is perfect for hanging around with your friends – guys included!
2. The Summer Fling: Hot Summer Dress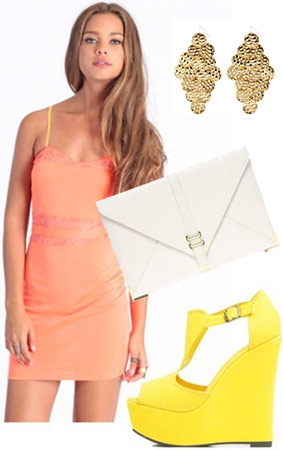 Dress, Earrings, Clutch, Shoes
A summer fling is always fun and flirty, so, accordingly, this outfit is based around a fun, flirty dress that's sure to turn heads.
The gorgeous tangerine color of this frock is both on-trend and super flattering, and the lace inserts are both sweet and subtly sexy. With summery yellow wedges to complement the dress' straps, you don't need bright accessories – grab a simple clutch and some fun earrings and you're good to go for a night on the town.
3. The Lifeguard: White Shorts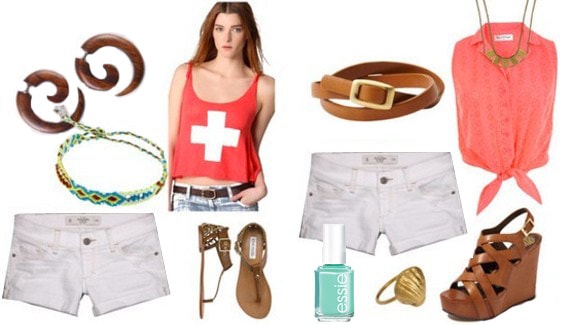 Left: Tank, Shorts, Bracelet, Earrings, Shoes | Right: Blouse, Bracelet, Shoes, Ring, Necklace, Nail Polish
"The Lifeguard" is what I've dubbed every crush-worthy guy you admire from afar, whether he's a lifeguard, the guy working the ring toss at the boardwalk or even that gorgeous guy from the 'Call Me Maybe' music video. (Drool.) Channel the vibe of this summer species in two different ways, using white short-shorts as a starting point:
This first outfit (left) keeps it simple, with white short-shorts and a lifeguard-inspired print tank – a subtle nod to its inspiration, of course. Along with some beachy accessories like leather sandals, a thread bracelet and faux gauge earrings, this look is both comfortable and cool enough to wear while chatting up just about anyone.
In a bit of a dressier take (right), this outfit teams a bright eyelet blouse with white short shorts and strappy brown leather wedges. The look is completed by a simple brown leather wrap bracelet, a pretty gold seashell ring, and a trendy gold geometric necklace. Though this outfit maintains the image of a 'hot lifeguard' type with its bombshell silhouette and seashell ring, it also look polished, thanks to the geometric jewelry and leather wedges. This outfit works especially well with turquoise nail polish, which pops against the color of the blouse.
4. The Good Ol' Gramps: Chambray Shirt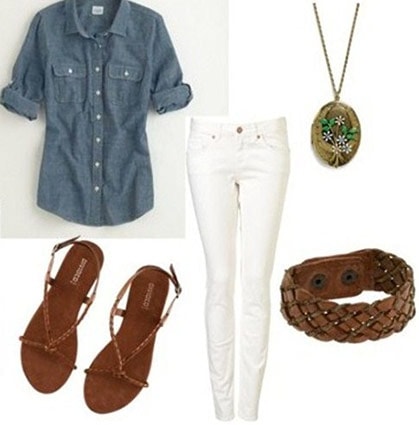 Shirt, Jeans, Shoes, Necklace, Bracelet
When I think of summer, I think of having time to spend with family, and enjoying an icy glass of lemonade on my grandparents' deck.
Though normally, as much as I love him, I wouldn't take fashion advice from my grandpa (Five words: Cowboy boots and a Speedo. I will now apologize for painting that mental picture.), I do covet his faded denim shirts. This look translates grandpa's denim into a lightweight chambray shirt, and paired with white skinnies, a feminine locket, leather bracelet and shoes, along with easy breezy hair. Rock this and Grandpa's look (or look-away) becomes a great summery outfit perfect for a casual dinner or nighttime bonfire.
5. The Perfect Possibility: Four-Season Boots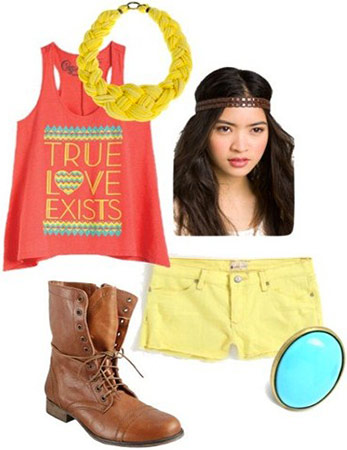 Tank, Shorts, Boots, Necklace, Headband, Ring
Last, but by no means the least, we have what I've dubbed the "Perfect Possibility." He's got all the charm and chemistry of the summer fling, but you feel like he might have staying power. Maybe – dare we say it? – he could even be potential boyfriend material.
Just as the Perfect Possibility can transition from your warm-weather days to the cooler months, you can rock these rad lace-up boots all year round. Don a wonderfully optimistic bright tank and cheerful yellow shorts, then add some edge with the boots. Tie the outfit together with jewelry that picks up on the colors of your top, and a hippie-inspired leather headband.
What do you think?
Had any personal experience with any of the boy breeds mentioned? Would you rock these summer looks? Share your thoughts, request an article, or let me know what you thought of my very first article for CF- leave me a comment below!