This post may contain affiliate links, which means we may receive a commission if you purchase through our links. Please
read our full disclosure here
.
I got a lot of great feedback from you guys about my last post with looks inspired by some of Coco Chanel's most famous quotes. This time, I wanted to focus on a designer who is known for her unique personality and over-the-top personal style: Betsey Johnson.
Betsey Johnson was born in 1942 in Connecticut. Johnson graduated from Syracuse University and quickly joined the fashion world, working for magazines and boutiques in New York. She spent the '60s and '70s rubbing elbows with New York's hippest crowd, including Andy Warhol and Edie Sedgwick. She finally released her own line in 1978. Today, she is one of the most recognized faces in the fashion industry.
Without further ado, here are four looks inspired by Betsey Johnson's most memorable quotes.
1. "Love is a disease of the heart…in the end, there is no treatment curable and it might just kill you."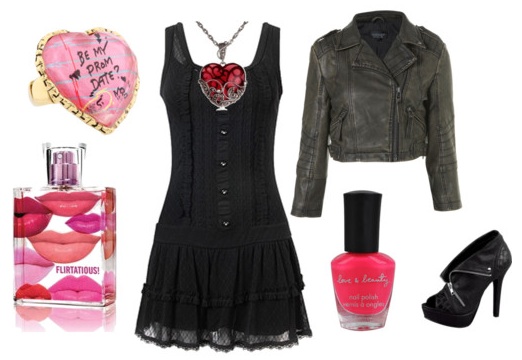 Ring – Perfume – Necklace – Dress – Jacket – Nailpolish – Shoes
Heartbreak sucks. Sure, you always learn a lot about yourself and you definitely grow as a person, but in the immediate aftermath of a breakup, all you want to do is sulk. Even Betsey Johnson, a super successful designer, understood how badly it hurts.
After a bad breakup, no one should tell you that you aren't allowed to mourn, but you can do that while you work on getting back out there!
This look is based around the classic black dress – a reference to mourning a lost love. Need a reminder not to wear your heart on your sleeve next time? Well wear it around your neck with a fun accessory. Remember, the best way to get back to your old self is to "fake it 'til you make it." So even if you don't feel like dressing up at first, you will definitely feel better once you do!
The heart ring was the final touch on the outfit…a subtle hint to all the boys out there that you're back on the market! The best part? It's from Betsey's collection, so she clearly approves!
Even if you aren't broken hearted, this outfit could give you a great way to break out of your shell, style-wise. Is one of your style resolutions for this school year to be more creative with your style? If so, try this look! Betsey has never been afraid to be exactly who she is, despite what others might think, and look where her fierce individuality has gotten her.
2. On her "formula" for style: "Take a leotard and add a skirt"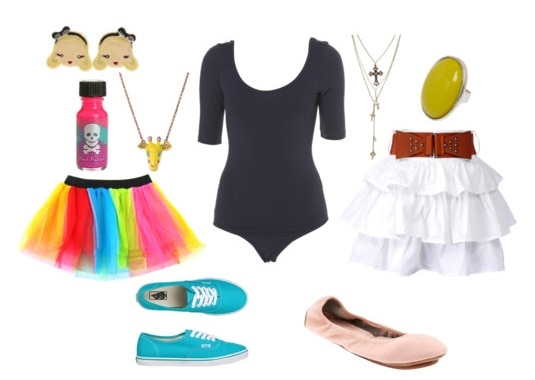 Earrings – Nailpolish – Skirt – Giraffe Necklace – Shoes – Leotard – Cross Necklace – Ring – Skirt – Flats
I'll be honest: It wasn't until I was creating this look that I even considered the possibility of buying a leotard. I don't own one, and I always walk right past them in stores, but after experimenting with the endless possibilities, I honestly cannot wait to run out and buy one!
Above, I created two unique looks focused around a single black leotard. The look on the right is a fit for my personal style: It's flirty and feminine with small pops of color. And it looks so comfortable for running around campus on my busiest days. The look on the left is definitely more Betsey's style: It's loud, funky, unexpected, and perfect if you have a more daring, in-your-face sense of fashion. So fun!
3. "Girls do not dress for boys. They dress for themselves, and of course, each other. If girls dressed for boys, they'd just walk around naked at all times."
If you're itching for a guy's attention, walking around naked would certainly do the trick…but you might not get the kind of attention you're looking for! That said, Betsey makes a great point: Women who are into fashion buy pieces and create outfits for themselves and their girlfriends, because guys rarely notice!
So, for this look, I decided to stick with my favorite basics- the white tank and jeans- to illustrate how you can take one outfit and transform it from a casual date look to an ensemble for a night out with the girls!
Casual Date Look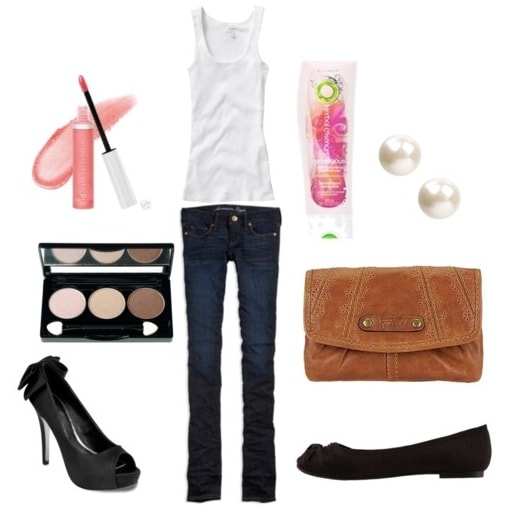 Lipgloss – Eyeshadow – Heels – Tank – Jeans – Shampoo – Earrings – Clutch – Flats
Lets just be honest: Most guys you go out with have no idea whether your heels came from Wal-Mart or a Louboutin boutique. They aren't going to understand that your rhinestone bag is so in style; they are going to think that it might bite them if they pick it up for you.
In general, guys don't care what you wear, but they care how long it takes you to get ready (especially when they're waiting!). Most guys will love the illusion that you spend zero time getting for a casual night out. So style your hair down with lots of volume-but keep it touchable. Keep the wild accessories to a minimum and focus on pieces that accentuate you best features, and downplay those you feel self-conscious about.
Remember, the most important thing is that YOU feel confident and comfortable on your date. He won't care whether or not you wear heels, but he WILL notice when you trip over your own feet on the sidewalk or complain all night about the pain you're in!
Night Out with the Girls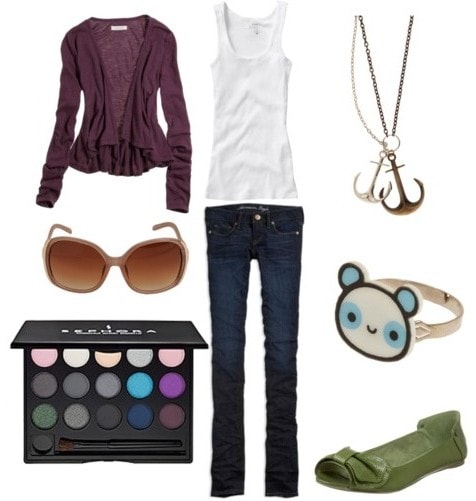 Cardigan – Sunglasses – Eyeshadow – Tank – Jeans – Necklace – Ring – Flats
On the other hand, when you are out with your girls, you have a perfect opportunity to experiment with fashion and dress to impress – they'll notice! So play with color and wear your favorite cute accessories that your guy might not quite understand. The best part about girl's nights out are getting ready together, so make sure to have fun with your look and be as creative as you like!
Your thoughts?
So what do you think? Did Betsey's words inspire you? What do you think about her idea of "girls dressing for girls?" Let me know in a comment below!