This post may contain affiliate links, which means we may receive a commission if you purchase through our links. Please
read our full disclosure here
.
Last week, we talked about the Hot Inside, Cold Ouside (HICO) dilemma. Even though it's frigid outside, many popular college hangouts — e.g. fraternity parties, bars, and clubs — don't have a safe place to stow one's coat. This poses an annoying problem, especially if you're in a crowded place or want to dance.
Continuing from last week, here are four more cold weather "night out" outfits that will keep you warm while still looking nighttime-appropriate. After you finish reading, leave a comment and tell us the ways that you usually solve the HICO dilemma. Happy partying, girls 🙂
(In case you missed the first post, see: Hot Party Looks for Cold Nights – Part 1!)
Tip #5: Add warm accessories to a simple outfit.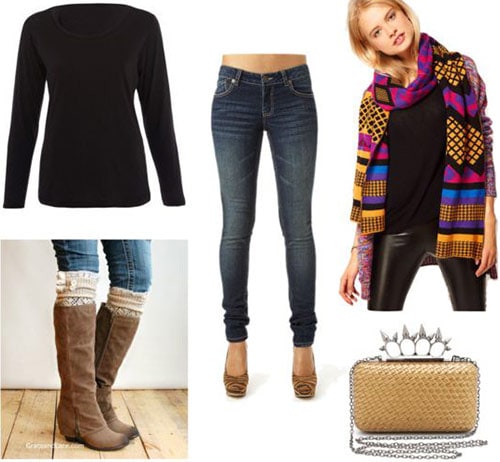 Shirt, Jeans, Boot Socks, Scarf, Clutch
This is a super simple trick that it's important to master during the winter. The key here is to strike the right balance with accessories – you want pieces that are dressy enough for where you're going, but not so dressy in that they'll clash with a basic and comfortable long-sleeved shirt and jeans.
There are several ways to make this outfit go from casual-chic to party-chic. First, wear a fitted long sleeved shirt that shows off your figure. Next, look for wool or cashmere-like fabrics for your scarf. (Those thick pashminas sold by street vendors in New York City are great for this!) Another way to dress up this look is by wearing high heeled boots. Lastly, statement jewelry and/or an edgy clutch will help complete your transition.
Tip #6: Try shorts with tights, heels, and a blazer.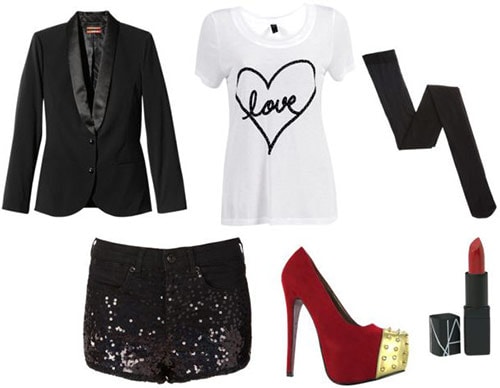 Blazer, Shirt, Shorts, Heels, Tights, Lipstick
It may be cold outside, but don't put away your shorts just yet! Dark colored, leopard print, and even denim shorts look awesome during the winter with a pair of thick tights worn underneath. I especially love these sequined hot pants paired with tights and a sexy pair of heels.
Stay warm by adding an awesome jacket (remember our tip from last week on making the jacket part of your outfit?) – military parkas, fur shrugs, and geometric-print coats all would look great, but I particularly love the look of this tuxedo jacket. The crisp jacket-and-shorts combo kind of reminds me of those trendy short suits we saw this summer. Finish the look with a bold red lip.
Tip #7: Embrace your inner snow bunny.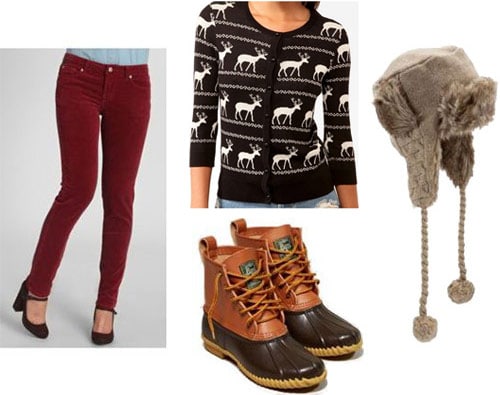 While this look might not work at a dance club or super trendy bar, it's perfect for a fraternity party or a house party. Guys will think you look adorable and cozy, but you won't be weighed down with tons of layers – win, win.
I really love colorful corduroy pants for fall. They're just unexpected enough to look unique and classic at the same time. They will pair nicely with a sweater — any sweater will do, but I like this reindeer design for this time of year. (Size up for a looser, cozier fit!) Finish with some cool boots (or a sweet pair of duck boots if you're feeling bold) and a trapper hat or beanie.
Tip #8: Wear a long-sleeved dress with over-the-knee boots.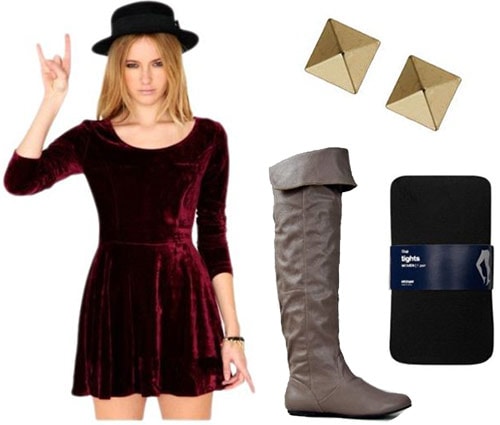 Dress, Boots, Tights, Earrings
There's something soooo incredibly chic, feminine, and almost balletic about long-sleeved mini dresses. They're just so flattering and simple! A basic black style is a no-brainer, but I actually own a maroon velvet one almost identical to the dress above — and I'm always shocked at how many compliments I get when I wear it out.
To keep your legs warm, throw on your trusty opaque black tights and pull on some sexy over-the-knee boots. These babies will look so stylish for winter, and will help balance out a short dress. Finish the look with some cute jewelry.
What do you think?
Now we want to hear from you. What tricks have you learned to combat the HICO dilemma? Do many of the bars or hangouts in your college town have coat check rooms? Are you ever nervous about leaving your nice winter coats around at house parties? Leave a comment and help your fellow CF girls out!