This post may contain affiliate links, which means we may receive a commission if you purchase through our links. Please
read our full disclosure here
.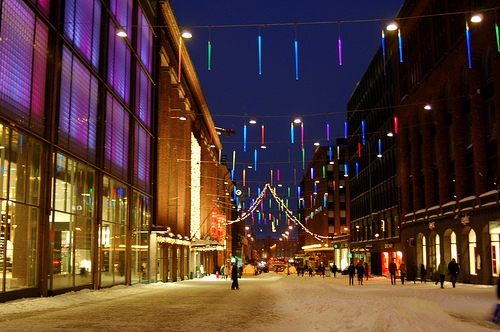 There's a little winter issue that I'm sure all of you have encountered before — I've come to know it as the Hot Inside, Cold Outside (HICO) dilemma.
The HICO Dilemma:
We've all been there — it's your BFF's birthday, you're going to grab a drink with that cutie from your accounting class, or maybe you're just ready to blow off some steam after an exam. You're ready for a fun night out, and you want to turn heads. So you put together a killer outfit. The problem? Most popular college hangout places (bars, fraternity houses, etc.) rarely provide a safe place to stow your coat.
At this point, you're forced to choose between two major inconveniences — "ditch and dashing", or stowing your coat in your car (or at home) while you sprint into the party, or carrying your winter coat around all night. Both of these scenarios are annoying — waiting for a cab ride home is miserable without outerwear, and, well, it's difficult to dance while holding a balled-up peacoat in your arms.What's a girl to do?
Well ladies, CF has got you covered. Below, I've put together four awesome outfits that will help you solve this HICO dilemma. Be sure to visit CF again next week for even more ideas. Check out the first installation below!
Note: We know that these outfits still might not be warm enough to wear without a coat if you live in a really cold part of the world. Be sure to leave us a comment if you're one of those girls and tell us how you manage to stay warm and look chic on nights out!
Tip#1: Pair liquid leggings and a boyfriend sweater with edgy accessories.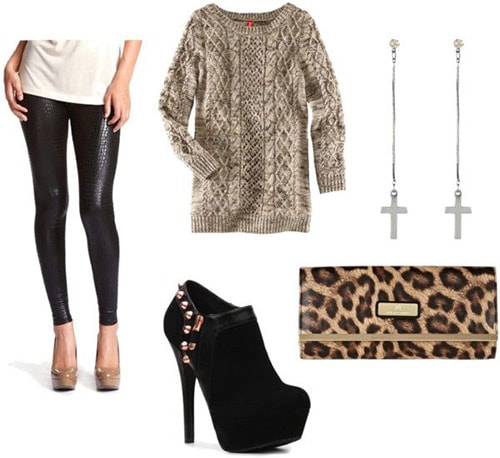 Leggings, Sweater, Shoes, Earrings, Clutch
I have a huge collection of knit sweaters that I like to pair with jeans and boots for an easy and casual outfit on the go. However, they look a little too lax for a big night on the town when just paired with jeans.
An easy way to dress up a big knit sweater is by pairing it with dressier pieces, making it go from class-appropriate to trendy enough to wear to a bar or party. Liquid leggings are just fancy enough to accomplish this. I especially like this pair above, embossed with crocodile print. Be sure to wear heels with this look, and finish with a clutch and cool earrings.
You can modify this tip by pairing knit sweaters with coated denim or patterned leggings. Leggings are also a clever way to make a short dress more seasonal!
Tip #2: Make your jacket an essential part of your outfit.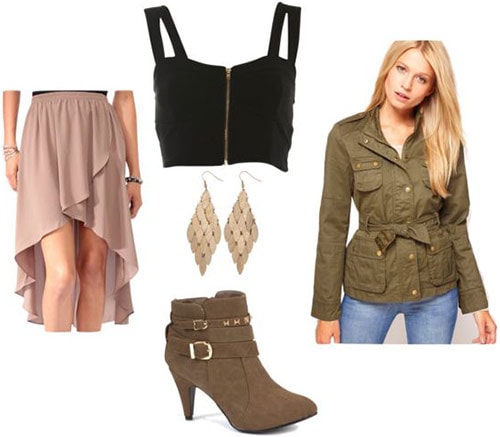 Skirt, Top, Jacket, Earrings, Shoes
Another way to combat cold weather and still look cool is to combine pieces that you wouldn't normally think to wear together. The results will be an interesting match of casual and dressy, which has been all the rage lately on street style blogs.
Start with a chic hi-lo skirt and pair it with a top — I like this cropped bra top because it creates an edgy aesthetic when paired with a high-waisted skirt, but almost any blouse could work in this situation. A utility coat, worn on top, gives you coverage, while also keeping you warm and creating contrast against the girly, flowing skirt. Finish with earrings and ankle boots.
This tip can also apply to cardigans, motorcycle jackets, military jackets, blazers, and more!
Tip #3: Layer with a dressy vest.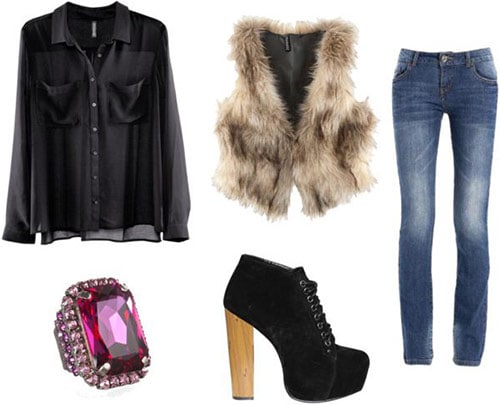 Shirt, Vest, Shoes, Jeans, Ring
An easy way to tweak a fall wardrobe for chilly temperatures is by adding a jacket, vest, or scarf to simple outfits. A silky black blouse like this one is incredibly versatile, and will look amazing under a faux fur vest and a trusty pair of jeans. You'd be surprised at how warm these vests keep you — and they'll work great with long sleeved shirts, thin sweaters, turtlenecks, and even long sleeved dresses! Keep this looking night-appropriate by adding a pair of platform booties and a sparkly cocktail ring.
This tip will also work great with military, knit, Sherpa, and motorcycle-style vests. The possibilities are endless!
Tip #4: Add tights and a leather jacket to a dress.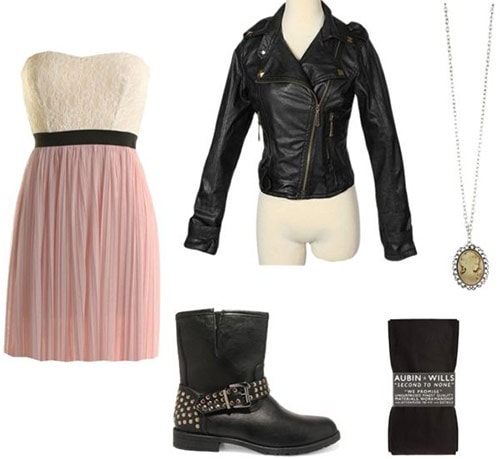 Dress, Jacket, Boots, Tights, Necklace
Probably the easiest way to winterize a party dress is to add your trusty leather motorcycle jacket. It will add an edgy element that will make even the most flowery pastel dress look amazing during the coldest months. Balance out the top by wearing tights and boots with the look. Finish with girly accessories, like this cameo necklace.
Don't limit yourself to just dresses, though — leather moto jackets work wonders on sequined party tops and silky blouses as well. If moto jackets aren't your style, you can substitute a black blazer for a trendy look perfect for a night on the town.
What Do You Think?
Does it get very cold where you live? What tricks do you use when you want to look chic but stay warm? Do bars in your college town have coat check areas? Leave a comment and tell us what you think!