It's not easy to dress cute in the winter when you really want nothing more than to wear a warm blanket to class. However, with these simple and easy cold-weather combos, you'll be stylish and warm this winter season.
Leggings and Boots
Our first winter combination is both comfortable and practical. If you've ever slipped on an invisible patch of ice on the way to class during a busy passing period, you will understand why you need a pair of non-slip-grip boots. With this combination of comfy leggings and steady (yet super cute) boots, you won't ever have to worry about falling down again!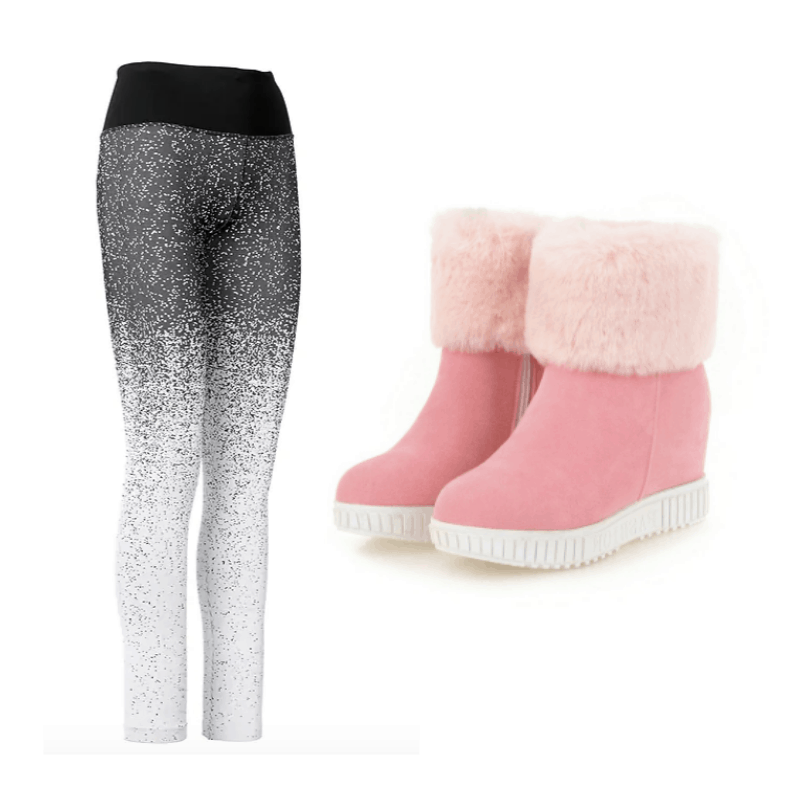 Products: Leggings – Athleta, Boots – Eric Dress
These unique leggings from Athleta remind me of a snowy winter sky, and with a high and thick waistband, they are perfect for both campus and the gym. These fashionable snow boots in a shade of baby pink add a little color to the combo, and the fur will keep your ankles from freezing.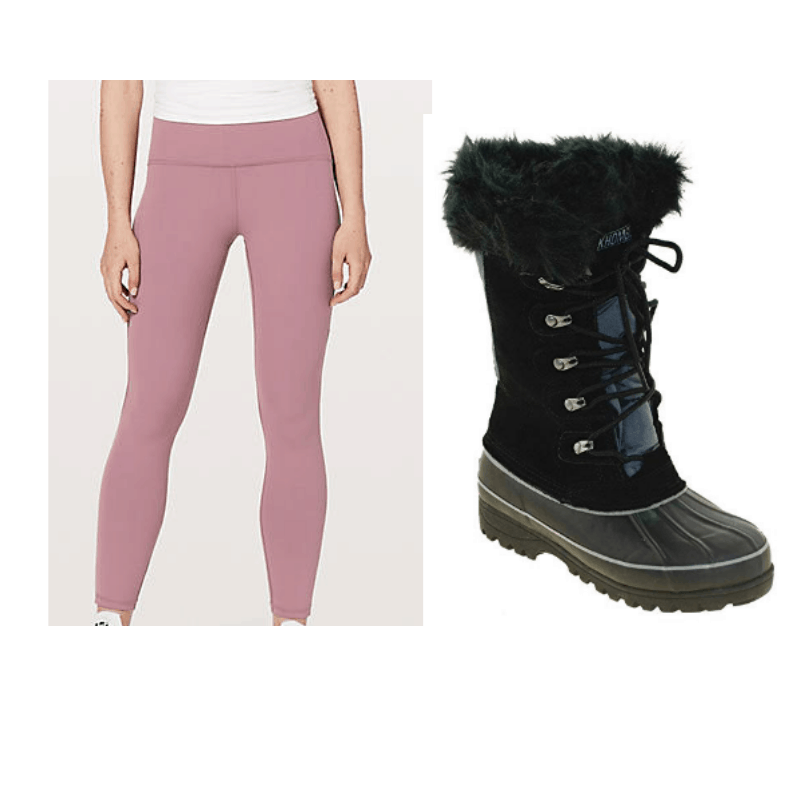 Products: Leggings – Lululemon, Boots – Amazon
Lululemon is my favorite athletic brand, if if you've never worn a pair of their leggings, you're missing out! In this easy and simple look, I've paired some sleek mauve leggings with hardcore snow boots to get you to and from class easily!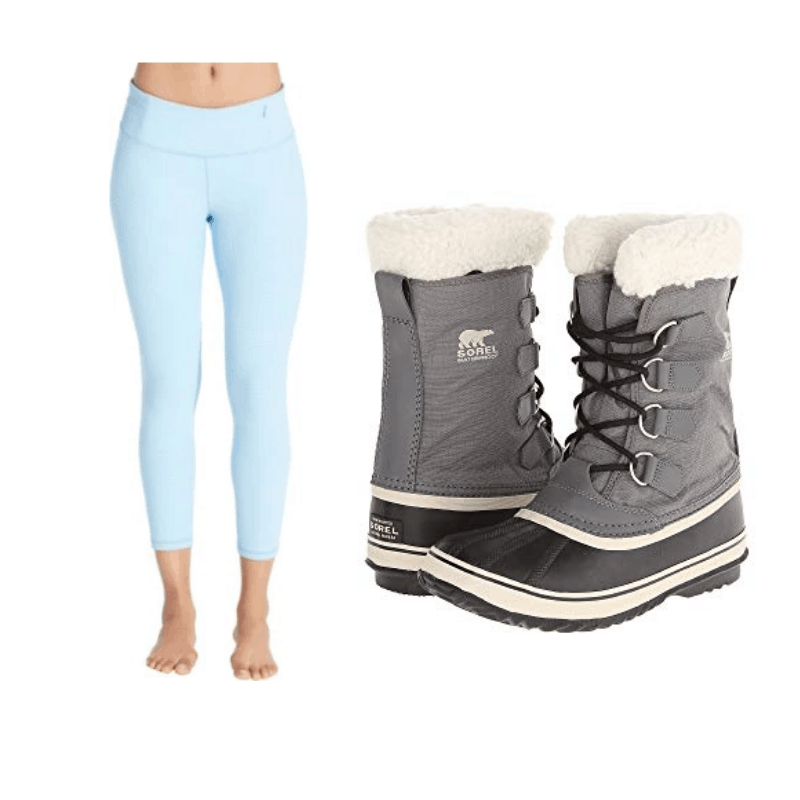 Products: Leggings – Calla, Boots – Zappos
I absolutely adore these light sky blue leggings, not to mention how well they go with charcoal grey. These snow boots are legit, and also super comfortable. This look gives a lighter vibe to the cold winter days, and will look good with any sporty winter jacket you have.
Teddy Coat and Sweater
The teddy coat is still one of my favorite looks of 2018, and it is also one of the warmest trends of them all. Pair your favorite affordable teddy coat with a wool or turtleneck sweater, and you won't ever have to worry about being cold this season! Here are a few cute combos to try: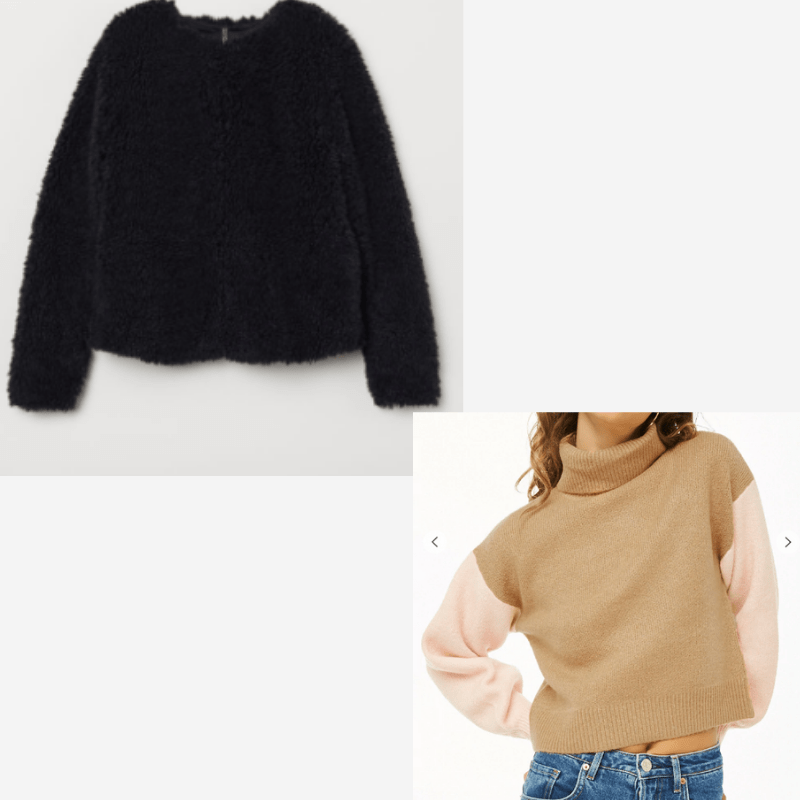 Products: Coat – H&M, Sweater – Forever 21
This adorable and unique caramel colored sweater from Forever 21 has color blocked sleeves, while boasting a classic turtleneck style. Paired with a waist-length black teddy coat, this sweater will shine with any bottoms you add to it.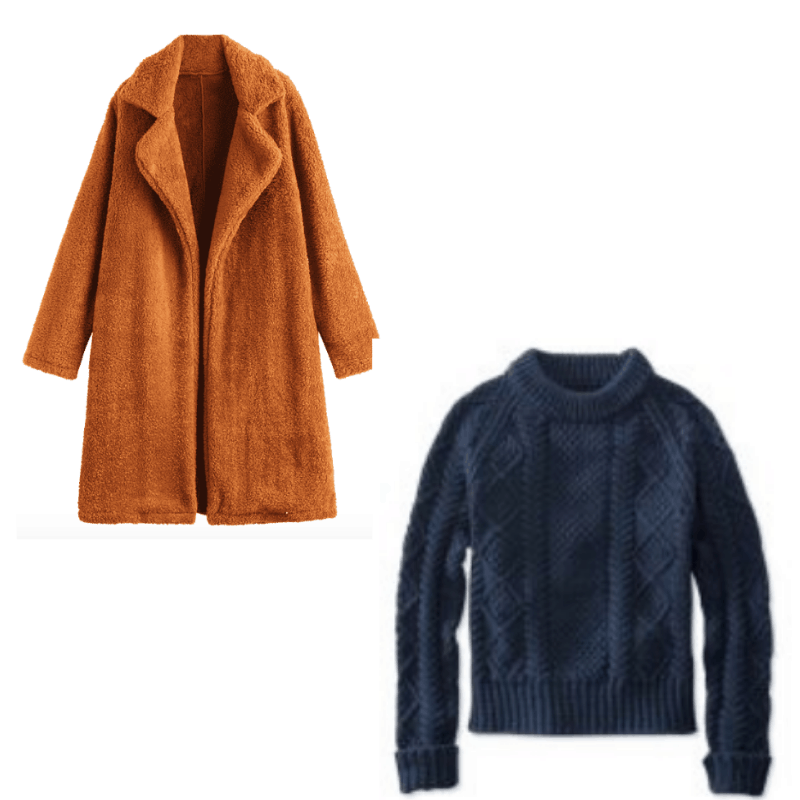 Products: Coat – Zaful, Sweater – L.L Bean
A longer version of everyone's favorite coat, this folded collar rust-hued teddy coat pairs perfectly with a navy crewneck sweater from L.L Bean. This look is sophisticated and savvy.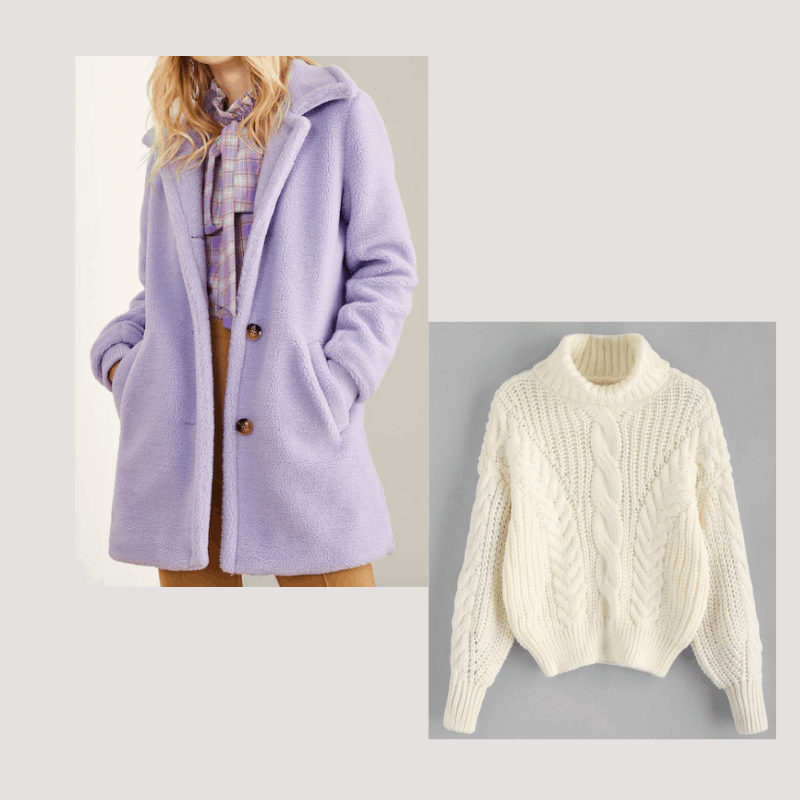 Products: Coat- Shein, Sweater – Romwe
In a rare twist, this thinly pressed teddy coat comes in a lavender color with buttons. To give it a light, airy vibe, pair this coat with a cream or white sweater and your favorite jeans, leather leggings, or trousers.
Pom Hat and Faux Fur-Lined Jacket
Pom hats are all over campus, keeping away the chilly winter wind as students shuffle to and from class. These hats keep our ears ultra warm, and they go well with warm winter parkas for those seriously cold days.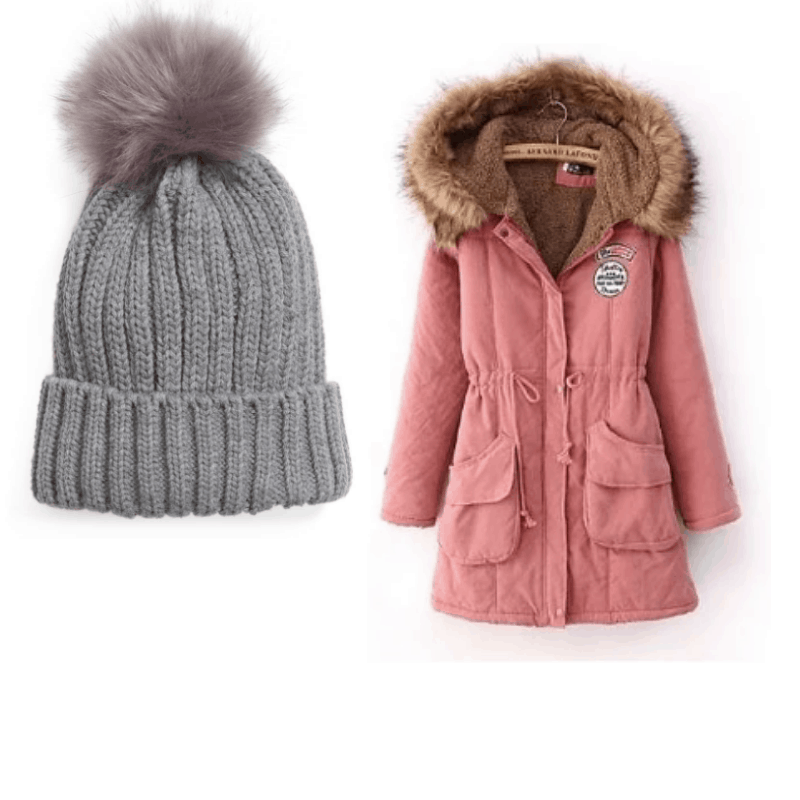 Products: Jacket – Mulberry, Hat – Nordstrom
I love the grey purple pom on this classic beanie, and the salmon pink hue of this jacket pairs perfectly with it. With a cinched waist and deep pockets, this jacket is a total score!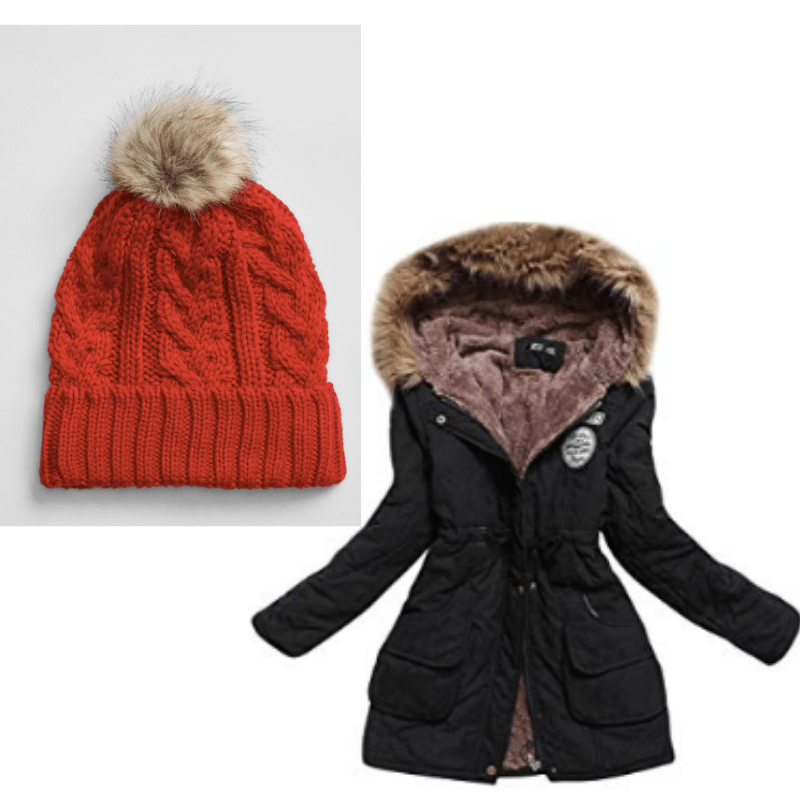 Products: Jacket – Amazon, Hat – Gap
Red is the most important holiday color, and this adorable little pom goes perfectly with this warm and thick black jacket. Quality material is key for staying warm this winter, and both of these pieces are of high quality, so you'll have them for years.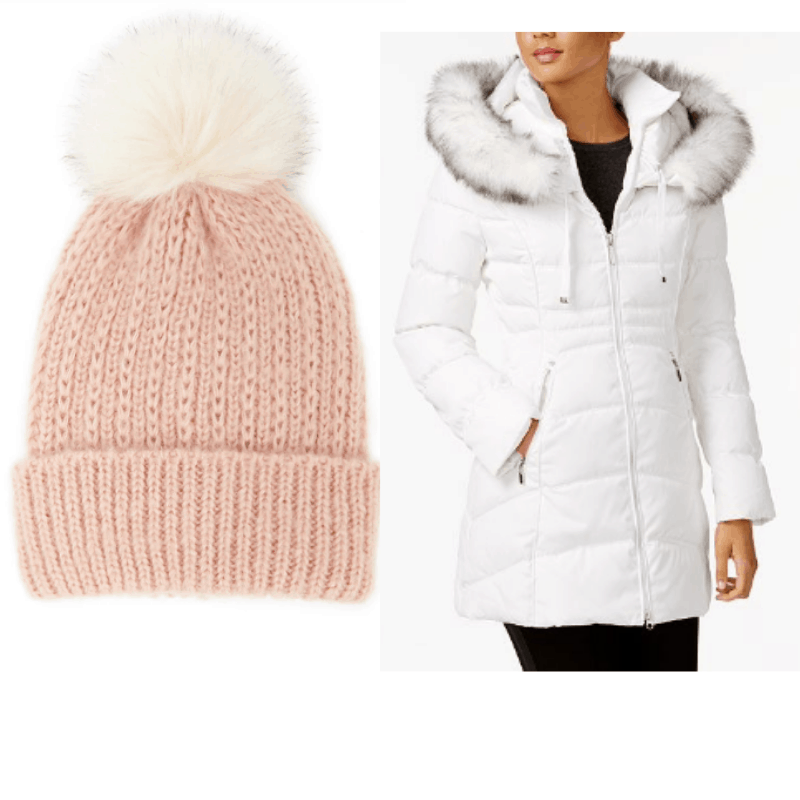 Products: Jacket – Macy's, Hat – Forever 21
With a pale pink knit texture and a cream puff, this hat is so pretty! This classy and clean white jacket lined with beautiful crisp faux fur pairs perfectly.
What do you think?
What're your favorite winter combos? How do you stay warm in the winter?