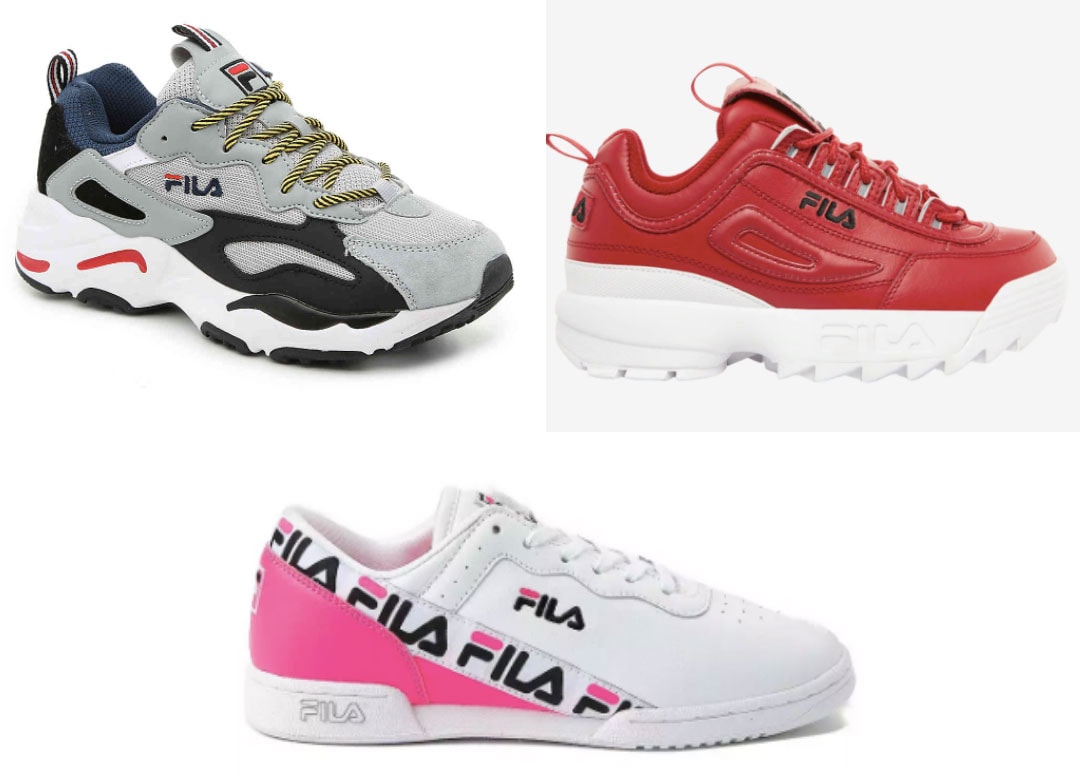 Bottom Center: Journeys, Top Left: DSW, Top Right: Footlocker.
Whether you're constantly on social media or you're just an observer of street style, you're probably aware of the white Fila sneakers trend.

From celebrities to Instagram models to influencers, these sneakers are absolutely everywhere. And we can't blame people for wearing them — these throwback shoes are cute!

Wanting to invest but unsure how to style these? Here's our guide to wearing white Fila sneakers to class and for a night out:

Class outfit: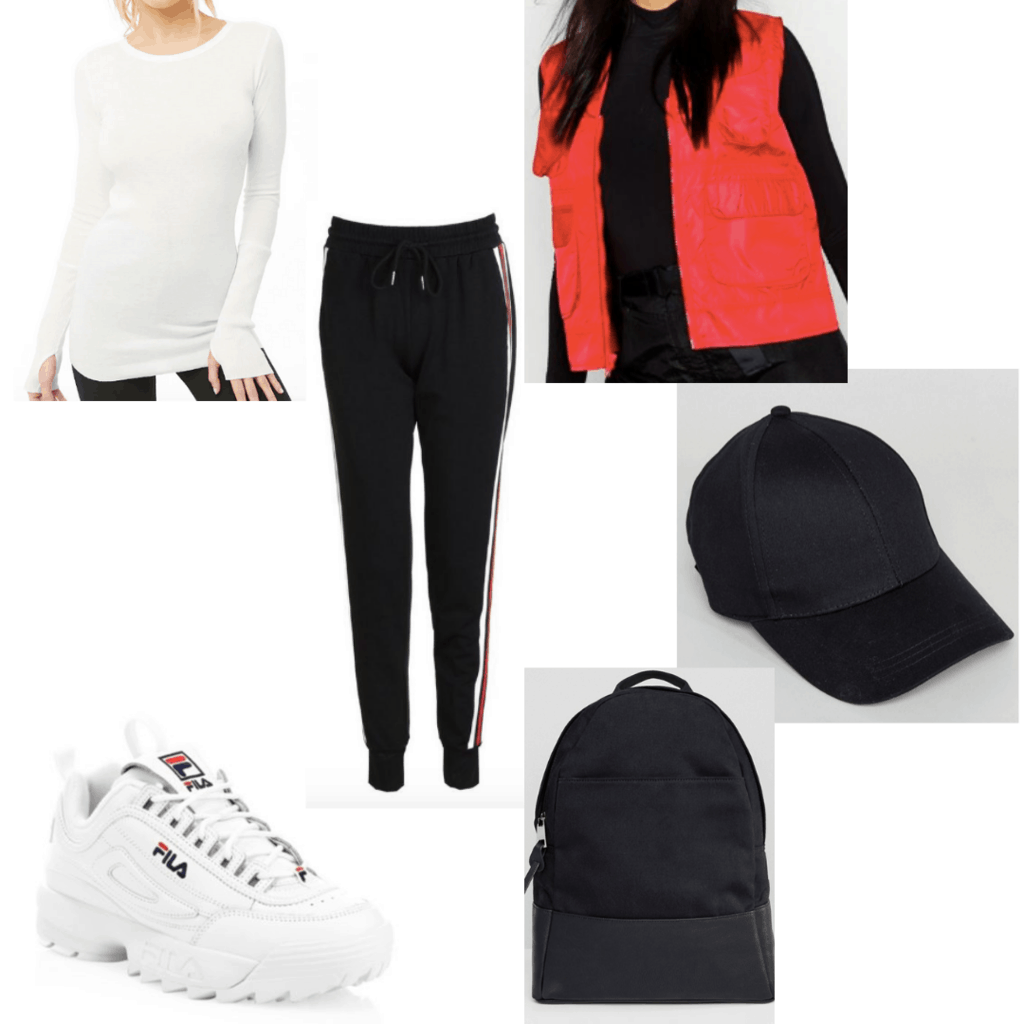 Products: Fila Sneakers – Saks Fifth Avenue, Joggers – Boohoo, Shirt – Forever 21, Vest – Boohoo, Baseball Cap – ASOS, Backpack – ASOS

Sneakers are the most comfortable shoes you can wear to class. They're perfect from walking from one end of the campus to the other. Naturally, these Fila sneakers are perfect for long school days.
For this look, we're going to pair these sneakers up with some cute joggers. These ones are so cute with the little stripe detail on the side. Add a plain shirt to tuck into your joggers and a red vest for contrast. This vest will keep you warm if it's still chilly where you live.

To make this outfit more casual and comfortable, add a cute baseball hat as an accessory. Whether you're having a bad hair day or just want to bring the outfit together, this cute baseball hat serves two purposes.

And of course, you can't go to class without a cute and essential backpack.

Night outfit: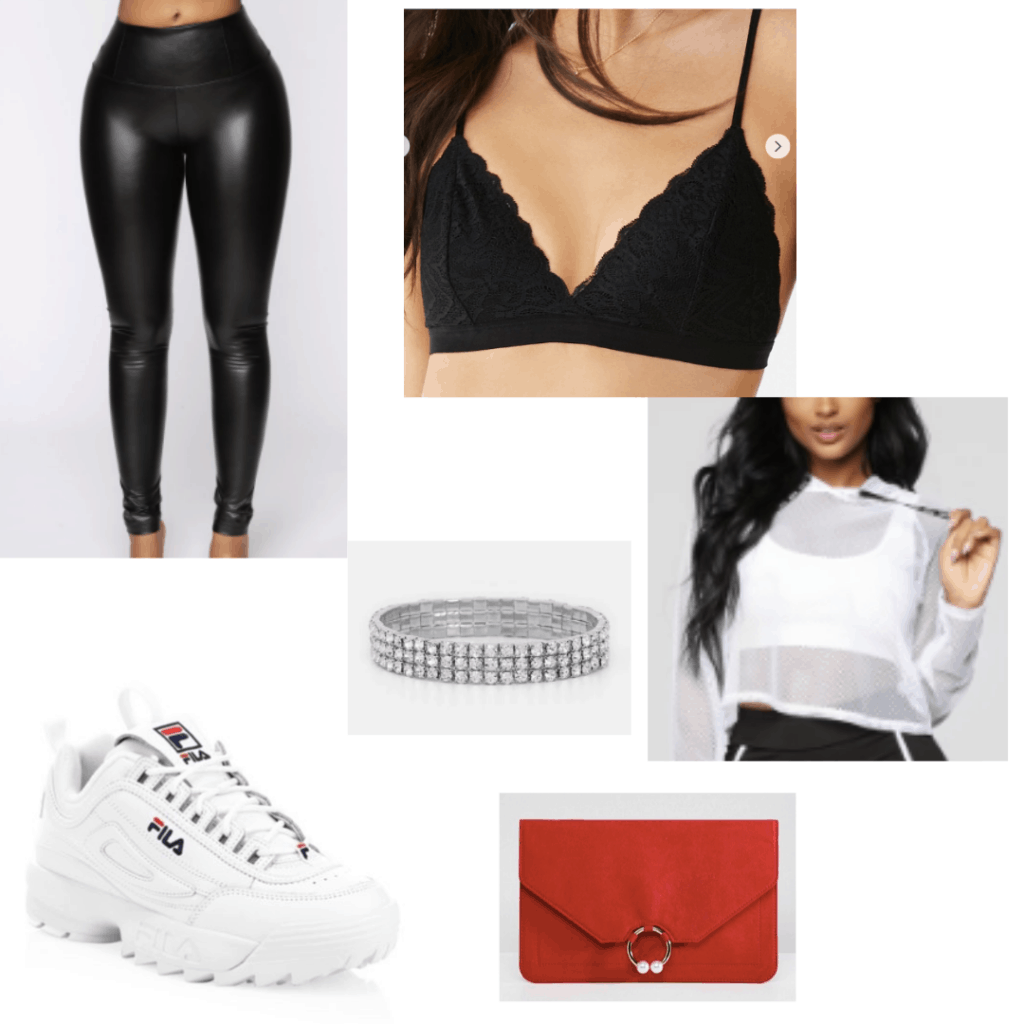 Products: Fila Sneakers – Saks Fifth Avenue, Faux Leather Leggings – Fashion Nova, Mesh Cropped Hoodie – Fashion Nova, Bralette – Forever 21, Bracelet – Ardene, Clutch – ASOS

You might think that sneakers aren't really night out wear, but with the right styling tricks, it's easy to bring these shoes from class to party.
Pair the shoes with some faux leather leggings for a luxe vibe that's perfect for a night out.
On top, rock this mesh cropped hoodie and a cute bralette underneath. This gives you a hint of the netting trend that we've seen everywhere as of late. You are going to look amazing in this outfit!

To accessorize, add a simple bracelet and a brightly colored clutch. You're ready go to!
Yay or Nay?

These white Fila sneakers have been all over our Instagram feeds lately. But how do you personally feel about them? Do you like this trend? How would you style these sneakers?

Let us know in the comments below!