For most of us, staying at home is still the norm. So as fashion girls, when a moment to get dressed up arises, we have to grab it. Even if that moment is simply walking your dog. So today I'm going to share some ideas for what to wear to walk your dog.
One of the best at home activities you can do right now is going for a walk. There is nothing better than fresh air, exercise, and your furry friend trotting beside you.
Though it may seem silly, popping on something cute for your daily walk with your pet can be fun. Those cute spring outfits you've been dying to wear can finally see the light of day. And who doesn't want to feel cute these days?
Even after the days of being home are over, we are still going to keep those daily walks with our dogs. Cute outfits included. Here's exactly what to wear to walk your dog in style.
Outfit # 1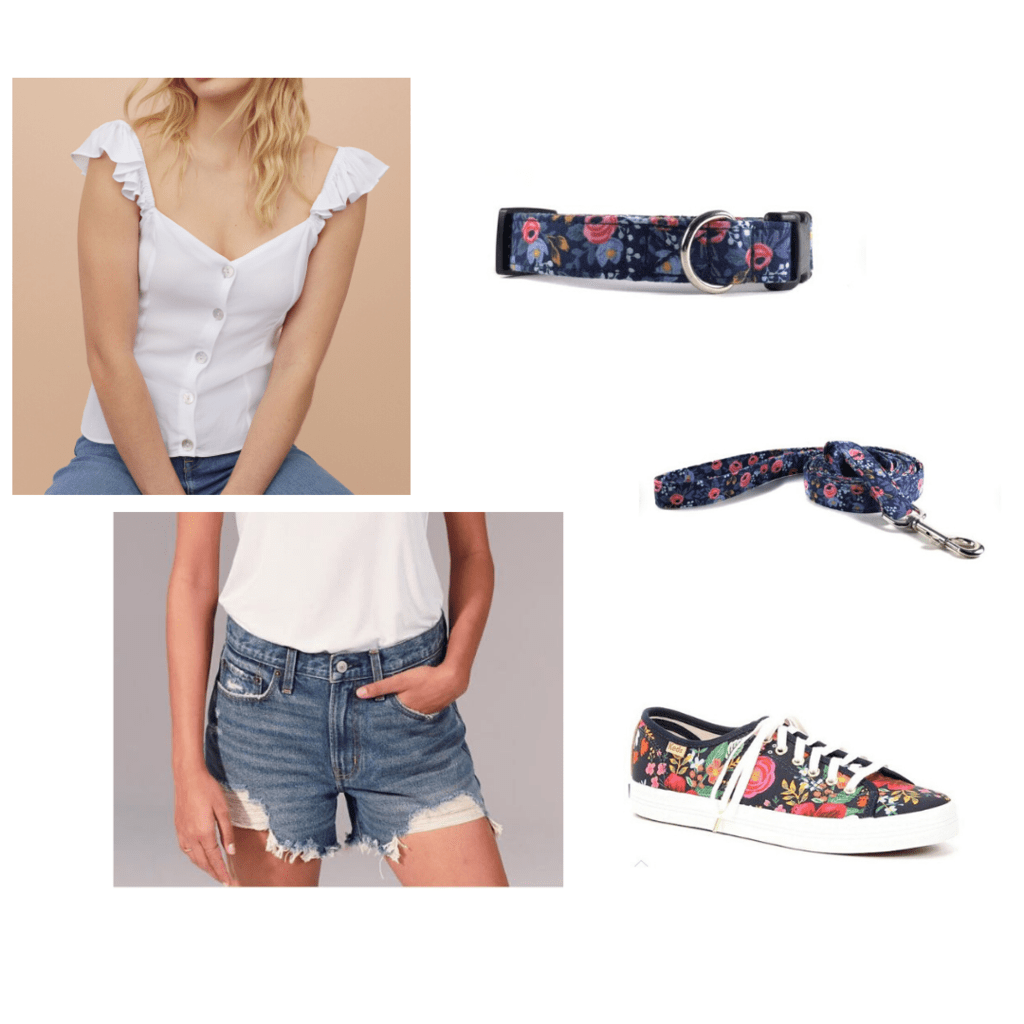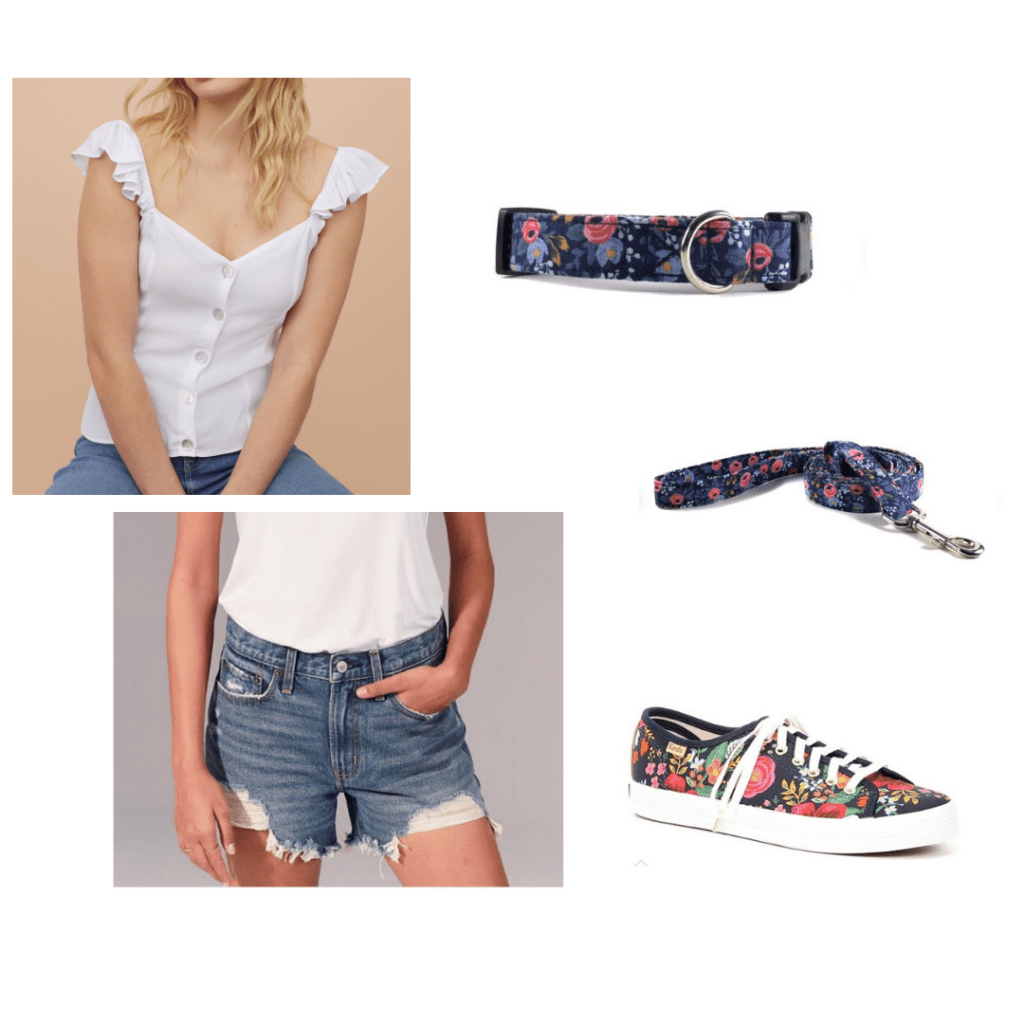 Products: Shirt – H&M, Shorts – Abercombie & Fitch, Shoes – Keds, Collar – Etsy, Leash – Etsy
This outfit is the perfect mix of masculine and feminine. Boyfriend style shorts and a flirty tank form the perfect comfy combo for those warmer days.
First, these A&F distressed shorts are a must this season. They're cute, on trend, and easy to wear with everything in your closet. The cotton material makes them flexible as well, allowing you to stay comfy and chic.
Adding this feminine tank completes the look. Thanks to its sweetheart neckline, ruffles straps, button front and smocked back, it's a super cute top to have on hand for nicer occasions. However, you can definitely still style it for your walk around the block.
Finally, if you want to make this look a little "extra," coordinate your shoes to your dog leash. These Rifle Paper Co. shoes and dog leash are totally adorable and are the best friendship "bracelets" you can have.
Outfit # 2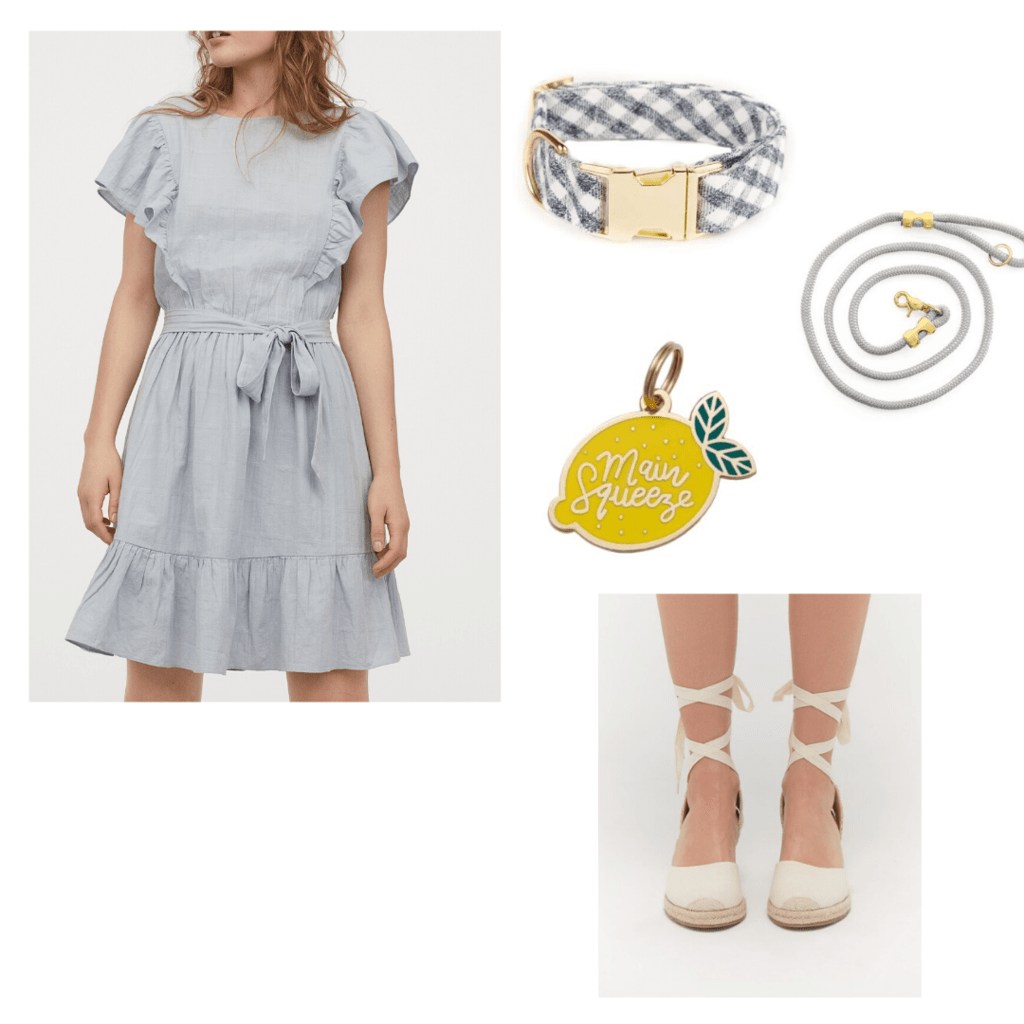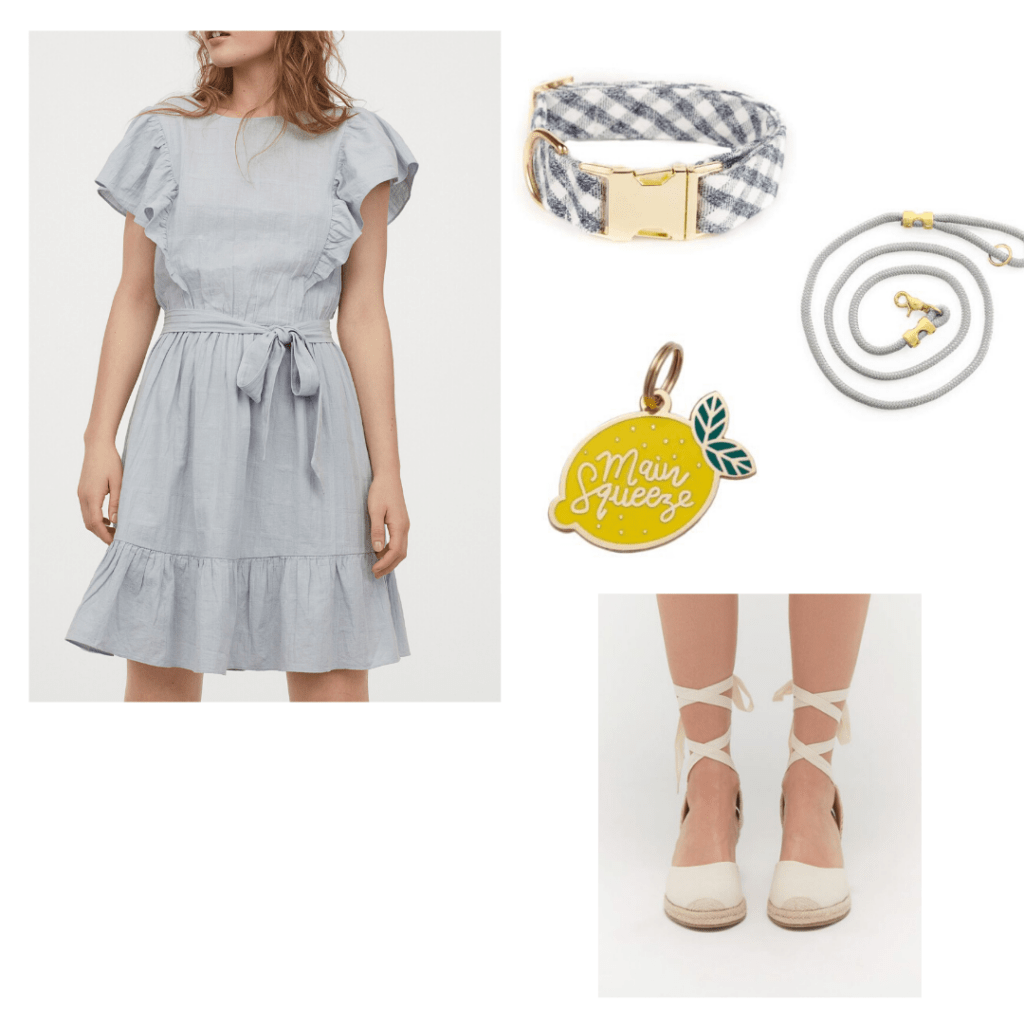 Products: Dress – H&M, Shoes – Urban Outfitters, Collar – The Foggy Dog, Leash – The Foggy Dog, Lemon Tag – Two Tails Pet Company
A dress may not be at the top of your list for walking the dog but it should be. Recently, I've discovered the joys of wearing an airy dress while going for a walk. It's really comfortable and makes you feel beautiful.
A shorter, flouncy, fit and flare style works best such as this cute H&M piece. With its fluttery sleeves, elastic waist, and a woven material, this dress was made for walking.
If your furry friend isn't known to take off, you can get away with these espadrilles. Don't let the wedge fool you, they are just as comfy as sneakers. However, a pair of canvas sneakers would be just as cute here!
Finally, dress your pup up right with this matching leash and collar. And no collar is complete without a name tag. This adorable lemon styled one will let everyone know whose "Main Squeeze" your bestie is.
Outfit # 3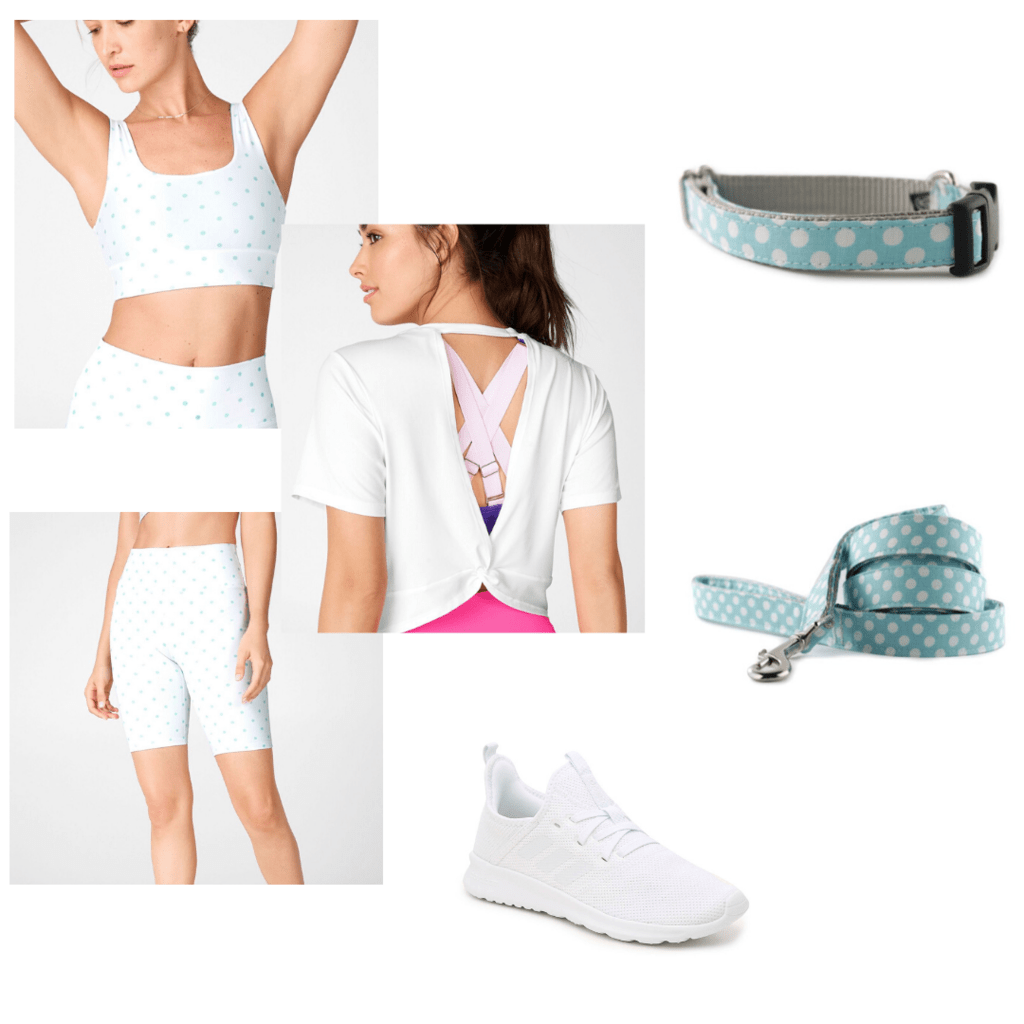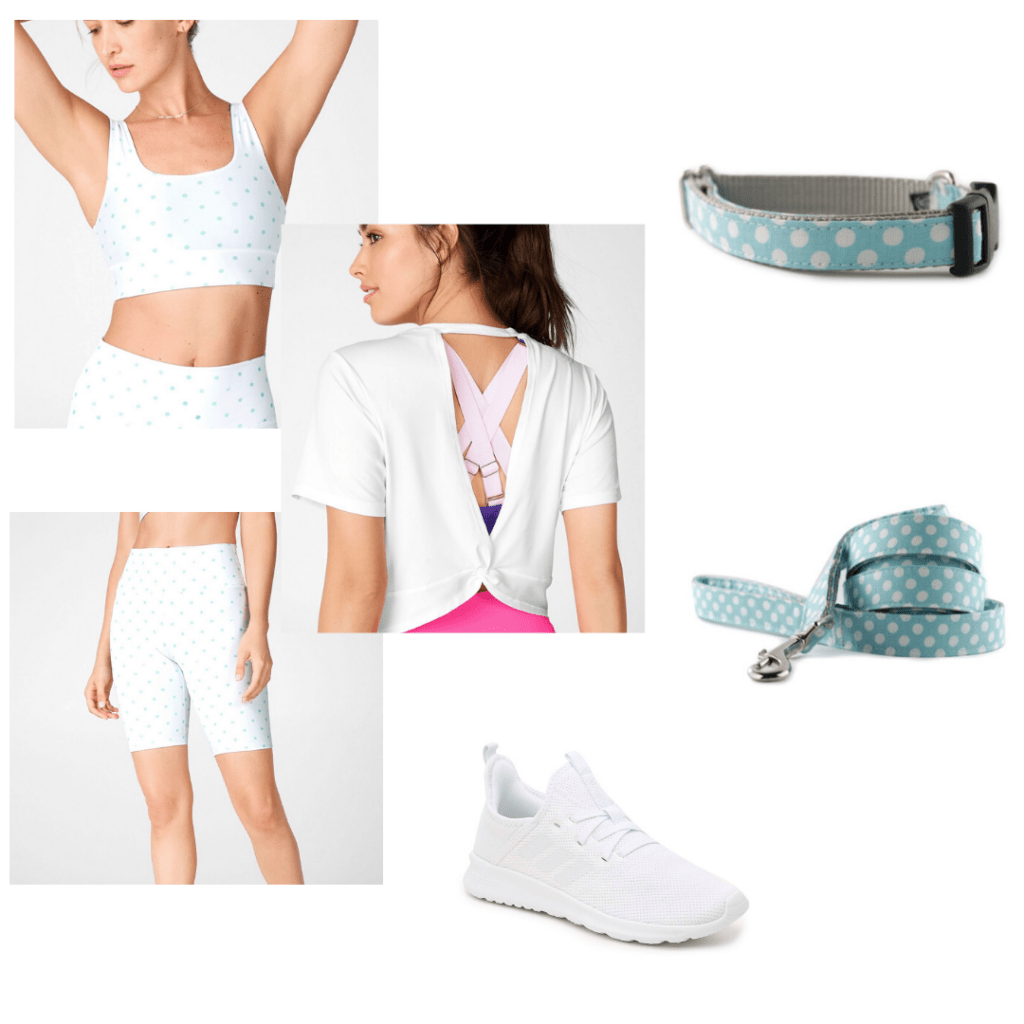 Products: Bra – Fabletics, Shorts – Fabletics, Top – Fabletics, Shoes – Adidas, Collar – Etsy, Leash – Etsy
If you and your dog are more into running than walking, try this cute look.
An adorable polka dot sports bra and shorts are great when you both need a quick jog. These Fabletics shorts allow you to move as fast as your dog desires without holding back.
Adding this reversible sports bra completes the look. It keeps you secure and supported but also looking your best. Plus you get two looks in one! Top it off with a twist back tee and a pair of running shoes and head off.
Again, if you want to be extra (why not, honestly?), you can match your dog with this cute polka dot collar and leash.
What do you think of my ideas for what to wear to walk your dog?
No matter if you have a big or small dog, fast or slow, a walk together is the most refreshing time of the day for both of you. Even when the world opens back up, taking our true best friend around the block is something we're still getting dressed up for.
Which looks will you and your dog be sporting on your next walk?