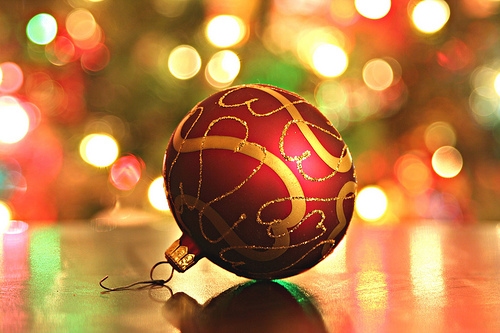 When I'm getting bogged down by final tests, projects, and papers, one of my favorite ways to distract myself is with holiday fashion! I love putting together outfits that I would wear to fancy holiday parties, even if my Christmas get-togethers are always more casual than what I plan for.
Whether your Christmas plans consist of hanging out around the house, wearing your comfiest clothes and watching Christmas movies with the family, or if your family always does a sit-down dinner where everyone dons their fanciest duds, here are three simple, easy outfits that will get you through all of your holiday plans.
Outfit 1: Simple Secret Santa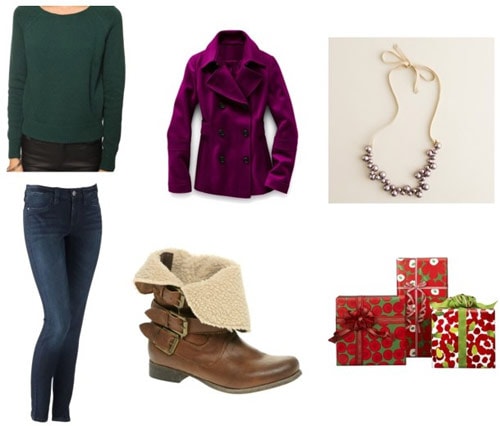 Sweater, Jeans, Coat, Boots, Necklace
I do a secret santa gift exchange with my friends from home every year, and it's a great opportunity for us to catch up with each other after a hectic semester. I don't get all dressed up for our exchanges, but I always wear something a little nicer than a hoodie. After all, there are bound to be pictures taken and put on Facebook!
Outfit 2: A Very Fashionista Christmas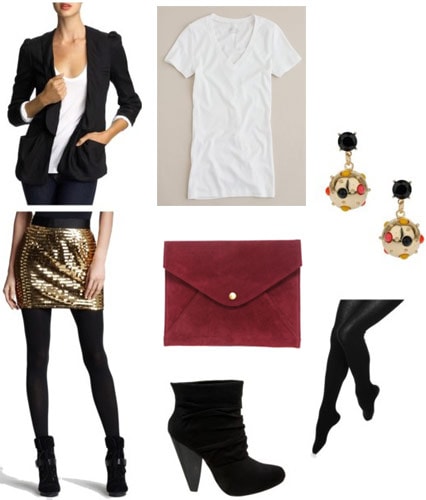 Blazer, Skirt (Cheaper option), Tee, Clutch, Booties, Earrings, Tights
My immediate family goes out to dinner every year before opening our presents from one another. This outfit is perfect for an outing like this: the sequin skirt balances nicely with the tee and ankle booties to create a look that is just festive enough while not looking too done-up. This look is also perfect for those of us in warmer-than-frigid climates; the tights and blazer provide just enough warmth so that you won't have to lug a coat around with you.
Outfit 3: Fancy and Festive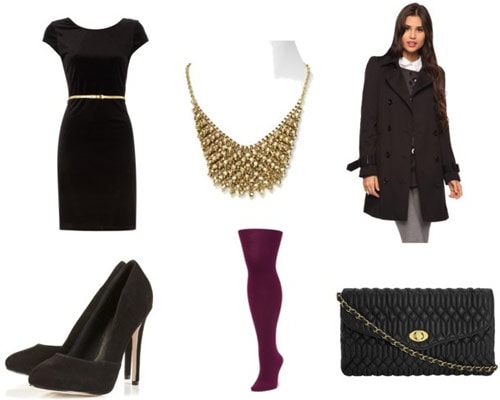 Dress, Heels, Necklace, Tights, Coat, Bag
This is a great go-to outfit for actual holiday parties that call for truly festive wear. A sheath dress is just form-fitting enough to show off your shape, but still offers enough coverage to be grandma-appropriate. Swap out your regular black tights for a rich berry-colored pair, add a glittering statement necklace to play off of the belt, and bring a classic clutch to hold your phone, wallet, and lip gloss.
What Do You Think?
What do you wear to parties over winter break? Do you have any holiday traditions with your friends and family? Which look is your favorite? I'd love to hear from you, so be sure to leave a comment!