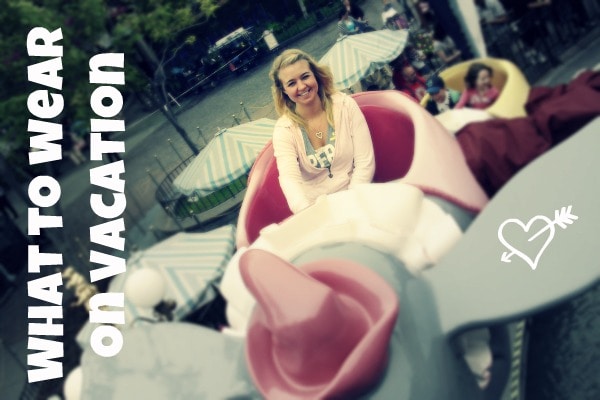 Photo Credit: Me 🙂
If you're like me, packing for vacation is a struggle because you usually want to bring your whole closet with you! (Curse you, baggage weight restrictions!)
To help make the process a little easier, I've put together a few outfits for you to try on vacation, wherever your summer travels take you! I've also included a few packing tips to help you worry less about packing and have fun more fun on your trip. Bon voyage!
Packing Tips
First, you want to make sure you pack a little purse or book bag for the plane. I always bring a little book bag and then put my purse inside that or in my suitcase so I have more room for snacks and books. Here's a list of items to put in your purse/book bag for the plane ride:
iPod and Headphones
Books, Kindle, Magazines
100 Calorie or other portioned snack packs – Perfect size for the plane!
Journal and pens – doodle or write a list of things you want to do on vacation
Wallet with money, ID, etc. (Easy to find in your bag)
Sunglasses
Hand Lotion (Travel bottle)
Small hand Sanitizer (Especially when on the plane… I use this religiously!)
Then, I bring a carry-on for the rest of my packing needs. Inside, I have a Modella case for my makeup and hair supplies. I got mine at WalMart and I love it! It's soft (rather than hard plastic) and it fits nicely in my bag! Also, it's important to have a carry-on bag with wheels – trust me, you don't want to carry a heavy duffel bag around huge airports. Your back will thank you.
That's just a little overview on what I like to take with me and how I like to pack. Now let's check out some cute outfit ideas for vacation!
Outfit 1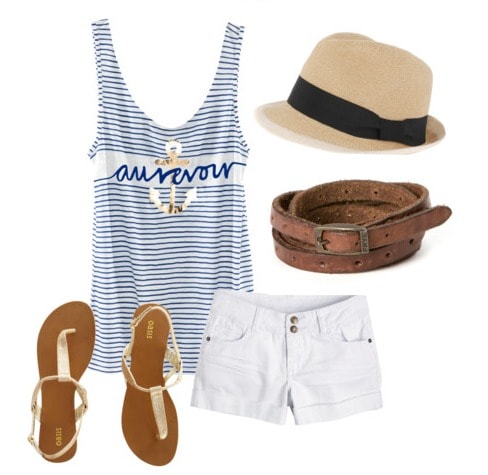 This outfit is perfect for traveling! The sandals are easy to take off at the airport (bring socks in your purse if you're germaphobic), and the shorts and tank top make this outfit easy and breezy. The brown belt and fedora had add a nice touch, and keep this outfit stylish yet still comfortable.
This outfit could easily go from the airport to Disneyland, a resort, or wherever your travels may take you. The other great thing about this look is that the belt, shorts, shoes, and hat can all be worn interchangeably with the outfits below, saving you lots of packing room!
Outfit 2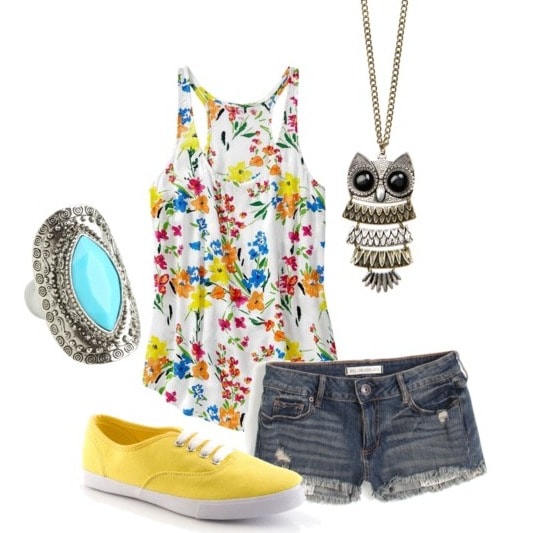 Shirt, Shorts, Shoes, Necklace, Ring
This next outfit is perfect for hanging out in the sun, or playing in theme parks all day. The bright flat sneakers keep your feet comfy while the tank top keeps you nice and cool. Add some rings and a conversational necklace and you are set for a day of fun! Don't forget a little purse and some sunglasses.
Again, this is a super versatile look – this outfit and Outfit 1 could easily be swapped around to create a new outfit. Think white shorts, floral tank, sandals and fedora or jean shorts, nautical tank, and yellow shoes. Mix and match… that's the name of the game while traveling!
Outfit 3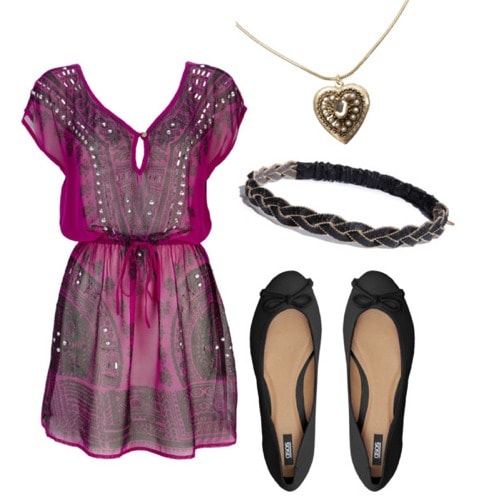 Dress, Shoes, Headband, Necklace
If you're going out to dinner or walking around town during your vacation, you'll want to bring a nice day-to-night sundress like this one. For daytime, wear it over your bikini with sandals, and at night, pair it with a cute headband, some flats (that fit easily into your bag), and an adorable necklace.
There you have it!
Voila! three easy outfits for you to bring along with you on your trips this summer. It's always a good idea to put together a few outfits ahead of time and try them on so you know what they look like. Once you have a few outfits put together, you'll have more time to do the things that are fun on your trip – rather than wasting your time getting ready in the morning!
Have fun this summer and remember to comment below and let me know where you're going this summer and which outfit you like best!