We've all been there – waking up on a Monday morning, scrambling to the closet and realizing all of a sudden.. "I have nothing to wear!"
Maybe you forgot to do laundry that weekend or maybe you're just sick of your clothes – either way, feeling like you have nothing to wear is no fun at all.
To be honest, this is something that used to happen to me all the time. I even used to skip class just because I couldn't find anything I wanted to wear! Thankfully, those days are over, and I've found some ways to get over that feeling and come up with a cute outfit anyway.
No matter how much clothing you own or how sick you are of your clothes, you don't have to go naked like the girl in the Bluefly.com commercials! Yes, it's totally possible to get yourself out of your wardrobe rut with a few simple tricks.
Here are some of my tips to wake up your wardrobe and find something to wear, or at least to get a new perspective on your existing clothes:
1. Look at style websites for inspiration
Sometimes I find it helps to look at pictures of people who dress well to get ideas for what to wear. I don't mean that you should copy their looks, but try to draw inspiration from them and use them to see your clothes in a new light. Here are some of my favorite online places to find outfit ideas:
Wardrobe Remix – A flickr group with a cult following. If you've never heard of Wardrobe Remix, it's basically a group of people who take photos of their daily outfits. It's not always high-fashion, but it's nice to see what real people are wearing.
The Sartorialist – One of the most popular fashion blogs with little to no writing, the Sartorialist consists of a bunch of photos of stylish people from cities across the world! Want to know what they're wearing in Paris or rocking on the streets of NYC? The Sartorialist is your source.
MyStyleDiary – Sort of like wardrobe remix, MyStyleDiary is a website where users take pictures of their daily outfits and post them for the world to see. Find someone who resembles you and check out their outfit combinations. Maybe you'll find something you want to emulate yourself!
2. Challenge: Make it work
This trick works the best if you're usually experimental with fashion and don't mind taking a risk!
Here's what you do: close your eyes or turn away from your closet and grab something randomly. No matter what it is, your challenge is to make an outfit around it and wear it! You can come up with some crazy and fabulous combinations this way, as well as find things you forgot you even had.
3. Borrow something from a guy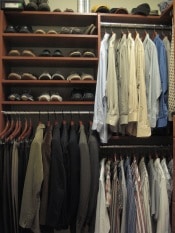 When you think all your clothes suck, sometimes all it takes is a quick browse through a boy's closet to get your outfit going again. Borrow from your boyfriend or steal from your best guy friend – guys always seem to have the best basics!
For example, I love stealing my boyfriend's cardigans because they're long, oversized and ultra cozy. So chic with just a tank, jeans, and a few choice accessories. I also love wearing one of his oversized v-neck sweaters with skinnies and ballet flats. If you're daring, you could even go the Katie Holmes route and rock the cuffed "boyfriend jean."
There are so many new outfit possibilities that present themselves when you steal clothes from boys – I definitely recommend doing so if you have access to a guy's closet.
4. Wear your existing clothes in unexpected ways
Another great way to wake up your boring old wardrobe – take your regular clothes and wear them in new, unintended ways. For example, that black tube top could be a perfect mini skirt over tights with a loose top and jacket, or that too-short-for-winter minidress could look fabulous as a tunic worn over skinny jeans. (BTW, Wardrobe Remix is a great place to see pictures of people doing stuff like this!)
Think you can't wear your wardrobe in any new ways? You might surprise yourself with the combos you can come up with if you try! Mix things up and try everything on if you have time. Worst case scenario: nothing looks right and you're back where you started. At least give it a shot.
5. Invest in new clothes that do double duty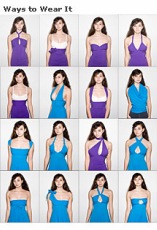 Avoid future "nothing to wear" days by investing in clothes that can be worn multiple ways. Multi-tasking clothes are not only great for changing up your wardrobe, but they're also perfect for those on a budget – it's like getting ten pieces for the price of one!
For example, the American Apparel Jersey Bandeau Dress ($43) can be worn over 15 different ways. Add accessories, and you have 15 different unique looks from ONE piece of clothing!
Some more convertible clothes worth checking out: the BCBG Cardi-Wrap can be worn three or more ways, RN Convertible is a line of jersey pieces that can be worn tons of ways by Rozae Nichols, and Sacha Drake makes the "ultimate black dress", which can be worn 9 different ways.
Your Thoughts?
Now that you know how to get yourself out of a nothing to wear crisis, I want to know what you think. Do you have the problem of nothing to wear often, or are you always coming up with new looks? What are your tips to get yourself looking fab when it seems like you have no clothes that work?
Let me know your thoughts by leaving a comment!