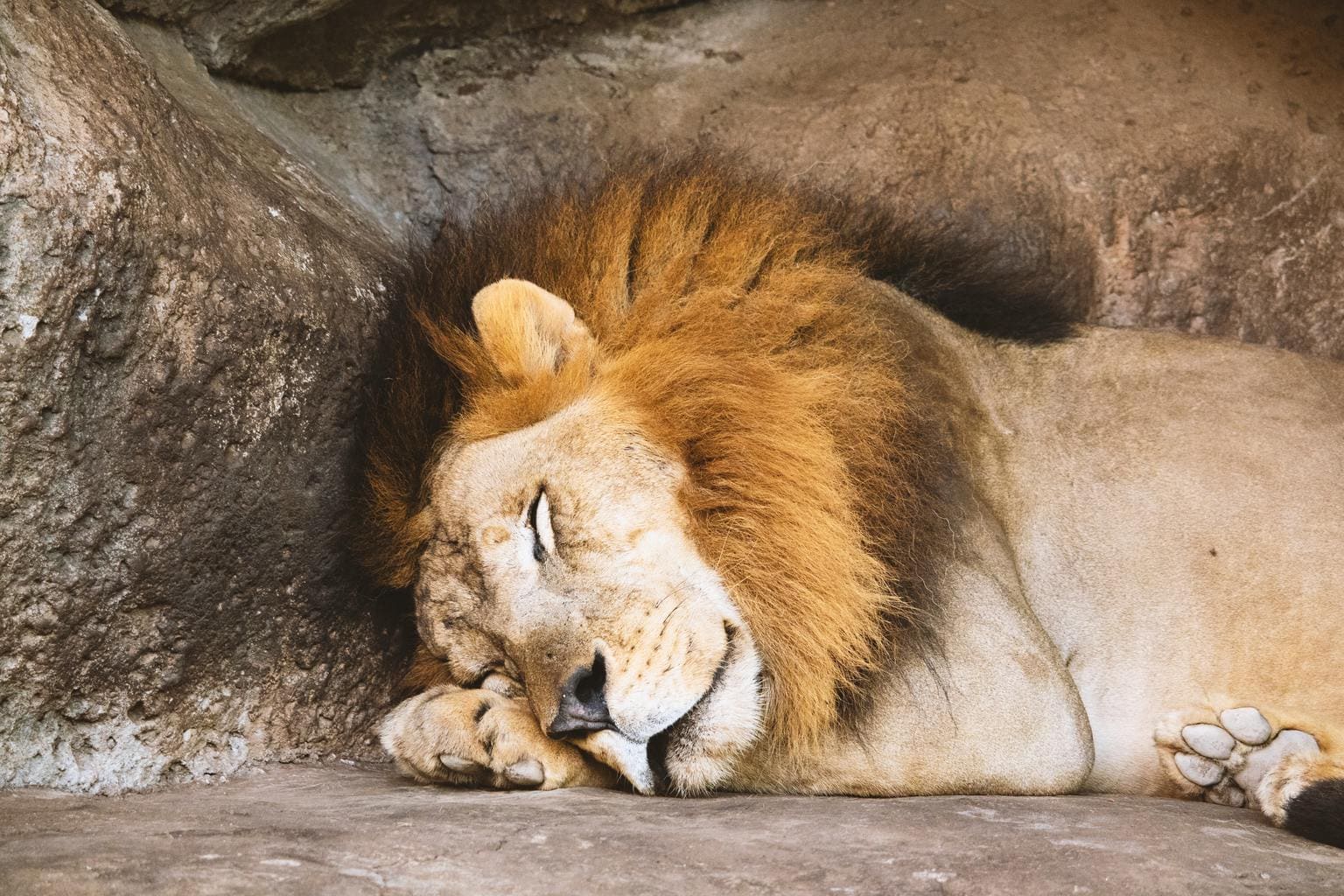 Classes are over, break has begun and, lest we admit it, you might soon start to feel a bit bored (gasp!). Before you begin longing for classrooms and hours of studying, I'm here to give you some ideas for fun activities that will help you to beat that lingering weariness and enjoy your relaxation before classes start up again.
First up in this series? Your local zoo, the perfect place to keep you thoroughly entertained for the day. Nothing beats watching tigers play in the water and gorillas running up to the glass to get a closer peek at you. Aside from the exciting main attraction, the animals, zoo food is delicious, gift shopping is fun and other attractions, like a train or carousel ride, are a great way to keep the fun going. A camera will surely be in tow, so you want to be sure you're looking good while staying comfy! (And before you ask, yes, most zoos are open in the winter too, and they're less crowded than usual!) Here are some reminders, tips and outfit ideas for visiting a zoo.
Remember to Wear/Bring:
Comfy shoes – Unless you're prepared to ride the tram and miss many of the close encounters with the animals, be sure to wear some comfy walking shoes. After a full day at the zoo, you'll have easily walked 2+ miles. With that kind of walking, no one wants to deal with blisters!
Protection from the sun (if you're going when it's warm or you live somewhere warm) – Sunglasses or a hat are a must at the zoo if you'll be outdoors. You'll be walking outside for the majority of your time there and want to make sure your face is protected (with the cutest of accessories, of course).
Camera – There are endless picture opportunities at the zoo — you won't want to miss them! Be sure to bring your trusty iPhone or fancier camera and snap away!
General Zoo Visit Tips:
The earlier you go, the better! The animals are more active in the morning, as it is cooler (and who doesn't get excited about breakfast?). It is also less crowded, so you'll have front-row views to all the animals.
Bring your student ID. Many zoos will give you a discount off ticket pricing (or free admission) with a valid student ID.
Check the calendar before venturing to the zoo. Many zoos host events, whether it is a walk to raise money or lending out their conference rooms for other organizations. These types of events will result in large crowds, so make sure to double check.
Outfit 1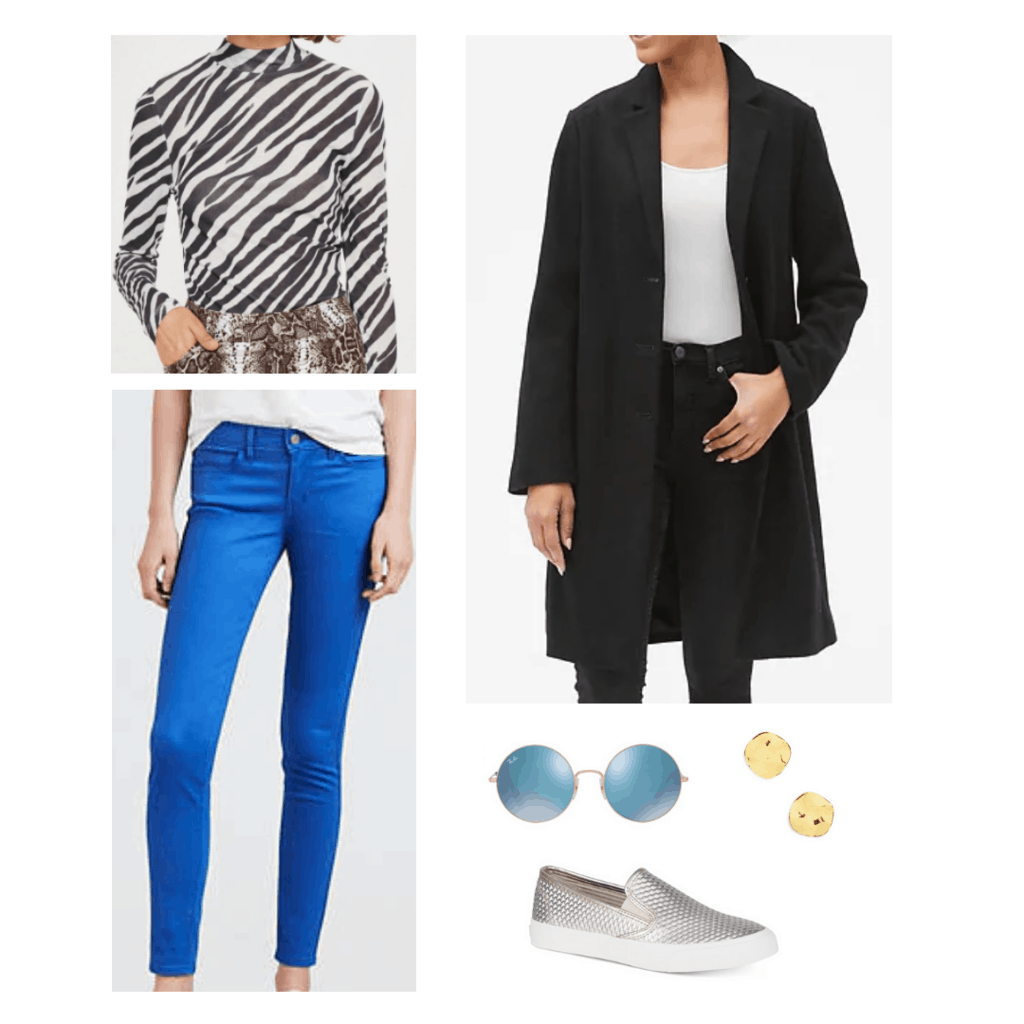 Products: Zebra Top – Topshop, Jeans – Levi's, Shoes – Sperry, Earrings – Nordstrom, Sunglasses – Macy's, Coat – Gap
This eclectic outfit checks off all the must-haves for zoo attire: sunglasses, comfy shoes and it looks super cute! The zebra print top, long peacoat, and cobalt jeans help beat the cold for winter visits. Metallic boat shoes give the perfect pop to the outfit. Add colorful sunglasses and gold earrings and you'll be good to go!
Outfit 2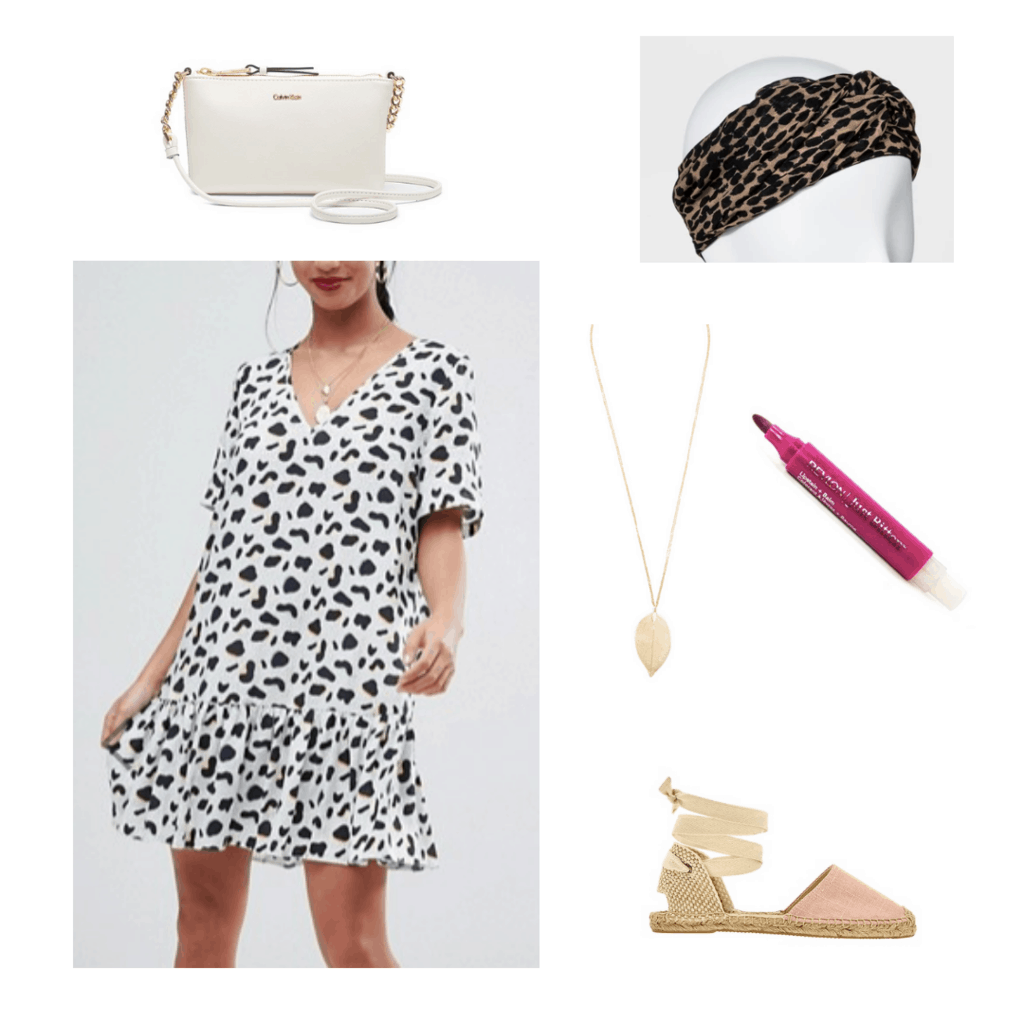 Products: Headband – Target, Dress – ASOS, Sandals – Athleta, Necklace – Forever 21, Bag – Calvin Klein, Lipstick – Revlon
This is the ideal summer zoo outfit or a great choice if you live in a warm climate. The animal-printed dress will keep you cool and looking great. Wear a cute headband to push your hair back and add some pattern mixing to the outfit. With additions like a cute cross-body bag to hold your camera, comfy espadrilles, and a simple leaf pendant necklace, you'll be comfortable (and stylish) all day long. A pop of hot pink lip stain completes the look.
Outfit 3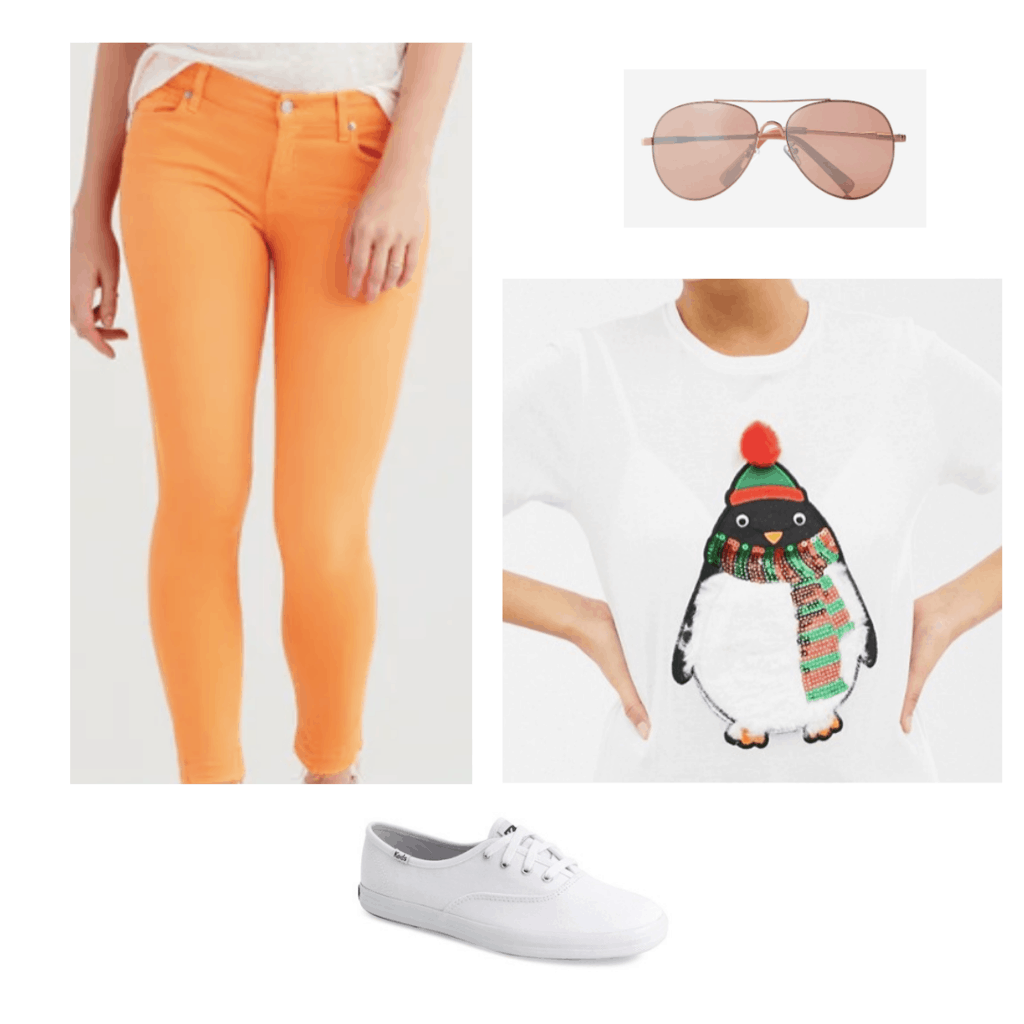 Products: Tee – ASOS, Jeans – 7 for All Mankind, Sunglasses – Express, Sneakers – KEDS
I absolutely fell in love with this adorable penguin shirt — what animal lover wouldn't!? It's particularly perfect for a wintertime zoo visit but it would be funny to wear in summer too. For a more casual outfit, I paired the tee with colorful pastel orange jeans. Comfy white sneakers and cool rose gold aviators are the perfect finishing touches to this really fun and simple outfit.
Thoughts?
Could you see yourself wearing these outfits to the zoo? Which is your favorite? Have I convinced you that the zoo is a great place to beat being bored? 😉 What are some other fun activities you like to do over break? Let us know in the comments below!
Editor's note: This post was originally published in 2012; it was completely updated and revamped in 2018 by Sharon with new photos, outfits, and information.