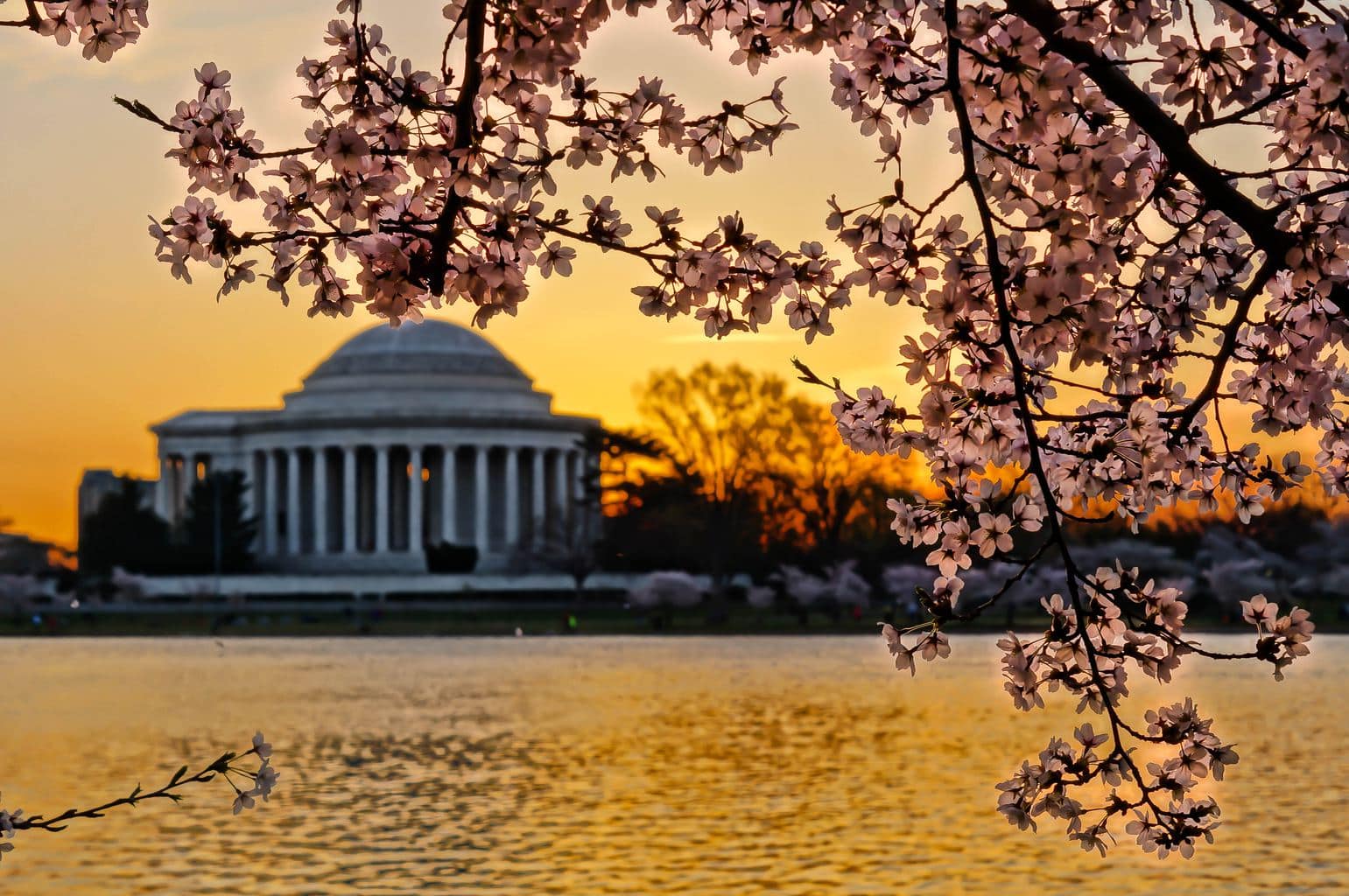 A couple weeks ago, we posted our Regional Style guide for Washington D.C.. I actually went to that very city on vacation shortly after, so I put our tips to the test. Today I am sharing what I packed for my weekend trip to D.C. in a capsule style format, along with travel capsule wardrobe tips you can use for any trip.
Capsule wardrobes are our go-tos here at CF. We love them for so many reasons: They help you make the most of your wardrobe, they allow you to be more content with the items you have, they keep your closet chaos organized, and they make it easier to get dressed every day!
Our spring break capsule wardrobe post introduced the idea of packing a capsule for trips, even if you do not implement a capsule wardrobe in your closet at home. We recommend this 1000% — it helps you pack light and makes choosing your outfits a million times easier, since you already have them planned and everything you've brought goes together.
To plan this capsule wardrobe, I focused on the weather, activities, and Washington D.C. style inspiration. From these three elements, I built a small wardrobe I could fit in my suitcase. This wardrobe would also work for most temperate cities you're visiting this spring (think Philadelphia, Boston, etc.).
Travel Capsule Wardrobe Example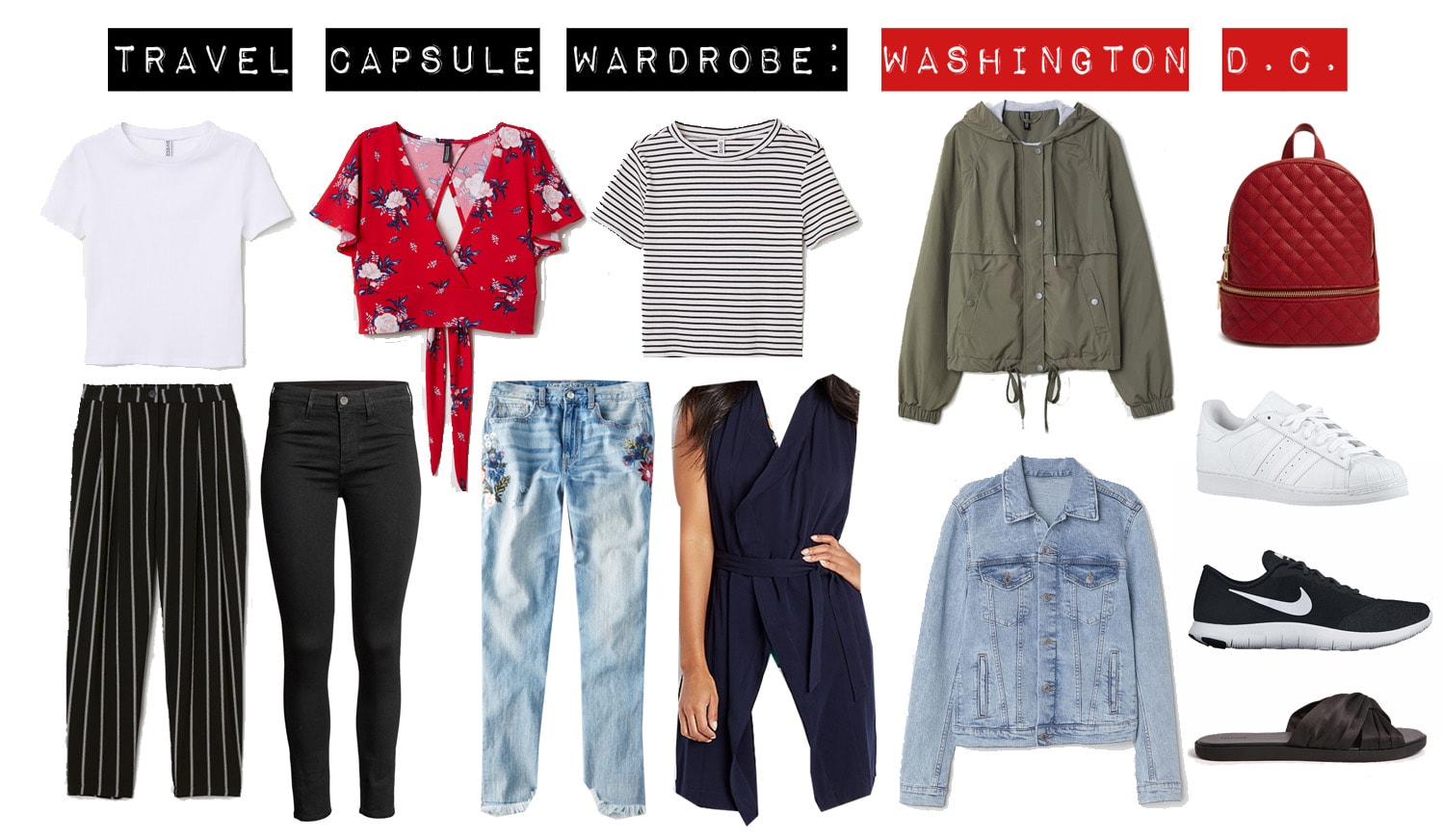 Tops: Floral Top – H&M, Striped Tee – H&M, White Tee – H&M, Vest – Maurices
Bottoms: Striped Trousers – H&M, Jeans – American Eagle, Black Trousers – H&M
Outerwear: Denim Jacket – H&M, Rain Jacket – H&M
Accessories: Mini backpack – Forever 21, Shoes – Adidas Super Star, Sneakers – Nike, Slides – Forever 21
When packing, it is a good idea to think practical first of all. Keep in the mind the weather and how much walking you may be doing. Ask yourself questions like, should I dress in layers? How many types of shoes will I need?
For my trip, there was a possibility of rain for most of the days, so I packed a light rain jacket. I walked my feet off in D.C. so a comfortable pair of shoes, my Adidas, were a must. Starting our days off early and ending them late in the evening meant dressing in layers, to stay comfortable in the temperatures through the day. I added trousers I could roll up and two light jackets.
The key to a perfect travel capsule wardrobe is to pack pieces that can be mixed and matched. This entire wardrobe is flexible, meaning you can create various outfits and interchange items. Though you probably won't be re-wearing a lot of the clothes you pack (a long day of sightseeing may leave that white shirt done for the trip) a remixable wardrobe is still important for a travel capsule. This way you will have a variety of outfits to choose from which may depend on the weather or an update in your plans. So, if you have a change in itinerary or the weather throws you for a loop, you can easily swap around your planned outfits.
As for the style inspiration, Washington D.C. street style is a hub for polished chic looks! Throughout the trip, I saw a lot of blazers, trousers, and polished cuts and styles. Despite such a sophisticated vibe, the outfits were still casual and practical for the miles and miles of walking. I was glad I incorporated a taste of Washington D.C. vibes in my blazer vest and striped trousers.
What do you think?
How do you feel about travel capsule wardrobes? Do you think they are practical? What trips have you packed similar to capsule wardrobe? We'd love to hear your thoughts in the comment below!