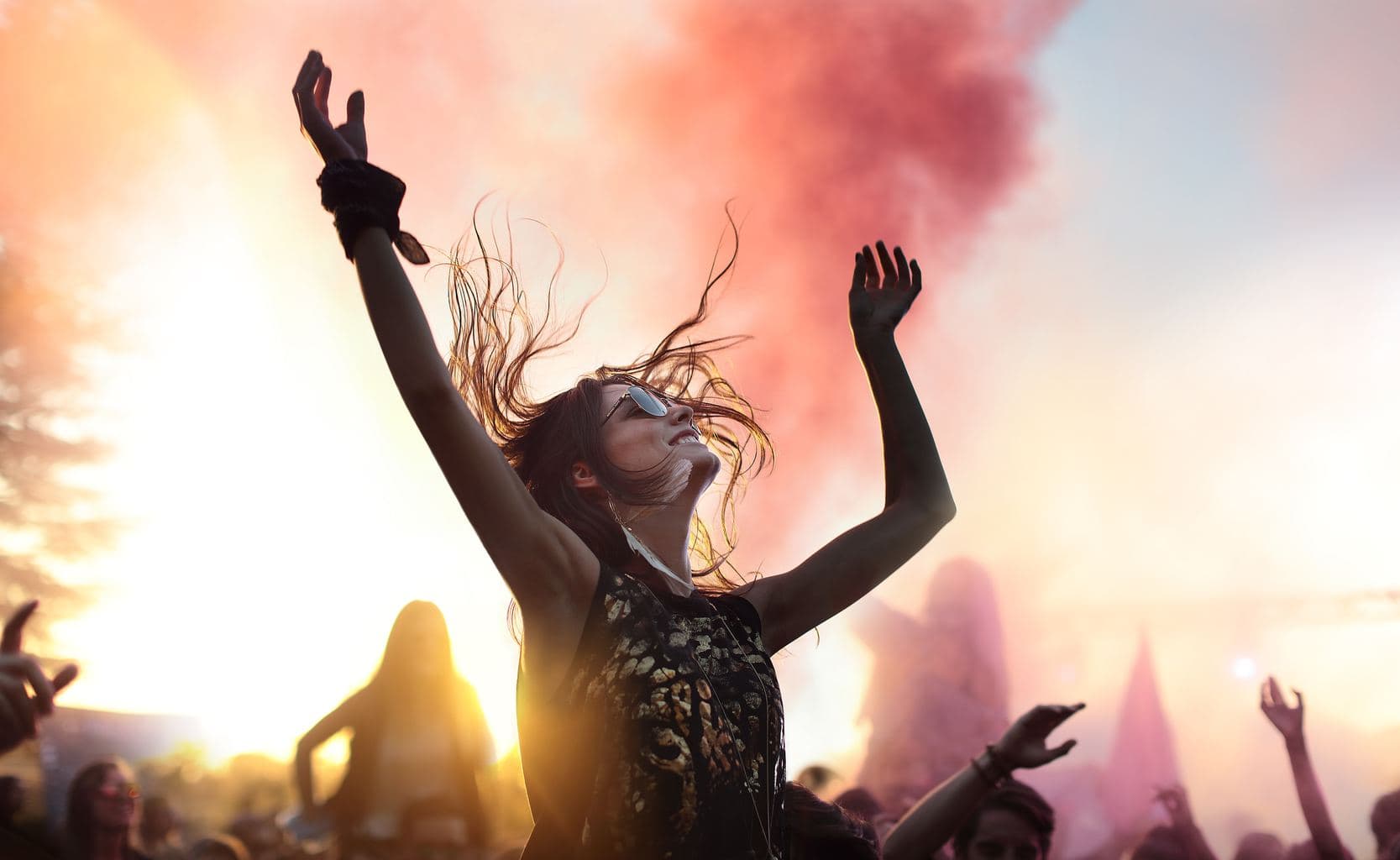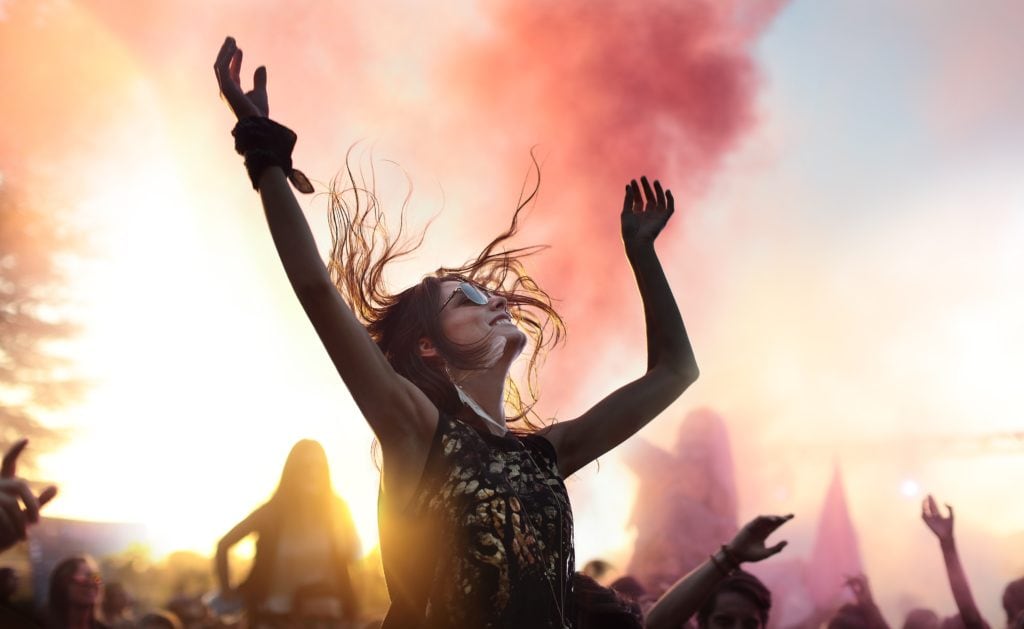 Usually, when we think of music festival fashion, we think of ultra-trendy, and often over-the-top outfits made for singing and dancing along to your favorite artists. (See our Coachella 2019 outfit guide for outfits of this nature.)
But, while these ensembles might look super-cool in a festival setting, let's face it — they can be completely unwearable for Real World activities, such as going to class or meeting with friends.
That's why I decided to create three looks inspired by music festival wear that, while certainly wearable in a festival setting, could 100% be worn IRL as well.
So, if you're ready to add some festival flair to your spring/summer style, just keep on reading!
Outfit #1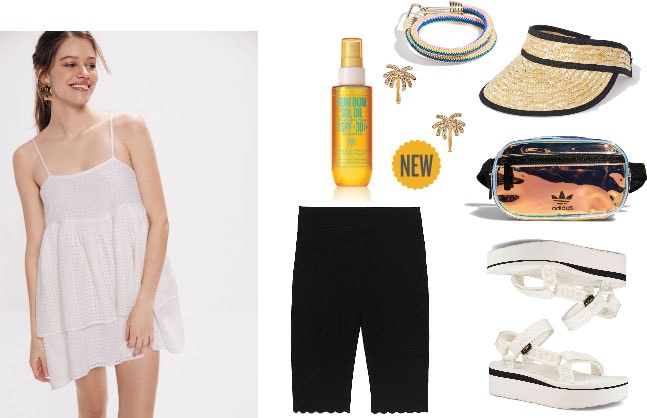 Products: Dress – Urban Outfitters, Body Oil with SPF – Sol de Janeiro, Bracelet – Shopbop, Earrings – Revolve, Bike Shorts – Zara, Visor – H&M, Fanny Pack – Adidas, Sandals – DSW
This festival-ready look incorporates a mix of warm-weather trends, and is perfect if you're going for a fashion-forward look that has a little bit of everything.
As you may know, bike shorts are a huge trend this season, so hop on board with a cute scalloped pair worn under a mini dress or tunic. I chose this white eyelet mini dress because I like the way its femininity contrasts with the sportiness of the shorts.
For even more contrast, add a pair of "ugly" sandals— another big trend that gained momentum last year, and whose popularity has continued to soar as time goes on.
A cool, iridescent fanny pack adds a futuristic touch to the look while enabling you to keep a close watch on your belongings. Furthermore, this adorable straw visor is a stylish alternative to the straw hat trend that won't obstruct the view of those around you, while also protecting your face from the sun.
Speaking of which, I found this awesome body oil from Brazilian brand Sol de Janeiro, which not only contains SPF 30, but also imparts a pretty, shimmery glow to your skin and smells delicious (so your excuses for not wearing sun protection are officially over)!
Finally, add a pair of palm tree stud earrings and a retro-inspired bungee-like rope bracelet to complete this fun look.
Outfit #2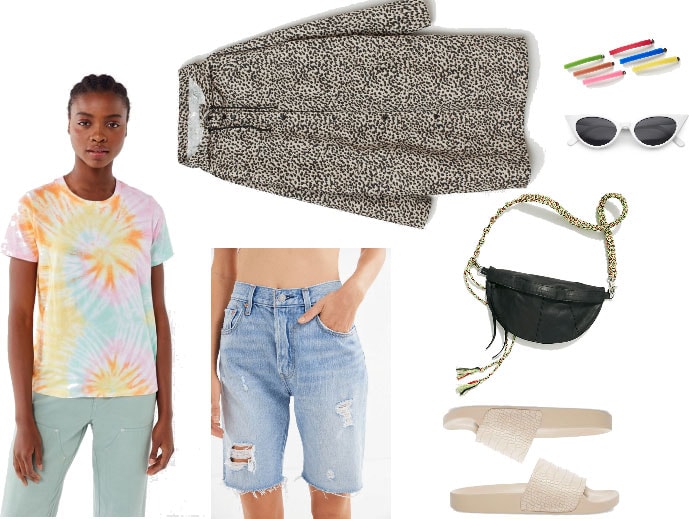 Products: T-Shirt – Urban Outfitters, Jacket – H&M, Shorts – Urban Outfitters, Hair Pin Set – Urban Outfitters, Sunglasses – ShopZeroUV, Fanny Pack – Free People, Slides – Steve Madden
If you're looking put a music-festival-inspired spin on your warm-weather uniform of a t-shirt and denim cut-offs, then this is the look for you!
To get it, put on a retro-esque, colorful tie-dye t-shirt. Next, add a pair of longer, loose-fitting, denim Bermudas (AKA boyfriend shorts), a trend that has exploded in popularity as of late.
A black fanny pack with colorful rope details is a nice switch from more utilitarian styles, while a croc-embossed pattern adds some luxe vibes to a comfortable pair of taupe slides.
For accessories, go for light-hearted throwback pieces, such as these eye-catching white cat-eye sunnies and colorful hair pins.
Since you can never be too prepared when it comes to weather, be sure to take along a lightweight rain jacket. (This one even comes in a handy pouch!) I love how the leopard print on this one adds an unexpected twist to the ensemble, but you could totally go for a more subdued color or print if you'd prefer something a little more low-key.
Outfit #3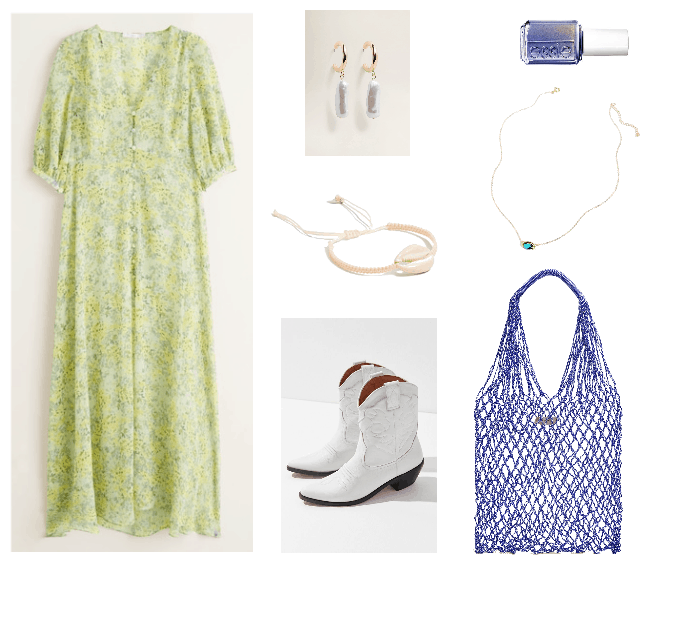 Products: Dress – Mango, Earrings – Mango, Bracelet – Shopbop, Cowboy Boots – Urban Outfitters, Nail Polish – Ulta, Necklace – Free People, Bag – Mango
This eclectic look, with its prairie-girl-meets-surfer-chic vibes, is sure to turn heads for all the right reasons!
If you're looking to replicate it for yourself, all you need to do is throw on a floral-print midi dress–preferably in a pastel or muted neon shade, like the one shown above–and add some white cowboy boots with a low block heel for maximum comfort.
Next, accessorize with a pair of baroque pearl drop earrings and a cowrie shell bracelet–both of which are among spring 2019's hottest accessory trends–as well as a dainty turquoise necklace. As well, be sure to grab a netted tote to carry your festival (or everyday) essentials; I'm a big fan of the unexpected blue shade of the one featured in this outfit.
For the finishing touch, paint your nails a shimmery blue shade with orange reflect which is reminiscent of a beautiful summer sunset.
What do you think?
Would you wear these looks to a music festival and/or every day? Do you plan on incorporating any of the trends mentioned in this article into your wardrobe? What kind of festival, or festival-inspired, look(s) would you want to wear this spring/summer?
Let me know in the comments!