This post will show you 15 stylish teacher outfits, with tips on how to dress stylishly for the classroom.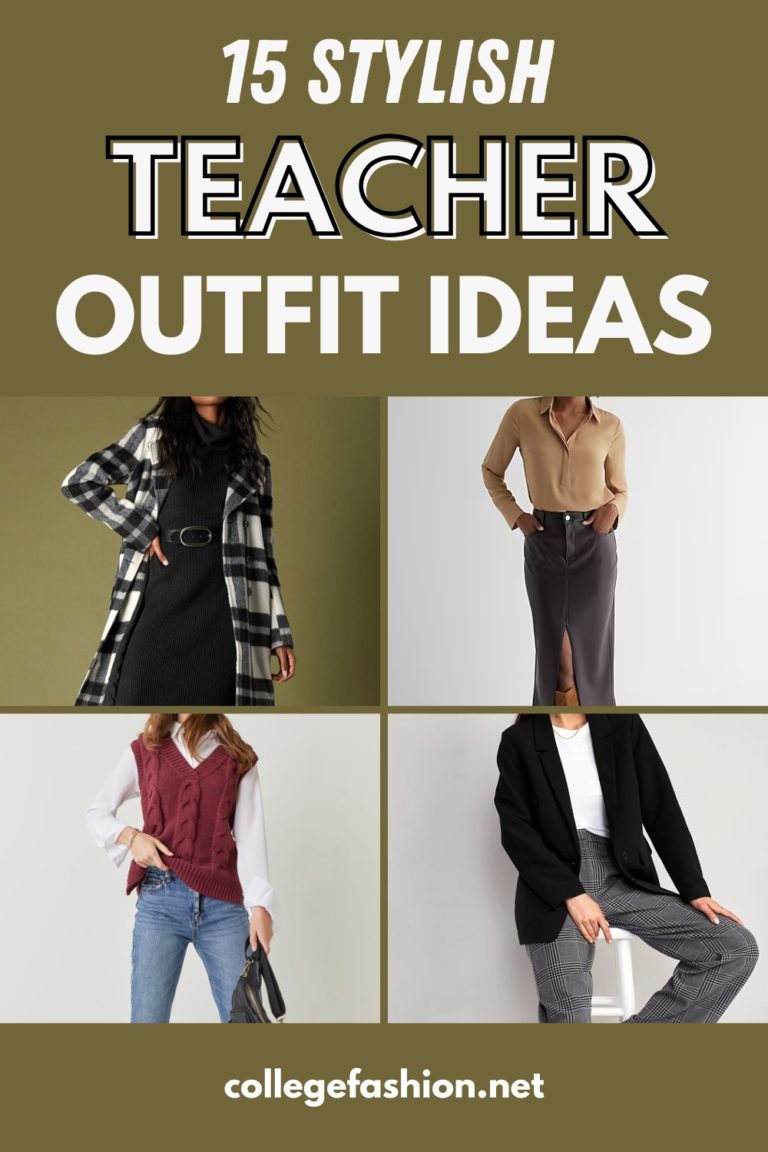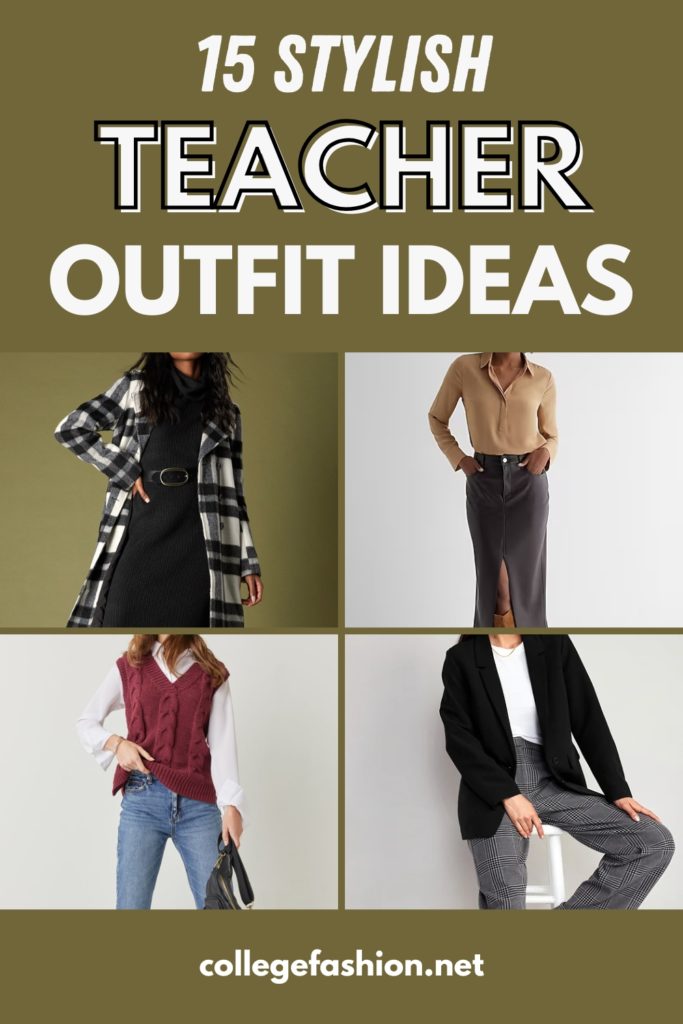 If you're a teacher, you may struggle with putting together an outfit for every day of the school year. It can be a tricky balance between wanting to look professional without being stuffy or over-dressed, all while still feeling comfortable. And the fact is, you're facing a classroom of students whose eyes are on you, so there's no doubt you want to look your best and command a level of respect as head of the class.
But just because you're a teacher doesn't mean you can't show off your sense of style while looking classroom-appropriate! These 15 teacher outfit ideas are perfect for the modern, fashion-conscious educator, featuring practical features and fresh trends.
Just remember to always use your best judgment and check your school's dress code first, as different schools have different clothing regulations.
First, though, let's tackle the basics:
What is appropriate attire for a teacher? In general, teachers should dress in business casual attire. Of course, this will depend on the dress code implemented at the school you teach at — some schools allow teachers to dress quite casually, while other schools expect more traditionally professional teacher attire. Some clothing items that are safe bets regardless include blazers, trouser pants, midi dresses, button-up shirts, and loafer flats.
Is it acceptable for teachers to wear jeans? The answer is… it depends! This is largely based on the guidelines set by the school you teach at. Some schools are fine with teachers wearing jeans daily, others only on casual Fridays, and other schools don't find jeans acceptable at all. As a general rule of thumb, opt for denim without rips or holes for a more polished look. Also, dark-wash denim tends to look dressier than lighter washes, as do jeans with silhouettes similar to tailored pants (like wide-leg or flared jeans).
What kind of clothes can't you wear in school? Again, each school has its own specific guidelines as to what is and is not acceptable, but it's safe to say you should avoid wearing anything too revealing (i.e. see-through, low-cut, tight-fitting, bares too much skin, etc.) or anything that would be considered vulgar (certain graphic print t-shirts fall into this category). When it comes to skirts and dresses, consider the "fingertip rule" which recommends that the length of your skirt or dress not be shorter than where your fingertips touch at your sides. Be sure to keep your undergarments covered (no exposed bra straps, for example) and err on the side of caution with clothing that is overly trendy or bold.
Teacher Outfit Ideas
Now let's get to the good part: the fashion! Read on for 15 stylish teacher outfits to upgrade your teaching wardrobe.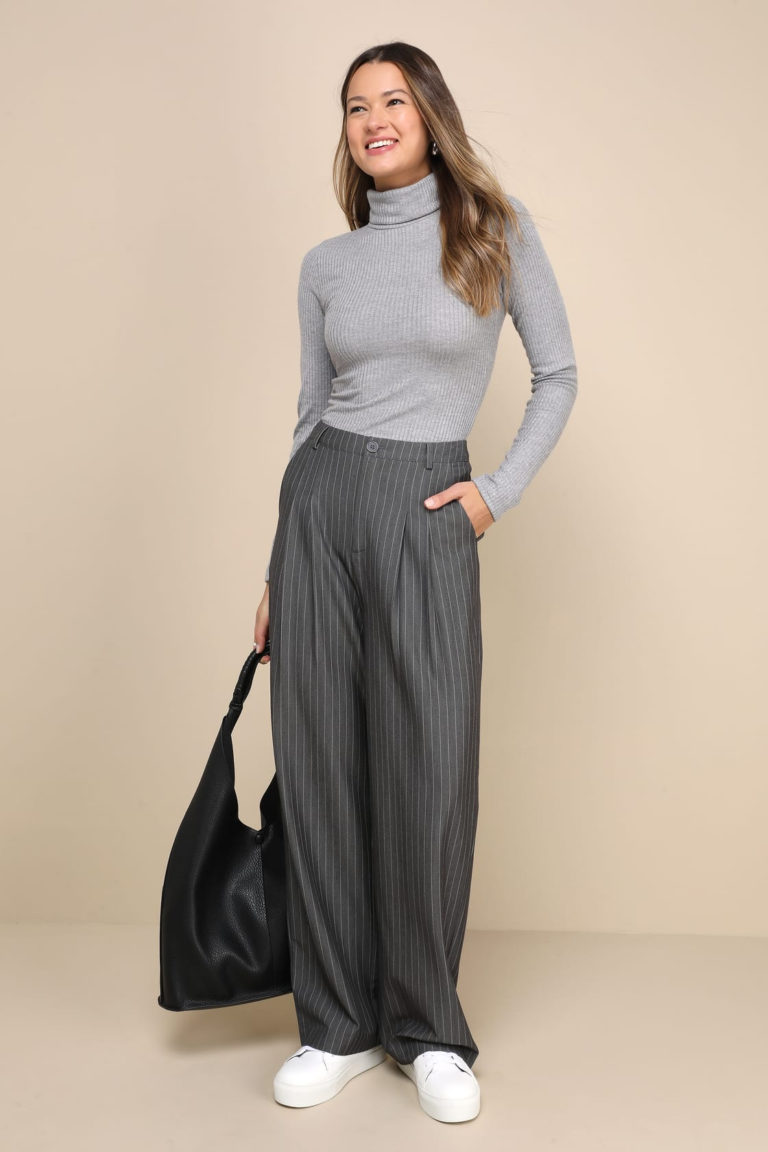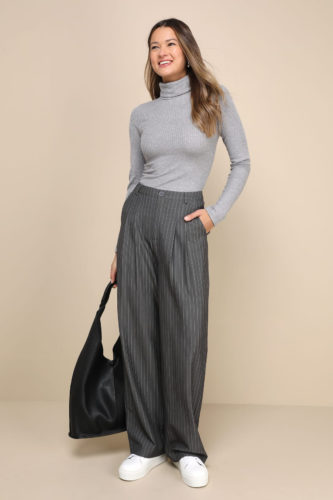 One of the best teacher outfits? Wide-leg pants paired with a long-sleeve top or a turtleneck top tucked in. This combination looks chic and put-together while also being comfortable.
Tailored wide-leg pants are one of my favorite professional clothing picks because their loose fit makes them feel *almost* like you're wearing sweatpants, but they look super elevated. They also pair well with tons of different footwear, from low-top sneakers to loafers to ankle boots.
Similarly, a slim-fitting turtleneck top is a great piece to add to your teacher wardrobe, as you can wear it during the fall and winter with pants, jeans, and skirts, with the assurance that you will be dressed appropriately.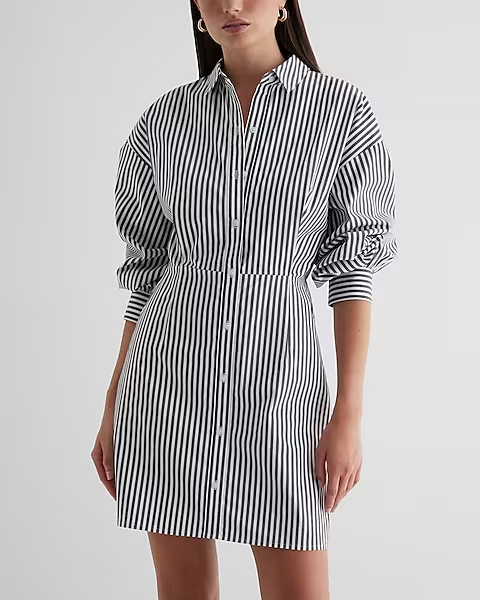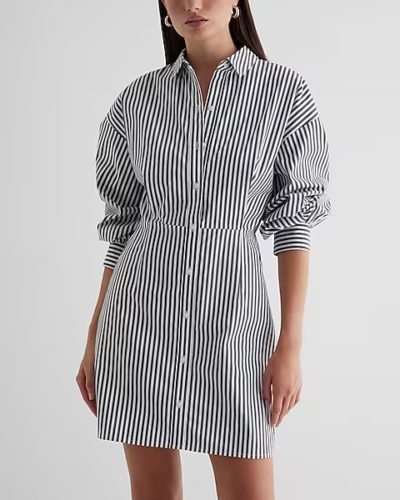 A shirt dress is a classic dress option for teachers. These dresses, which feature collars and a button-down design, look polished, making them classroom-appropriate.
Just be sure to opt for a length that's on the longer side, especially if it's a mini dress like this one. Style the dress with flats or low-top sneakers for a cute, feminine look.
3. Jeans and a Sweater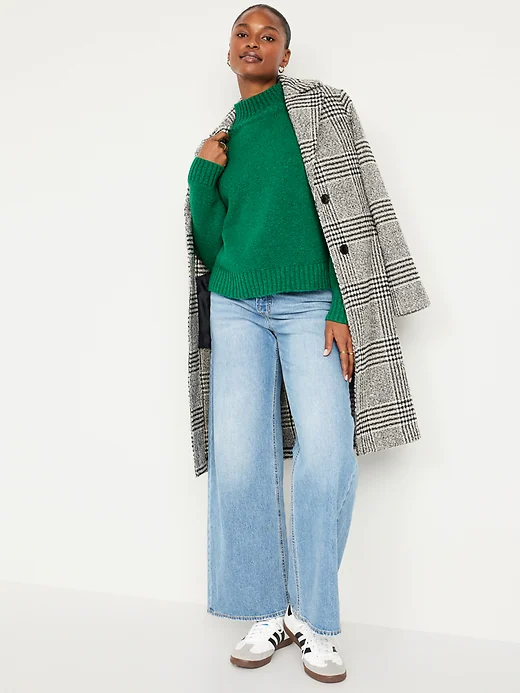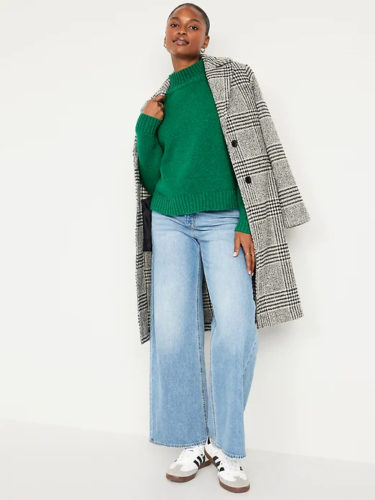 The key to wearing jeans appropriately as a teacher is opting for a pair that has a sleek look (no holes or rips) and styling them with smart casual pieces that elevate the denim. (And, of course, always check your school's dress code policy to be sure).
This outfit features wide-leg jeans with a more refined look that makes them teacher-appropriate, paired with a colorful sweater, low-top sneakers, and a smart coat. By opting for a bright sweater, you'll be able to give your outfit a pop of color that feels fresh (and your students will probably appreciate). The tailored coat helps add structure to the ensemble, keeping it elevated.
4. Jeans and a Blazer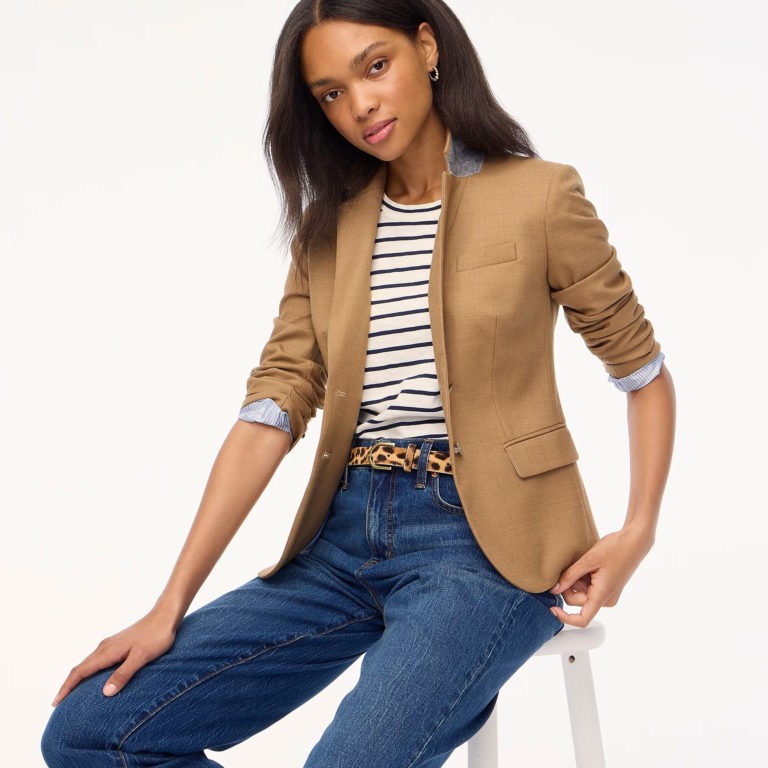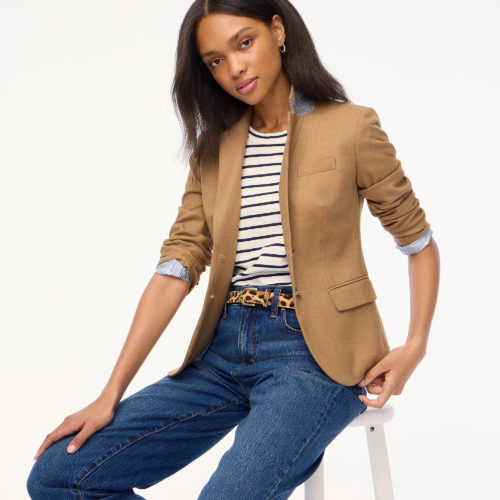 Another way to elevate your denim? A blazer. By opting for a blazer in a versatile neutral color like this camel-colored option, you'll be able to wear it with many different outfits throughout the school year.
I love the idea of wearing it with subtle mixed prints, like a striped top and a contrasting animal print belt. The animal print adds a touch of edge to the classic stripes, giving the ensemble a modern feel.
Go for straight-leg or slim-fitting jeans without rips or holes, and wear flats, loafers, or booties to complete the look.
5. Denim Midi Skirt & A Sweater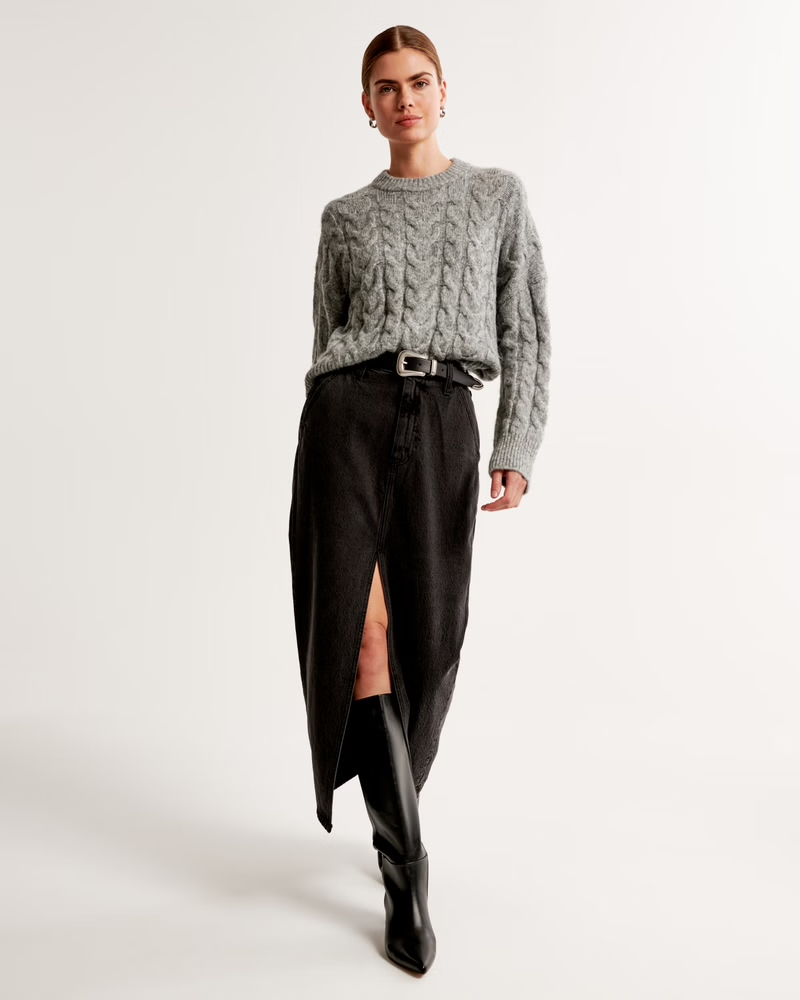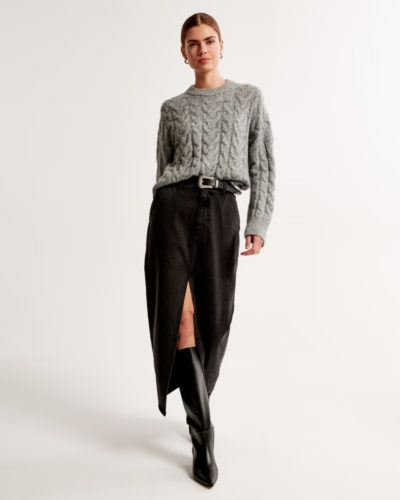 Denim midi skirts are a big fashion trend this season, and luckily, this trend can be classroom-friendly. I'd suggest wearing a dark-colored denim midi skirt for a more refined look, paired with a classic cable-knit sweater and knee-high boots for the fall and winter.
Come springtime, swap them out for a blouse or a button-up shirt and flats. By accessorizing with a structured belt, you'll be able to add a styling element while defining your waistline.
6. Denim Maxi Skirt & A Sweater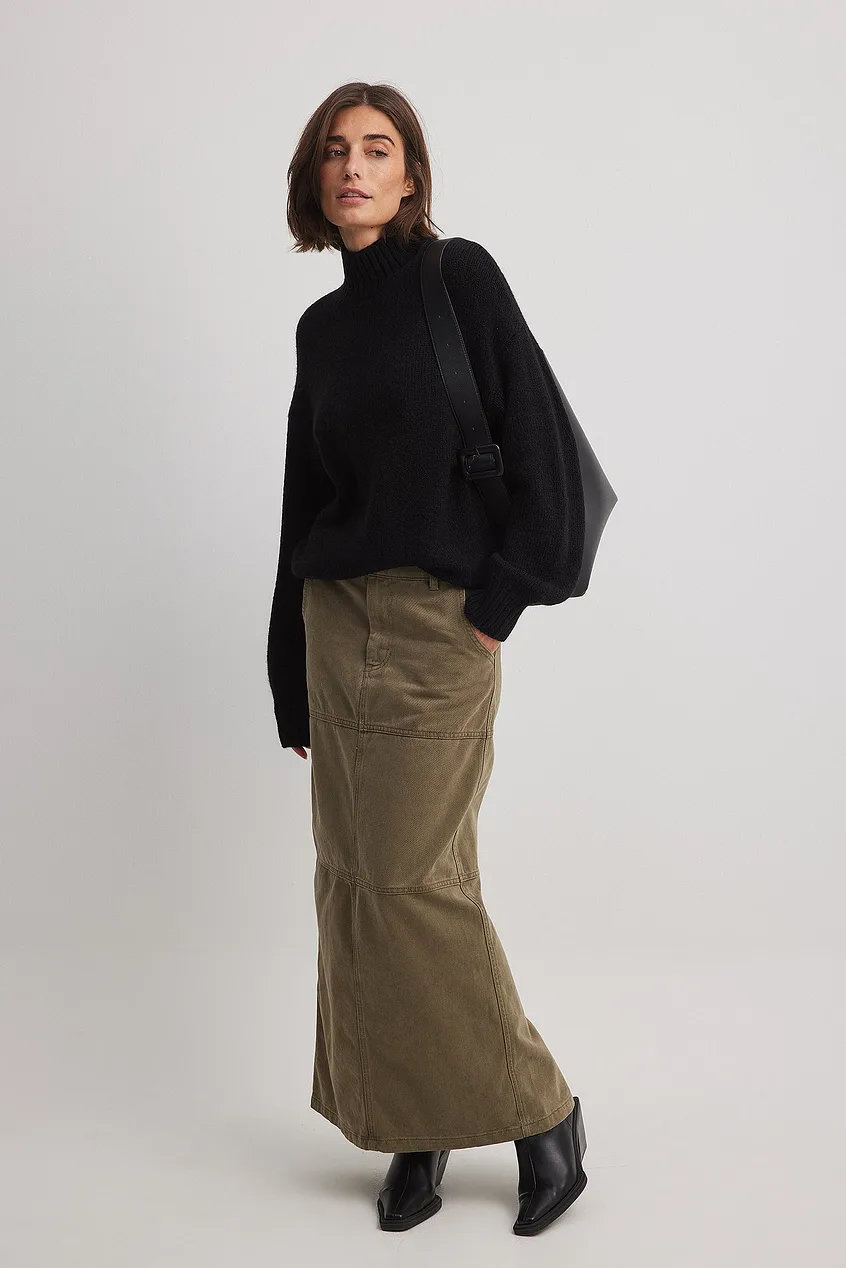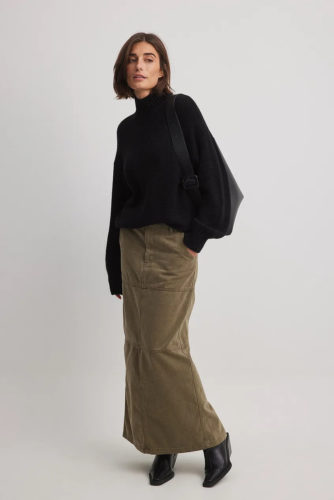 By the same token, denim maxi skirts are equally as trendy right now. These are very comfortable to wear since they have a relaxed fit and can be dressed up or down.
This khaki-colored denim maxi skirt is surprisingly versatile: wear it with a sweater and boots now and with low-top sneakers and a fitted t-shirt when the weather warms up. You won't have to worry about the length passing dress code regulations, either (it most definitely does!).
Consider accessorizing with some oversized earrings to balance out the length for a chic look.
7. Sweater Midi Dress & Long Coat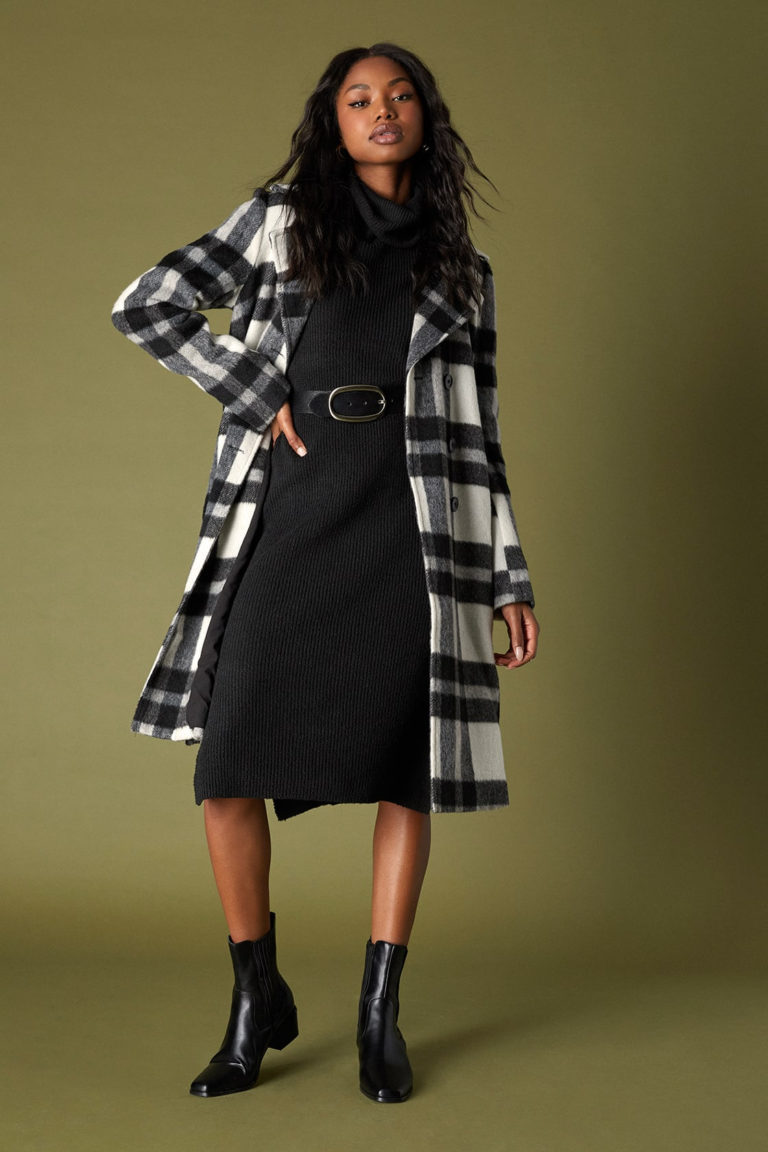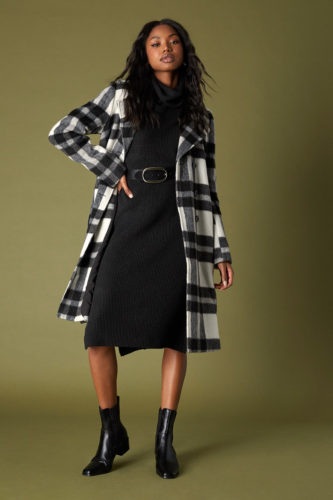 A midi-length sweater dress is a total must-have for the fall and winter seasons, especially one with a turtleneck for an extra chic vibe.
Style it with ankle booties and a long structured coat, preferably in plaid to add a pop of print to your overall ensemble. By wearing a belt around your waist, you'll give the dress a cinched effect for a flattering look.
When it gets colder, wear this outfit with tights for added warmth.
8. Tailored Pants & A Trench Coat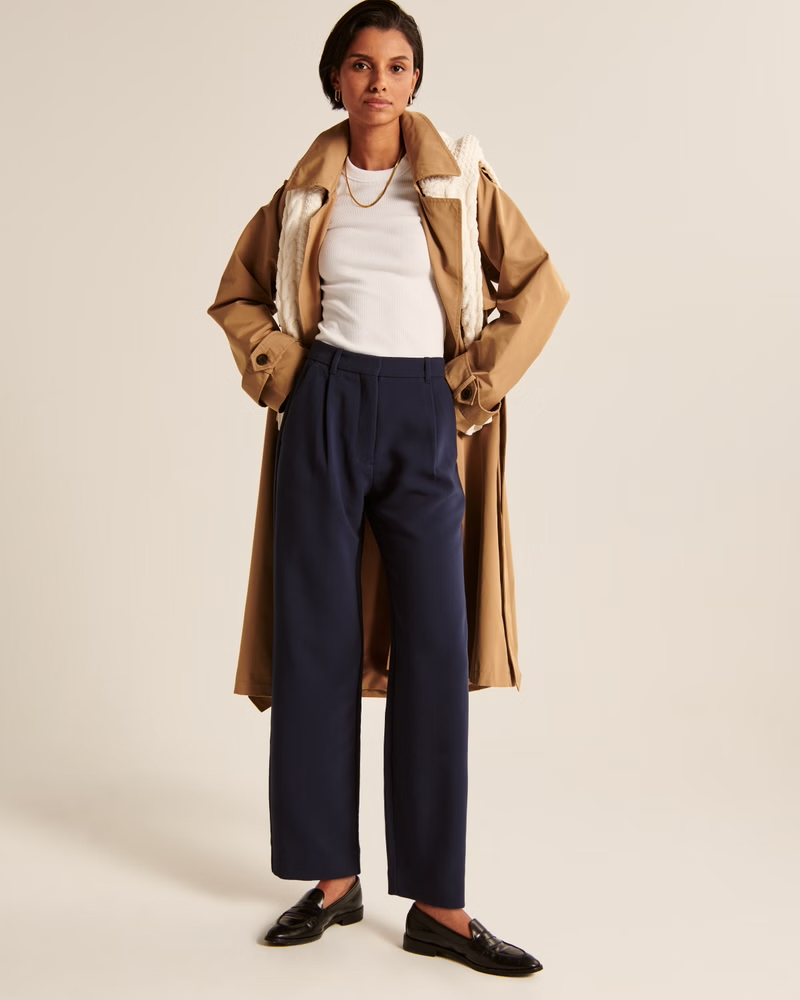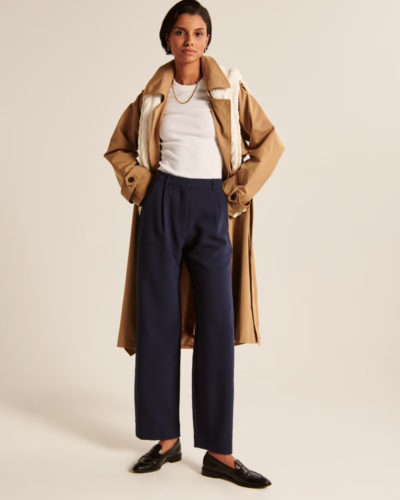 Everyone can use a classic tan trench coat in their wardrobe — it's such a timeless piece that elevates any outfit, making it ideal for the workplace.
Go for a classic look by wearing it with some tailored trouser pants and loafer flats. A simple white crewneck t-shirt works for a more casual feel (just add in some jewelry to dress it up), or opt for a button-up shirt, which is another classic, preppy piece you can't go wrong with.
BTW, white low-top sneakers would look great with this outfit, too.
9. A Shacket & Midi Skirt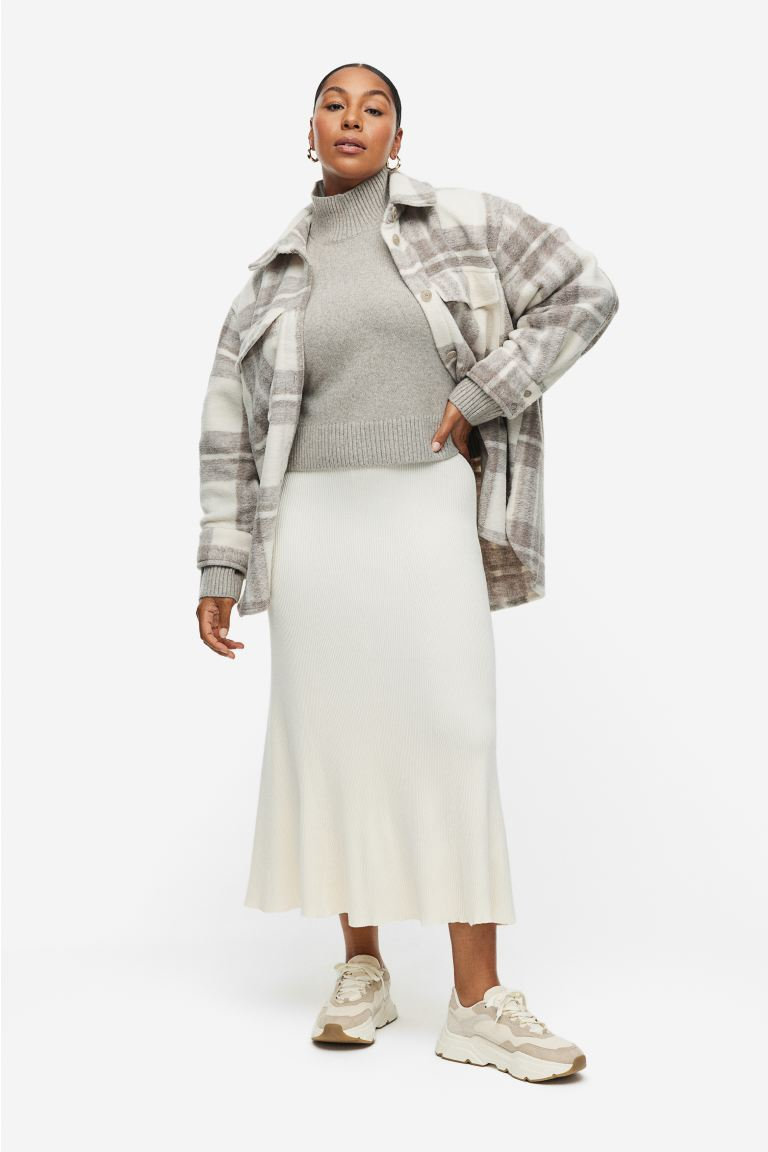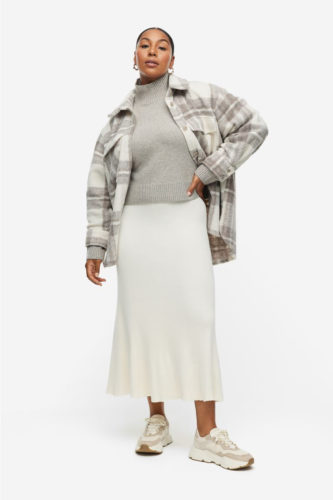 How genius is this outfit featuring a plaid shacket, ankle-length skirt, and sneakers? This unexpected combination looks ultra-fashionable while balancing function and comfort.
The outfit's neutral color palette gives it an elevated look, as does the flowy midi skirt. A plaid shacket is the perfect way to pull it together, especially since it incorporates the outfit's color scheme within its plaid print. And while boots may seem like the obvious footwear choice, I love how low-top sneakers look, instead. Any work outfit that involves sneakers is a win in my book!
10. Kick Flare Jeans & Ballet Flats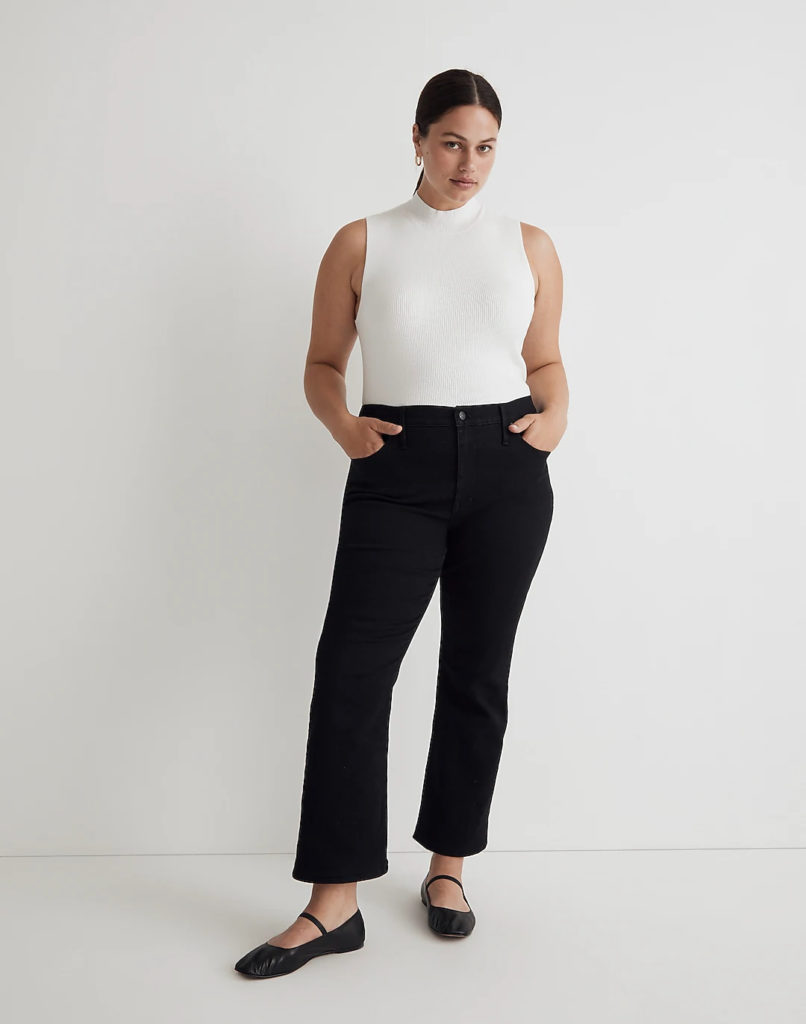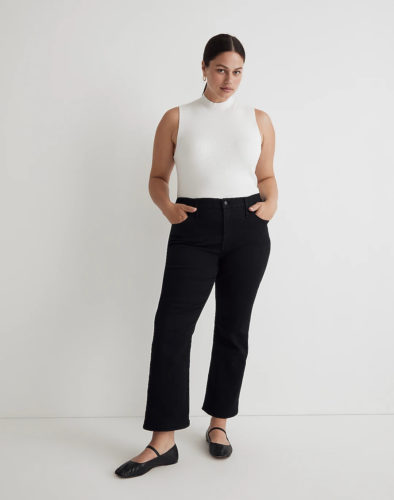 When it comes to wearing jeans, the darker the wash, the dressier they appear. The cut can also play a role, and these black kick-flare jeans have an elegant look that pairs perfectly with blouses, button-up shirts, and slim-fitting tops. They also have stretch, which is key if you're going to be sitting behind a desk for hours!
Kick-flare jeans look best with ankle booties, low-top sneakers, and ballet flats, which are a big trend this season.
11. A Blazer & Plaid Pants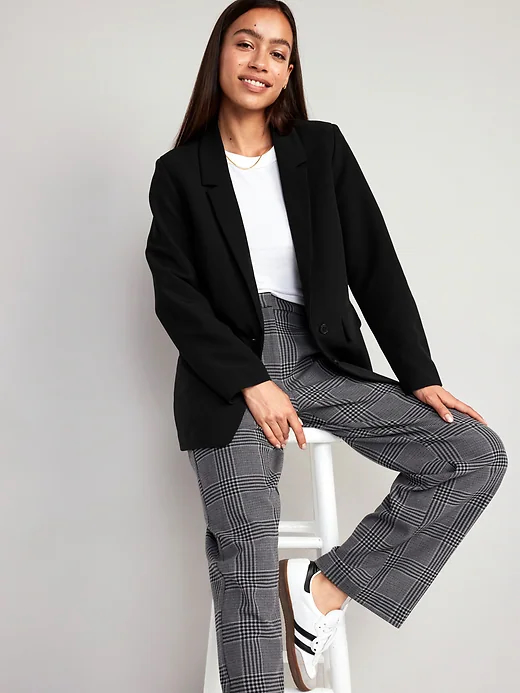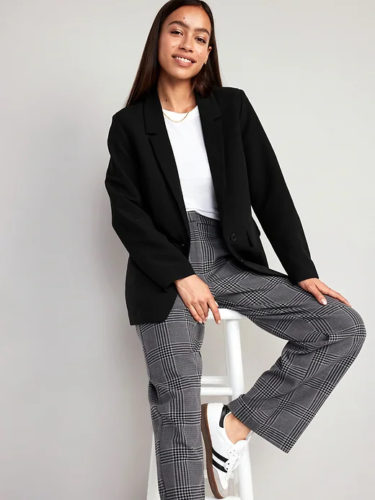 A blazer makes every outfit look more refined, which is why it's a must-have for a teacher's — or any professional's — wardrobe.
Try wearing a simple black blazer over some plaid print trousers with a simple white top or blouse underneath. This look is easy but looks polished, especially if you jazz it up with cute jewelry like a necklace and earrings.
Keep it laid-back with some low-top sneakers, or opt for some chunky loafers or ballet flats.
12. Button-Up Shirt & Midi Skirt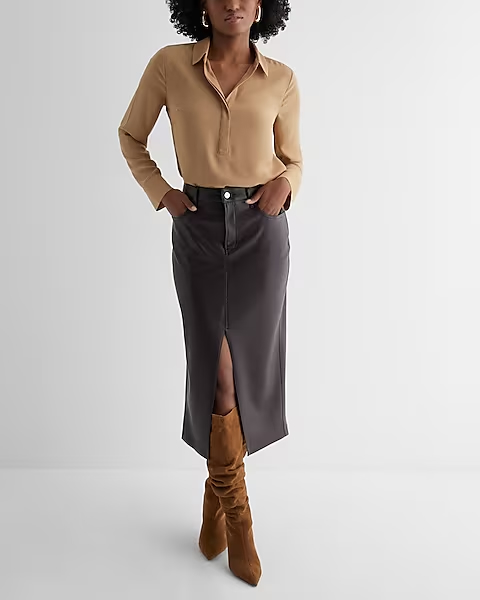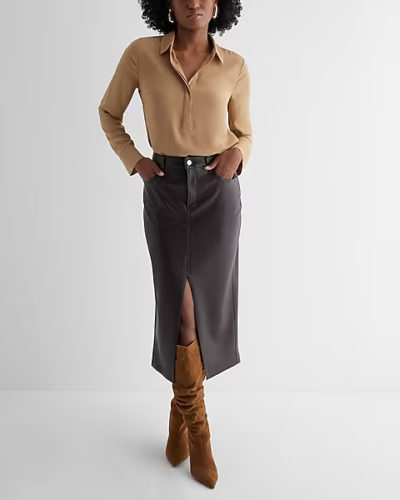 Another professional wardrobe must-have? A button-up shirt. These will make anything look more polished, even jeans!
For a chic fall teacher look, pair a button-up shirt with a midi skirt and knee-high boots. This elevated look is right on trend and has a fashionable flair.
13. Satin Midi Dress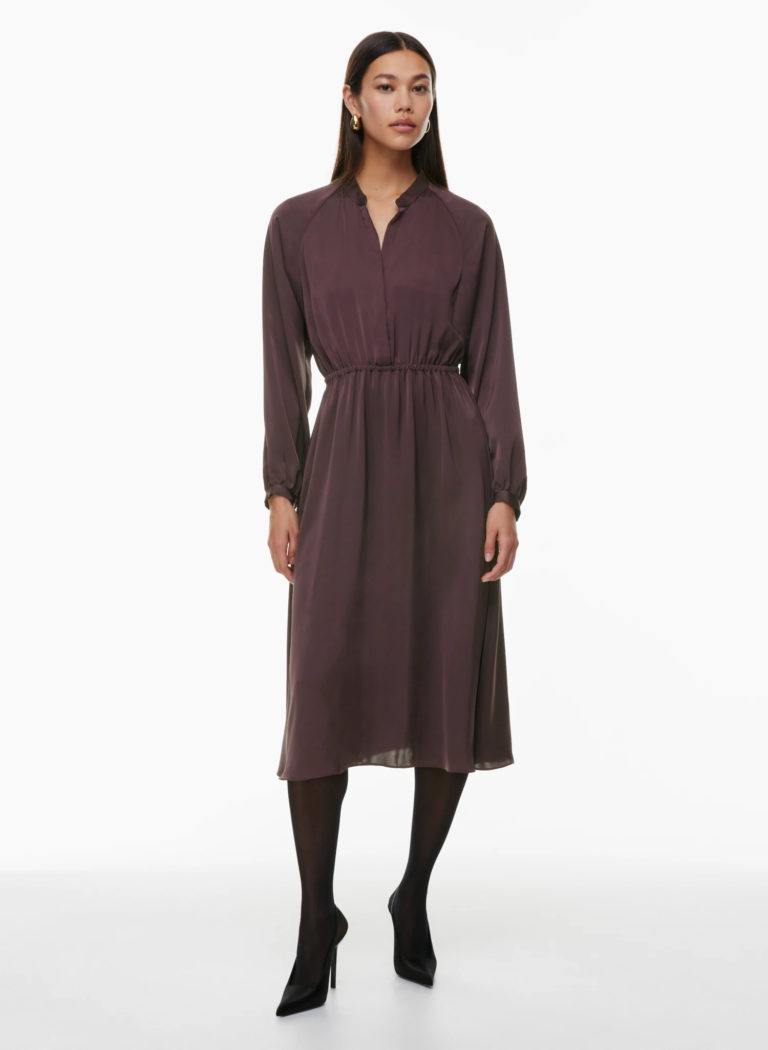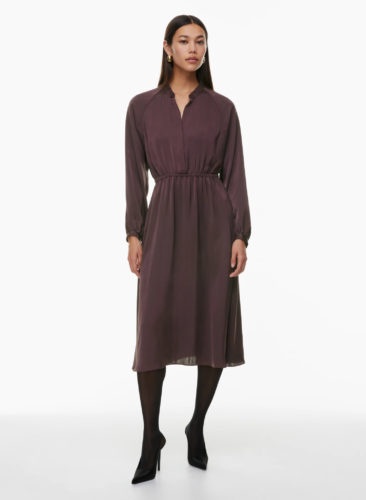 You can't go wrong with a satin midi dress as a teacher. This type of dress looks elegant and can be worn with heels, ankle booties, or knee-high boots, along with tights during colder seasons.
The length is just right, and the flowy design makes for a surprisingly comfortable option to wear for a workday.
14. Sweater Vest & Jeans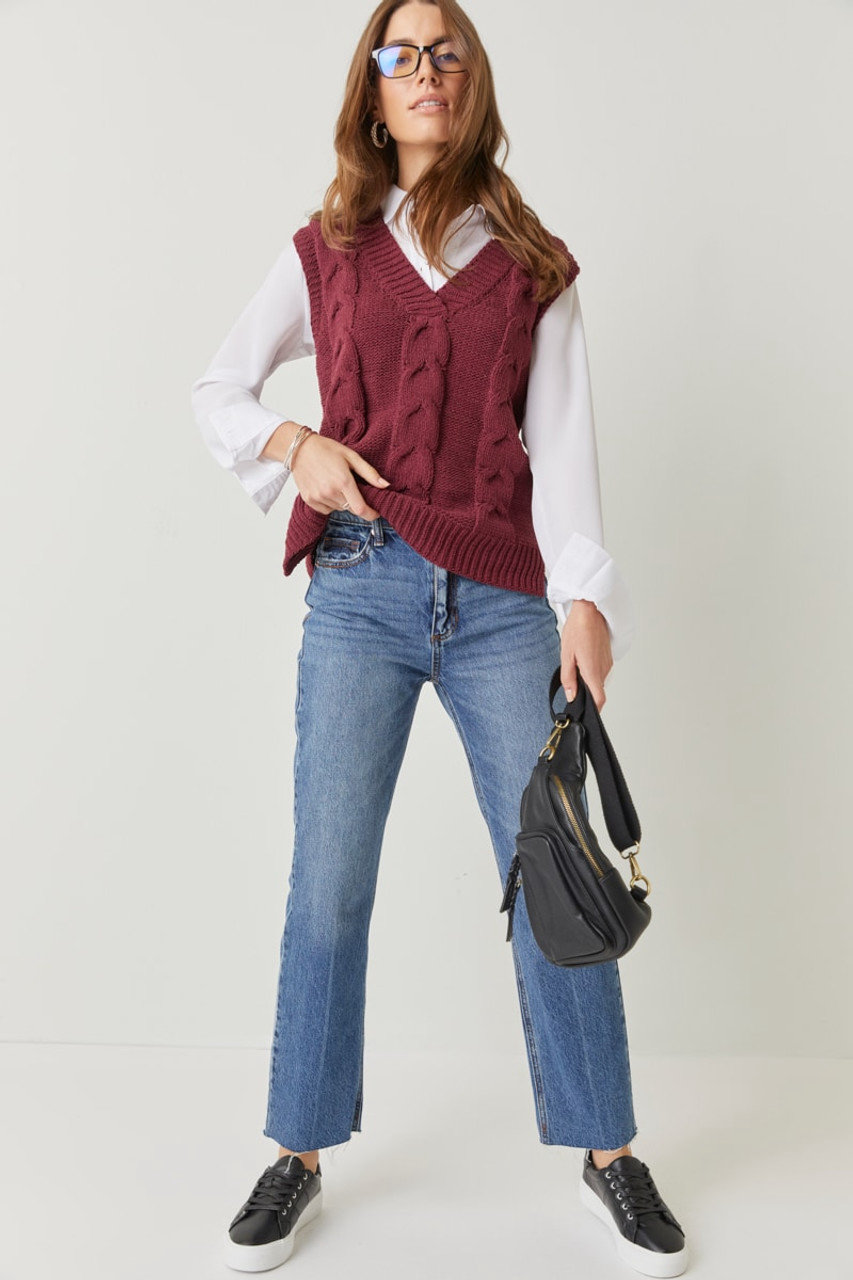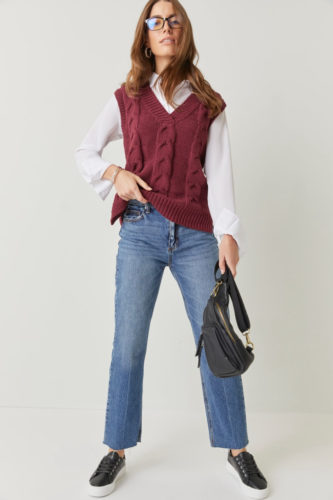 For a more casual school outfit, wear a cable knit sweater vest layered over a button-up shirt and straight-leg jeans. This combo has an academia aesthetic that makes it a classroom-ready option (if jeans are too casual, swap them out for tailored pants).
Layering is a great way to show off your styling abilities and make an outfit feel (and look) less basic.
15. Khaki Pants & A Sweater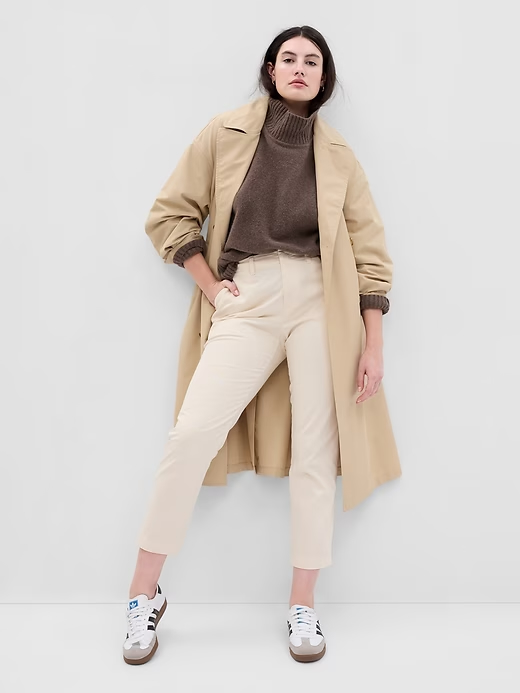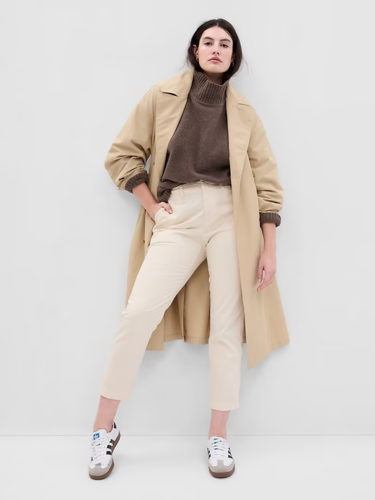 It doesn't get much more classic than chino or khaki pants, and while at first thought they may seem dull, I promise you they don't have to be! Again, it's all about the styling.
To make these professional pants feel modern and fresh, try wearing them with a chunky knit sweater, trench coat, and some low-top sneakers or ankle booties. This outfit is functional for a day spent in the classroom… or the playground since these pants have comfort stretch, too.
What do you think of our teacher outfit ideas?
Would you wear these teacher outfits? Which teacher outfit is your favorite? Leave a comment and let us know!