Science is about more than just memorizing equations and using formula sheets. It's a way of exploring and discovering things about the world around us. It can be learned by anyone, anywhere – and it can teach you a lot about style.
Over the next few months, I'm going to be explaining how science can apply to your wardrobe and showing you the places in which fashion and science intersect. (It's more places than you think!)
In honor of Earth Day, we're taking a three-part detour into ecology, the study of the interactions between living things and their environment. This is the third article in this mini-series: in the first, we talked about the rain forest, and last time we covered the desert.
Today's topic is the coral reef, so I'll talk about some of the interesting things about reef ecosystems and the organisms that inhabit them, and then give you some sustainably-sourced outfits based on what we learned. Sound interesting? Keep reading!
Abstract:
Coral reefs are another amazing ecosystem that can be found here on Earth. They are very common in places where there is shallow, warm ocean water – so they are present along many tropical coastlines. They are most known for their unusual and diverse plant life, as they are considered to be one of the most productive types of ecosystems – and some coral reefs are so large, they can even be seen from space!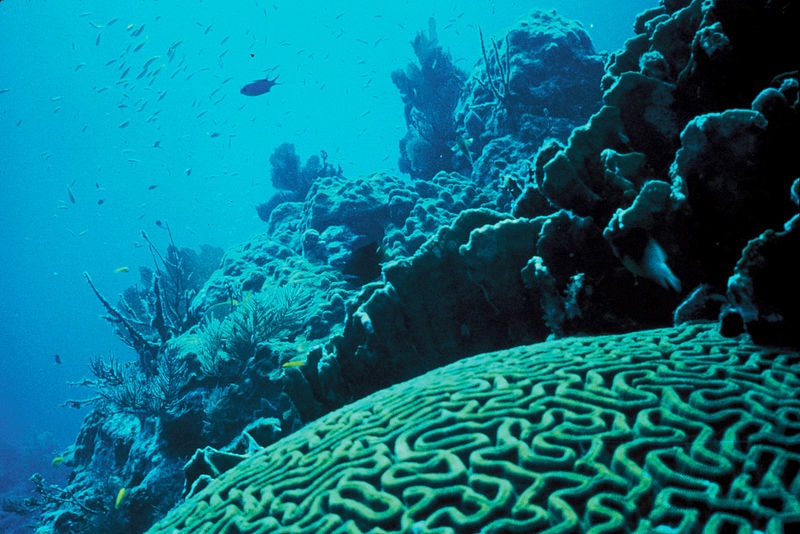 Reefs are another ecosystem with amazing biodiversity: from their vast variety of seaweed, to their sea grasses, and of course corals, they are brightly colored and packed with life. The primary source of energy for all of this activity is the sun – as light filters down through the water, it is used as fuel for algae and sea plants to grow. These plants then serve as food and shelter for the fish that live in the reef.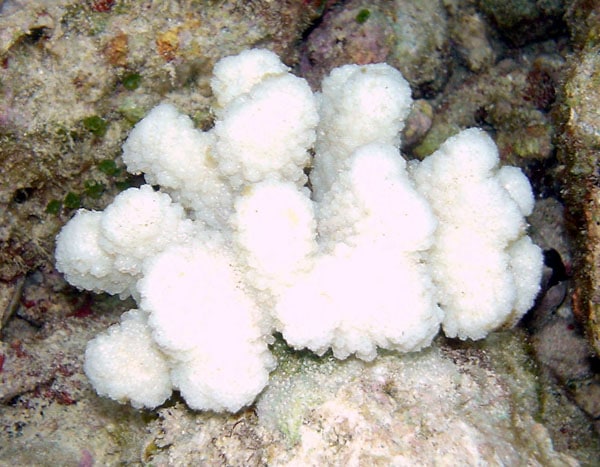 The coral itself is what makes reefs truly fascinating – and it isn't just an environmental feature. Coral is made of tiny organisms called polyps, who live on the outermost layer of coral formations, paired with an algae that provides them with food. When these polyps die, they leave a skeleton, which serves to make the coral formations even larger – so they can grow and change over time.
The biggest threat to coral ecosystems, however, is a process known as coral bleaching – when the algae paired to the coral polyps dies, the coral itself dies, and the entire ecosystem starts to collapse. Bleaching can occur as a result of rising sea temperatures, increased ocean acidity because of higher levels of carbon dioxide in the atmosphere, and because of certain chemicals introduced to the environment by human activity. To keep the reefs alive, it is important to engage in environmental conservation activities.
Among the many plants in the coral reef live a variety of fish, crustaceans such as crabs and lobsters, and other creatures such as jellyfish, sponges, and sea turtles. As in any ecosystem, these fish serve important purposes – such as providing food for other organisms that live in the ocean.
But because coral reefs are scarce in nutrients, and must compete with other types of organisms, some fish also serve a more unique purpose. In order to eradicate certain types of seaweed – such as one that releases a coral-bleaching chemical, coral can send chemical signals into the water, that are received by fish like the one shown above, and ensures that the fish eat the seaweed. By eradicating threats to the coral, fish are therefore improving the health of the reef as a whole.
Methods:
Coral reefs are awesome because of their vibrancy and energy – so fashion inspiration based on a coral reef is all about embracing light fabrics and bright colors, while choosing practical pieces that won't stop you from getting out and soaking up the sun this summer.
The clothes featured in this article are a little bit more expensive than the items we usually feature on CF because they all come from ethical companies that embrace sustainable practices as a large part of their business. Next time you're looking for an investment piece, look into the clothes by these companies, as they're likely to be high-quality and designed to be long-lasting. (See Why You Should Spend More on Quality Clothing for more on this.)
Other ways to be sustainable are by wearing things you already own and love, giving your unwanted things to others (and vice versa), and buying things secondhand: these are all affordable ways to make a difference!
Figure 1: Solar Energy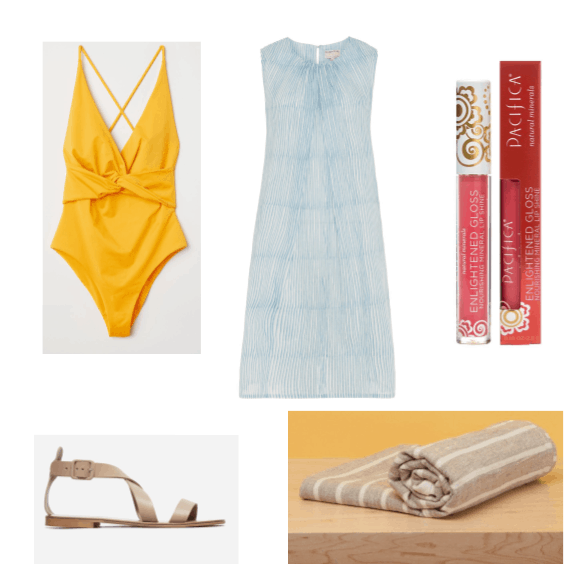 Products: Swimsuit – H&M, Dress – People Tree, Lip Gloss – Ulta, Sandals – Everlane, Towel – The Reformation
The main source of energy in the coral reef is the sun – not only are the organisms that make up the reef itself dependent on its light, but all living things in the reef are dependent on the warm water provided by the sun's rays.
Channel the sun streaming through the tropical water by layering this breezy swing dress over a bright yellow one-piece. Taupe sandals lengthen your legs – but a wrapped ankle strap keeps them more secure than flip-flops. A striped towel is perfect for stretching out on poolside, and lip gloss can be layered over a lip balm with SPF to keep you looking cute without worrying about sweating or swimming off a full face of makeup.
Figure 2: Algae Activity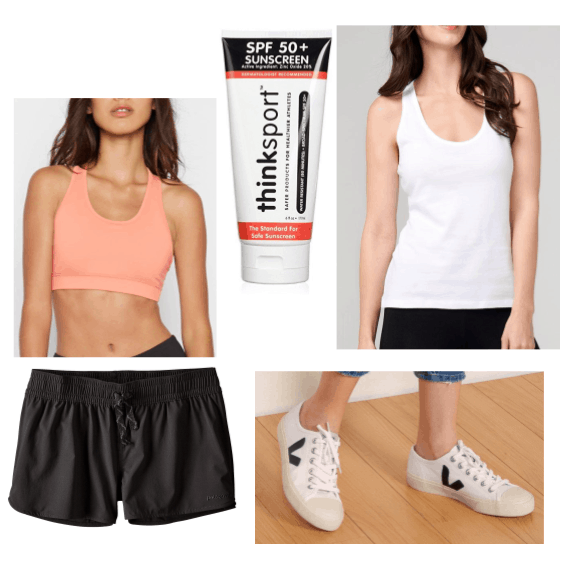 Products: Sports bra – Threads for Thought, Swim Shorts – Patagonia, Sunscreen – Amazon, Tank – Pact Apparel, Shoes – The Reformation
One of the most striking features of the coral reef is the reef itself – with its bright colors and interesting shapes, it is eye-catching and dynamic. However, ingredients found in many sunscreens can leach into the ocean water and cause the reefs to be bleached, so if you're swimming in the ocean (especially in a tropical area), it's important to make sure that your sunscreen is reef-safe.
For a day kayaking, paddle boarding, or surfing, it's important to choose clothes that won't hinder you – or cause a wardrobe malfunction. A sports bra in a moisture-wicking fabric is a supportive alternative to a flimsy bikini top, and swim shorts are great if you want a little more coverage in case of a wipeout. Wearing a reef-safe sunscreen like this one will keep your skin and the ocean happy; and once you're out of the water, add a light and quick-drying tank top and canvas sneakers to wear wherever the day takes you next.
Figure 3: Fish in the Sea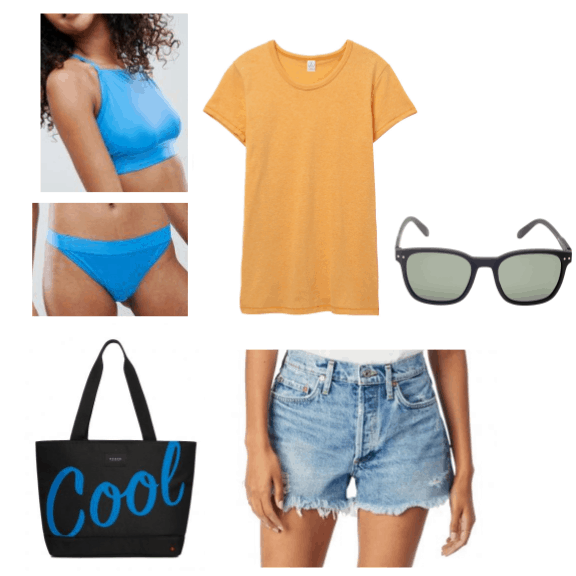 Products: Bikini Top – ASOS, Bikini Bottom – ASOS, Tee – Alternative Apparel, Sunglasses – Alternative Apparel, Tote – Alternative Apparel, Cutoffs – Alternative Apparel
The creatures living in the coral reef are just as exciting as the reef itself: due to the dynamic environment and their important role in the health of the reef, many fish are cool from both a scientific and an aesthetic perspective.
Channel the cool vibes of tropical fish with a bright colorblocked outfit: a high-necked blue bikini is a cool (and practical) silhouette, while a yellow shirt and cutoff jean shorts add a vintage vibe. Sunglasses shield your eyes from bright rays reflected off the water, and an insulated tote keeps your poolside drinks as cool as you look.
Results:
What ecosystems do you find most interesting? What are your best tips for keeping a sustainable wardrobe? Let us know in the comments below!