Science is about more than just memorizing equations and using formula sheets. It's a way of exploring and discovering things about the world around us. It can be learned by anyone, anywhere – and it can teach you a lot about style.
Over the next few months, I'm going to be explaining how science can apply to your wardrobe and showing you the places in which fashion and science intersect. (It's more places than you think!)
Last time, we talked about the science of laundry stain removal. In honor of Earth Day, we're examining another area of science. This is the first installment of a three-part series about ecology, the study of the interactions between living things and their environment.
Today's topic is the rain forest: so I'll talk about some of the interesting things about rain forest ecosystems and the organisms that inhabit them, and then give you some sustainably-sourced outfits based on what we learned. Sound interesting? Keep reading!
Abstract:
The rain forest is one of the most interesting places on the planet. Rain forest ecosystems cover a very small amount of the Earth's surface area, but are home to more than half of the planet's species, and are responsible for producing lots of oxygen, as well as several types of fruits, nuts, and vegetables, and a wide variety of medicinal substances.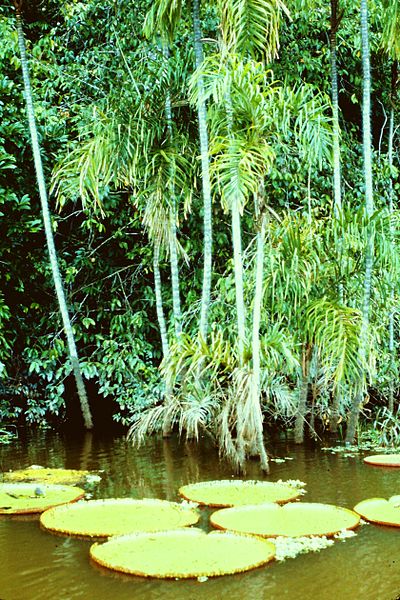 One of the most interesting ecological features of the rain forest is biodiversity – that there are thousands of species coexisting in the same environment. Even more interesting is the way that organisms in the rain forest interact with each other – there is no dominant species in rain forest ecosystems, and trees of the same species are rarely found together. Because of the density and variety of rain forests, there are always plants producing plants and flowers, so there is a year-round supply of food for animals.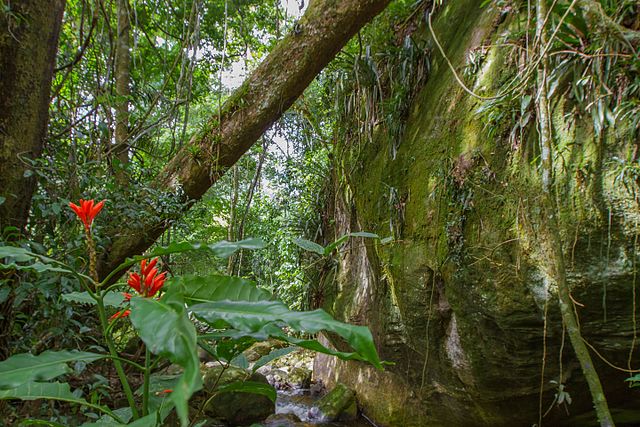 Part of how the rain forest is able to support so many species is the way that the plants interact: there are unique layers of plants from the ground to the tops of the trees, each with different levels of moisture and sunlight. Because each of these layers is different, different types of plants and animals are able to live in a small area – some species never leave their level through their entire lives!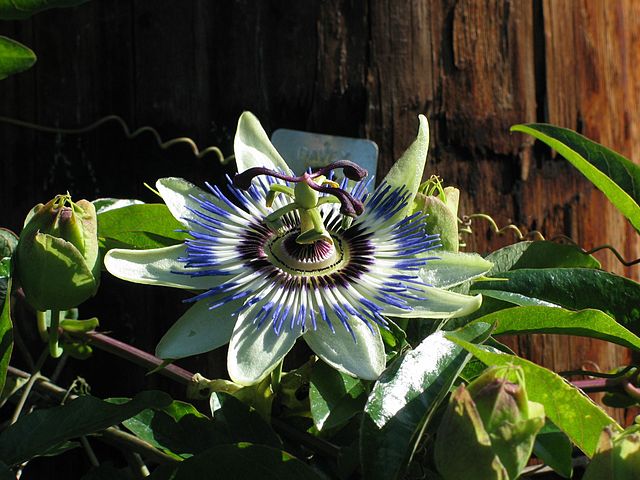 Plants in the rain forest rely on pollinators – such as birds, bats, and insects – to reproduce. They compete for the attention of these pollinators, each presenting bright colors and enticing scents in order to be the most sought-after plant. This competition for resources means that plants in the rain forest have to be flashier than plants in other ecosystems, where there are fewer plant species that need to be pollinated.
Methods:
The rain forest is a vibrant place, full of life – so it's easy to channel that bright energy into your spring wardrobe – without losing the ability to deal with warm, wet weather (like late April showers).
The clothes featured in this article are a little bit more expensive than the items we usually feature on CF – because they all come from ethical companies that embrace sustainable practices as a large part of their business. Next time you're looking for an investment piece, look into the clothes by these companies, as they're likely to be high-quality and designed to be long-lasting. (See Why You Should Spend More on Quality Clothing for more on this.)
Other ways to be sustainable are by wearing things you already own and love, giving your unwanted things to others (and vice versa), and buying things secondhand: these are all affordable ways to make a difference!
Figure 1: Biodiversity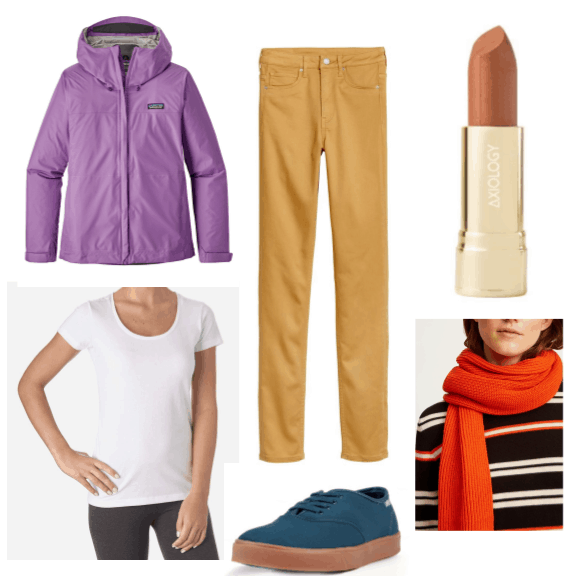 Products: Jacket – Patagonia, Tee – Pact, Jeans – H&M, Sneakers – Keep, Lipstick – Axiology, Scarf – People Tree
Channel the diversity of the rain forest with this color blocked outfit, perfect for a rainy spring day. A purple rain jacket and some deep teal sneakers are practical, while muted orange skinny jeans and an orange scarf add energy. Add a white tee and brown lipstick to keep the look from being too busy.
Like the rain forest, this outfit does not have any dominant piece, because all of the components are basic silhouettes in wildly different colors. Mixing up the color palette is a great way to make a basic outfit feel more exciting after a winter of black and grey.
Figure 2: From The Upper Canopy to the Understory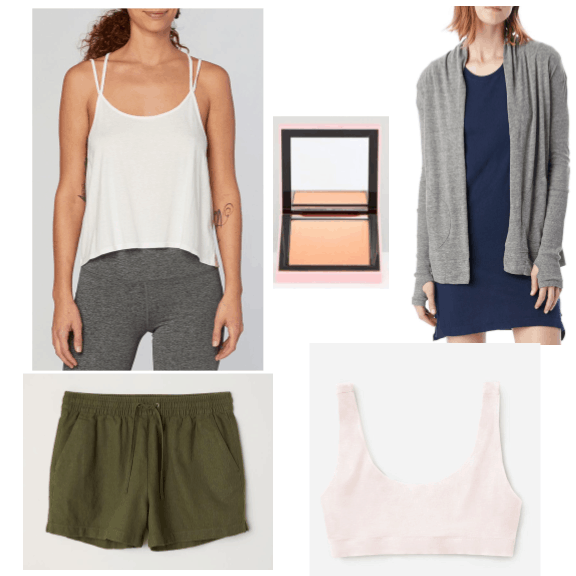 Products: Tank – Threads for Thought, Shorts – H&M, Blush – ASOS, Sweater – Alternative Apparel, Bralette – Everlane
Wearing several different types of layers will help you thrive in a variety of different environments, like those present in the rain forest – from class, to a study session, to a light workout, or even to a nap.
The foundation of this outfit is a flowy, strappy tank top and a pair of tie-waist shorts, which are light and breezy enough to be ultra-comfortable, but that are also presentable. Layer a light pink bralette underneath for more structure, and a loose grey cardigan over top for warmth and versatility. Add peachy-orange blush to your cheeks and eyelids for a summery touch, even if it's still rainy outside.
Figure 3: Plants and Pollinators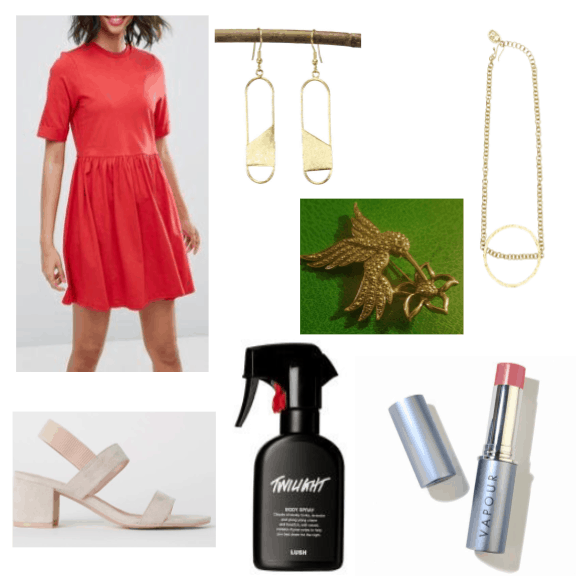 Products: Dress – ASOS, Sandals – H&M, Earrings – Fair Trade Winds, Body Spray – LUSH, Brooch – Etsy, Necklace – People Tree, Multi Stick – Vapour
Attract some attention of your own with a bright red dress. Add some nude sandals for a leg-lengthening boost, and layer on some gold jewelry (including this one-of-a-kind hummingbird brooch, in a nod to one of nature's most interesting pollinators). A floral body spray and an all-in-one makeup multi stick in a bright fuchsia make you look and smell great from every angle, without too much fuss.
You could wear this outfit to any summer occasion – from a graduation, to a barbecue, to a night out with the girls – to be as bright and exciting as a tropical flower.
Results:
What ecosystems do you find most interesting? What are your best tips for keeping a sustainable wardrobe? Let us know in the comments below!