Spring is one of the greatest times of the year. It is finally getting warm again and with the warm weather comes a new season of clothing.
A spring trend that I am currently loving is sundresses and boots! There's something about the clash of girly and edgy that I love so much.
Another advantage of this trend is that with a dress, you basically have 75 percent of an outfit covered. All you need to do is figure out what shoes to wear!
Because I love this trend so much, I thought it would be great to create four outfits that include sundresses and boots:
Outfit One: Edge of Green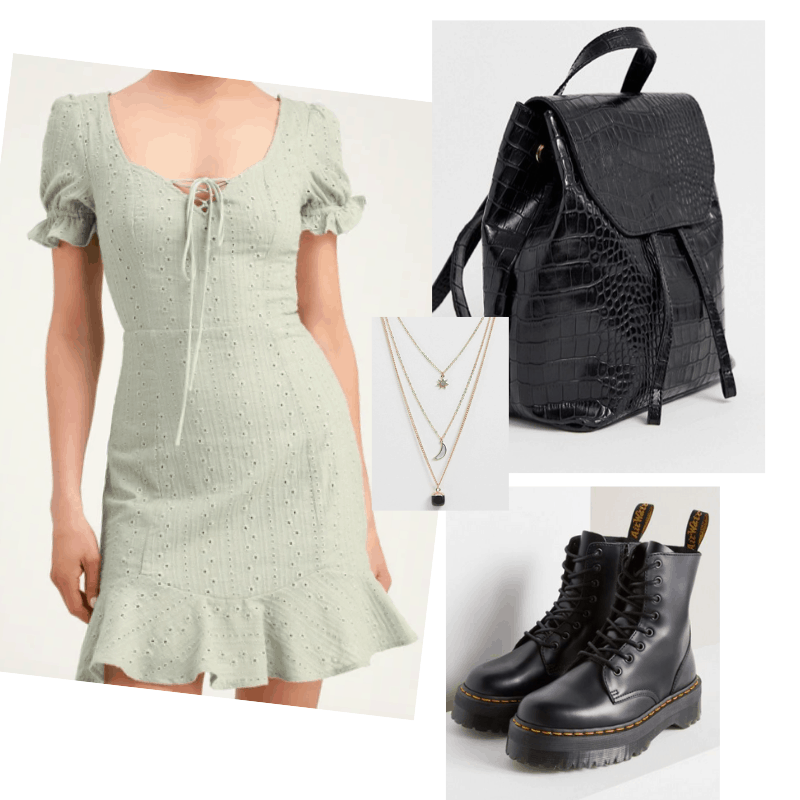 Products: Dress – Lulus, Boots – Urban Outfitters, Bag – ASOS, Necklace Set – ASOS
If you have read my posts before, you will notice that Dr. Martens platform boots are a staple of mine. I own a version of them and they are my favorite pair of shoes. I am IN LOVE with them.
One reason I love them so much is that they look great with dresses. They add the perfect edge to any sweet dress. It's a very on-trend combo that I love to wear.
I love this sage green dress because I think it's a great subtle color that clashes — in a good way — with the black boots and backpack.
This outfit would be so comfortable that you could wear it to class, to the mall, walking through the main shops in your town and going to lunch with your friends.
Outfit Two: Girly Chic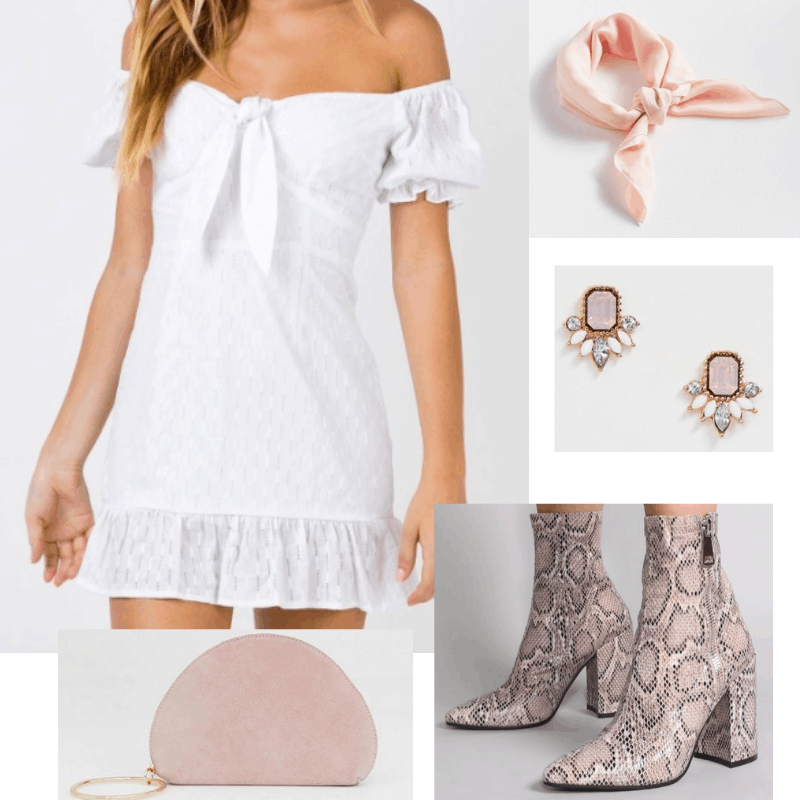 Products: Dress – Princess Polly, Shoes – Public Desire, Clutch – ASOS, Earrings – ASOS, Scarf – Urban Outfitters
I love this outfit. It is so girly, chic, and sweet.
Quick fashion tip: If you're having trouble choosing accessories, you can pull a color out of an article of clothing to make it easy.
For example, when I first chose these snakeskin boots, they did not look like they had a pink undertone. Yet, once I chose the pink clutch and put it next to the boots, the boots suddenly started to look pink! I loved this and kept going with it.
White looks so great with pink, so I added some bold pink earrings. The dress does not need a bold necklace because of the bow on the neckline. Earrings are fine!
Then, you can get creative with the pink scarf. You can style it with a high ponytail, a half-up-half-down hairstyle, or even wrap it to make a headband. Hair accessories are super trendy this season, so have fun with them.
Outfit Three: Sassy but Sweet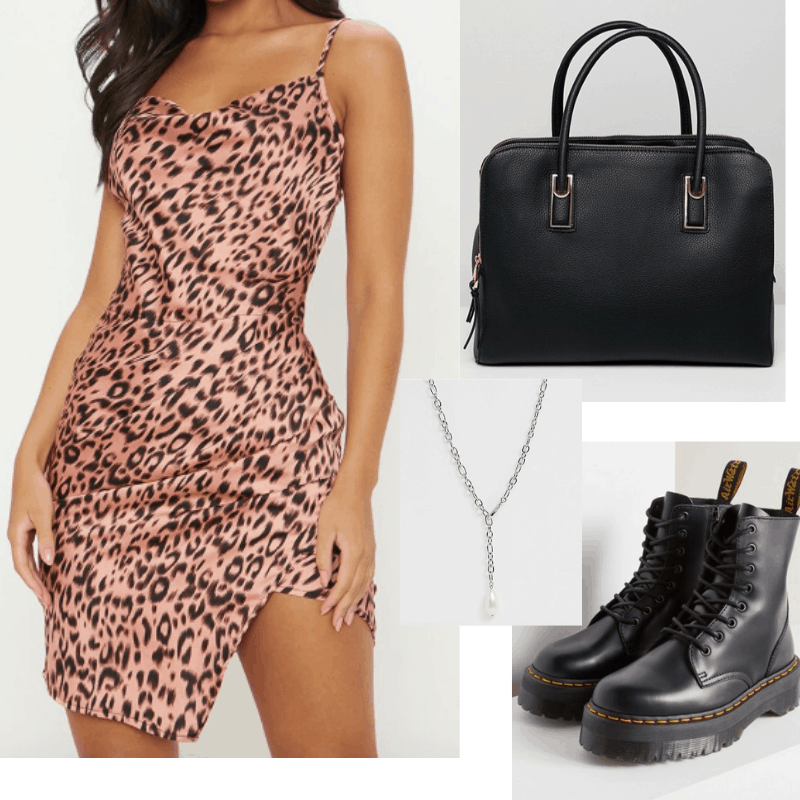 Products: Dress – PrettyLittleThing, Purse – ASOS, Boots – Urban Outfitters, Necklace – ASOS
I think this outfit is great for going out to dinner with your friends.
This dress is a little fancier than the others, yet the boots dress it down a tad.
Lately I have seen a lot of cheetah print paired up with Dr. Martens platform boots. This is because most cheetah print clothing has black, making the boots a great addition.
Outfit Four: Western á la Mode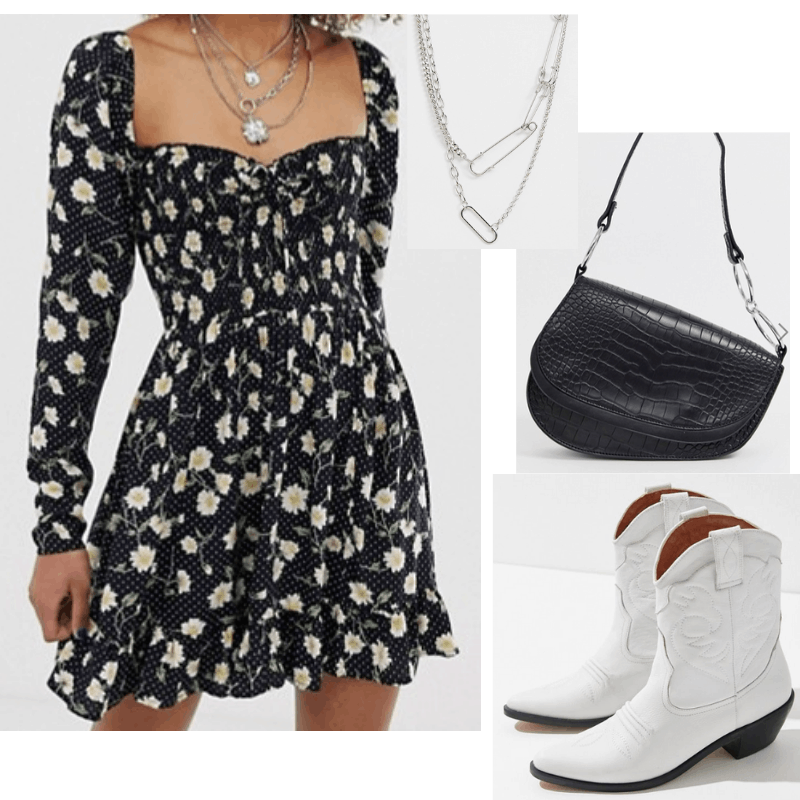 Products: Dress – ASOS, Boots – Urban Outfitters, Necklace – ASOS, Purse – ASOS
I love the concept of this outfit. Cowboy boots are back in style and in so many new ways! They are making their way into outfits with sundresses and I am totally here for it. They add to the personality of a dress, making the outfit fun.
This dress is so cute and flirty. I love the sleeves and the sweetheart neckline. Next, I love a bolder, edger necklace for this outfit because it clashes with the flowery dress, but pairs well with the boots.
What do you think about sundresses and boots?
Sundresses and boots are what everyone is going to be wearing this spring! It's a combo that's appropriate for the weather and comfortable. I definitely recommend buying yourself a fun, comfy pair of boots and pairing them with any sundress you can get your hands on!
Do you love this combo too? Would you wear any of these outfits? Let me know in the comments below!