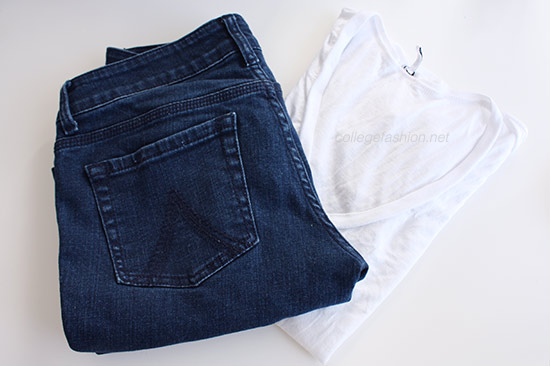 It's time for another installment of Style Remix,where we show you how to get the most wear out of your wardrobe. Today, we're featuring, well, pretty much every college girl's style staples: skinny jeans and t-shirts.
Building a Jeans and Tee Wardrobe
Not all skinnies and tees are created equal. We all have different styles that flatter us best, of course, so you'll want to experiment until you find the right ones, then buy multiples. There are, however, a few universal points worth noting if you want to get the most for your money.
Dark wash jeans in skinny or straight-leg cuts are the most versatile and most universally flattering for today's trends and styles. If you only have one pair of jeans, it should be these! Avoid distressing, fading, or embellishments if you're looking for a staple. And remember: buying slightly more expensive, higher-quality jeans saves you money in the long run. (Remember cost-per-wear?)
The most important part of a t-shirt is the cut. A high-quality tee should be simple, slim, and figure-flattering, with a neckline that is comfortable for you. An easy way to look for quality: check the seams before you buy.If the shirt fits you well, lies flat, and folds evenly, all the seams are finished inside, and there are no unraveled bits, you're likely looking at a good investment.
Getting the Most for Your Money
Today's Style Remix looks at how you can re-wear your tees in unexpected ways. Typically, white tees are seen as more casual, black tees are more edgy or glam, and grey tees are more blah — butour focus today is to break those sterotypes! By using your staple pieces in unexpected or novel ways, you can expand the life and variation of what you already own. Now you're innovative and your wallet is happy.
1. A Fancier White Tee
Product Details: T-Shirt – Madewell , Rings – Charlotte Russe , Blazer – Topshop , Necklace – Dorothy Perkins , Jeans – Abercrombie & Fitch , Polish – Essie, Shoes – Target
To amp up the glam factor of a classic white tee, add oversized jewelry and a blazer. To keep the blazer from looking too formal, cuff the sleeves to show the lining. Light-colored jewelry lifts the color scheme and keeps the outfit from looking too business-like, while dark purple nails add a hint of edge.
2. A Beachy Take on Black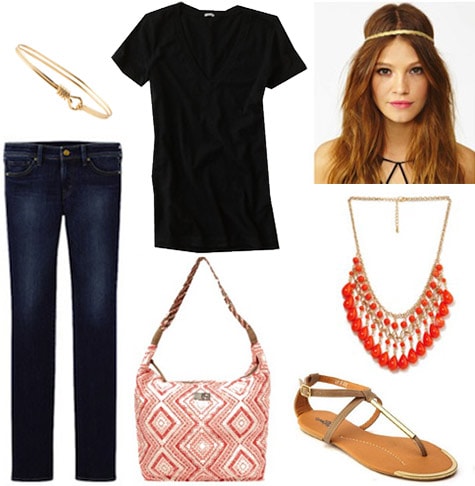 Product Details: Necklace – Forever 21 , T-Shirt – J.Crew , Headband – Nasty Gal, Jeans – UNIQLO , Sandals – Charlotte Russe , Bag – Roxy, Bracelet – American Apparel
Most beachy looks feature light colors, especially on top — here, we've used a black tee to show you another option. Try a tropical or neon-colored necklace to keep the black looking fresh. As an added bonus, the dark color of the tee makes the necklace really pop! Keep the rest of the look casual to balance the darkness of the tee and jeans. Coral and gold are standard beach colors, and though they're typically paired with white or cream, it should be clear that black can be a bold and beautiful contrast.
3. Brightening a Grey Day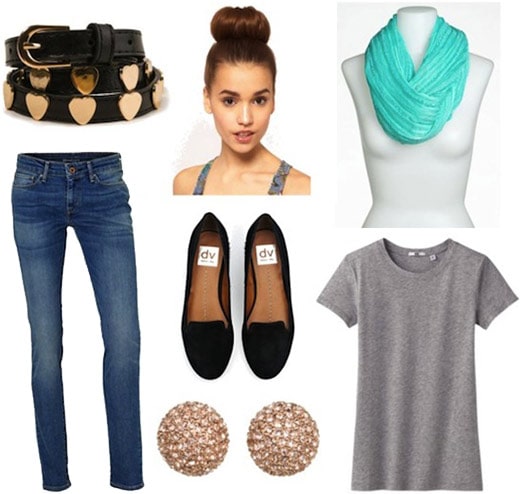 Product Details: Shoes – Nasty Gal , Hair Accessory – ASOS, Scarf – Nordstrom , Jeans – Levi's, Belt – Forever 21, Earrings – Zappos, T-Shirt – UNIQLO
While grey often gets cast aside as 'drab' or 'boring,' there are actually so many refreshing ways to wear it. Here, we've paired a simple grey tee with rose gold and turquoise accents, using crisp lines and shapes to balance the soft, casual shirt. The loafers have studs on the heel, but a plain style would also work. A high, polished topknot is a great beauty idea with this outfit. (Let a hair doughnut help you out — buns just became so much easier!) Your hair can be worked just like an accessory: keeping your hair sleek can modernize grey in a fab way.
What do you think?
T-shirts and skinny jeans are a college-girl staple. How do you style your tees and skinnies? What basics would you like to see in Style Remix? Comment below and share your ideas!