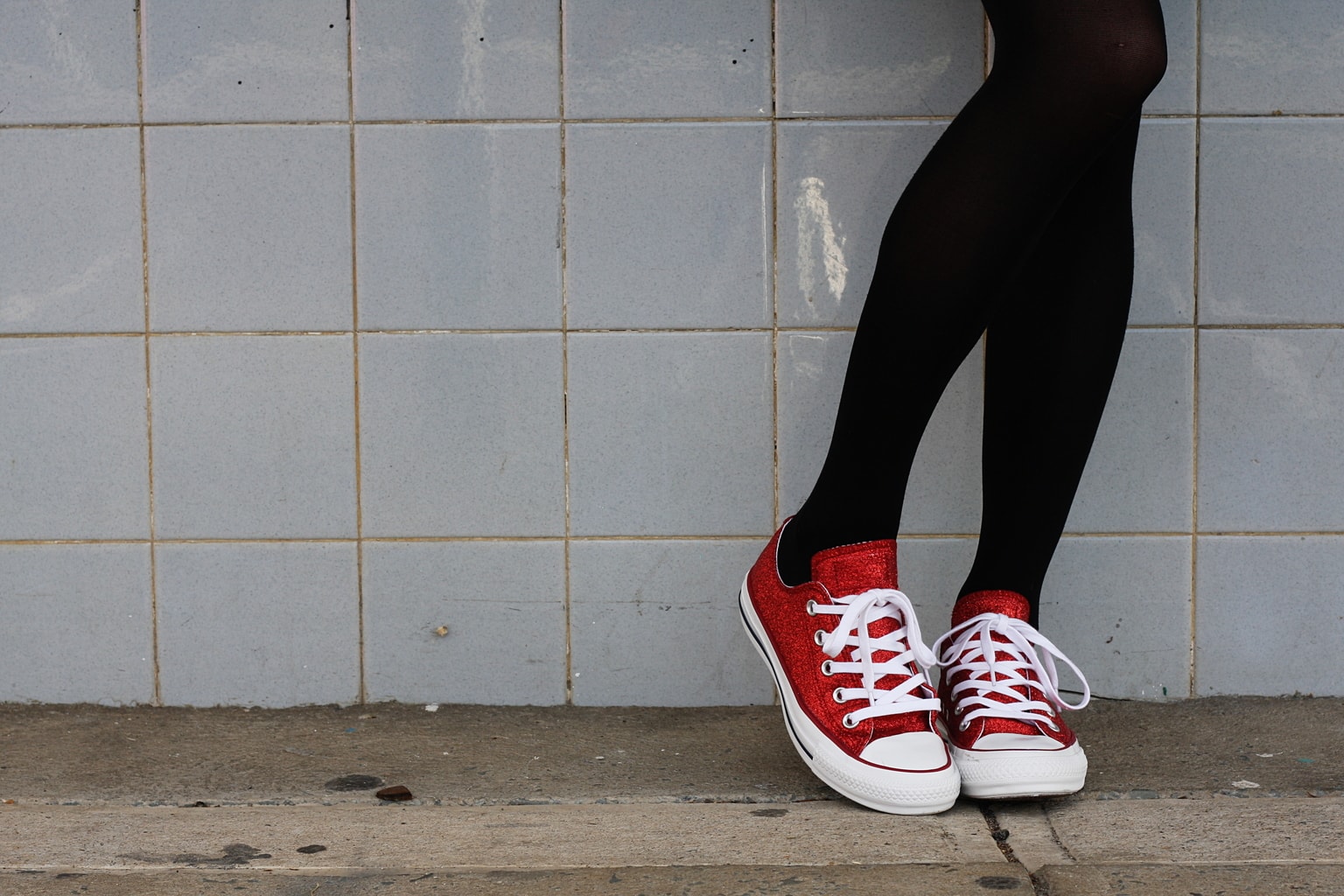 I don't know about you, but I always seem to find outfits that I love and then recreate them a million times over. I'm such a creature of habit! While there's nothing wrong with reworking your favorite looks, I just find myself lacking variety in what I wear.
To break myself out of my shell a little more, I like to create style challenges that push me to be more intentional when creating my outfits, instead of just wearing what I always do.
So, to go along with the ever popular New Years Resolution of working out, I decided to challenge myself (and you!) to wear sneakers every day for a week.
I know that everyone's life is crazy, so "sneakers" is basically the only rule for this challenge. You can adjust the challenge and change the guidelines as much as you want. I always say, as long as I'm trying something new, that's a win! Here are seven days worth of outfits incorporating sneakers:
Monday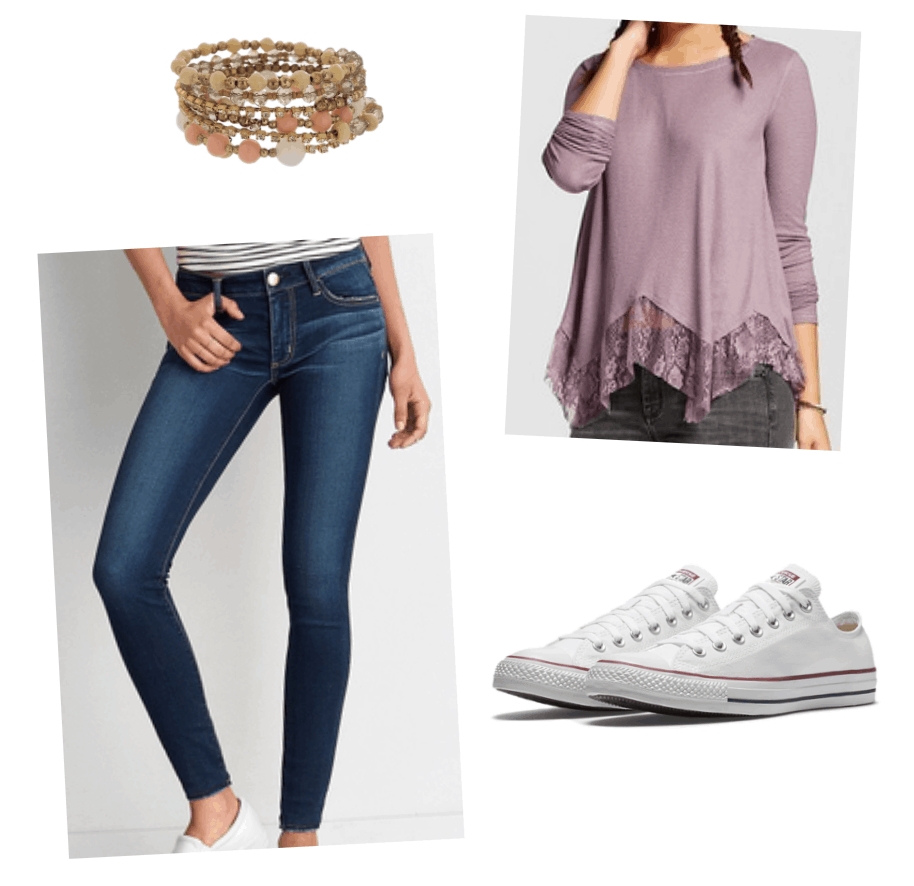 Products: Top – Target, Jeans – American Eagle, Bracelets – Target, Shoes – Converse
To start off the week, I paired a lace-trimmed top with some plain, mecum-wash jeans and white Converse sneakers. The bracelets and top are sweet and feminine, in contrast to the casual jeans and sneakers. This outfit would be perfect for class or meetings around campus.
Tuesday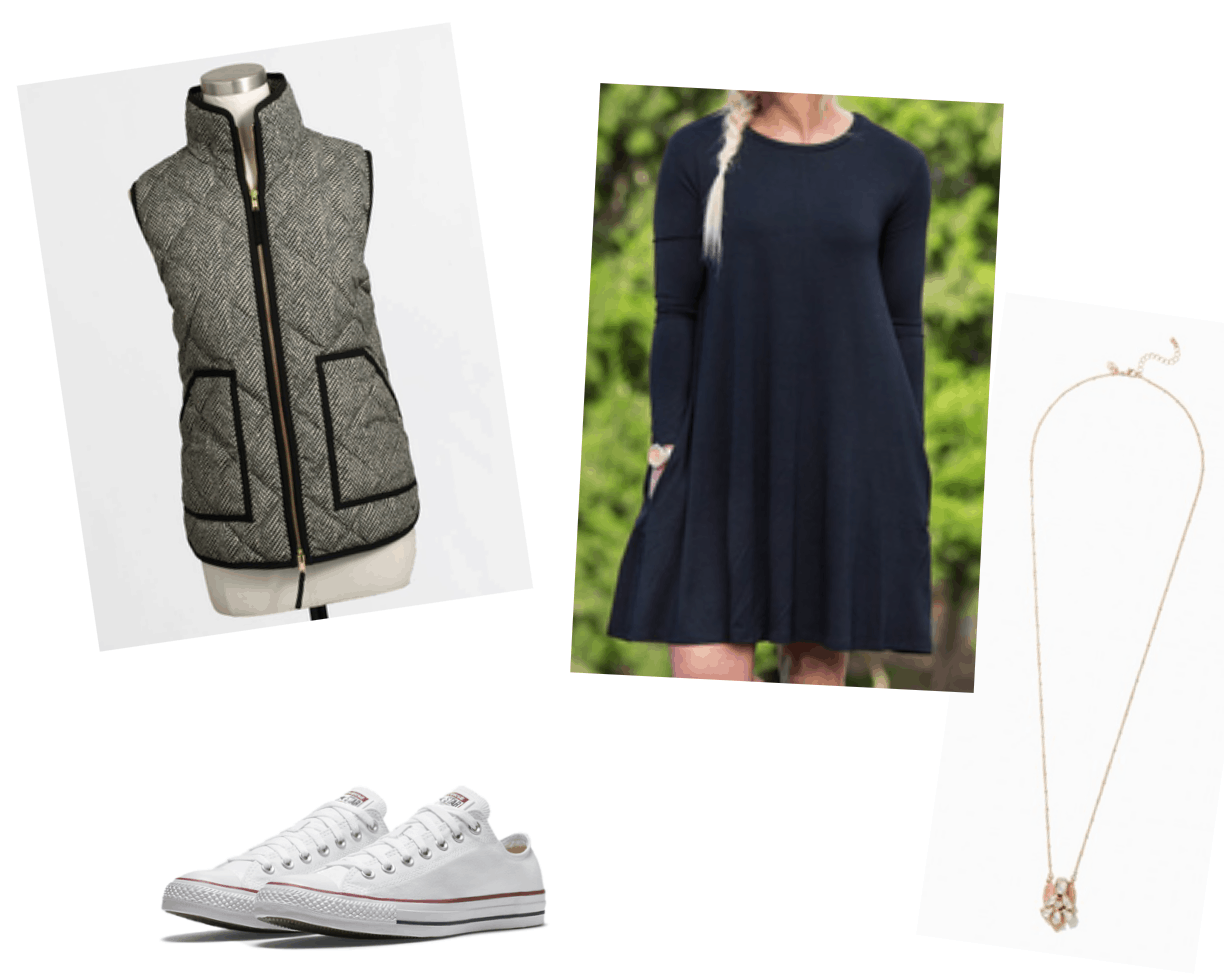 Products: Dress – Piko Clothing, Vest – J.Crew Factory, Shoes – Converse, Necklace – Charming Charlie
Next, I paired a black t-shirt dress with a patterned vest and the same sneakers. The necklace helps to lighten up this mostly black look and makes the outfit a little dressier. The sneakers add that perfect casual vibe to make this look ideal for campus.
Wednesday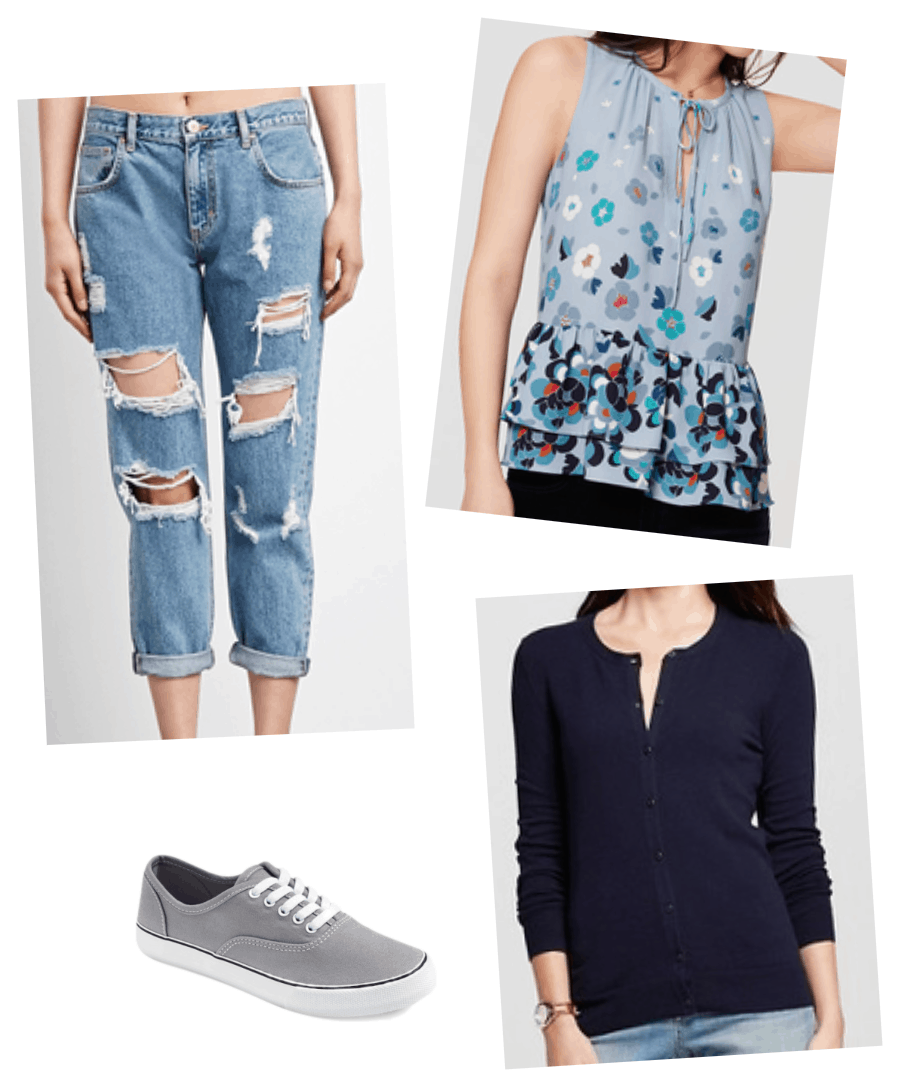 Products: Jeans- Forever 21, Top – Loft, Cardigan – Target, Shoes – Target
I love the contrast of this look: The top and cardigan are conservative and professional, but the boyfriend jeans and sneakers help to dress it down. I think this makes the look pretty versatile; you can wear it to a lecture, a club meeting, to lunch with friends — you name it!
Thursday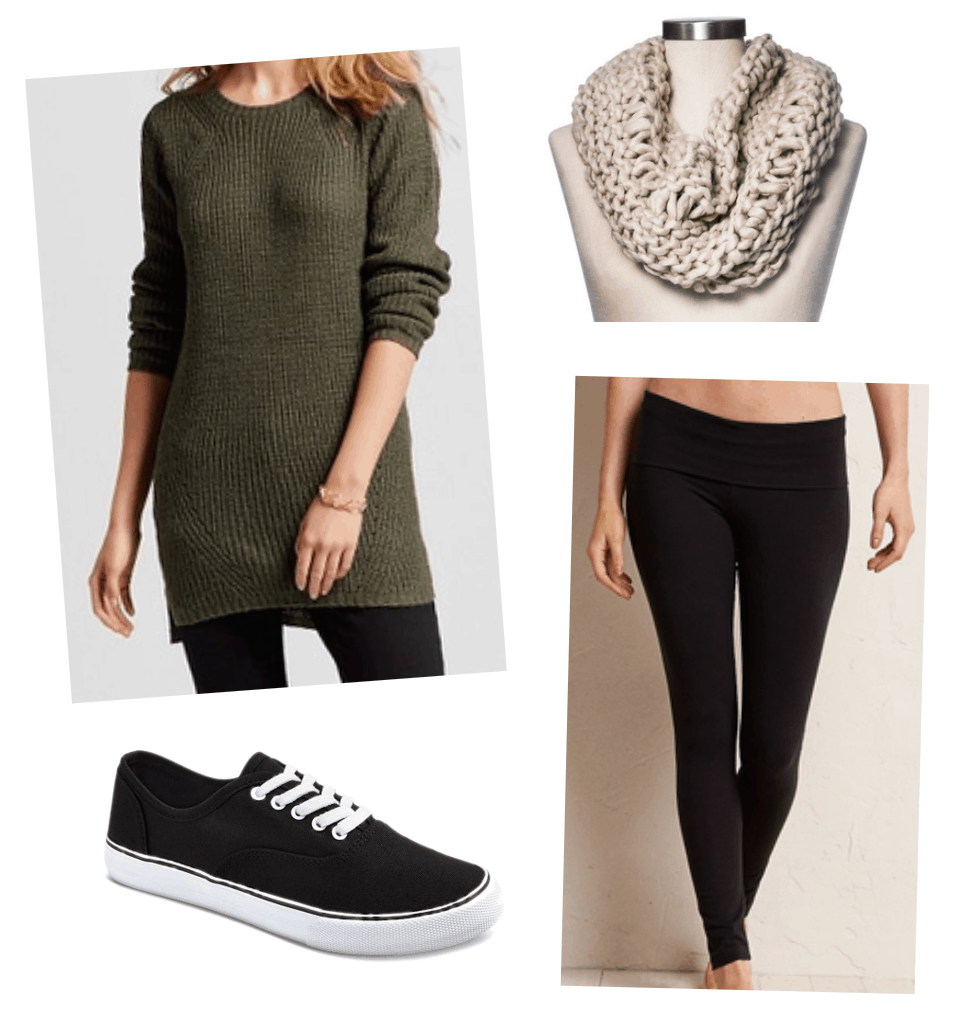 Products: Sweater – Target, Leggings – American Eagle, Shoes – Target, Scarf – Target
This look is perfect for those miserably cold January days. The sweater and scarf look so cozy, you could just go back to sleep in your 8am! (I don't recommend this, of course.) The leggings stick with the comfortable vibe and the sneakers help to tie the look together.
Friday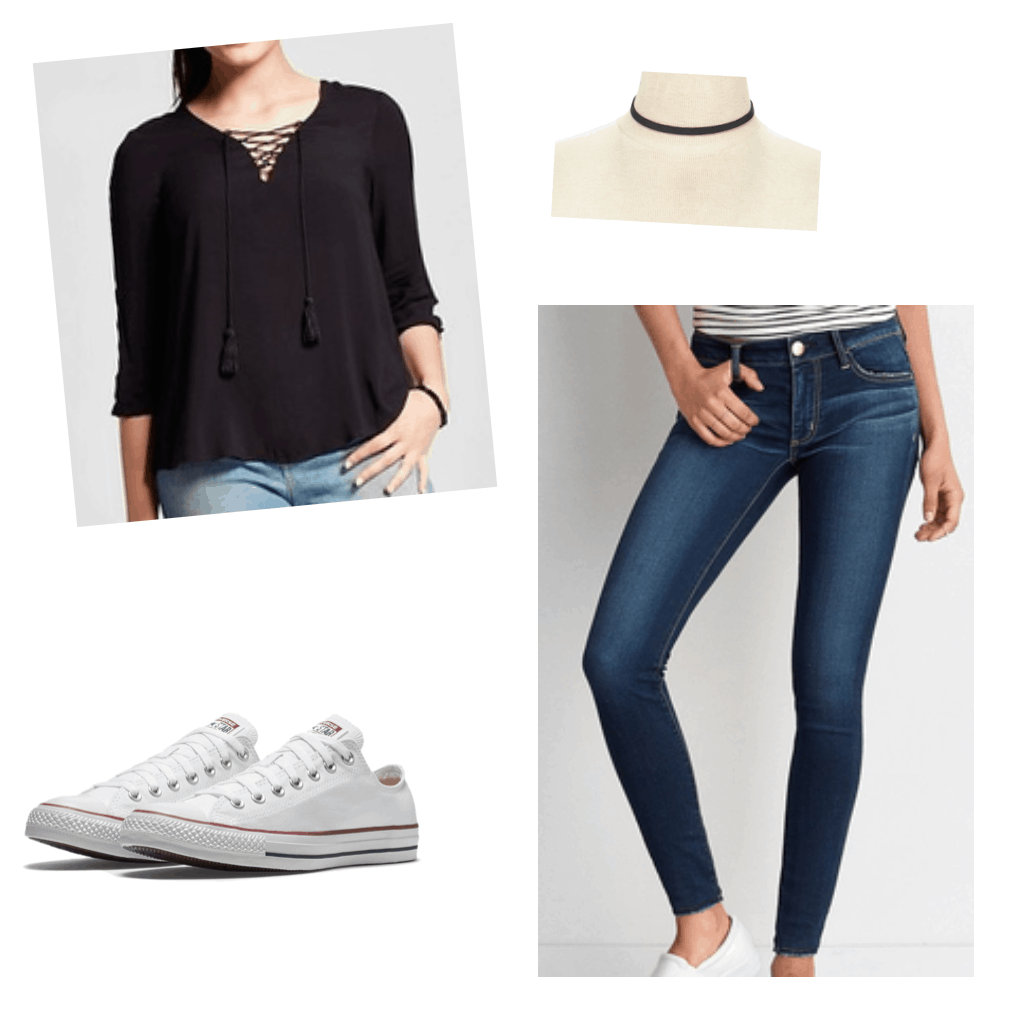 Products: Top – Target, Jeans – American Eagle, Necklace – Forever 21, Shoes – Converse
This outfit is perfect for going out with friends on a Friday night. The black lace-up top is super trendy and looks great when paired with an equally trendy black choker. I decided to finish the look with skinny jeans and white Converse. The combo is simple, but looks really chic.
Saturday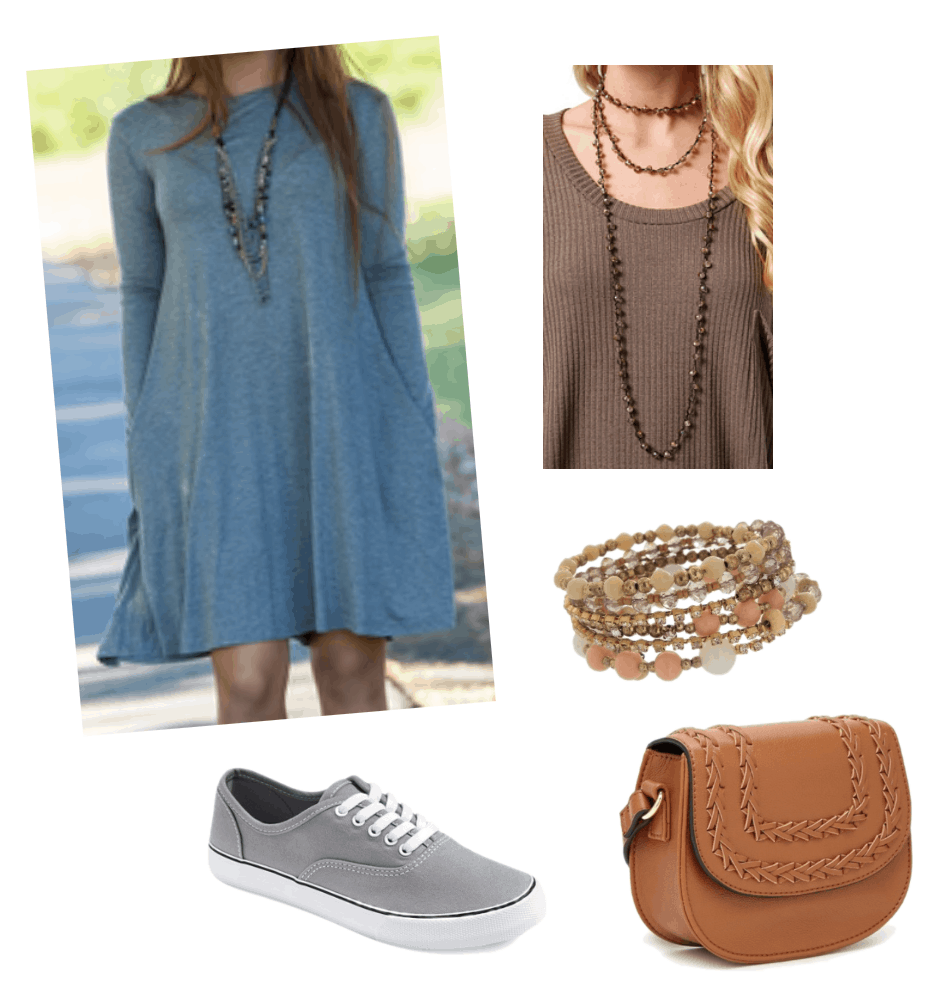 Products: Dress – Piko Clothing, Necklace – Red Dress Boutique, Bracelets – Target, Purse – Forever 21, Shoes – Target
I chose this gray t-shirt dress because it is endlessly versatile – a college wardrobe staple! I paired it with the same gray sneakers from earlier and added a beaded necklace, beaded bracelets, and a brown satchel bag. This look is perfect for hanging out with friends Saturday, whether you're going out to eat, attending a concert, or just hanging around campus!
Sunday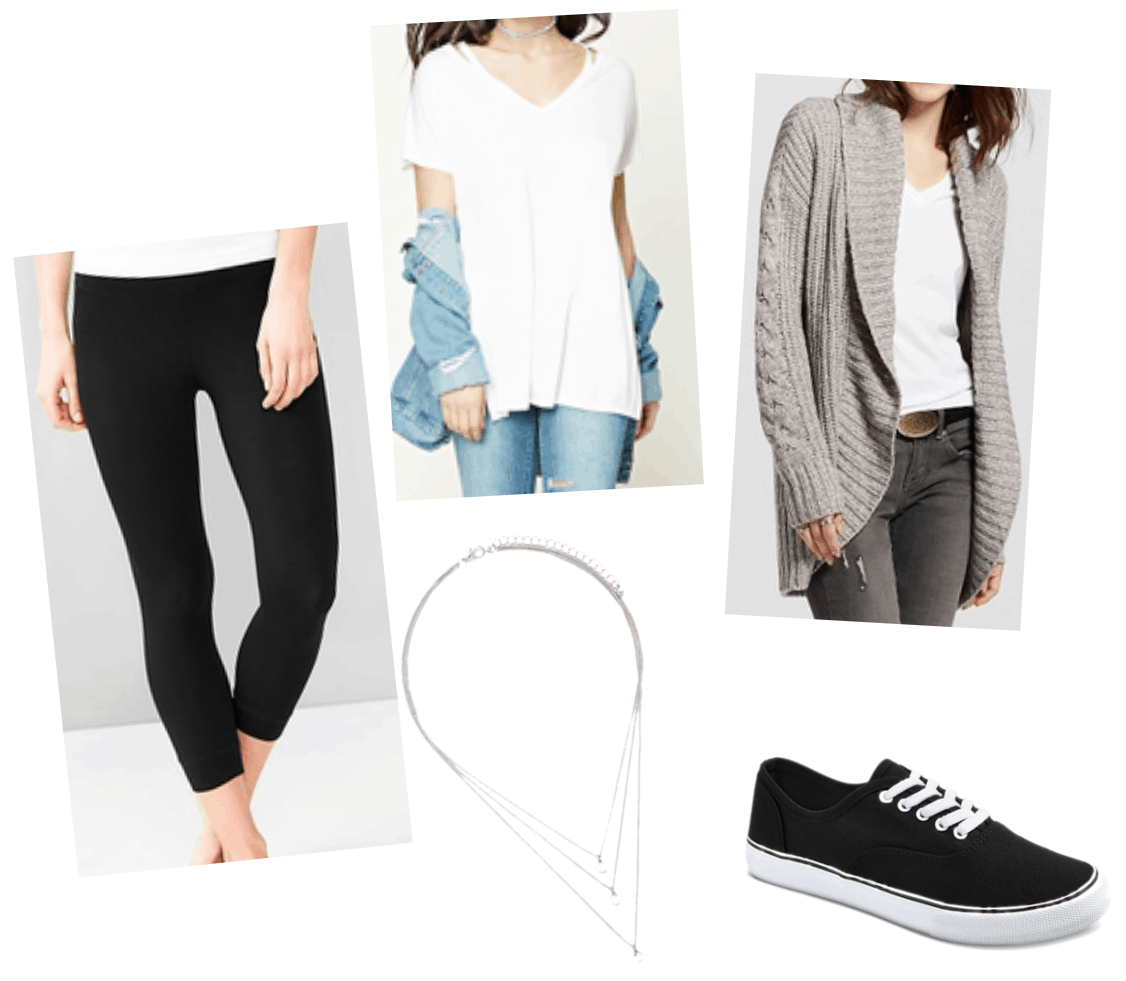 Products: Leggings – Gap, Top – Forever 21, Cardigan – Target, Necklace – Forever 21, Shoes – Target
I decided to go with an ultra-casual look for Sunday Funday. Here, I paired the black sneakers with some cropped black leggings and a white t-shirt. I added a long cardigan and some delicate necklaces to tie the look together. Voila! This look is great for catching up on everything at the end of the week or taking a Sunday afternoon nap!
What do you think?
Did this challenge help you branch out with your outfits? Did you make it the whole week? Which outfit is your favorite? Let us know in the comments below!