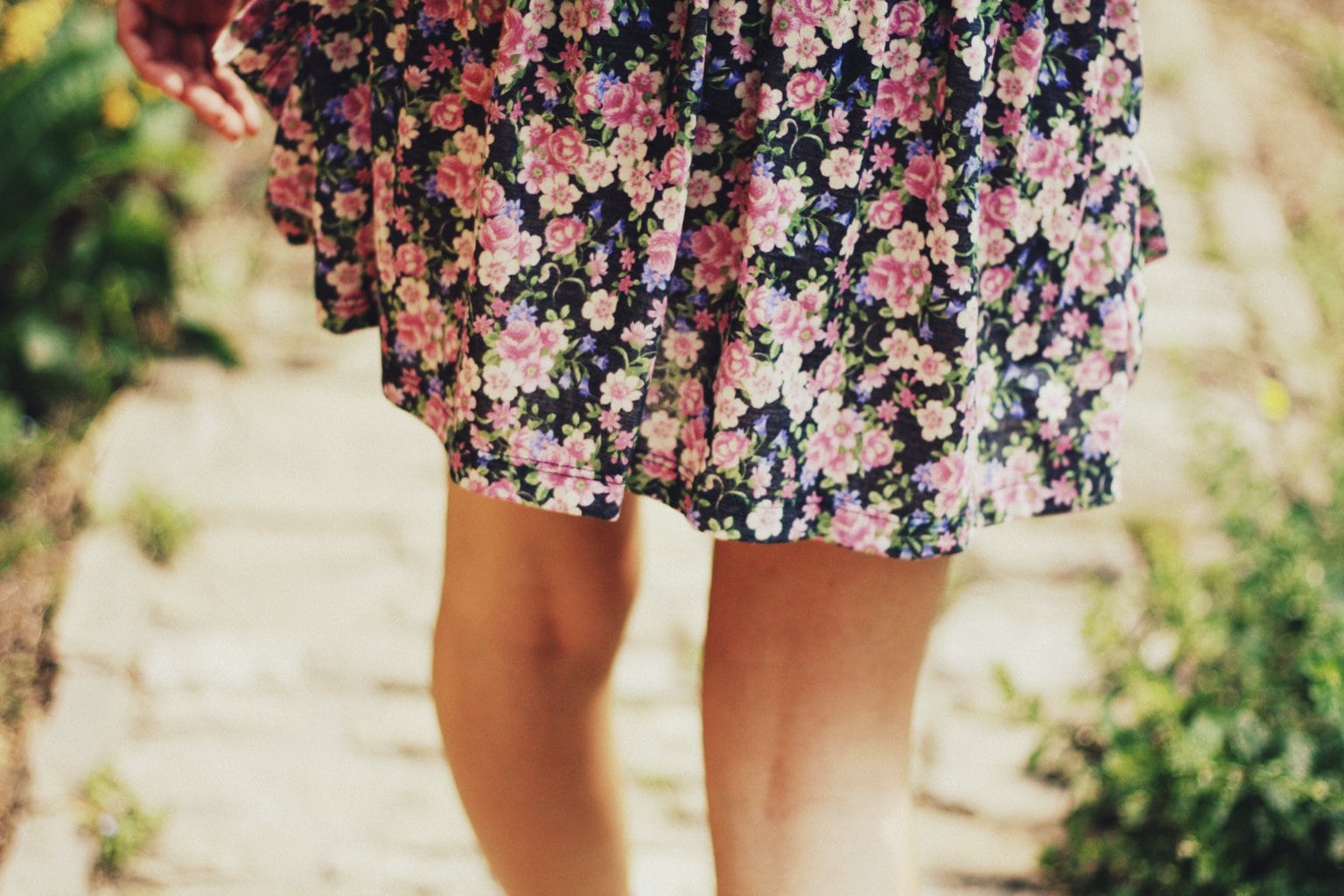 There's a good chance you've heard of "No Pants November" or "Dressember" and while I love a good fashion challenge (obviously), I've never been able to make it wearing only skirts and dresses for an entire month. That doesn't mean I won't adapt the challenge to my lifestyle. I decided to challenge myself and you to wear no pants for a week!
Since it's finally beginning to feel a little bit like spring, I thought this would be a great challenge to embrace the nicer weather and try out some new spring trends! Scroll down to see the looks I put together for this challenge.
Monday: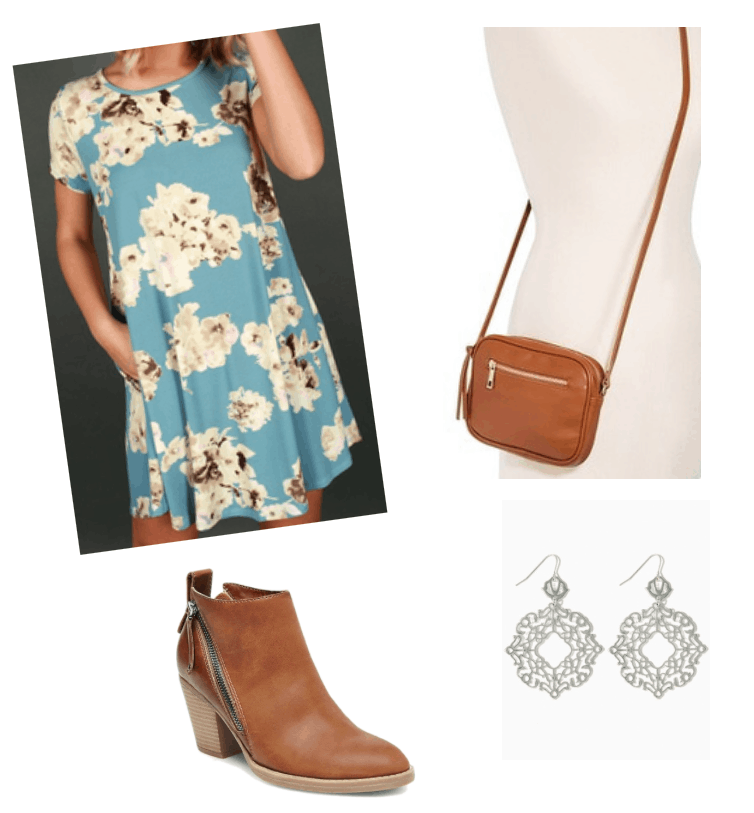 Products: Dress – Impressions Boutique, Bag – Target, Shoes – Target, Earrings – Charming Charlie
This dress is so perfect for the start of a new week – the bright color and cute pattern add interest to the outfit, but the simple silhouette means you'll be comfy all day! I paired it with some brown booties and a matching cross-body bag to tone down the bright blue. To finish off the look, I added some silver statement earrings with an intricate design.
Tuesday: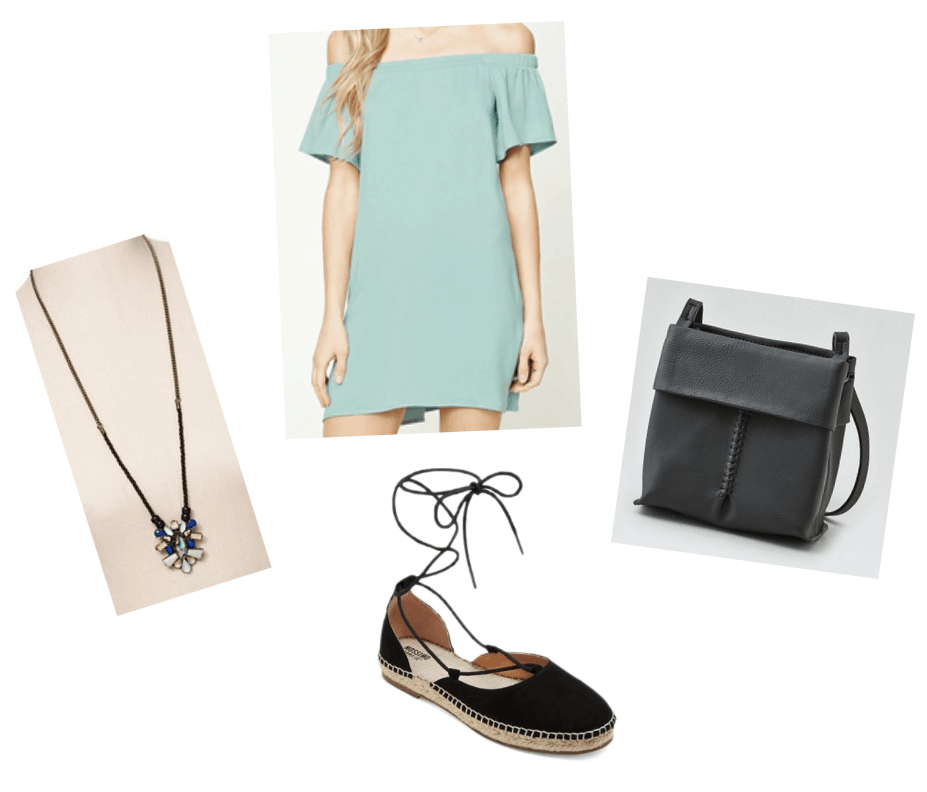 Products: Dress – Forever 21, Bag – American Eagle, Shoes – Target, Necklace – Target
I based this whole outfit around this adorable necklace from the Target and Baublebar collaboration! I love how it mixes black and blue, so to incorporate that into the rest of the outfit, I paired this light blue dress with black shoes and a black purse. These espadrilles are too cute and they'll work well into the spring and summer.
Wednesday: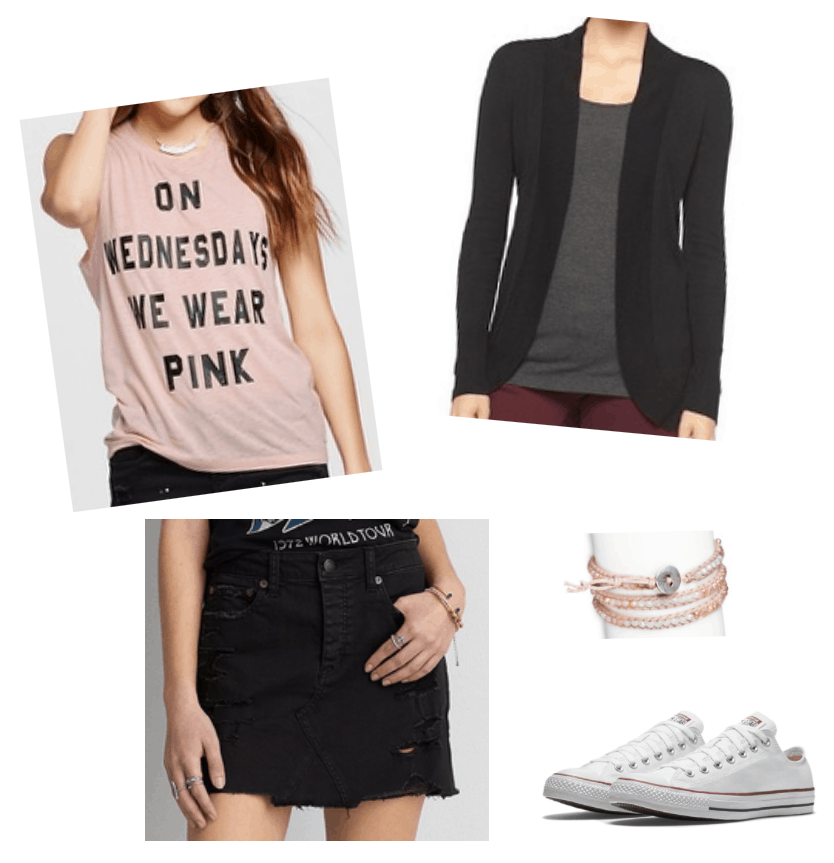 Products: Top – Target, Cardigan – Target, Skirt – American Eagle, Shoes – Converse, Bracelets – Target
I just couldn't resist this graphic tank! I love this outfit, not only because it quotes Mean Girls, but also because it's super casual. It's easy to feel overly dressed up when you wear dresses and skirts, but you don't have to feel that way! I paired the light pink tank with a black denim skirt and white sneakers. To make it more winter-friendly, I added a black sweater. Lastly, I added a cute bracelet stack to complete the look.
Thursday: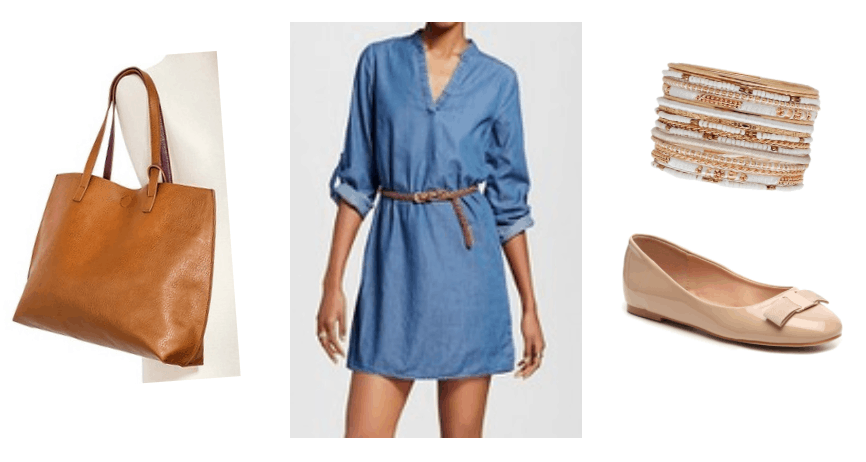 Products: Dress – Target, Bag – Target, Shoes – DSW, Bracelets – Target
This outfit is so casually chic – I'm obsessed with it! The denim shirtdress has a brown belt at the waist, so I added a brown tote bag and some brown and nude bracelets. Next I added classic nude ballet flats and the look was complete.
This outfit would be perfect if you have a meeting or presentation because it looks put-together in a timeless, professional way, while also still being pretty simple.
Friday: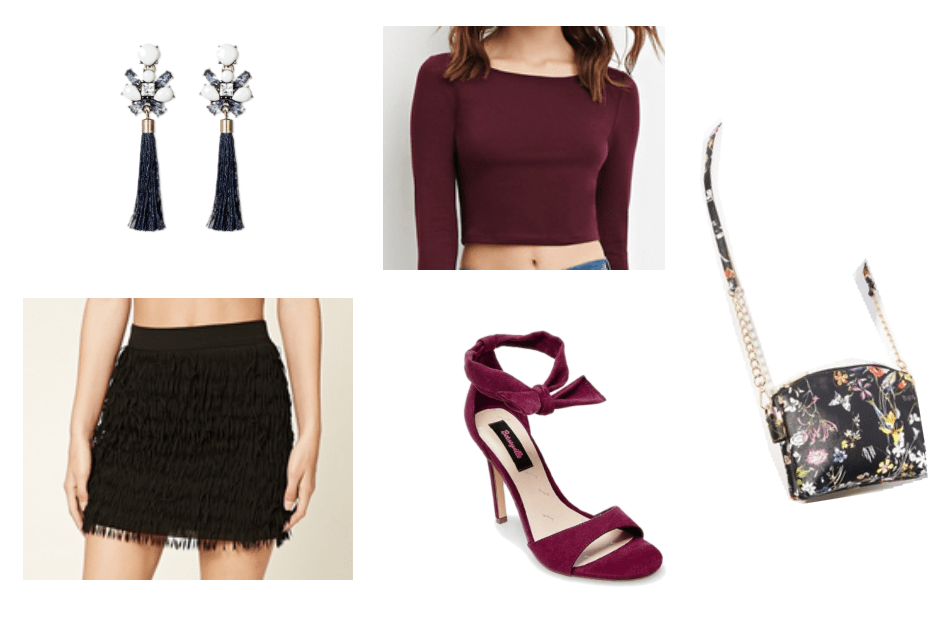 Products: Top – Forever 21, Skirt – Forever 21, Shoes – Target, Earrings – Target, Bag – Charming Charlie
For this outfit, I paired a black fringe skirt with a berry crop top. Next, I added heels in the same shade as the top and statement earrings that tie in with the skirt. To pull it all together, I added this floral cross-body bag. This would be such a cute outfit for going out with friends on Friday night!
Saturday: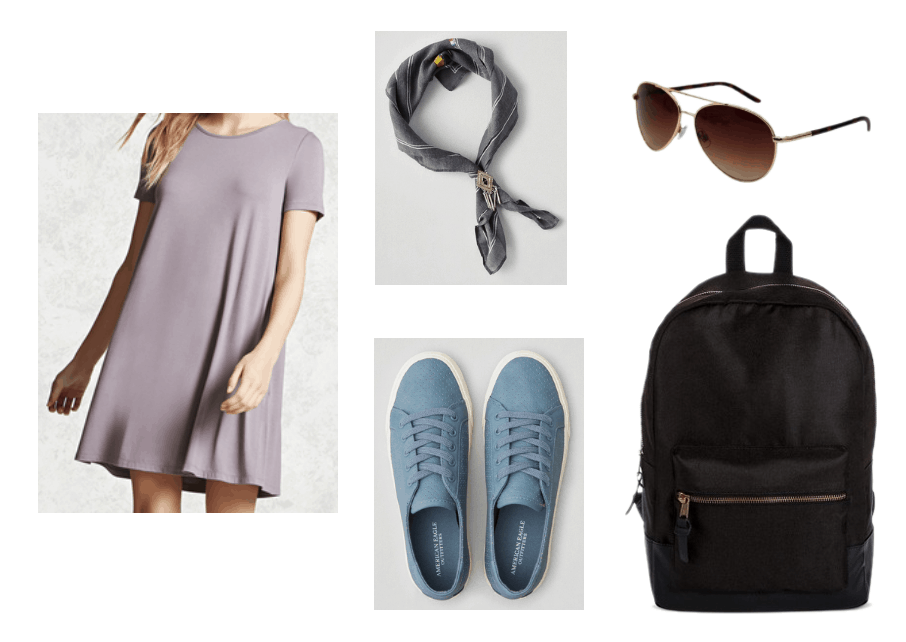 Products: Dress – Forever 21, Bandana – American Eagle, Sunglasses – Target, Shoes – American Eagle, Backpack – Target
Inspired by boho brands like Show Me Your Mumu, I created this outfit around the new handkerchief trend. This cute gray one is from American Eagle and I love the cool, adventurer aesthetic that it creates. I paired it with a purple tee shirt dress and some blue sneakers for stylish functionality. To finish it off, I added a backpack and some aviator sunglasses so you'll be ready for wherever your Saturday adventures lead you.
Sunday: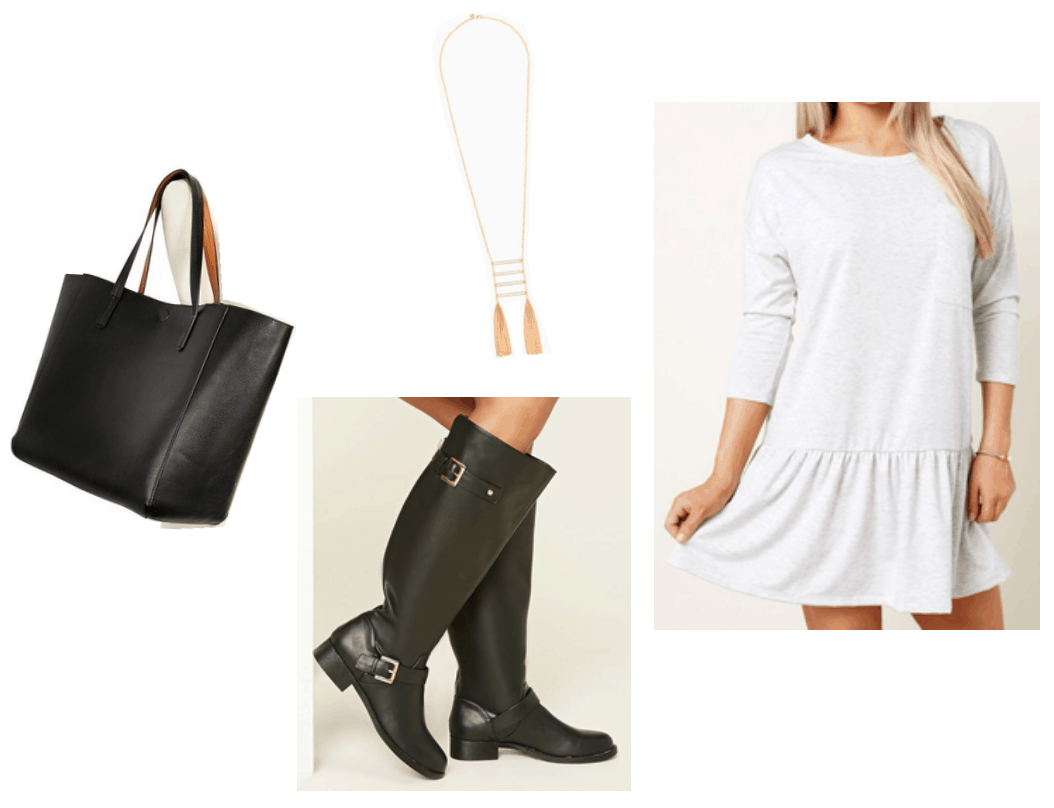 Products: Dress – Red Dress Boutique, Boots – Forever 21, Bag – Target, Necklace – Charming Charlie
I chose this gray sweatshirt dress for Sunday because it looks so cozy and I have the hardest time getting out of my pajamas on Sundays! To dress it up a little, I added black boots and a matching tote bag, and finished it off with a gold tassel necklace. You'll be ready for whatever the new week brings your way.
What do you think?
Do you think dresses and skirts are comfier than pants? Are you going to take the challenge? Which outfit is your favorite? Let us know in the comments below!