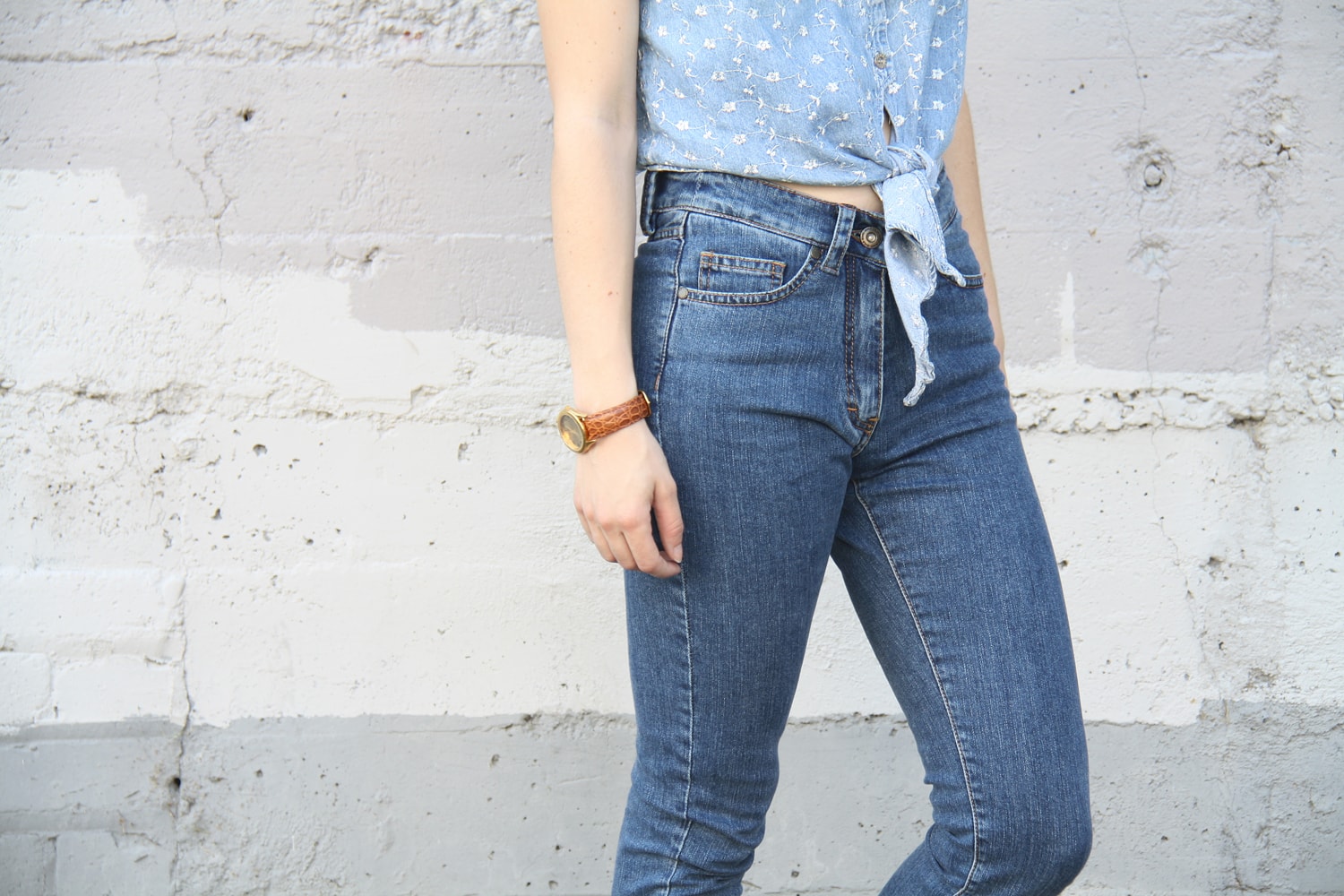 This week's challenge is all about breaking the rules! I'm sure you've all heard some fashion "rules", whether it was from What Not To Wear telling you to never wear horizontal stripes or your grandma warning not to wear white after labor day. Well, guess what – these rules are all made up! To prove it, I challenged myself to break all the rules for one week!
I'm challenging you too! Even if you only break one fashion rule this week, I hope you'll take a risk and wear something bold that doesn't necessarily "go." Check out the outfit sets below for some inspiration!
Monday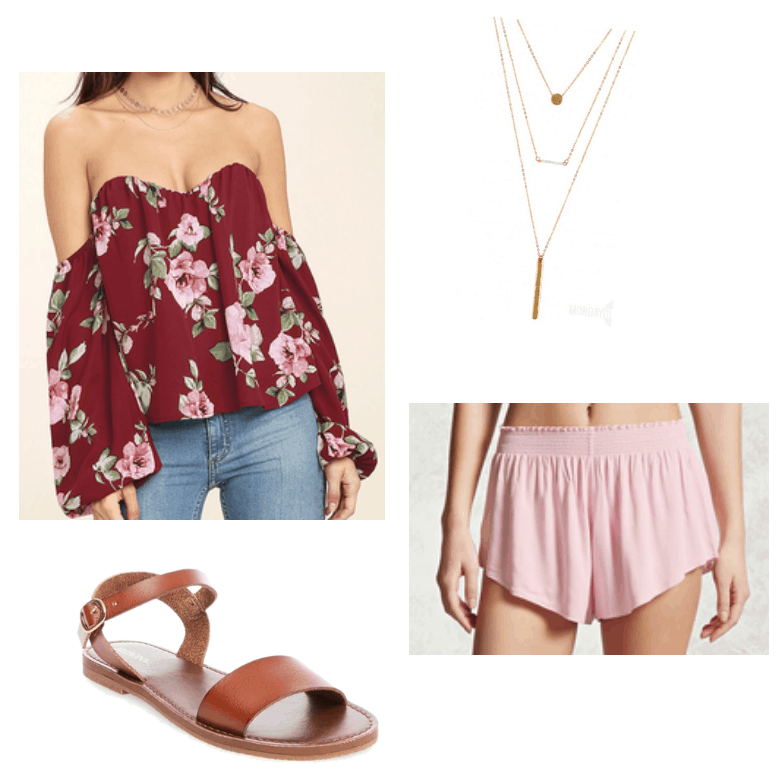 Products: Top – Lulus, Shorts – Forever 21, Sandals – Target, Necklace – Monday Dress
My mom told me so many times growing up that you can't wear red and pink together. It turns out if you get the right shades, red and pink can be a gorgeous combination!
I started with this floral burgundy top and paired it with light pink swing shorts. Because these shades are both cool-toned and not too similar, they don't clash at all! To accessorize, I added some brown sandals and a gold necklace set.
Tuesday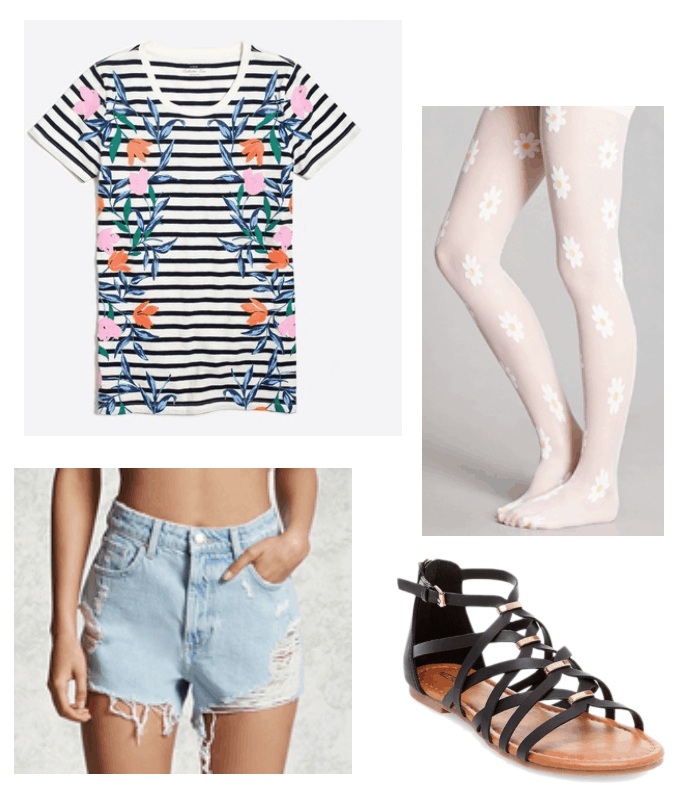 Products: Tee – J.Crew Factory, Shorts – Forever 21, Tights – Forever 21, Sandals – Target
Pretty much everyone knows you're not "supposed" to wear socks with sandals unless you're dressing up as a tourist. However, I've seen girls style open-toed shoes with socks in really stylish ways, so I thought I'd give it a try too!
I found these adorable flower tights and put them under some high-waisted shorts. I paired the tights with these adorable gladiator sandals. On top I added a cute striped top. This look is perfect for summer, even if it isn't quite warm yet!
Wednesday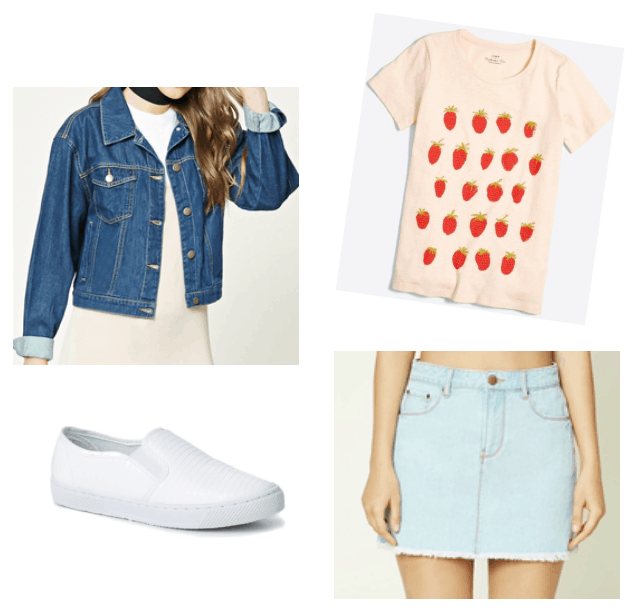 Products: Top – J.Crew Factory, Jacket – Forever 21, Skirt – Forever 21, Shoes – Red Dress Boutique
Double denim is another classic fashion taboo, but here at CF, we love it.
To rock this trend, I paired a darker denim jacket with a light wash skirt. The different washed definitely helps break up all the denim. Under the jacket, I added a summery strawberry tee. I also added white slip-on sneakers for shoes.
Thursday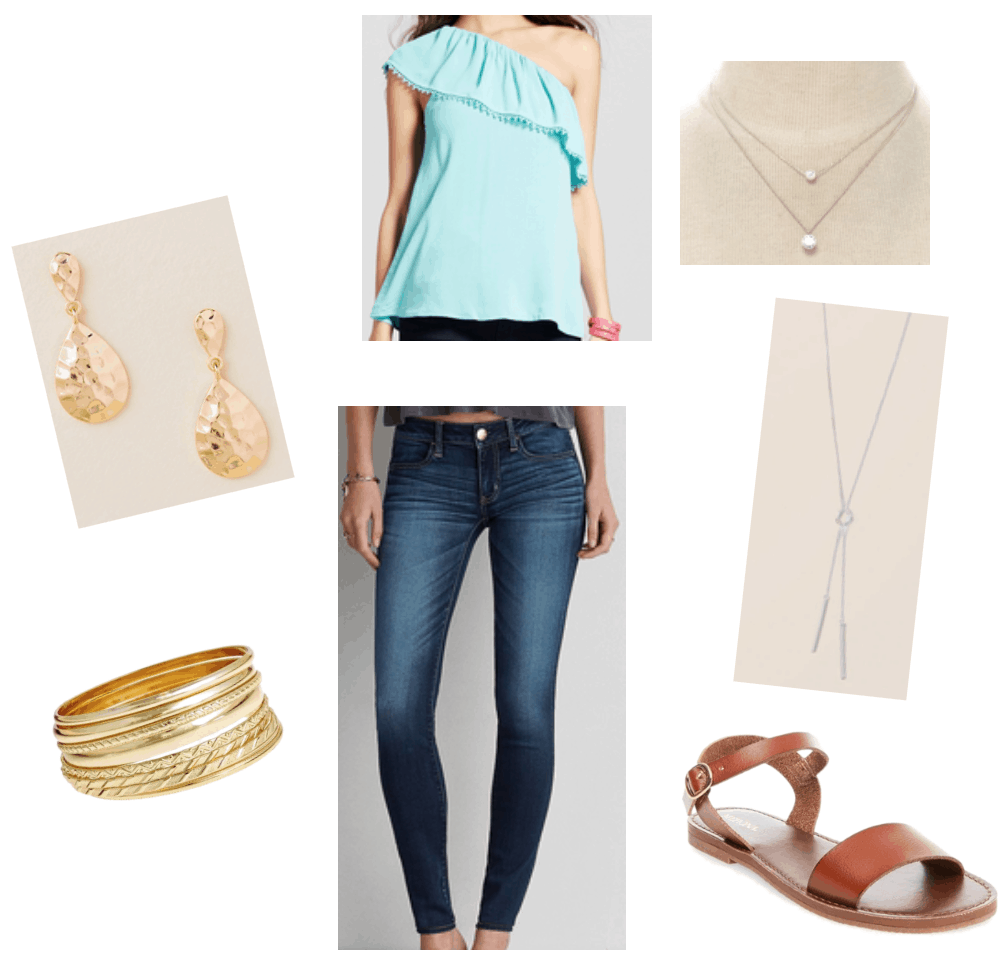 Products: Top – Target, Jeans – American Eagle, Sandals – Target, Earrings – Francescas, Bracelets – Target, Choker Set – Forever 21, Long Necklace – Francescas
This is the rule that I probably struggle the most with; I always feel the need to keep my jewelry to one metal – either gold or silver. However, it's perfectly fine to mix both into one look!
For this outfit, I started with some skinny jeans and a blue one-shoulder top and added some brown sandals. For jewelry, I picked gold earrings and bracelets and silver necklaces.
Friday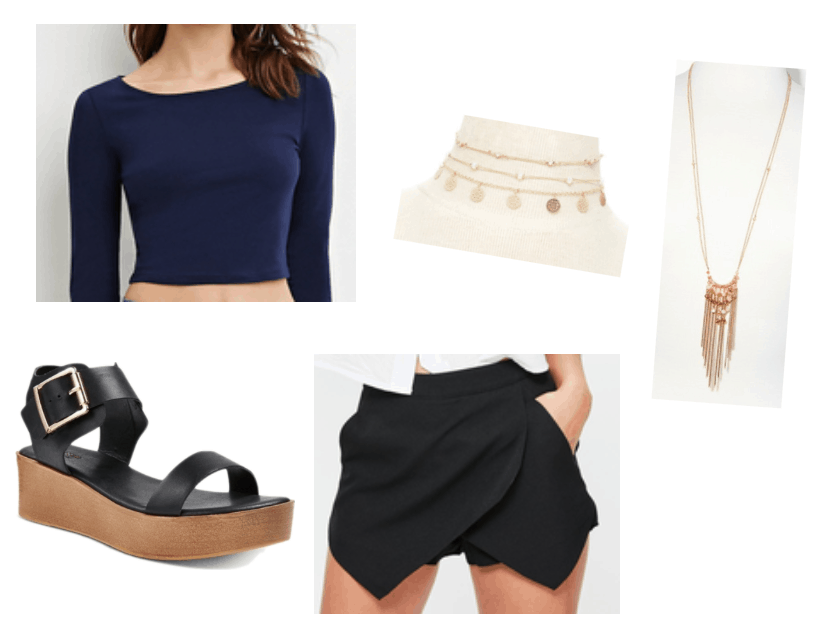 Products: Top – Forever 21, Skort – Missguided, Choker – Forever 21, Fringe Necklace – Charming Charlie, Shoes – Target
Another rule I was taught growing up was to never wear black and navy together. This was another fun one to break.
Here, I paired a navy crop top with a black wrap skort and I think it looks so chic. This helps to break up the colors. To accessorize, I added some necklaces and black wedges.
Saturday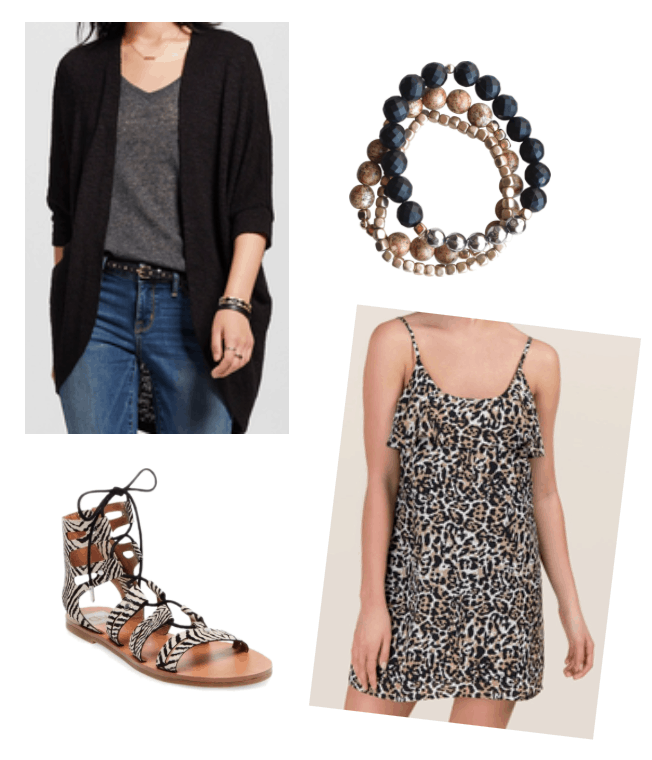 Products: Dress – Francescas, Cardigan – Target, Bracelets – Target, Sandals – Target
Animal prints can be a little tricky, and the advice I've always heard is to not wear two animal prints together. While it does seem like a lot of animal patterns, I think it can definitely be done!
For this look, I paired a cheetah print dress with zebra print sandals. To tone it down a little, I added a black cardigan and some bracelets, too.
Sunday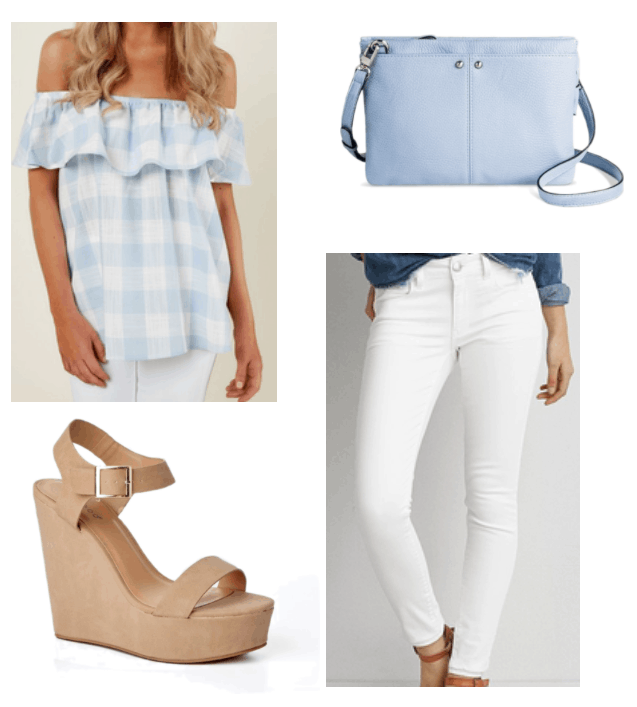 Products: Top – Red Dress Boutique, Jeans – American Eagle, Wedges – Red Dress Boutique, Purse – Target
You guys know I like to save Sunday for the easiest day of the challenge, and this week was no different! The rule of matching your shoes to your purse is pretty outdated, so it's an easy one to break.
For this look, I paired this off-the-shoulder gingham top with white jeans and nude wedges. For the purse, I matched the top instead of the shoes. Super cute and super easy!
What do you think?
Do you abide by fashion rules? Are there any other rules you've heard before? Do you have an idea for a style challenge? Let us know in the comments below!