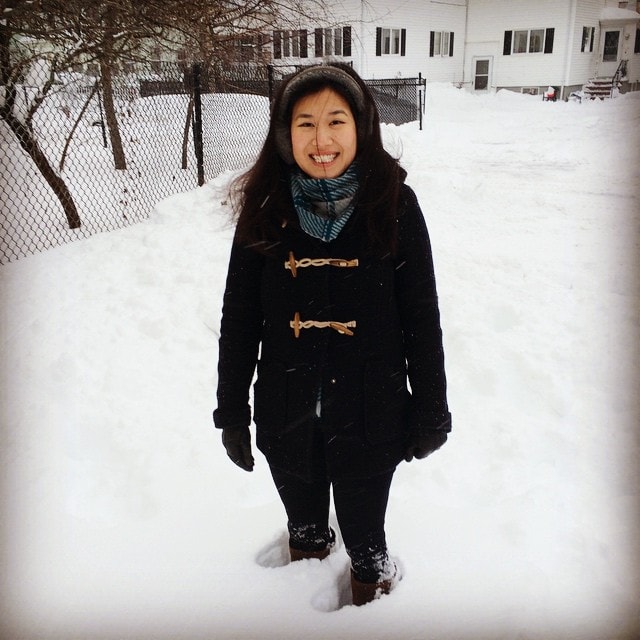 Before I begin, may I take a moment (in both true Southern Californian and adoptive New-Englander fashion) to complain about the weather? Last winter, those of us living in Boston survived a record-breaking winter with almost 9 and half feet of snow. Despite a great deal of hullabaloo, nearby New York City was practically unscathed.
Fast forward to this winter. Now that the lingering nightmares of Boston's snow infestation have faded and I have comfortably settled into living just outside the Big Apple, what should happen but that my new home gets clobbered by the death rattles of Winter Storm Jonas…while Boston remained [relatively] precipitation-free. I sure know how to pick 'em!
Tips and Tricks for Your Most Stylish Winter
For the fashion-loving college girl, is there anything worse than having to traipse around campus day after day with your adorable outfit completely hidden from your classmates' admiring eyes by your boring old puffer coat? (Okay, there are lots of things that are worse, but for the sake of this article, let's say the answer is yes.)
Read on for five ways to spice up your cold-weather outfits as well as a selection of gratuitous photographs of me.
1. Choose Your Essentials Wisely
It's a good idea to invest in a winter coat and a pair of snow boots that you really love, because chances are that you'll be wearing them every day, ideally for several winters. I would also recommend having a "fashion-y" coat as well as a "let's get down to business to survive snowmageddon" down coat. This will of course depend on how cold and/or wet your campus actually is (as well as your threshold for cold tolerance).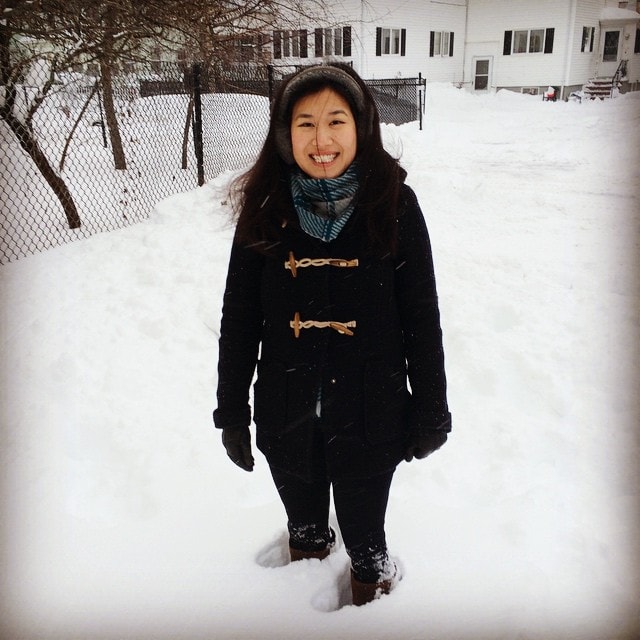 My absolute favorite coat (seen above) is a navy wool Topshop duffle/toggle coat I got on eBay. (I bought it because it looks like the one that Amelia Pond wears in Doctor Who!) It's warm, roomy enough to fit plenty of layers underneath, has a hood and big pockets, and fits perfectly with my classic, preppy-leaning aesthetic. You might prefer a sporty anorak or a sophisticated wrap coat or a trendy cocoon silhouette. Whatever you choose, make sure you love it!
With winter boots, function is definitely more important than fashion.  (But fashion doesn't hurt!) A good pair of boots can last for several years, so it's better to buy the best that you can afford instead of having to frequently purchase cheap replacements. Boots by Sorel, L.L. Bean, Hunter, Timberland, Khombu, La Canadienne, and The North Face are all great options, especially if you can snag a pair on sale! (Too late for this winter, obviously, but it's always a good idea to shop for season-specific items out of season well before/after the demand really picks up…you might get an amazing deal!)
2. Accessories Are Your Best Friend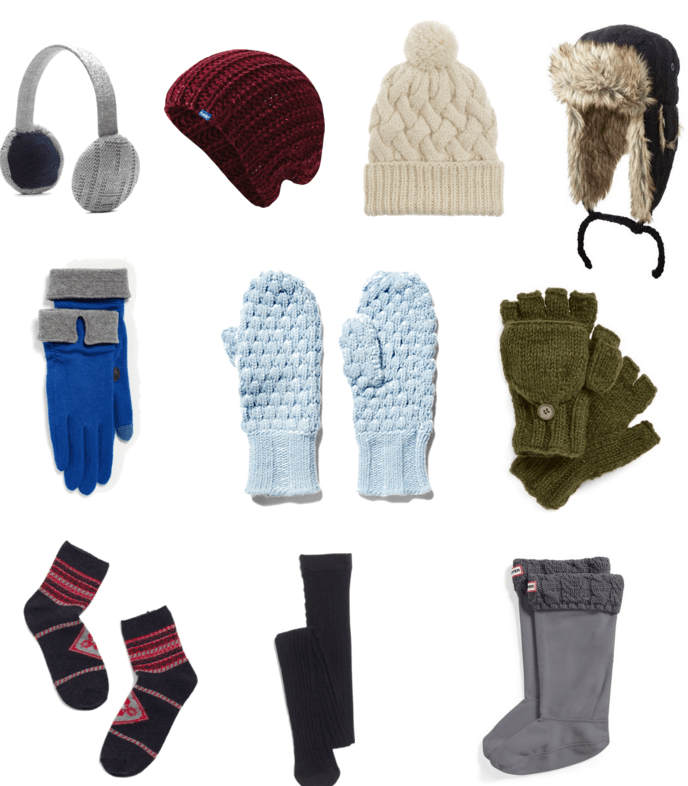 Products: Earmuffs, Beanie, Pom-Pom Hat, Trapper Hat, Touch Gloves, Mittens, Convertible Mittens, Socks, Tights, Boot Liners
This goes hand in hand with Tip #1.  The few areas left unexposed by your coat and snowboots are opportunities to have some fun with your outfit! Think: scarves, hats, earmuffs, gloves, mittens, glittens, tights, patterned socks! Fleece boot liners are a great way to winter-ify your favorite rubber rain boots, while Fair Isle socks look adorable peeking out of shorter boots.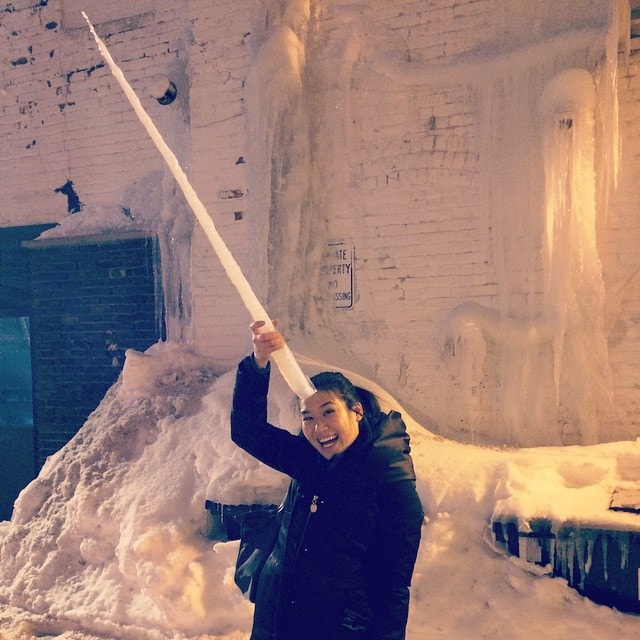 3. The Tights Are Right
One of the easiest ways to make a cute outfit winter-proof is to simply add a pair of tights. I love me some denim, but jeans do eventually get boring! If you're missing your skirts and dresses, just double up on regular tights. (Try layering a patterned pair over a solid!) Other options are opaque, 200-denier tights or fleece-lined leggings/tights.
4. Play With Makeup
Since your face will likely be the only part of you exposed while you're outside, why not take some time to experiment with your go-to beauty look? While winter is associated with a host of skin woes, it can also be a perfect time to try out that cat-eye liner tutorial you bookmarked ages ago or to find out what this whole strobing thing is all about. Also, bright lips really pop when you're surrounded by a sea of blindingly white snow! One thing is for sure, though, don't forget the SPF! Snow is highly reflective and will bounce those UV rays right back at ya.
Styling my hair, on the other hand, is usually a lost cause in the winter. The only two solutions I have successfully employed for avoiding staticky tangles are to 1) keep my hair tucked under my scarf instead of pulling it out and 2) literally impale a dryer sheet upon my hairbrush before I brush my hair.
5. Ch-ch-ch-ch-changes
Still feeling blah about your wintertime wardrobe? Will you be indoors for most of the day? You can always do what I did all last winter: I was so, so sick of walking everywhere in my heavy snow boots (which always squeaked horribly on the hospital linoleum) that I stashed several pairs of flats and low heels at my office desk.
By hanging up my coat, swapping my boots out for a cute pair of ballet flats, and sometimes (gasp!) removing my tights and going bare-legged, I got a much-needed break from cold-weather fashion monotony. Give it a try if you're dying for a change!
What did you think?
Would you wear these outfits? Are you shivering in the snow? Or smirking in the sun? Or somewhere in between? Are you tired of hearing me complain about weather? (Too bad, it's my favorite thing to do besides irritating my roommates with my incessant rapping of Hamilton songs.) Let's chat in the comments!