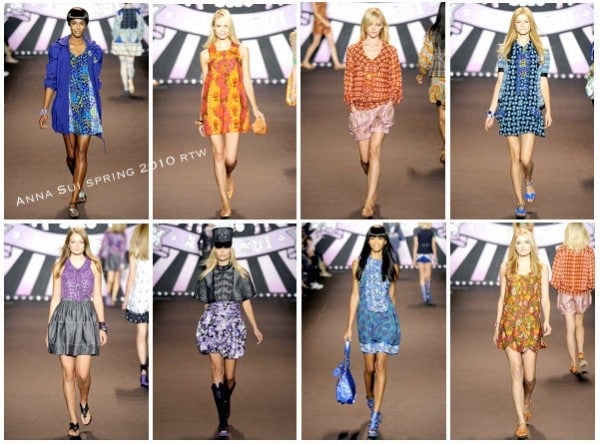 The Anna Sui Spring 2010 Collection is full of color, prints and fun – a perfect inspiration for your Spring shopping!
The designer gained fame among the college crowd when she designed a Gossip Girl-inspired line for Target last year, and this season, her looks definitely kept the young-fashionista vibe going strong. As Sui said before her show last season, "I'm always about optimism and exuberance. It's what I feel about fashion".
The clothes were pure big-tent Anna Sui, with lots of references to the Pop sixties—the designer's Valhalla. Models wore Mary Quant's Sassoon cut, or were transformed into latter-day Jean Shrimptons with flowered head scarves and shifts printed with circus animals, paisley, or apples. There were also ringmaster's jackets, Liberty patterns recolored "à la Anna Sui," and lots more tomboyish looks than usual. – Style.com
While past Runway Looks for Less posts have featured low-priced items, this week I've stepped it up a notch – everything featured below is under$25! So eat a big breakfast, grab a coffee and head out to your favorite discount store – Forever 21, Charlotte Russe and H+M all have great pieces that mimic the looks from Anna Sui's show (they just may take some digging to find!).
Blues and Teals
Teal is amazing because it complements and enhances almost every skin tone, hair color and eye color. In addition, the hue also adds a pop of color to any ensemble. College girls are known for wearing black, especially on Saturday nights – it is the most flattering color, right? – and teal accessories are the perfect way to wake up your boring black!
Bright blues and teals can be dramatic, bold, girly and flirty – sometimes all in the same piece, which I tried to highlight with my budget-friendly options below. And for under $25, how can you resist?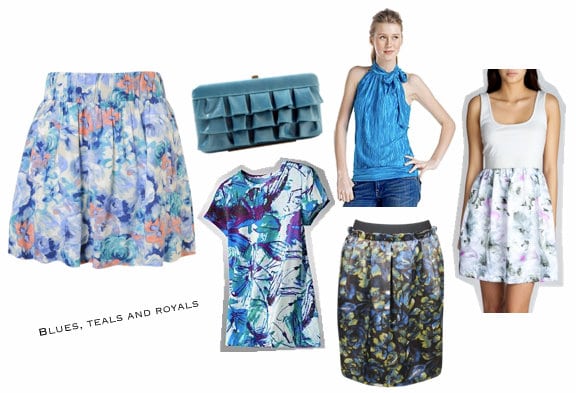 Product Information: Floral Skirt – Forever 21, Clutch – Torrid, Halter – Dillards, Floral Dress – Charlotte Russe, Satin Skirt – Forever 21, Top – Kohl's
Get the Anna Sui Look:
Match a bright, light jacket to your dress! If you have a blue floral dress, pick one of the colors and find a light-weight trench to match. The color combo is chic, young and unexpected.
Don't be afraid to mix patterns, fabrics or colors. Most blues and teals in similar color families go well together – not much chance of clashing. Mixing patterns is also a huge trend this season. How about a floral dress with a small gingham cardigan – all in the same color family? Most chain stores like Forever 21 and H+M organize their layouts by colors, so grab a few pieces in different patterns and head to the dressing room to see what you can create!
Accessorize! Okay, Sui's matching bag and shoes (both in bright blue) are over-the-top, but don't discount the effect that a bright pop of color can have on an outfit. A teal clutch or turquoise ring is all you need to spice up your look!
Purples
Purple and magenta were all over the runways this season! Like turquoise, purple is a fun and youthful color that easily brightens up any look. Anna Sui took the color and put it to work in tailored, school-girl pieces (a la Gossip Girl maybe?), like blouses and pencil skirts. The contrast between tailored, chic pieces and such a young color is a great mix, sure to make a statement.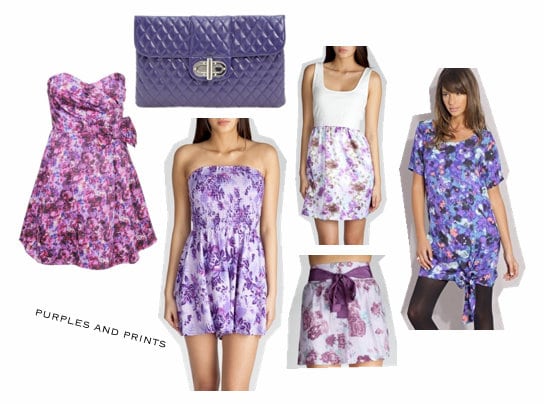 Product Information: Strapless Dress – Forever 21, Clutch – ASOS, Contrast Dress – Charlotte Russe, Tie-bottom Dress – ASOS, Skirt – Charlotte Russe, Romper – Charlotte Russe
Get the Anna Sui Look:
Instead of pairing your purple piece with denim or black, try a shiny chambray skirt in gray or a tailored white oxford shirt. The structured styling creates a great contrast with the color! Think Gossip Girl uniforms without the knee-high socks.
Go minimal on jewelry and accessories – a little goes a long way! The colors and prints on these skirts and dresses speak for themselves and don't need accessorizing. Let your dress or skirt take center stage!
Work your look day to night. Wear sandals during the day and boots and a light-weight jacket at night- that's all you need to easily transition between temperatures and locations.
Oranges, Reds and Yellows
One of the most creative aspects of the collection was the use of retro prints and styles. Sui sent shift dress, head scarves and prints straight out of the 60s and 70s down the runway. The colors suggest warm summer days at the beach with family and friends – what better image for an outfit to conjure than that? If retro prints aren't your thing, keep the colors in mind – they're fun and great for mixing and matching with each other.
Product Information: Dark Skirt – Forever 21, Tank – Old Navy, Dress – Newport News, White Skirt – Alloy, Plaid Tank – Forever 21
Get the Anna Sui Look:
Shift dresses were a staple of Sui's collection and they are the perfect summer must-have. Look for a fun print that can stand on its own – no belts or jewelry to throw on, just a comfy dress and your favorite pair of sandals.
Shorts + sheer blouse = the perfect chic, bohemian look. Although this look may not be effortless to put together, once you do track down those perfect pieces, you won't regret it. As the weather gets warmer, the trick is to be comfortable without sacrificing your style, and wearing a blouse + shorts is the perfect way to do that.
Tying it All Together
After this entry, I'm even more anxious for the warm summer months to get here. Anna Sui's 2010 Collection incorporates every closet-staple a girl needs for the season: chic shift dresses, the perfect pair of shorts, a bold pop of color and tailored (but still youthful) pieces. What do you think of the collection? Would you wear any of these trends – or do you already?
As always, I love to hear what you guys think! Every reader here at CF has a different style and taste in clothing and your opinions are what makes it so rewarding to be a part of this community. Be sure to leave a comment!