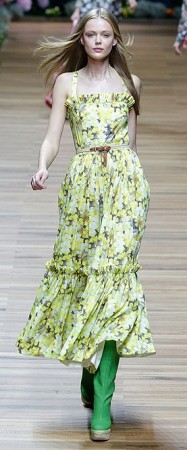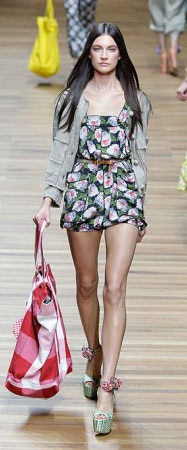 D&G is known for being the younger, urban-inspired line from Dolce & Gabbana. Like it's namesake brand, D&G clothing is usually described as flamboyant, and last season's offerings were no exception. For Spring 2011, D&G painted the runway with an array of floral patterns while mixing patterns and fabrics to create a bold look.
While their Fall 2011 runway show included some great inspiration that will be perfect for fall, this week, I want to focus on the D&G Spring 2011 collection instead, to give you some ideas for summer outfits you can wear right now. Below, I'll help you get the D&G look without going broke.
Look #1: Graphic Tee with a Twist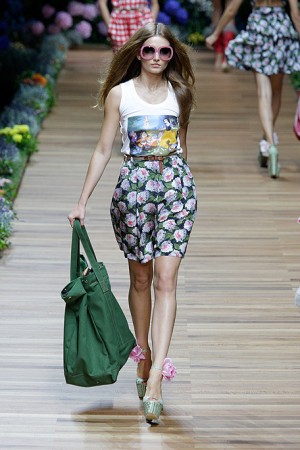 This D&G look mixes relaxed and simple with feminine and flirty. D&G gives new life to a basic tee by pairing it with a bold floral skirt and detailed shoes. This look is perfect for the girl on the go who is looking for a quick yet stylish outfit.
Get the Look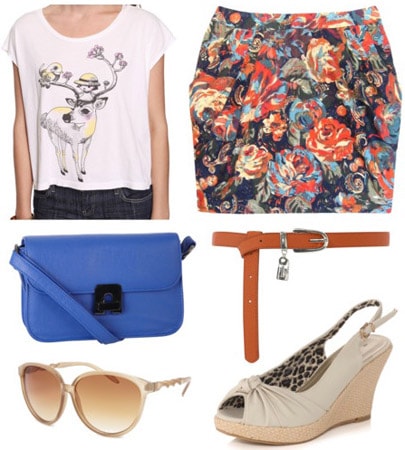 Tee, Skirt, Bag, Belt, Sunglasses, Shoes
This outfit is simple to recreate, and the best part is, you can easily use pieces you already have in your closet.
Start with a graphic tee shirt, whether it's a band shirt, an artsy graphic tee, or for the most authentic D&G look, a Disney-inspired shirt. Pair your top with a bold floral skirt for extra color and femininity. Tie the pieces together with a skinny belt.
Now it's time for accessories. Start with a brightly colored bag that matches a color in the skirt. Here, I used a bright blue bag to bring out the blue in the skirt. Finish it off with a pair of neutral sunglasses and some summer-appropriate wedges. If you're more daring or want the look to be more accurate to D&G, swap the espadrilles for bold heels with floral details.
Look #2: Floral on Floral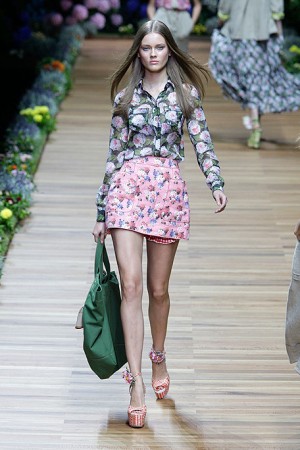 Floral was a big trend on the Spring/Summer runways this year (when is it not?) but D&G took the print to a whole new level with this look. They combined two floral prints in one ensemble to create a bold aesthetic. The look itself is fairly simple – skirt + blouse + bag – but by using floral prints in different sizes and colors, D&G created visual complexity. This look is bold, but also feminine and flirty – it'd be perfect for a summer date.
Get the Look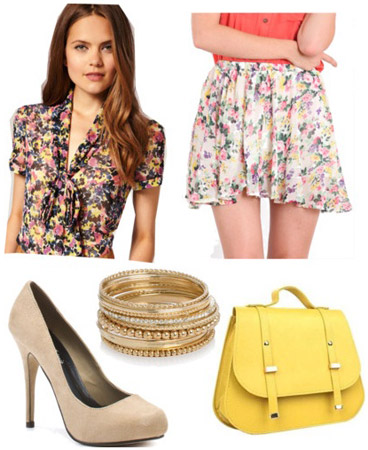 Blouse, Skirt, Shoes, Bangles, Bag
The key to this look is finding two different floral patterns that have at least one color in common – this helps keep the look cohesive. In the D&G look, pink was the common color. In my inspired look, both patterns use yellow. I started with a pussy bow blouse in a small floral print. The blouse's style creates a feminine look, and its soft fabric works well with the soft fabric of the lighter floral print skirt.
Accessories help tie this look together. First, I utilized the prints' common color, yellow, in the bag. This adds a bold pop of color while tying the skirt and blouse together. In their original look, D&G added a pair of bold patterned heels, but to make this outfit more wearable for everyday, pair it instead with neutral heels like these beige pumps. If you want to add jewelry, keep it simple with some basic gold bangles.
Look #3: Flowers in the Rain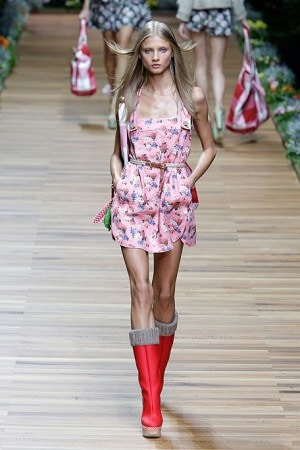 In this look, D&G combined a sweet floral dress with rain boots for an unexpectedly chic look for summer showers. Mixing patterns has been a popular trend this season and D&G played with this trend by mixing the floral romper with a plaid bag.
Get the Look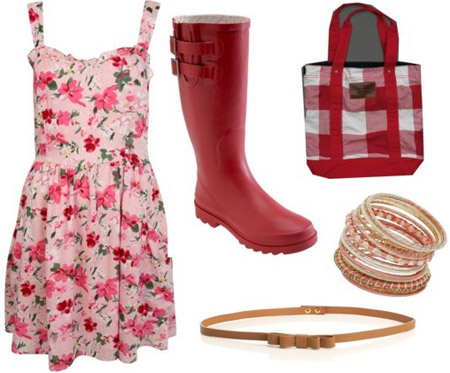 Dress, Rain Boots, Tote, Bangles, Belt
The construction of this outfit is fairly simple: Start with a floral dress, something I'm sure you all have in your closet. Then pair it with some rainboots in a matching color. For our look, we paired red rain boots with a pink and red floral dress. Mix in some plaid by adding a bag in the pattern, like this red checkered tote. For accessories, finish the look off with a skinny belt and feminine woven bangles. This outfit screams summer with its mixture of floral and plaid – can't you already see yourself picnicking in this outfit on a warm summer day?
What Do You Think?
Would you wear these looks? Did you like the D&G Spring 2011 collection? Are there any other recent collections you'd like to see recreated here next? Leave us a comment and let us know!