Red is one of the most popular and flattering colors in the fashion world. Whether it's a bold lip, a mini dress, or a staggering pump, red has been an it fashion color for decades, and continues making a statement on the runways and the streets.
The winter season can bring a colorless combination of black, white, and denim, but it doesn't always have to be so bland. If you're looking to spice up your average winter looks with some color this season, let's start with a bold shade of red.
Crop Top: Winter Edition
This red-hot crop top might already be in the back of your closet from last summer, and it's probably something you would never consider wearing in the cold winter. However, when paired with warm high-waisted pants and a thick, long hanging coat, this little pop of red will have you standing out in any crowd.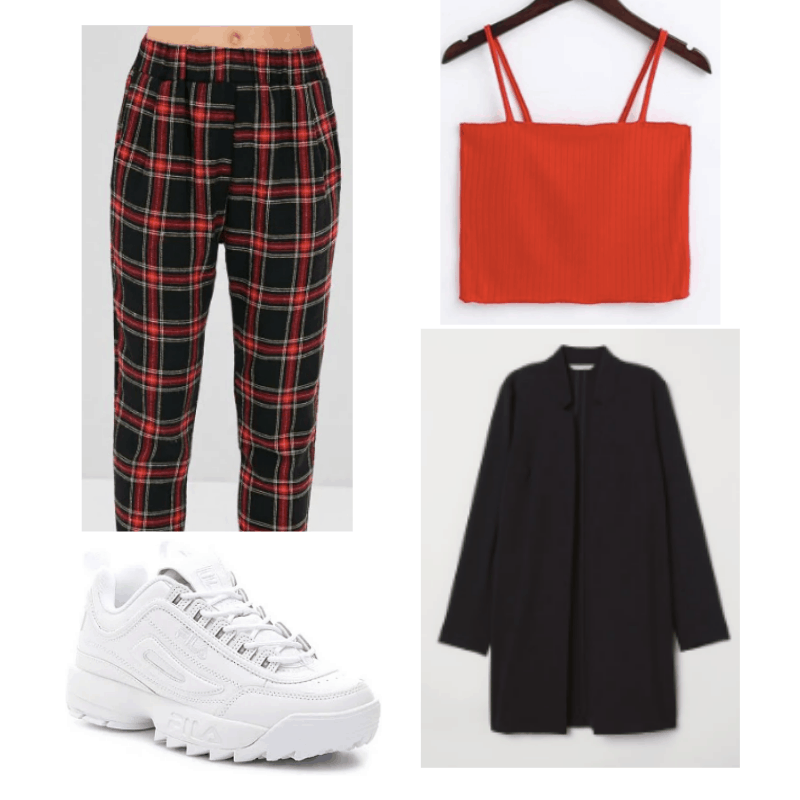 Products: Shoes – DSW, Jacket – H&M, Pants – Zaful, Top – Romwe
Here, I've mixed our red crop top with a pair of black and red plaid pants for a balanced, fashionable combo. The long jacket is key to staying warm and covering up, and you can play around with the buttons to find a length that works for you. While there are many routes you can take with the footwear here, classic white Fila's are my personal favorite shoe of the season. This look is perfect for a night out with friends or a mid-morning brunch/shopping trip.
Gold Details
Sweater dresses are the perfect way to stay stylish and warm in the winter months, and with so many different styles and types, you're sure to find your perfect one out there. This dress has that classic cozy sweater feel thanks to its neckline and cable knit detailing. Because of the blocky and thick waist, pairing with a belt will help shape shift and create a more form fitting look.
Products: Belt – Gucci, Earrings – Kendra Scott, Dress – Gap, Boots – Asos
To style this bright red sweater dress, first pair it with thigh-high boots. While it might be chilly where you live in the winter, these tall boots will be the ideal substitute for tights or leggings. Going with the black theme of the outfit, a classic belt of any kind (we had fun with a dream Gucci belt but any one will do) can be tucked over the sweater to tighten and bring in the waistline. As a little extra accessory, find some gold jewelry to complete the look! This outfit is perfect for a family dinner or an afternoon gathering.
Sassy Glasses
These bad boys add a funky twist to any outfit, bringing sass and style. With a cat-eye shape and tiny lenses, these glasses are the accessory every black and white winter outfit needs.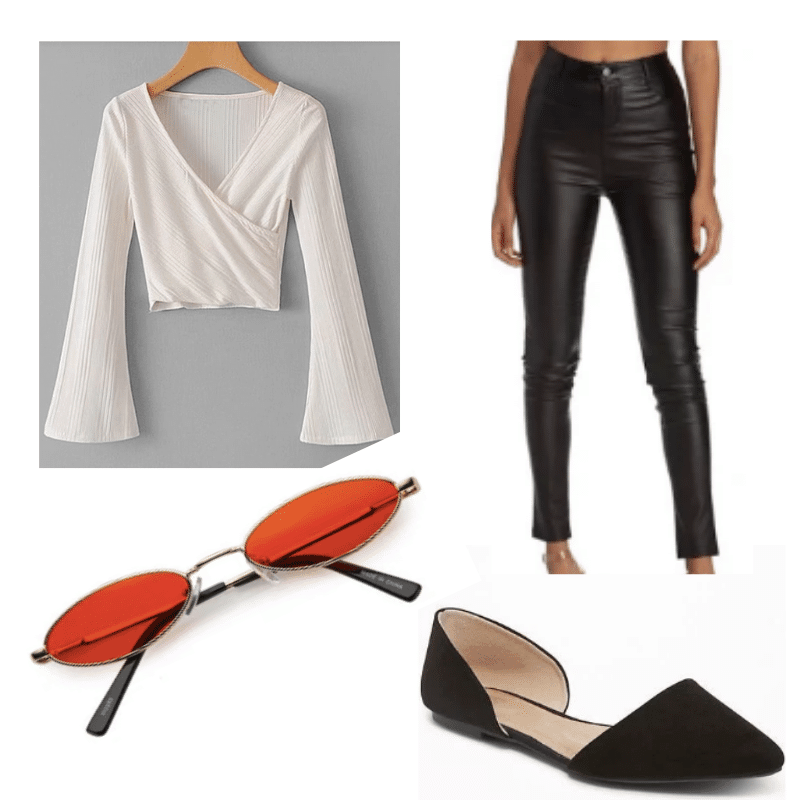 Products: Glasses – Sunglasses LA, Shoes – Old Navy, Pants – Windsor, Shirt – Shein
Featuring tight black leather pants and a twisted bell-sleeve top, this combination has major '60s-'70s vibes. With classic black flats and the addition of the red glasses, this look is fun and unexpected. It would be perfect for a night out on the town with friends, or a concert/dance venue.
Little Red Riding Hood
This red dress is a beautiful length, and can be worn in any season — a wardrobe must-have! With a fitted waist and above-the knee hemline, this dress is a killer way to add a little color to your night.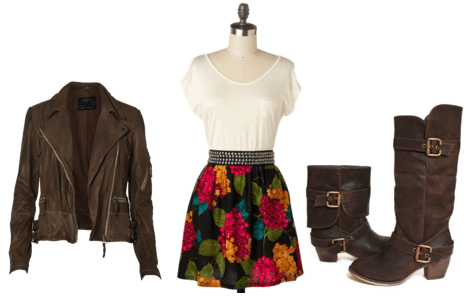 Products: Dress – Charlotte Russe, Purse – Forever 21, Shoes – Forever 21, Jacket – Zaful
To create an outfit out of it, take a long, fuzzy dark jacket to keep warm and cozy, then add a tall platform heel and a shimmery purse to make a nightlife look. It's important to err on the side of more bundled up in cold temperatures, so the jacket is key. To accessorize, use the light silver shade of the purse to find jewelry.
Ruby Red Slippers
Red rain boots are versatile and a childhood dream of an accessory. How many dolls and cartoon figures wore these bright and shiny boots growing up? Now that they're a total must-have shoe for your collection, here's how to wear them in the winter (and the spring for that matter).
Products: Top – Romwe, Boots – Hunter, Skirt – H&M, Tights – Asos
This look is centered around a classic and plain black mini skirt, a lacy blouse (check out the sleeve and neckline detail on this one!), and a season essential, polka dot (or heart) tights. Adding bright red boots will completely change the mood of this look. Winter is often dreary and dark, and this outfit could easily be worn with short combat boots or platforms, but the boots bring out the color and childlike joy in this look. This outfit is both fancy and chic, perfect for a casual date night.
What do you think?
Will you be adding any color to your wardrobe this season? Comment any tips and tricks to making the winter season more colorful and bright below!