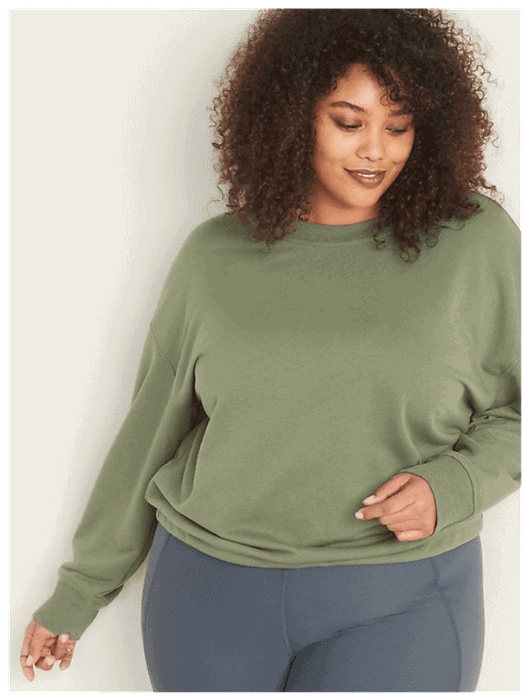 Back in March, I wrote an article about outfits to wear while social distancing. Since then, I've been seeing a ton of different articles from other sources talking about loungewear outfits to wear at home. However, one thing that struck me is that none of these articles focus on plus size loungewear.
Now, I'm not saying that there are no loungewear articles aimed at plus-sized women at all. I'm also not saying that none of the garments featured in the articles came across are available in plus sizes. It's just that I have yet to find them on "mainstream" fashion websites.
Moreover, it makes me sad that despite the fact that many brands claim to be inclusive, there's still a dearth in loungewear for plus-sized women. This is especially true if you're looking for plus size loungewear that's comfortable and cute and appropriate for younger women.
(If you find this hard to believe, visit the website of just about any budget-friendly clothing store that carries plus sizes. Compare their straight-size and plus-size sections. You'll see, unfortunately, that the plus-size section typically has a far smaller number of styles. You'll also find that it's quite hard to find a plus-sized piece which has all of the sizes in stock.)
With all of this in mind, I decided to create a plus-size version of my previous social distancing fashion article.
Related reading: 6 Trendy Plus Size Fall Outfits We're Wearing on Repeat
As with the straight-sized outfits from my previous article, these looks are perfect for adding some style to your at-home routine. So, whether you're lounging around the house, Zoom-calling friends, or going for a walk, you're sure to look amazing in these college loungewear picks!
So, without further ado, keep scrolling to see three stylish plus-size loungewear outfits.
Plus Size Loungewear Outfit #1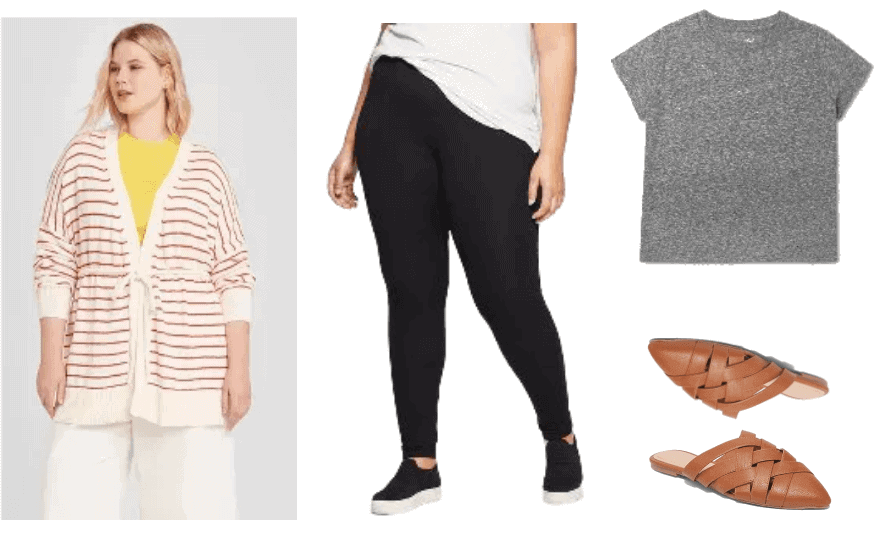 Products: Cardigan – Target, Leggings – Target, T-Shirt – Target, Mules – Old Navy (available in more sizes in black)
This simple-yet-chic look is super-easy to put together. It's also sure to instantly elevate your mood thanks to its cool and comfortable vibe.
To copy the outfit for yourself, begin by pairing a heather gray crewneck tee with black leggings.
Next, to add a cute long striped cardigan with a tie-up closure.
To complete this relaxed ensemble, slip on a pair of classy woven faux-leather mules.
Plus Size Loungewear Outfit #2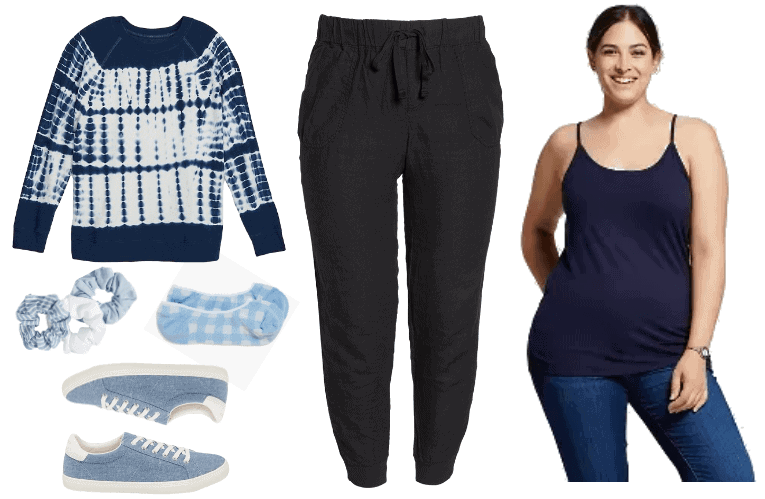 Products: Sweatshirt – Old Navy (Similar style in more sizes from Kohl's), Scrunchie Set – Old Navy, Socks – J.Crew Factory, Sneakers – Old Navy, Joggers – Nordstrom, Camisole – Target
For Outfit #2, I decided to put together a slightly fancier look that incorporates several recent trends.
Here's how to get the look:
First, layer a basic navy camisole under an of-the-moment tie dye sweatshirt.
After that, put on a pair of lightweight joggers. Their linen construction and looser-fitting silhouette makes them perfect for the warmer months ahead.
This adorable scrunchie set is ideal for keeping messy quarantine hair out of your face. (No judgment here!)
Furthermore, these fun gingham socks are great for wearing by themselves around the house. They're also great for wearing with your favorite sneakers if you decide to go on a walk/grocery run!
Finally, speaking of sneakers, I couldn't resist this pretty pair, whose timeless silhouette is elevated by its chambray construction.
Related post: 15 Actually Cute Midsize Outfits You'll Love
Plus Size Loungewear Outfit #3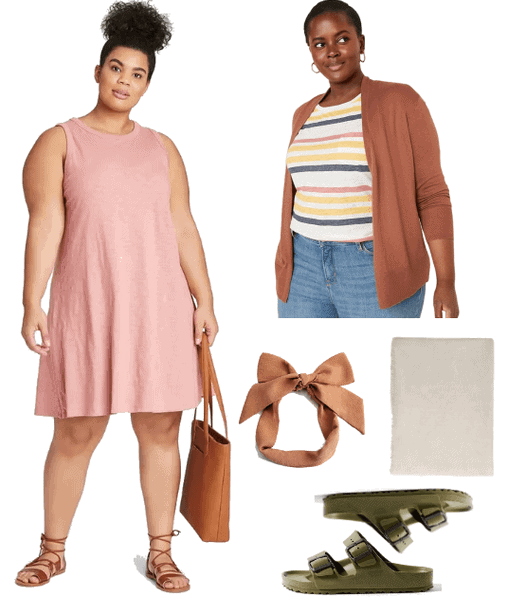 Products: Dress – Target, Cardigan – Old Navy, Headband – Mango, Scarf – Mango, Sandals – Urban Outfitters
This outfit is just the thing if you want to wear something that's feminine and dressy, but still comfortable.
To recreate it for yourself, start off by throwing on a pretty pink tank dress.
Then, if it's cool outside/inside, add a chic rusty brown open-front cardigan.
A fringed linen scarf in a lovely écru shade adds some substance to the ensemble.
Moreover, a gorgeous bow headband adds a girly touch.
To finish off the look, put on a pair of olive green Birkenstock Arizona EVA sandals.
What do you think?
What are some of your favorite cozy loungewear pieces to wear during quarantine? Which of these plus size loungewear looks do you like best? Do you know of any articles/websites/clothing stores that feature fashionable, quarantine-appropriate clothes for plus-sized women?