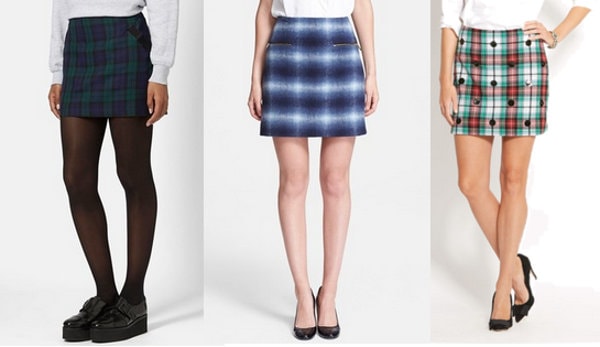 Plaid Skirts: 1. Topshop, 2. Kate Spade, 3. Vineyard Vines
Do you struggle with transforming your outfits from day to night? Don't worry, CF is here to help turn that daily annoyance into a fun challenge. Class to Night Out focuses on one piece per week, and aims to help you take your look from study sessions in the library to dancing the night away.
I don't know about you guys, but I have gone absolutely mad for plaid this school year, and I think the fashion world has, too! From the typical flannel shirts that college girls have been rocking for years to bolder pieces like pants and outerwear, plaid has seriously taken over. A little funkier than stripes, a little tamer than polka dots or floral, plaid is a print that seems to work for any occasion; day or night, and no matter what style you're wearing.
My new favorite plaid trend this year has been the revival of the plaid skirt. For those of you who had to wear uniforms in high school, the phrase "plaid skirt" might cause you to cringe, but I promise the styles I've been seeing this year will not have you reliving your school girl days. Sleek silhouettes and sophisticated colors make these skirts chic and modern, which is a perfect combination for any college girl.
Below, I'll show you two ways to style a plaid skirt – one look for a day of classes and the other for a night on the town. If you're interested in this trend, read on!
Plaid Skirt: Class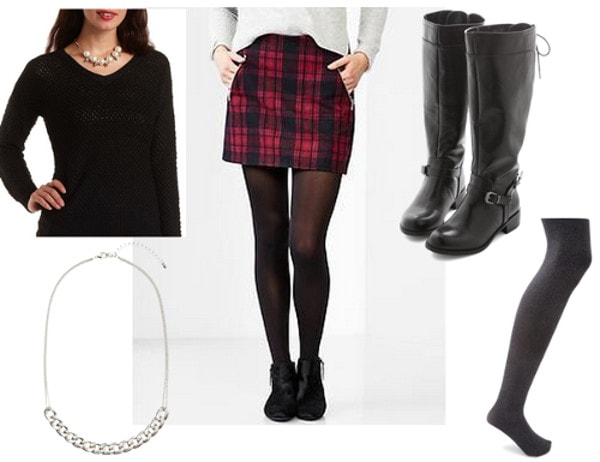 Product Info: Skirt, Sweater, Necklace, Tights, Boots
I am head over heels for this red-and-black plaid skirt – the styling possibilities are endless! For a day of classes, pair a skirt like this with a simple black sweater. A pretty silver chain necklace will add visual interest to an otherwise understated top. For warmth, throw on a pair of tights – I chose gray instead of black, so everything isn't too matchy. Finish with tall black boots; the low heel will be comfortable for a day of trekking across campus.
Plaid Skirt: Night Out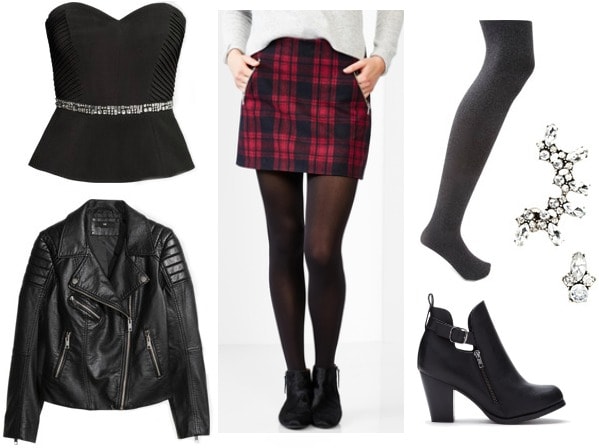 Product Info: Skirt, Top, Jacket, Tights, Boots, Earring Cuff
This plaid skirt would be perfect for a night out on the town with your friends. Since being cold can really put a damper on your evening, I kept the tights from the first outfit, but swapped out the knee-high boots for edgy heeled booties. A pretty peplum top creates a flattering silhouette, and I loved the sparkly detail on this one!
For even more sparkle, accessorize with an ear cuff, which adds a pretty-but-tough tone to your look. Finish everything off with a leather jacket, which will keep you warm and look fierce with the rest of your ensemble.
Your thoughts?
What do you think of these looks? Would you wear a plaid skirt like the one featured above? How would you style it for winter? What pieces would you like to see featured next on Class to Night Out? Leave me a comment and let me know!