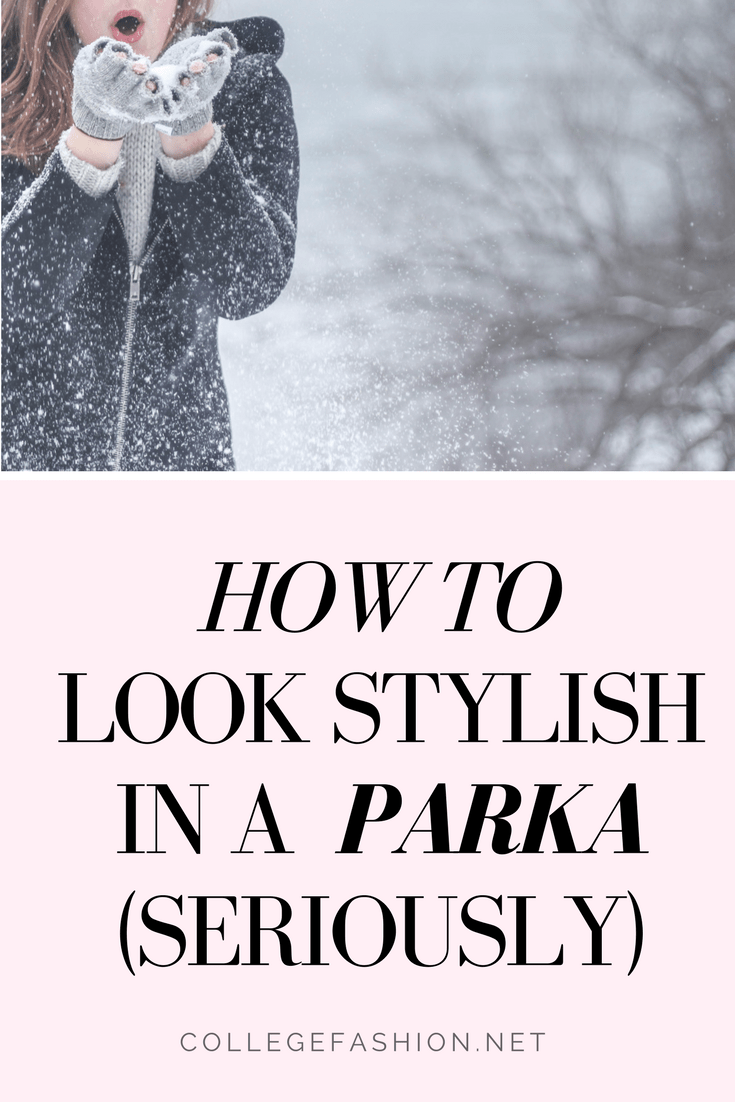 Winter weather in general is problematic to fashion girls. Who wants to cover up in a puffy coat and switch out their cute shoes for snow boots?
With a few wardrobe tweaks, however, dressing in your normal style while also rocking your parka can be super easy.
The first step is to find a coat that will truly keep you warm, unlike the cotton and leather jackets that some try to portray as a winter coat. If you're truly freezing your butt off in below-zero temperatures, you'll need some down as an insulator in your coat. You'll also want a waterproof outer shell for wet weather.
Since this is an investment that you will have for a long time, it is best to splurge on a winter coat that will adequately keep you warm. You don't have to go full Canada Goose, though. The North Face and Marmot, for example, have been amazing in my experience and are reasonably priced.
Your eyes may have glazed over hearing the words "waterproof" or "down" but these things can come in a beautiful package. Brands make winter coats in a variety of shapes, colors and styles that are only getting cuter as the years progress. (I love the purple Nike parka in outfit #3!)
While you may have a warm coat that is also very cute, you may feel that what you wear under it cannot be as cute as you want it to be, because you feel stuck wearing sweatshirts and sweatpants in order to stay warm.
Luckily, nothing is cooler than layering different types of necklines and shirts in order to create a warm and functional outfit. Fabrics should be chosen wisely. Wool tights work wonders when you crave wearing a dress in the winter. Cotton t-shirts can work as first layers under sweaters.
Below, I'll show you how it's done. Here are my best tips for wearing a parka while still looking fashionable, plus 3 parka outfit ideas:
Parka Styling Ideas: Outfit #1
In this look the mock neck top will peek out through the deep-v of the sweater and create a dimensional look. This layered look will keep your warm and looking cool. The UNIQLO jeans are part of their special "HEATTECH" line that promises to keep you warm in even the coldest weathers. I have a pair of their leggings and can attest to the truth of their claims.
Even though these socks aren't the cutest in the world, they are meant to be worn under boots like these heeled Docs, and they will keep your feet warm while the outside can show off those awesome boots.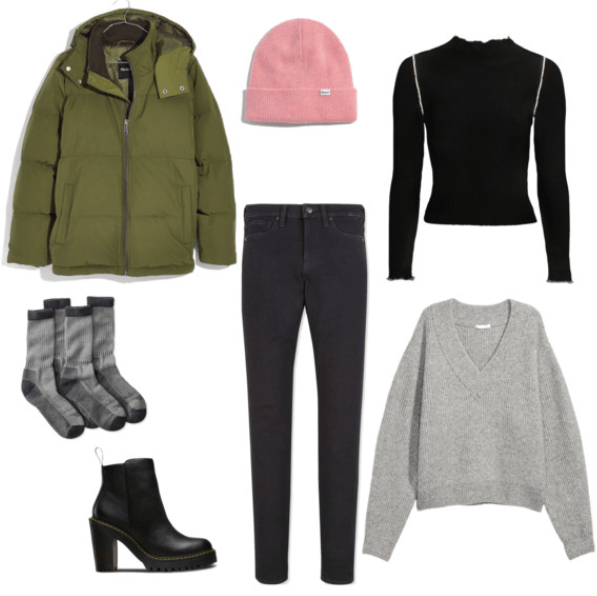 Products: Parka – Madewell, Socks – L.L. Bean, Booties – Dr. Martens, Hat – Madewell, Pants – UNIQLO, Turtle neck – Topshop, Sweater – H&M
Parka Styling Ideas: Outfit #2
I paired this dress over a sweatshirt for a fun play on layering. The tights are expensive but an important investment for a winter staple. I personally can't give up wearing dresses, even in winter, so I chose thick wool tights with socks over them.
A longer parka is always a fashion-forward option when it comes to getting extra warmth, especially when you opt for a dress over pants. Imagine tights and boots sticking out of a long coat on a wintery day — so chic! Just make sure they are these thick tights, not thin stockings.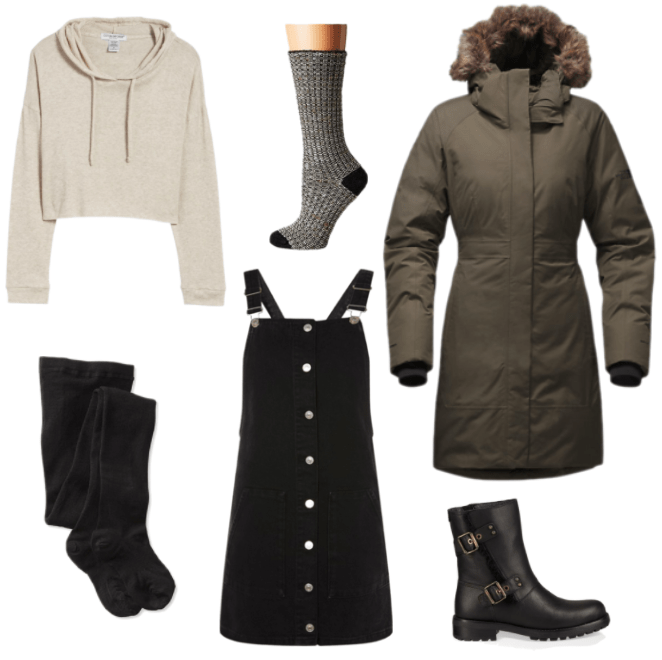 Products: Hoodie – Nordstrom, Tights – L.L. Bean, Socks – Zappos, Dress – Topshop, Parka – North Face, Boots – Ugg
Parka Styling Ideas: Outfit #3
This parka is too cool. In a striking purple color, it begs people to stare at your outfit. Many other brands make parkas in awesome colors like electric blue or even silver. This is an awesome way to stand out and look great while wearing something that also keeps you warm and cozy.
These Chucks are also made special for the cold weather — they are waterproof and extra warm. They're an amazing purchase if separating with your beloved high-tops is too much to bear every winter.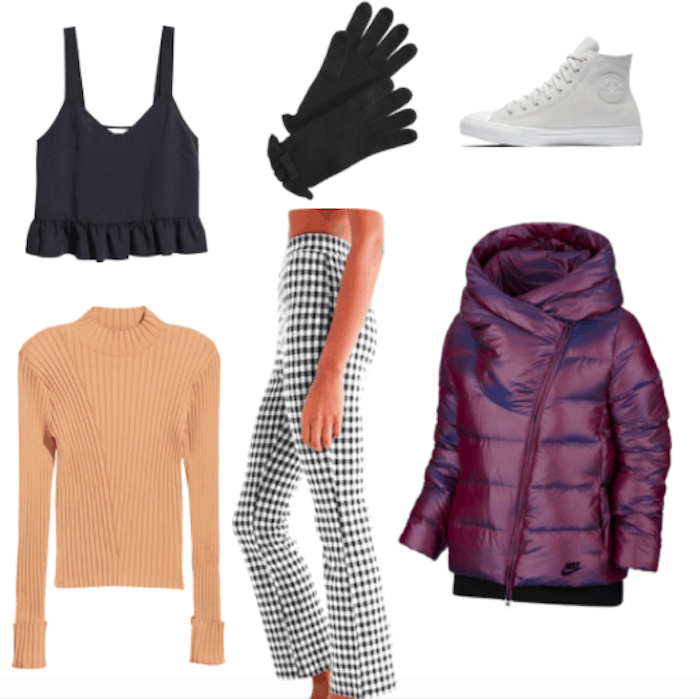 Products: Shirt – H&M, Sweater – H&M, Gloves – Macy's, Pants – Urban Outfitters, Shoes – Nike, Parka – Macy's
How do you look fashionable while wearing a parka?
No matter what the weather you can always figure out a way to show your style. So don't let winter get you down and let me know if you think these outfits will truly keep you guys warm in the freezing winter this year. Definitely leave me a comment below!