Welcome to the latest edition of Ask CF! Every two weeks, we select a reader fashion question and answer it here on the site. Do you have a specific fashion question for us? Scroll to the bottom of this post to learn how to send it our way!
Ask CF Question
Hi Ask CF!
As a shorty (I'm under 5'4″) I find it difficult to find fashions that suit me well.
I see models wearing fashion trends I like, such as boho summer dresses, flare pants, flowing tops, etc. but when I try stuff like that on I'm practically swimming in it! In general, I find stuff isn't proportioned for my petite size and I end up looking weird. Any guidelines for dressing my best as a petite person?
– Shawty
Our Response
Dear Shawty,
While it might (frustratingly) feel like you have to put in more effort to find clothes than your non-petite counterparts, you should know that everyone (yes, everyone) — whether they are petite, tall, medium-height, curvy, not-curvy, plus-size, etc. etc.– has, at some point, felt like the clothes that they are interested in wearing are not proportioned for their body, and that they look "weird" in certain things.
However, that doesn't mean that you can't partake in the trends that you like, or that a certain style is off-limits to you because of your body type. Rather, all it means is that you have to find ways to work around the specific "challenges" you face (which, in your case, is wearing flowier, more bohemian styles without appearing to drown in them) to make the clothes you like work for your needs.
Here are some ways that you, as a petite person, can do that:
Shop the petite section/brands made especially for petites: This is the most obvious — and easiest — way to find clothes that are proportioned for a smaller frame. I'd recommend checking out the petite section of stores like J.Crew, Ann Taylor, Anthropologie, ASOS, Loft, and Topshop for fashion-forward finds.
Tailoring is your friend: A lot of the time, brands only make part of their range available for petites (or won't have a petite section at all), which means that you will have to get things tailored to better fit your body. To figure out whether it's worth it to spend the extra money on tailoring, think about whether the item you are considering is high-quality and something that you will get a lot of use out of. If the answer to both of those questions is yes, then it is probably worth your time to find a good tailor who will make the item look like it was made just for you.
Consider sizing: Another way to improve your style strategy is to find out how sizes for specific brands run; for example, brands like Aritzia, Uniqlo, Zara, Forever 21, and H&M all tend to run on the smaller side than similar brands, meaning that you're more likely to find garments that fit you better. Reading online reviews of brands in general — or even a specific piece from a brand — can be a great way to determine how clothing will fit right off the hanger.
Get creative: Sometimes, a piece of clothing can't be tailored, or you just can't/don't want to spend the money to do so. In these cases, doing things like belting the waist of a baggy top or dress, or making cool cut-off jeans out of a too-long pair using scissors, can be fun and easy ways to customize your look.
For more tips on how to dress your petite body type, plus outfit ideas for petite girls, just keep scrolling!
Petite Outfit #1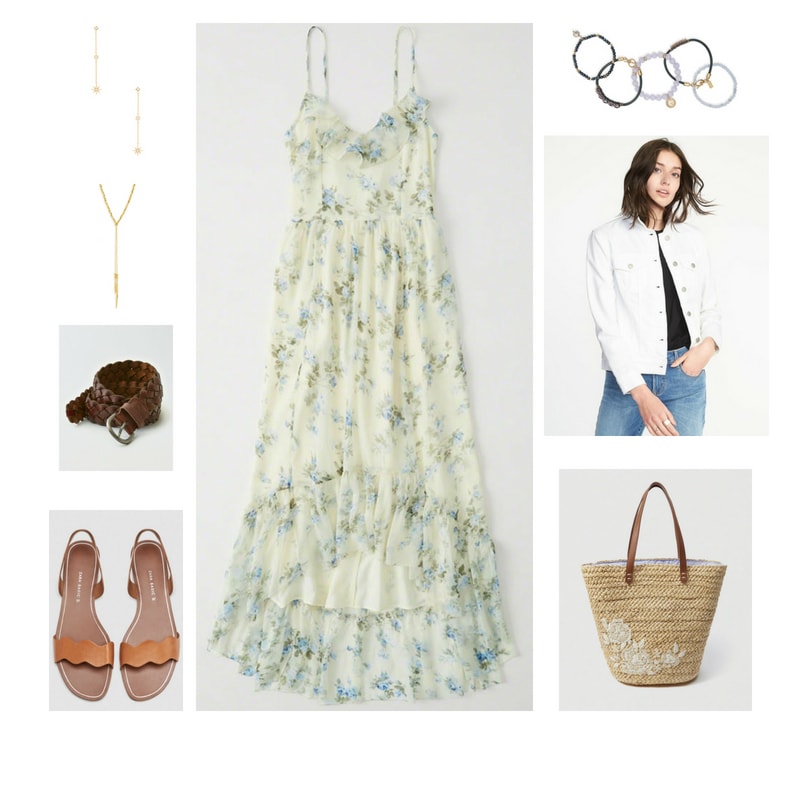 Products: Earrings – Revolve, Necklace – Nordstrom, Belt – American Eagle Outfitters, Sandals – Zara, Dress – Abercrombie & Fitch, Bracelet Set – Nordstrom, Jacket – Old Navy, Tote – Abercrombie & Fitch
One of the trends that you mention having difficulty with in your letter is boho summer dresses. In light of that, I was inspired to create an outfit using this gorgeous dress (which is available in petite sizes!) to show you that you can, in fact, pull off the look!
The main reason I decided to choose this dress is that it has a high-low hem that shows off part of the leg line, making it the perfect foray into the world of longer styles, without worrying about completely losing your shape. I have also included a belt with this look, so as to further emphasize your waist and add some structure to the dress.
While some people might insist that petite women should wear heeled shoes when wearing more voluminous clothing, I think it depends more on the style of the shoes than anything else. That's why I have included these pared-down flat sandals, which would go well with a variety of different summer looks.
If it's chilly outside, add a denim jacket whose boxy silhouette counteracts the flowiness of the dress. Then grab a must-have straw tote, and accessorize with dainty drop earrings, a pretty lariat necklace, and a stack of hippie-esque bracelets to finish off the look.
Petite Outfit #2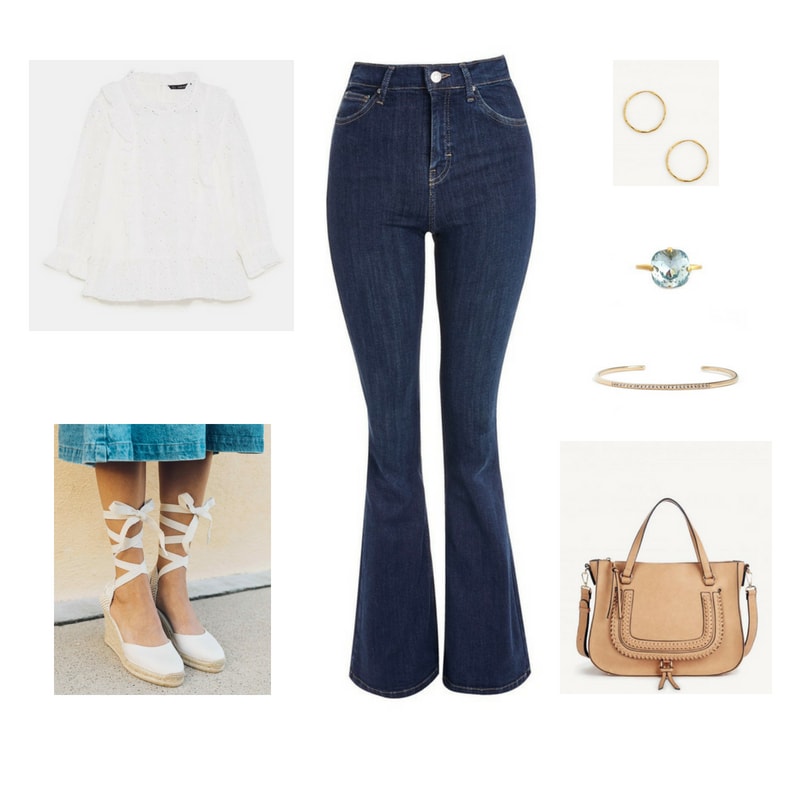 Products: Blouse – Zara, Espadrilles – Soludos, Jeans – Nordstrom, Earrings – Sole Society, Ring – Mimi & Lu, Bracelet – Nordstrom, Bag – Sole Society
For the next look, I decided to create something based around the other two items that you mentioned having difficulty with in your letter: flowy blouses and flared jeans. Furthermore, I've chosen to style them together because I want to show that you don't have to limit yourself to one "challenging" piece per outfit, as "conventional" fashion rules sometimes dictate.
This pretty blouse has a loose and airy fit, but it also cinches in a little bit at the bottom, which gives it a bit more shape. As for the jeans, when it comes to flared styles, you're best off looking in the petite section. This is because, unlike skinny or straight-leg jeans, whose shape will basically stay the same if hemmed by a tailor or rolled up, flared jeans are widest at the bottom, meaning that they will lose some of their shape if the bottom part is removed or hidden.
I love the look of wedges with flared jeans, so grab a pair of these timeless espadrilles for an extra dose of style (and leg-elongating height!).
For jewelry, keep things simple yet modern with a beautiful blue oversized ring, classic gold hoops, and an elegant slim cuff bracelet. Finally, add a boho satchel with a structured silhouette to complete the ensemble.
Petite Outfit #3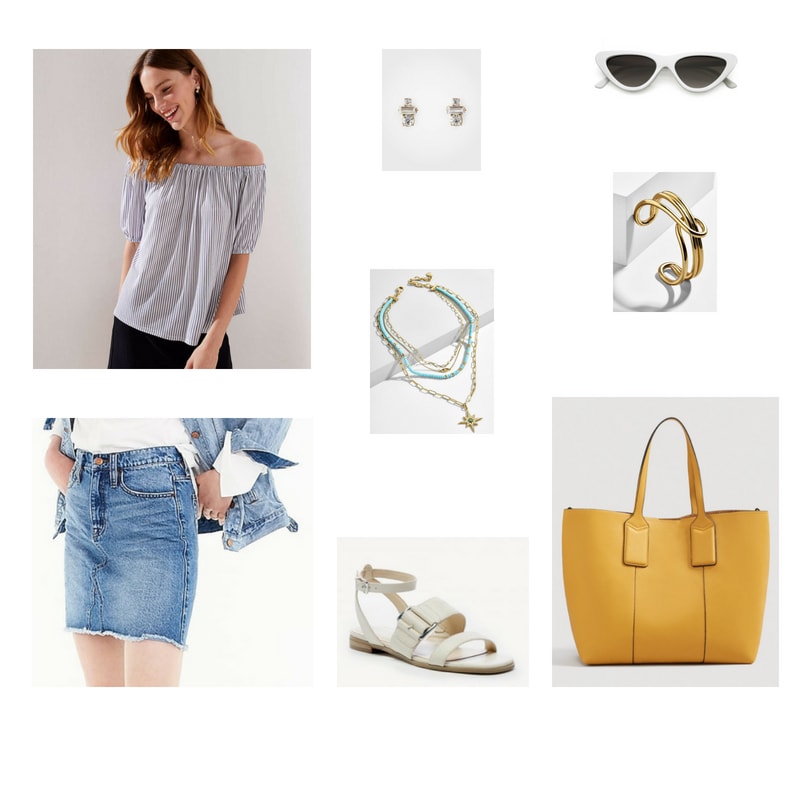 Products: Top – Loft, Skirt – J.Crew, Earrings – Ann Taylor, Necklace – BaubleBar, Sandals – Sole Society, Sunglasses – ShopZeroUV, Bracelet – BaubleBar, Tote – Mango
For this final look, I decided to combine some of this summer's biggest trends to create a laid-back and cool outfit that would work well in most everyday casual situations. What's more, both the top and the skirt and are from the petite section, meaning that you likely won't have to tailor them to fit your body!
Off-the-shoulder tops work well on any body type, and look great on those with petite frames because their open style shows off and elongates the neckline. Moreover, the skirt's shorter and more fitted shape makes it a perfect option for wearing with baggier tops.
As for shoes, I decided to go with a pair of trendy white sandals (since the skirt already shows a lot of leg, the straps on these ones won't cut off the leg line).
Since this look is relatively simple, feel free to go a bit heavier with jewelry; I'm a big fan of turquoise for Summer, which is why I chose this cute layered necklace. An architectural cuff adds a bold touch, while sparkly earrings subtly draw attention to your face.
Speaking of which, if you have a smaller facial structure in addition to a smaller body type, then this season's small sunglasses trend will work wonderfully for you; I love this of-the-moment white cat-eye pair!
Last but not least, this fun yellow tote adds a cheery pop of color to this (mostly) blue-and-white look.
I hope that these tips and outfits have helped you learn more about dressing a petite body type, and that they have shown you that you don't need to be a specific size/build to pull of the looks that you love! Thanks for your question!
Do you have a fashion question? Send it to us!
Is there something in your closet that you want to wear but have no idea how to style? Do you need advice on what to wear to an upcoming event? Do you have a specific fashion conundrum? If you have a fashion-related question that you would like to see answered in this column, simply email it to askcf @ collegefashion.net, and one day you might see your question answered right here on the site!
What do you think?
Do you have any more advice for how to dress a petite frame? What are some of your favorite brands/stores to shop for petites? Have you ever succeeded in pulling off a trend or style that you previously thought was "off limits" for your body type?
Let me know in the comments!