In my last article, "Why I 'Dress Up' For Class," I wrote about the benefits of upgrading one's college lecture attire from ratty sweatpants and a stained t-shirt to something that shows a little bit more effort. Today, I'm getting specific.
The following outfits for class can be of inspiration to anyone wanting to follow this advice, and stick to their efforts of putting some effort in each day, all year long. And these outfits aren't incredibly complicated. (One even includes sweats!) It doesn't take much to look great.
Here are five outfits I would totally wear to class:
Class Outfit #1: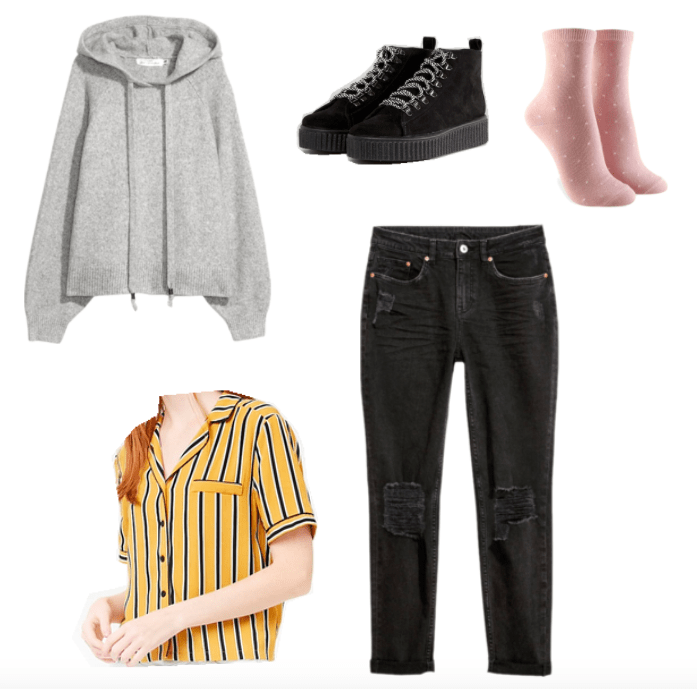 Products: Sweater – H&M, Button-Down – Forever 21, Boyfriend Jeans – H&M, Socks – Forever 21, Boots – ASOS
Mom jeans fit less snug than skinnies. Thus, they're a perfect solution for wanting to wear jeans, but also wanting to be comfy while sitting in class. If you pair them with a button-down that fits slightly oversized, you will feel almost like you are wearing a big tee and sweats. Finish with an optional hoodie over top for maximum comfort for the walk between classes.
Class Outfit #2: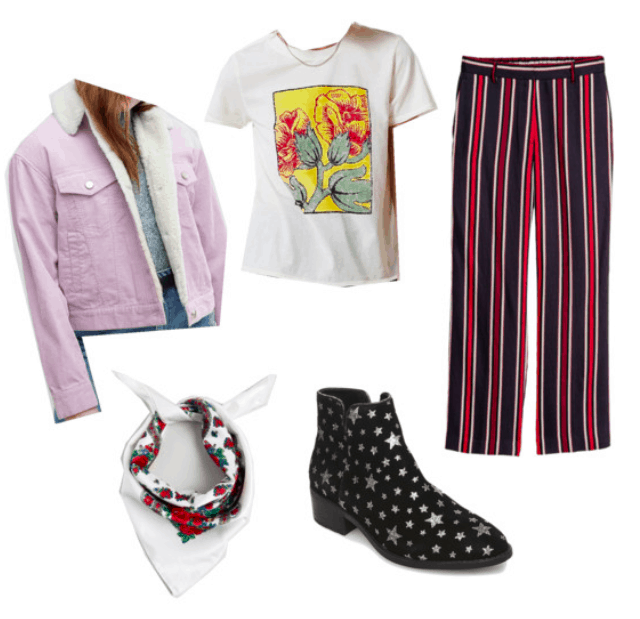 Products: Pants – H&M, Tee – Amazon, Jacket – ASOS, Boots – Steve Madden, Scarf – ASOS
These wide-leg pants look and feel almost like trendy pajama pants. You can wear a cool logo tee tucked in a bit, then add a lined jean jacket on top, and rock a scarf around your neck, and you're good to walk out the door with barely any effort.
I love to mix colors and patterns in my outfits — it usually works as long as they are somewhat cohesive. In this look I used reds as a base color and added the lilac jacket for an extra pop. Mixing the stripes with the stars on the boots is a cool way to play around with print and add more interest to your look.
Class Outfit #3: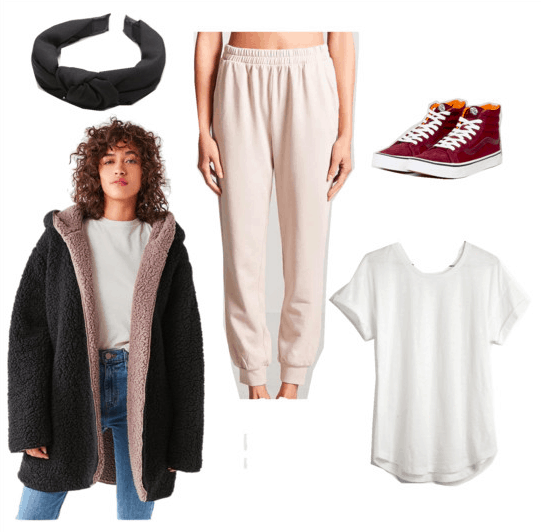 Products: Joggers – Forever 21, Tee – Madewell, Jacket – Urban Outfitters, Sneakers – Amazon, Headband – Free People
This is an extremely comfy outfit, but if all of the pieces are clean, wrinkle-free and worn with "done" hair (no bedhead with this outfit) and a smile, you are bound to look and feel like the best dressed in the class. This look is perfect for the days when you're really tempted to be lazy but you still want to look presentable.
The sherpa jacket is more on the expensive side but I promise you it is an extremely versatile piece to own. I love to wear mine over anything and everything and it's perfect for those few super cold lecture halls.
All of the items in this look can be mixed and matched. For example, you could wear mom jeans with this outfit instead of joggers. Or you could wear a logo tee with the joggers and make your outfit pop more. It's up to you!
Class Outfit #4: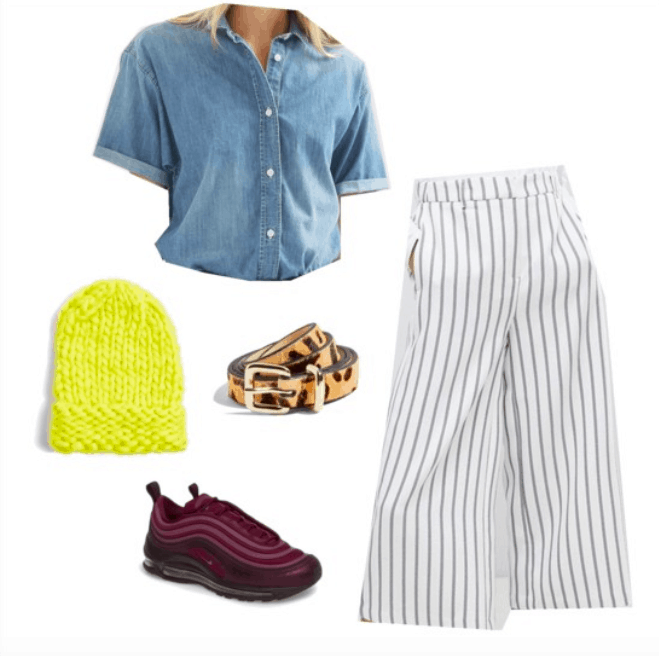 Products: Pants – ASOS, Button-Down – Gap, Belt – Topshop, Sneakers – Nordstrom, Beanie – Topshop
These Air Max sneakers are a little expensive, but super cool with any outfit and super comfortable for walking from class to class. They really do work with any outfit, case in point, the look above.
These striped pants, again, look as comfortable as sweats with a few more style points. (Can you tell I love striped pants?) Wearing a simple slightly oversized, denim button down on top matched with a cool belt and beanie makes you look extra fashion-forward but without much effort at all. I could wear this outfit all day long from my 9 a.m., to my clubs after class and then to dinner with my friends at night.
Class Outfit #5: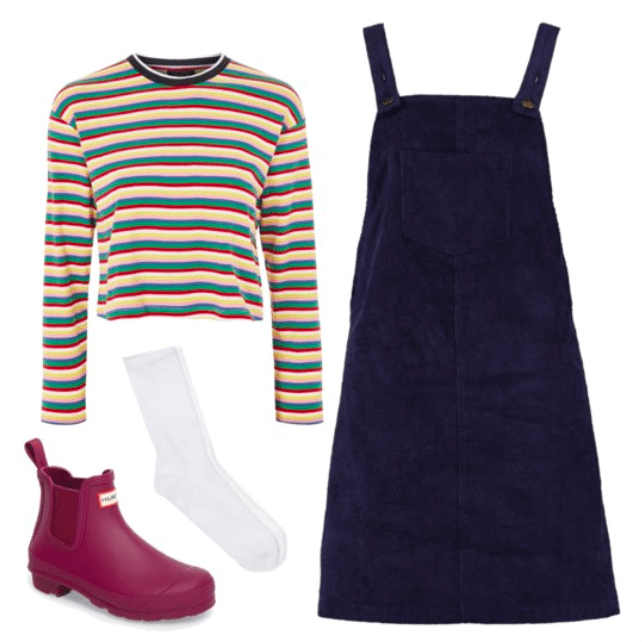 Products: Dress – Boohoo, Shirt – Topshop, Boots – Nordstrom, Socks – Target
Sometimes people think that wearing a dress means you're putting in more effort. This is the opposite of true. Wearing a dress is so easy! I mean, you just put on one piece! It is a one and done deal.
Get a cool striped shirt and put it under a jumper like this one for a look that makes a statement. Add socks and a pair of boots and you've got yourself a look that took 15 seconds to put together. If it's cold out, you can wear knee socks or tights for extra warmth.
What do you think?
These outfits are super simple, and more importantly comfortable. If you use these looks as inspiration in your class wardrobe you are going to look good and put together everyday without feeling uncomfortable.
When class and learning is your most important priority, these outfits will keep you focused on lecture, and make you feel great.
Let me know what you think of these inspirational class outfits in the comments!