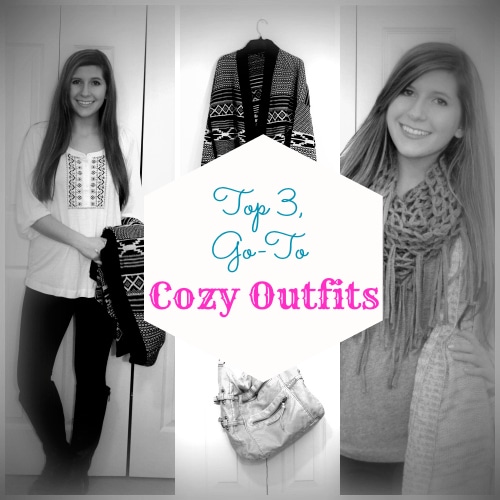 I love dressing up. I love the boost of confidence from going that extra mile with my outfits. I love scoping out street style to see what people are wearing.
That being said, there are some things that are outside of our control: being sick, alarm clocks that don't go off, polar vortexes. (Does anyone else think of a polar bears raving in a tunnel from that phrase?) In these cases, having a few simple, cozy, and comfy outfits that you can throw on in a hurrycan make life so much easier.
And, from your comments, you guys seem to love easy outfits for chilling at home, too! So, here are three of my favorite cozy outfits:
1. Pattern Play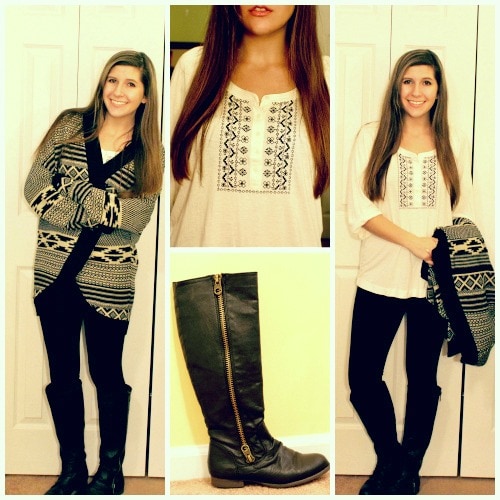 Do you see things in black and white? That keeps things pretty simple. In order to jazz it up, why not add some patterns to the mix?
This chunky knit cardigan is from Sears and I could not love it more. My long Old Navy top has a small embroidered pattern around the buttons. This keeps it more put-together than just a plain white top. Add some leggings and knee-high boots and you'll have an outfit that is both cute and ultra-comfortable.
In case you're wondering, that serious, concentrating/buck-tooth face on the shirt close-up was supposed to be cropped out. Oops!
2. Living on the Fringe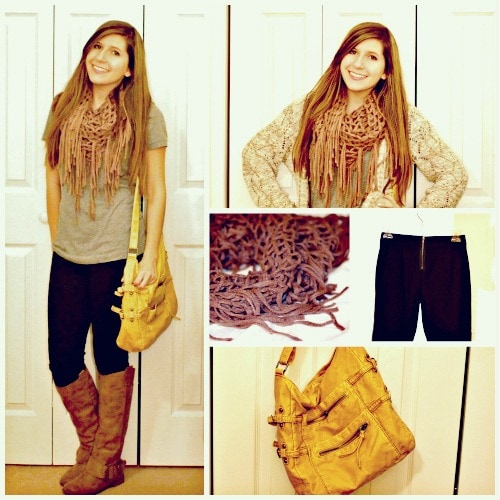 These structured leggings from J.Crew are one of my best investments. I have a problem with leggings being too saggy in the waist and slowly stretching out as the day goes on. These pants are like thick leggings with a real, structured waistband that will not slip.
Black pants and a gray shirt are a great base for layering. All the brightness in this look comes from the accessories. Complementary colors are those opposite on the color wheel, like purple and yellow – in this case, I opted for mauve and goldenrod.
Because the scarf looks much more vibrant in real life, I paired it with a neutral oatmeal cardigan and tall, brown boots. Just throw on a parka and you're good to go!
3. The Subtle Snowflake + Nordic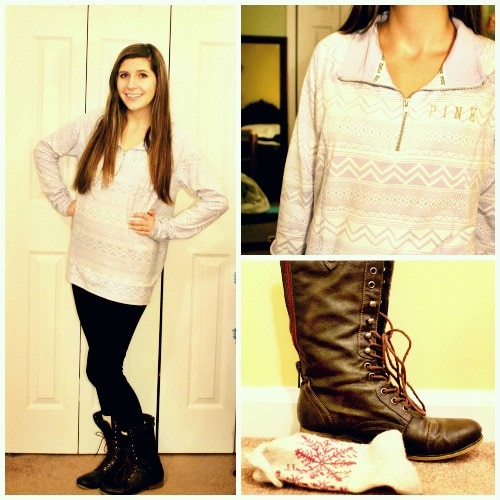 Nordic. Disney's Frozen. Need I say more?
If the cold doesn't bother you anyway, flaunt your Nordic patterns! They're not just for Christmas. I love this lavender pullover from Victoria's Secret Pink. Lavender may seem like a spring color, but the Nordic pattern makes it perfect for building snowmen.
I'm wearing some thick, tan socks with bright pink snowflakes, and my handy-dandy combat boots – perfect for sloshing in puddles.
Your thoughts?
Which of these outfits is your favorite? What's your go-to cozy outfit? What do you want to see next? Let me know down below!