It's almost May, which means the end of the semester is only a few weeks away and summer is ready to welcome us with warm arms. Naturally, this means it's time to start swimsuit shopping if you haven't already!
Swimsuit styles are always changing, and this year, we're into the one-piece. In recent years, one-piece swimsuits have made their way back into fashion and there are so many unique one-piece styles to choose from.
If you're looking for a stylish one-piece of your own, here's a list of 10 one-piece swimsuits under $50 that are perfect for those warm sunny days.
1.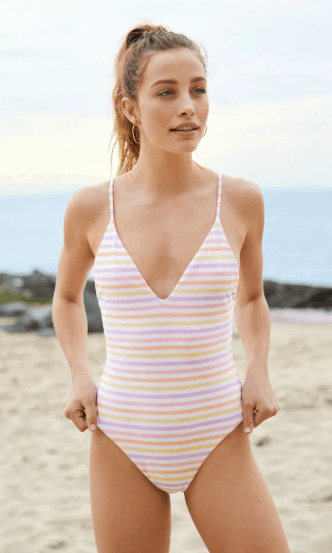 This multi-colored striped one piece swimsuit from Pacsun caught my eye for many reasons. This swimsuit is just under $50 and is a cute and fun way to incorporate many colors into a look if you're someone who likes to shy away from solid colored items.
I love the v-neck cut of this swimsuit. It adds an extra element of fun to the look.
Pair it with some tan sandals and a white swimsuit cover up and your perfect beach day look is complete.
2.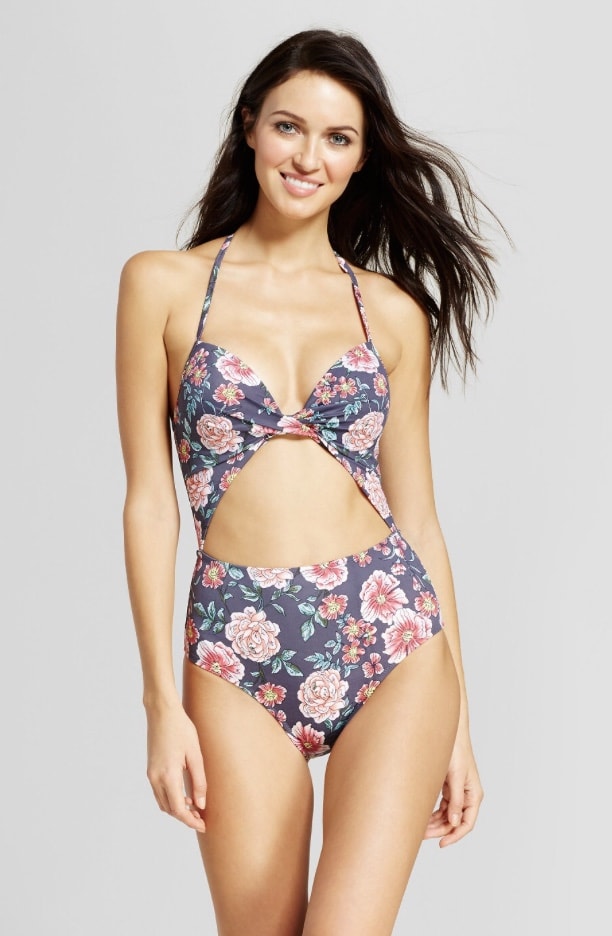 This floral print twist-front cut-out one piece suit from Target is $49.99 and makes it on my list of 10 suits under $50 because of the colors and floral print.
The deep but subtle purple is the perfect canvas for the light colored flowers, making this swimsuit look vintage yet modern.
Though the cut-out may give a few weird tan lines (slather on the SPF to avoid this!), it fits right into current trends making it a perfect summer suit.
3.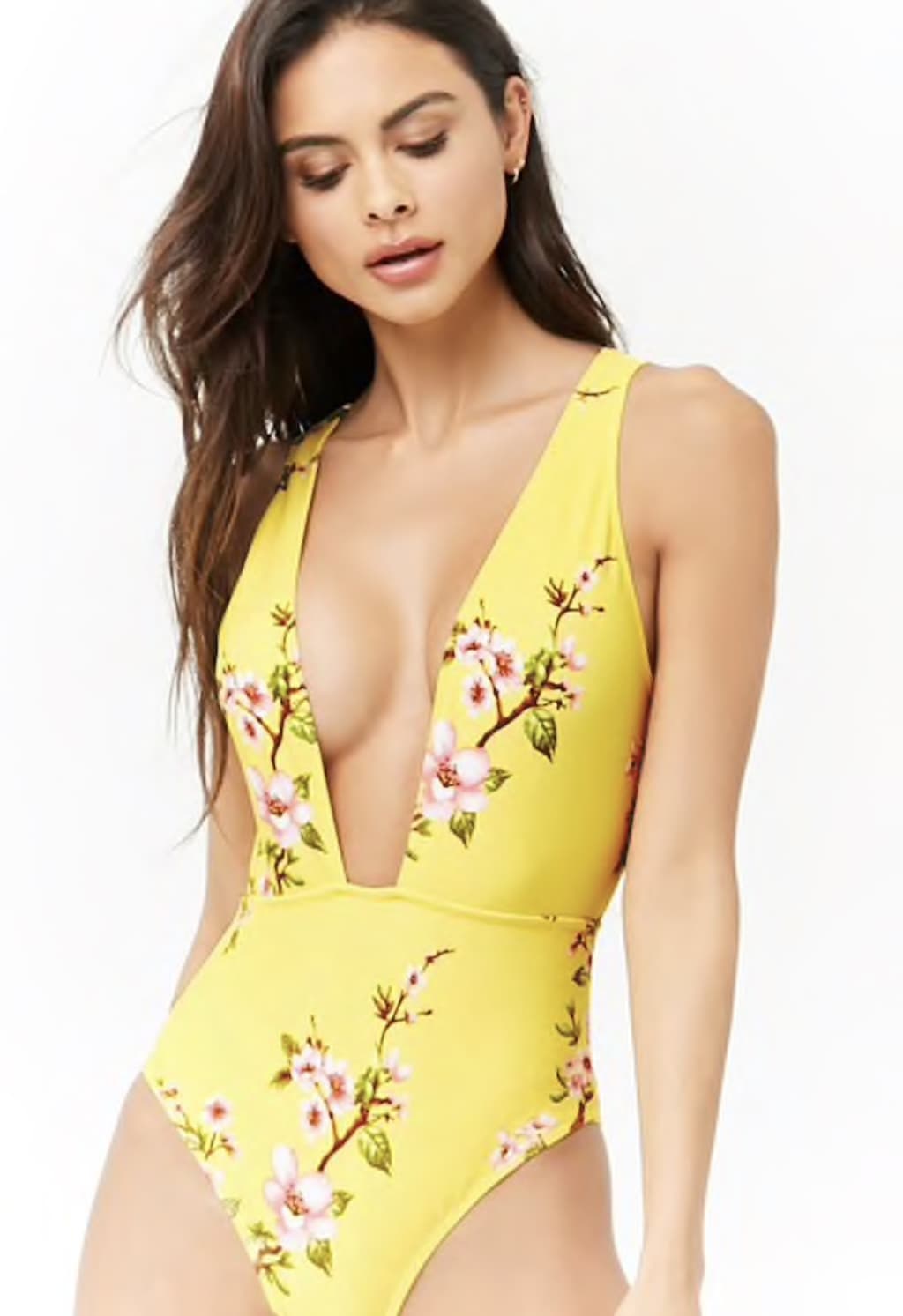 This plunging one-piece suit from Forever 21 is only $24.90 and offers a cute yet sexy look, making it a perfect suit for many different occasions.
I love the cherry blossom print because it offers a unique alternative to the regular floral prints we usually see. Paired with the bold gen-z yellow color it looks both fun and sophisticated.
4.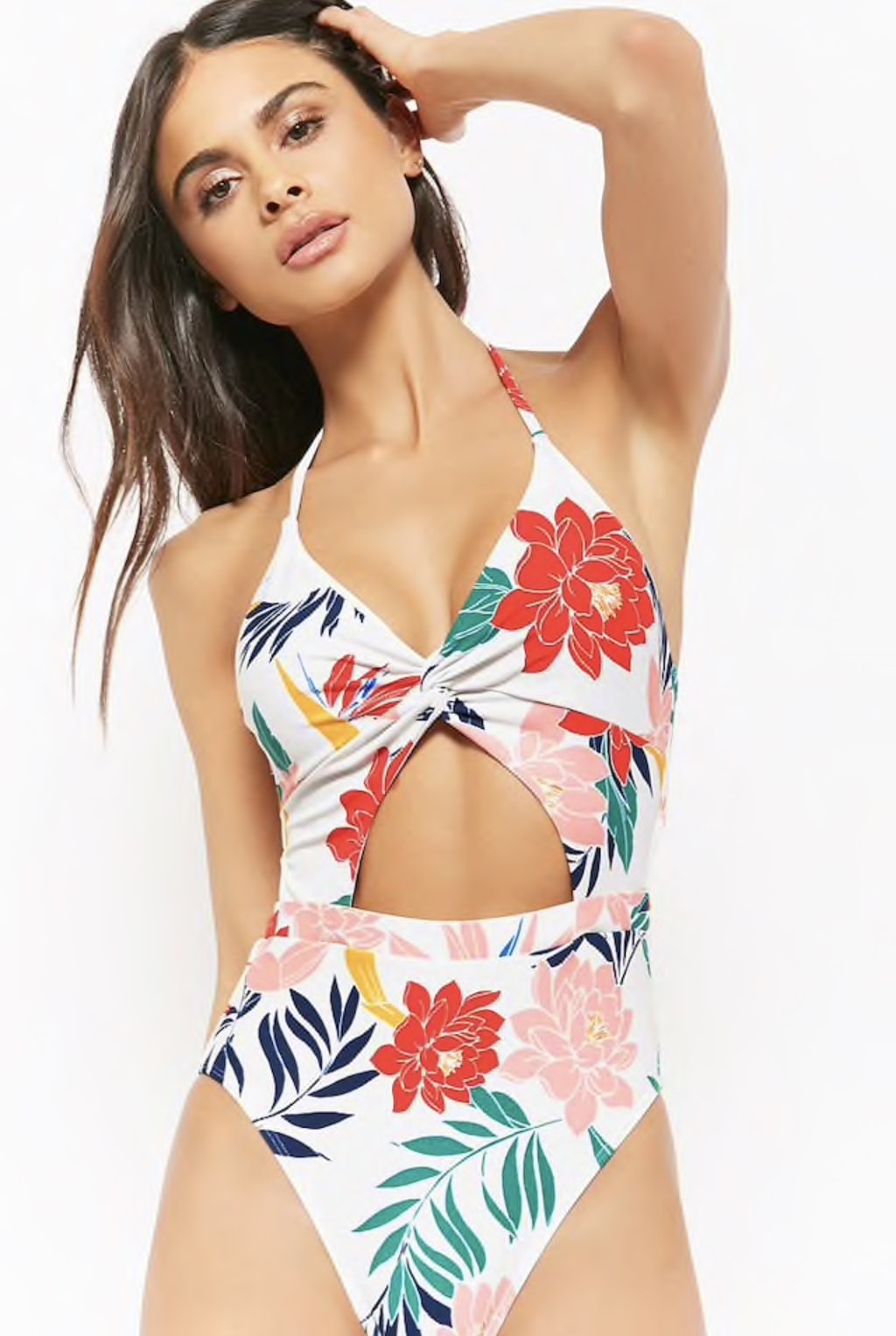 Another great bathing suit from Forever 21, this floral print cut out one-piece swimsuit screams summer in a colorful way.
Everything about this suit is light and fun. From the bold colors to the white base to the halter neckline, this is a great suit for summer that will look amazing on your Instagram!
5.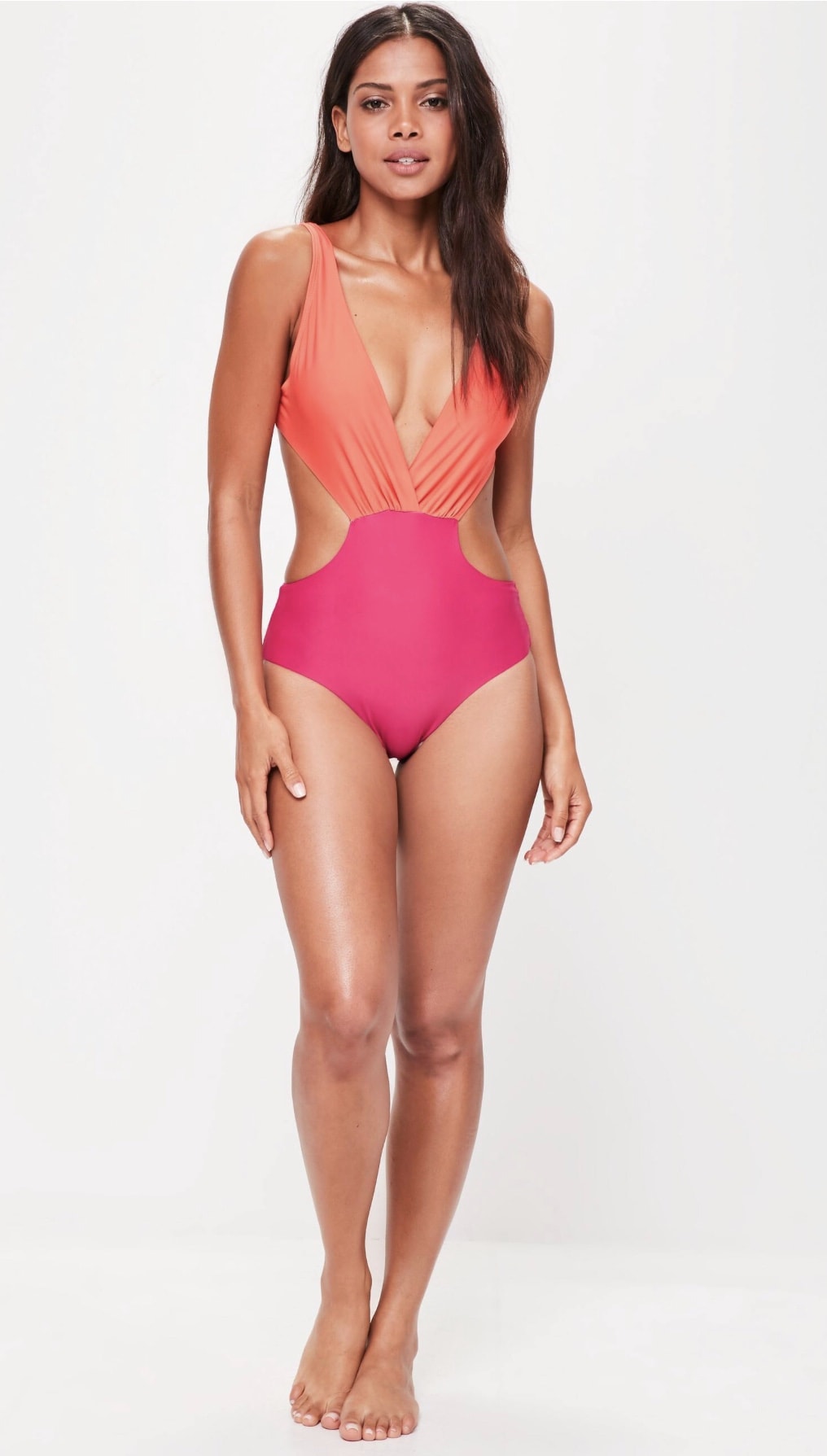 Fifth on my list of 10 one piece bathing suits under $50 is this pink and orange cut out tie back one-piece from Missguided US.
I love the plunge neckline and how the cut-out aspect elongates the torso, giving a bikini appearance with a bit of extra coverage.
This suit is bright and bold which will look great with a real or faux tan, giving you a healthy glow. This suit is only $38, making it an affordable way to look stylish on those warm summer days.
6.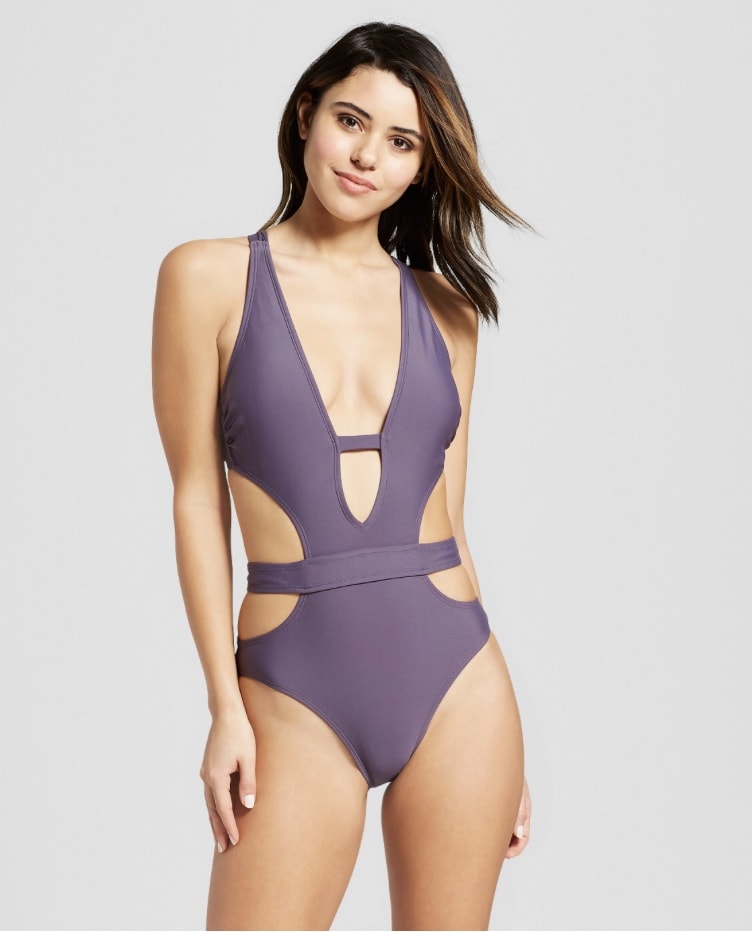 This Target swimsuit was just too cute to not include on my list. I actually bought this suit myself a few weeks ago and I'm in love.
The plunge neckline and waist-strap detailing perfectly accentuate your curves while drawing attention to your waist. This suit makes me feel comfortable and confident, which is why I think it's a perfect piece for warm summer days.
7.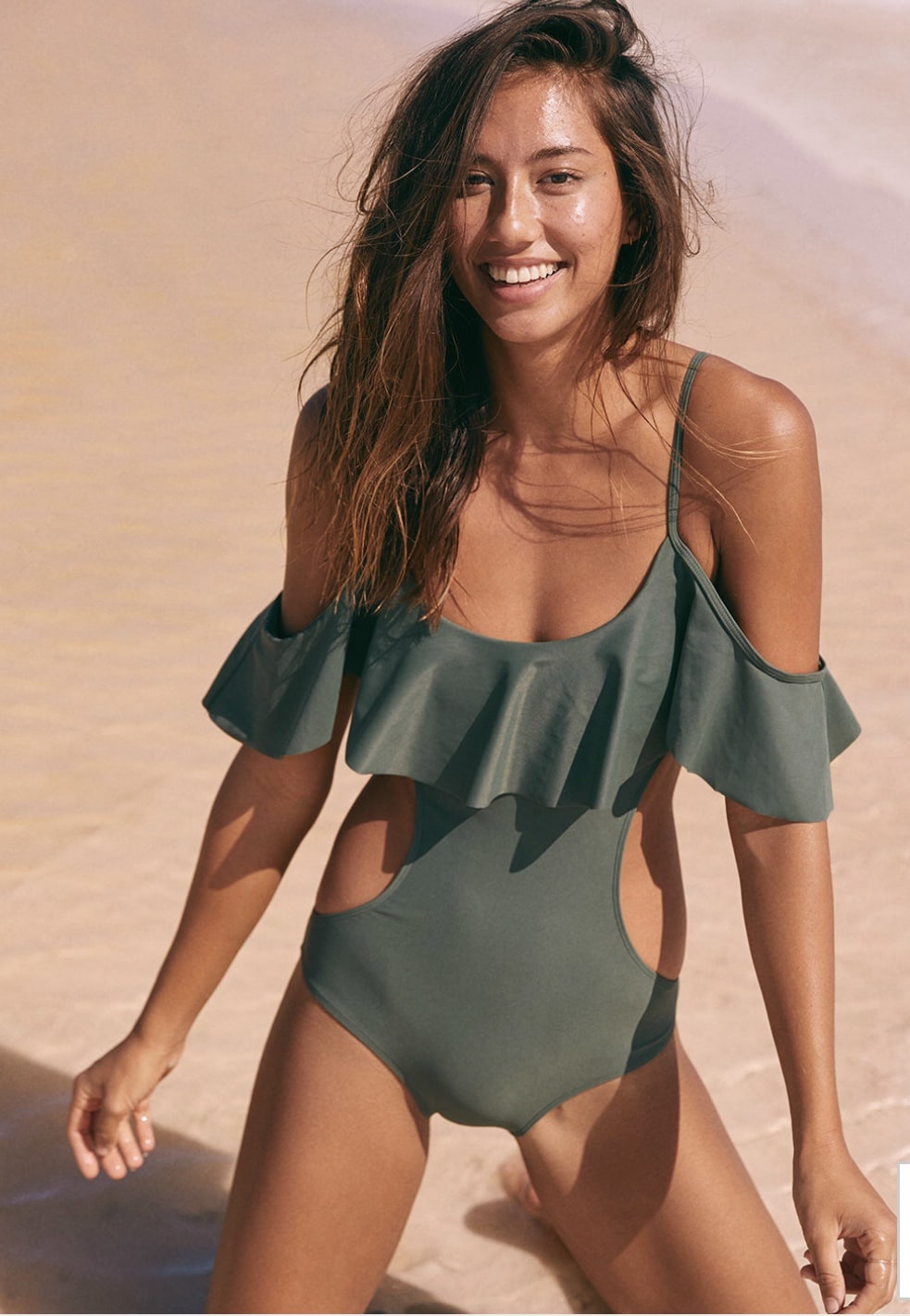 This AE cold shoulder one piece is the perfect summer swimsuit. The rich olive color makes it a great beach look that's easy to pair with many different cover ups and sandal styles.
The ruffle shoulders add a girly element to the suit. It would also look great paired with jean shorts for a cute beach-to-lunch look.
8.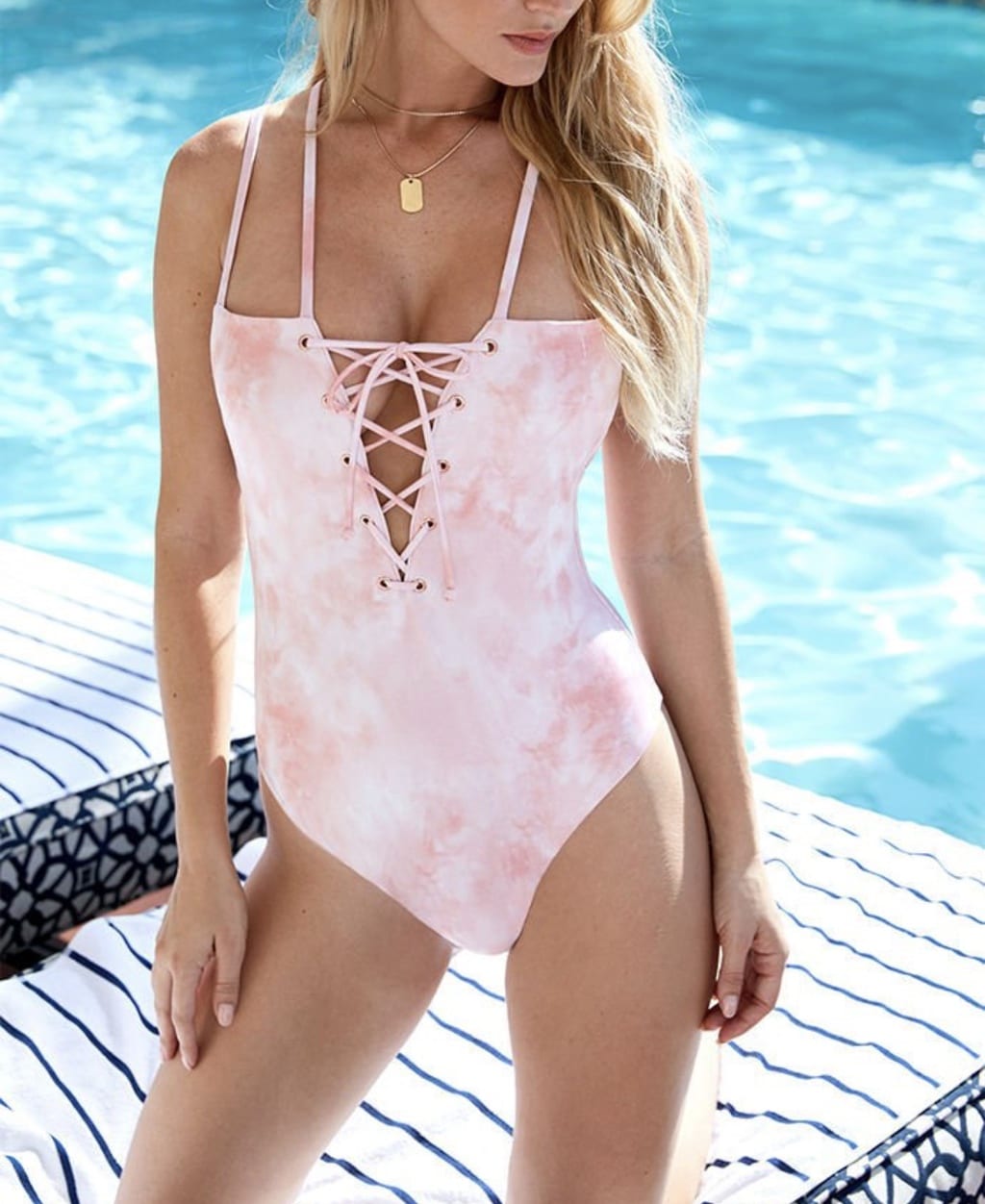 This deep-V, lace-up pink tie-dye swimsuit from Pacsun is super unique thanks to its double spaghetti straps and square neckline with a deep plunge.
It gives off perfect pool party vibes and I love the tie-dye pattern because it adds to the fun of the style.
9.
Switching it back to basic one-pieces, this Forever 21 Scoop Back Swimsuit is the perfect summer suit and it's only $15.90! If you're not into the berry color, this suit also comes in green and navy.
It's always nice to have the basic one-piece laying around because they are almost always cute and always flatter your body in the best ways.
10.
Last on my list of 10 one-piece swimsuits under $50 is this orange knot-front suit from Old Navy.
I love that although the color is bright, the simplicity of the style balances out the boldness. It looks like a swimsuit that I'd feel relaxed and comfortable in, which is why I think it's a great suit for those hot summer days.
Thoughts?
Do you own any one-piece swimsuits? What are your favorite places to shop for them? Leave a comment below!