Summer is my favorite time of the year. I love the warm weather, and I love, love, love having a more relaxed schedule. But, I confess that I have fallen into the lazy summer clothes sinkhole. You know, the one where you find yourself wearing giant, loose t-shirts to hide the sweat, plus ultra-comfy running shorts. All day. Every day.
While that combo might be acceptable at the gym, it's not really boosting my self confidence anywhere else. So lately I've been stepping it up, fashion-wise. In case you have found yourself in a similar summer rut, here are three fun, comfy summer outfits for three entirely different occasions – worn by me!
1. "Tell Me I'm Your National Anthem"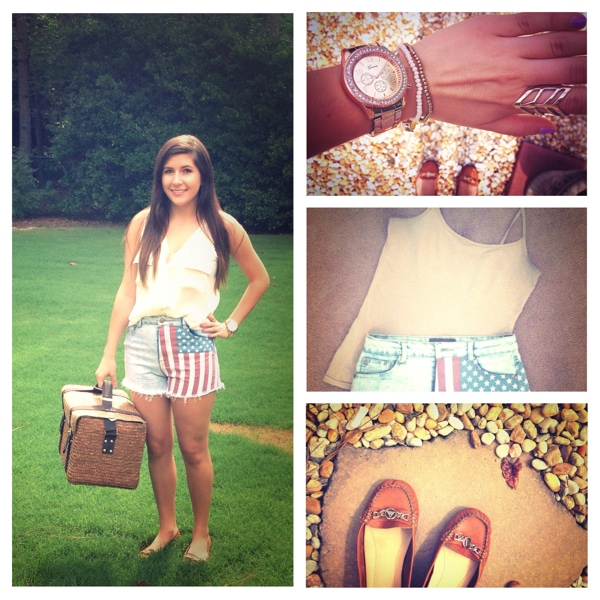 Perfect for sporting events, picnics, parks, and outdoor festivities.
It's pretty much impossible for me to look at these American flag shorts and not get Lana Del Rey's song "National Anthem" stuck in my head! Maybe you have a pair of American flag shorts left over from the 4th of July – that doesn't mean you can't wear them again. In order to tone down the patriotic feel, and make the shorts look more appropriate for the rest of the summer, I suggest not wearing anything red, white, or blue with them, and sticking to neutrals. I chose rose gold accessories and brown leather flats.
My shorts are high-waisted, and since high-waisted things have a tendency to be tight on the lower abs and hips, I wore a loose, flouncy, sheer pocket shirt. Since it is super sheer, I paired it with a secret neutral camisole underneath. If you don't have a neutral cami, buy one now! These things are unbelievably useful and look so much better under lighter clothes than a black one would.
2. The Formal Seahorse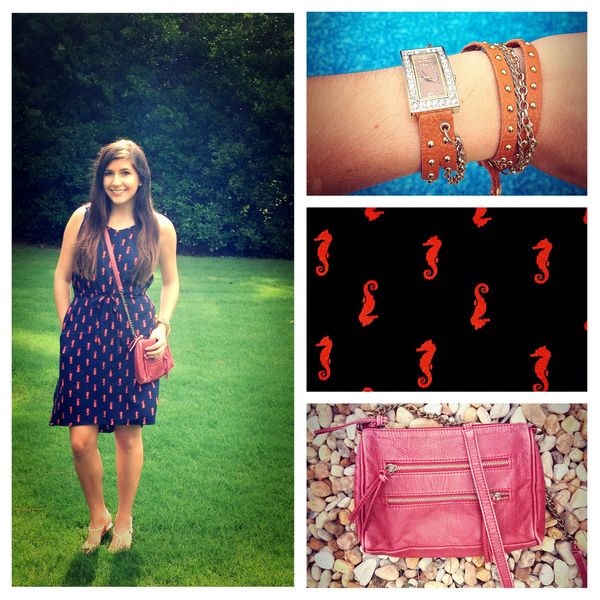 Fitting for yacht parties (do those actually exist?), work parties, interviews, family reunions, and any formal-yet-summery occasions.
I have a serious problem with buying anything covered in animals. It just makes me ridiculously happy to look down and see a bunch of miniature seahorses swimming around on my torso. Like almost all dresses, this seahorse print dress is a tad long on me (I'm 5 foot 1 1/2″), but I loved the very subtle high-low hemline and the tie on the waist. Not to mention the pockets!
As far as accessories go, I am all about the cross-body purses. Who wants to deal with massive bags and only one free arm? Once again, I'm doubling a watch as a bracelet. I have on pearl earrings and some strappy gold sandals, but wedges or flats would look good, too. Red lipstick wouldn't hurt either.
3. Seaside Crochet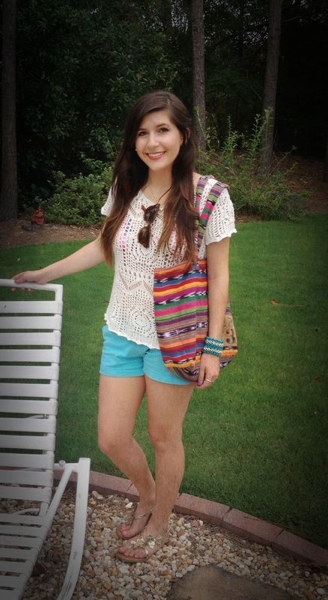 Cool enough for beaches, pools, and music festivals.
The main star of this outfit is texture. Crochet tops are so great for adding some texture, dimension, and an unexpected twist to what would otherwise be a very basic outfit. These tops are wonderful for layering your swimsuit underneath. I wouldn't wear them the whole time you're at the beach, however, unless you want some crazy tan lines!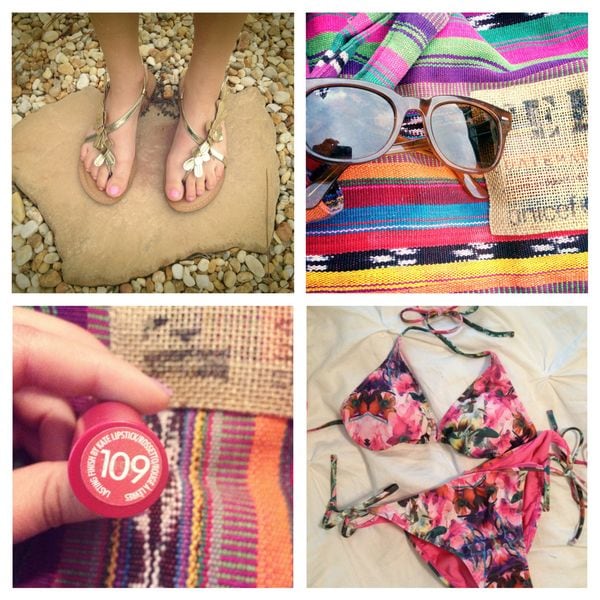 Now it's time for the accessories! Starting at the top left, we've got some crazy gold Grecian sandals. Next to those are my Ray-Bans, which are the best sunglasses I have ever worn. They are the only glasses I can leave on all day without hurting the area behind my ears. Mine were a total steal at TJMaxx. My beach bag is multi-colored geometric print, which is great since it matches everything.
Inspired by our article on orange lipsticks, I'm wearing an orangey-coral lipstick, which is Kate Moss for Rimmel's Lasting Finish in #109. My psychedelic floral swimsuit is – surprise, surprise – from Target. Target's swimsuits fit well, come in a ton of different styles, and are very inexpensive – perfect for college students.
Your thoughts?
Have you fallen into the lazy summer clothes sinkhole yet? Which of these outfits is your favorite? Tell me what looks you want to see next! Maybe some involving crochet tops or American flag shorts? Let me know in the comments!