Today, I'm going to show you a monochrome outfit. I chose this specific style because the monochrome trend can help you look put together, but the actual process of picking things that look good together takes minimal effort. Why? Because the colors already match! Perfect for a Lazy Monday.
After that, I've got your breakfast handled – and if you're a fro-yo fan, you're going to love this one. Finally, we're getting your wardrobe organized with some spring cleaning steps you can complete this week. Bye bye, weekend and hello, Monday!
Outfit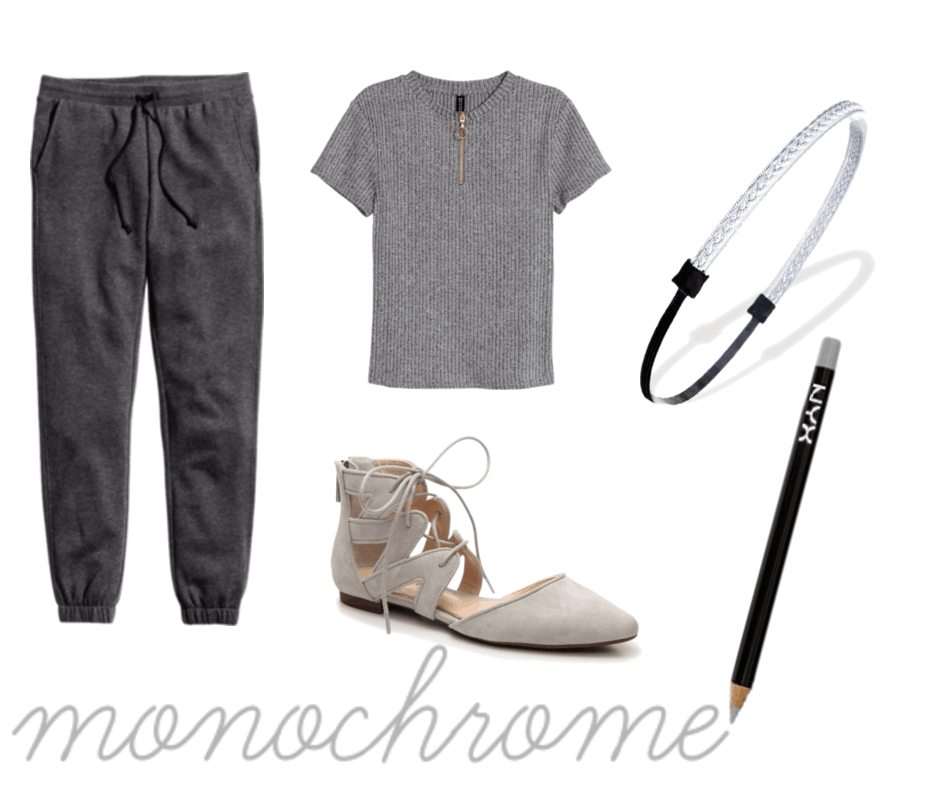 Products: Shirt, Joggers, Flats, Eyeliner, Headband
For this look, I wanted to do a monochrome outfit — a trend I've been loving lately!
I started with the classic jogger because, yes, on Monday mornings, I know no one really wants to slither into skinny jeans and we're a little too far along in the school year to try something more daring. Take note of the slightly heathered look, which adds texture and helps the gray not be so bleh. These joggers also fit a little more loosely than others, which balances out the tighter top. Balance is key in most outfits, but it's especially important in monochrome looks. This top is ribbed, which separates it from the joggers but because they're both cooler shades of gray, it'll still give you that streamlined look we're going for.
I think these flats are a great choice, especially as the weather warms up. The lace-up shoe trend is a fun one and perfect for spring. If it's still cold where you go to school, try these sneakers for that effortless athleisure look or these flats — still cute, but more practical for your feet until the sun comes out again.
For accessories, add a cute headband — the shine factor from the rhinestones is a great addition, not to mention, it's an easy solution to a bad hair day. And if you want to take the monochrome look a step further, try incorporating the color of your choice into your makeup. Eyeliner is always my go-to way to wear color. This Nyx pencil comes in a variety of shades, and it's a nice change from the traditional black that we all know and love.
I chose a neutral color to show you just how much interest just playing with fit and textures could give to an outfit, but here's a post with more color if you're still looking for more inspiration.
Morning Fro-Yo Bites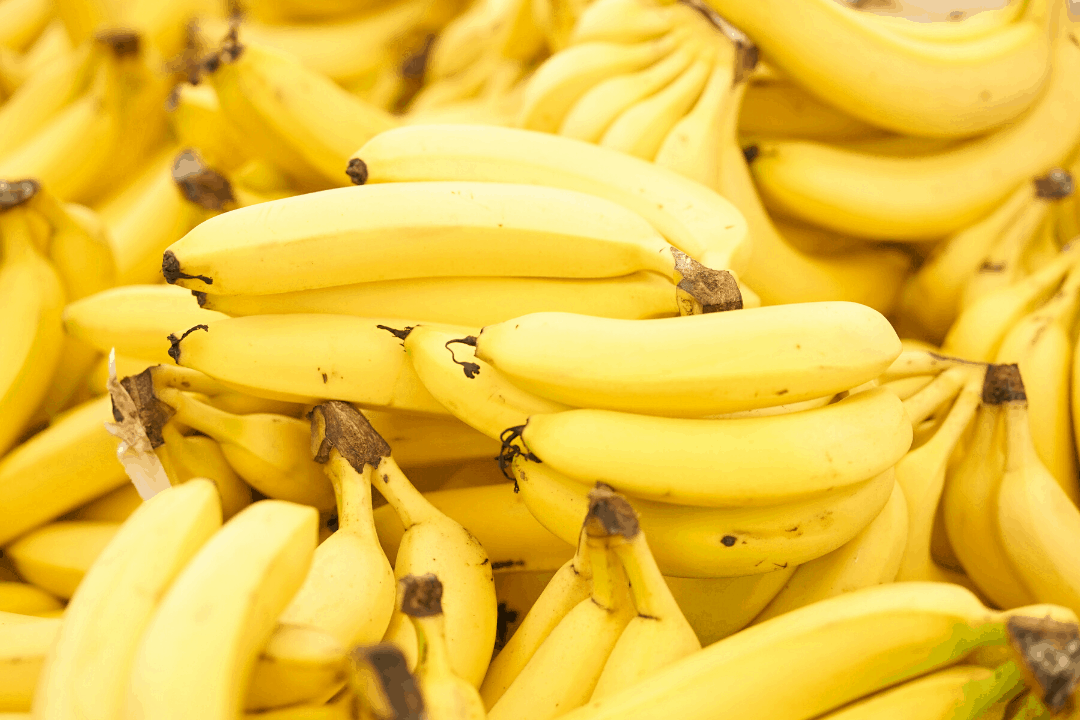 Even if it's a little colder where you go to school, these fro-yo bites might be just what you need to wake up in the morning! They're super easy and again…no-bake. (A dorm dweller's two favorite words!)
Here's what you'll need: a banana, and the yogurt of your choice.
Yes, it's that easy. You can also make a ton of these at once, so feel free to adjust the recipe as you see fit. Cut the banana into 1/2 inch slices and roll each slice into the yogurt. When you're done, put each slice onto parchment paper and stick it into the freezer overnight or at least an hour before eating. Before you stick it in the freezer, you can sprinkle on some toppings. My personal favorite is a bit of cocoa powder but coconut flakes and granola also make for a yummy treat!
Organization
In my past few Lazy Monday posts, I've talked about study tips and tricks but today, I want to talk about the bane of every college girl's existence…your wardrobe. Spring break is just around the corner (if you aren't already on break), and it's a great time to clean out your closet, take back or give away what you don't need, and start with a fresh palette for the new season.
Really, what I'm trying to say is that it's time to do some spring cleaning and get rid of that skirt you bought impulsively during that super stressful week last year.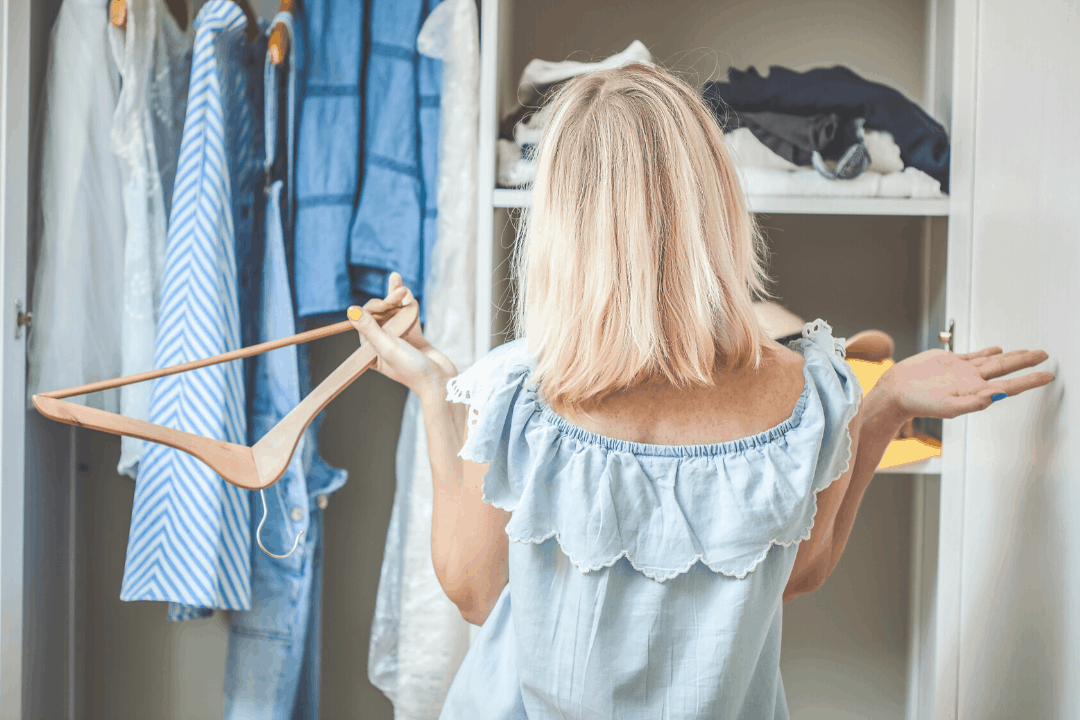 A few weeks ago, I spent a full day deliberating what to scrap and what to keep…and I went through a bunch of how-to articles and lifestyle videos (here's one of my favorites), so I've compile some of that information to share with you:
If you haven't worn it in the past year, you probably won't wear it at all. Of course, there are a few exceptions to the rule, such as formal clothing and accessories. But in general, if there's a tee hiding in the back of your drawer that you save for "working out" or "lounging around in" and it's been lounging around for a while, it's time to part ways.
Things that don't fit (anymore). We are all guilty of buying something while saying, "This'll look great after I lose 5 pounds!" The fact of the matter is that you shouldn't have to fit the clothes…the clothes need to fit you. That's their job! You'll feel more confident if you wear things that fit you instead of wiggling your way into a pair of pants while trying not to rip them.
And if you keep things purely out of sentimental value, maybe take a picture of yourself wearing it and then donate it. We all have that friend who brought their prom dress, homecoming dress, and harvest dance dress to college. If you can get a use out of the dresses and they're simple enough to wear more than once, that's great! But remember that most of these "sentimental pieces" take up a lot of space and really, it's the memory that you need to keep. Sure, it's nice to have something tangible but maybe you can take a photo and write something about it on the back instead. I attach sentimental value to everything, from pencils to pieces of paper so I know just how hard this can be…but I promise, it'll feel cathartic.
Anything with a stain or a rip needs to go, especially if you've been promising to fix it for a year and have never gotten around to it. Chances are, you never will, and the item will no longer be something you'll want to wear once you do. Do yourself a favor and just let it go.
Work out a system and stick to it. Maybe color-coding your wardrobe doesn't work for you. Maybe you need to categorize by fabric or occasion. Personally, I color code by season and then store off-season items in plastic bins. It saves space and makes storage for the summer that much easier.
Need more tips? Here are a few more ways you can organize your closet, and here's a more in-depth CF article about organizing your clothes.
What do you think?
Let me know if you found this helpful or if you have any tips of your own. Maybe you'll find some inspiration for a monochrome outfit while you're looking at everything you have in the organizing section. And definitely try out the banana recipe for a healthy sweet treat in the morning! If you have a suggestion or comment, let me know below!