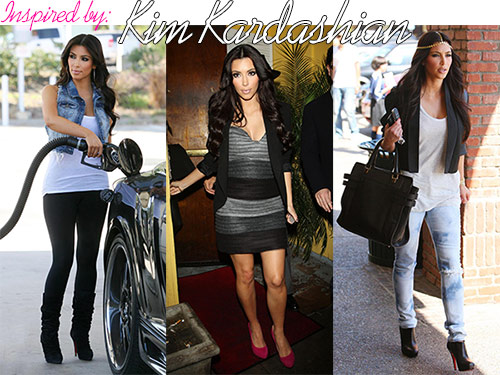 Like many others, I first found out about Kim from the media when she was reported to be dating Nick Lachey. Since then, America has entered her personal life through she and her family's E! reality show, "Keeping Up with the Kardashians."
The Armenian bombshell has been a fashion whiz since she was really young. In fact, when Kim was in high school, she used to borrow money from her dad to buy luxurious handbags and boots, which she would then resell for a profit on websites like eBay. Nowadays, Kim is heavily involved in the retail business as a part owner of DASH boutiques. This is part of where she gets her inspiring sense of style.
Kim's Casual Wear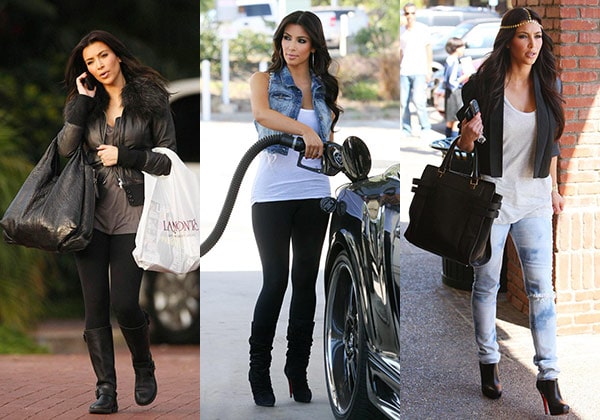 Photos: Pacific Coast News
Kim's style definitely reflects her role in the fashion world. Her outfits always have a lot of attention to detail and she often wears professional pieces, such as blazers for a more polished look. Kim also shops at a variety of stores and knows how to mix high and low. In fact, she frequently buys accessories from Forever 21 and basics from H&M! Additionally, Kim wears a ton of black, white, and gray. She also incorporates metallics into her outfits, whether in the form of a chunky silver necklace or a studded belt.
Here's an outfit inspired by Kim's casual attire…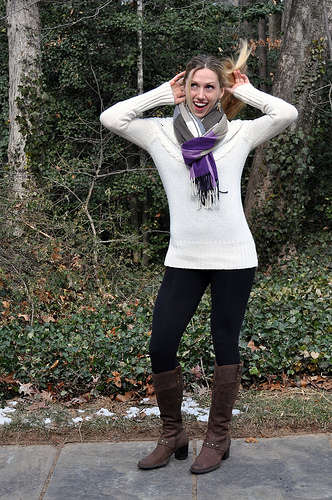 Product Information: Blazer, Gray Platforms, and Gray Top– all from Forever 21, Chain Bangle- ASOS, Bag- H&M, White Skinny Jeans- All Saints
Kim's Evening Wear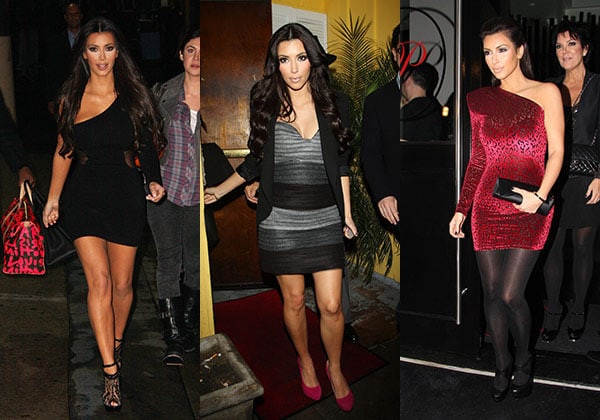 Photos: Pacific Coast News
Here we can see two of Kim's favorite fashion motifs for night- long sleeve dresses and blazers over mini dresses. Her evening looks are always very glamorous and her hair is possibly the most amazing accessory ever! Kim also wears a lot of asymmetrical dresses to events, showing that she's always on-trend.
Here's a Kim Kardashian-inspired evening look: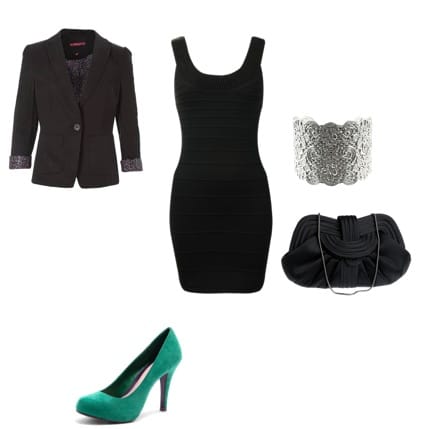 Product Information: Shoes- Dorothy Perkins, Dress- Forever 21, Cuff- Forever 21, Bag- Debenhams, Blazer- Forever 21,
Kim's Makeup and Hair
Photos: Pacific Coast News
Product Information (left to right): Flirt Eye Shadow in Second Nature- available at Kohl's, Bobbi Brown 'Chrome' Eyeshadow- available at Nordstrom, Maybelline Expertwear Single Eyeshadow in Silver- available at drugstore.com
When it comes to makeup, Kim loves to play with different looks and really go all out, although her focal point is usually her eyes. Kim's make up regimen includes mascara that accentuates her very long, feathery lashes, black eyeliner, and sometimes silver eye shadow. Kim also wears nude colored lipstick and light blush. For more on Kim's makeup, see her official website. There, she gives tons of tips and information on the exact products she uses!
For Kim's hair, she usually middle parts her long, wavy hair and curls the ends for a glamorous, sexy look. Keep in mind that Kim has long layers, so if you want this look and have shorter layers or no layers at all, you might want to talk to your hair dresser about cutting your hair or growing it out into longer layers.
What do you think?
Do you like Kim's style? If so, are there any particular aspects you like? Is Kim one of your fashion inspirations? Let us know with a comment!