This post may contain affiliate links, which means we may receive a commission if you purchase through our links. Please
read our full disclosure here
.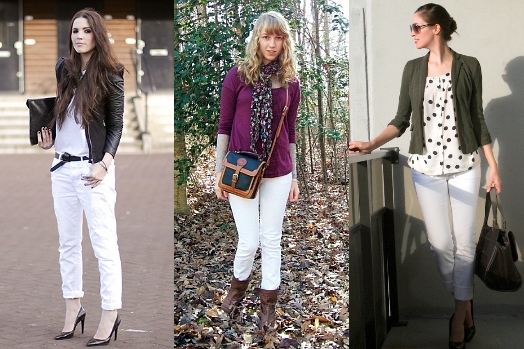 When we wrote our fall 2011 denim guide back in August, we got a ton of questions asking for ideas on how to rock über-trendy, yet tricky-to-wear white jeans during the colder months. Now that the temperature has dropped and it's officially autumn, we're here to help.
Scroll on down to read our tips and tricks for wearing white jeans in fall and winter, then check out some stylish and fall-appropriate outfit ideas. Before you know it, you'll be wearing white jeans like a pro!
4 Tips for Rocking White Jeans:
Fit matters. When you're searching for that perfect pair of white jeans, be sure to find a pair that really fits you well – don't buy anything too tight or too loose! If you're having trouble finding denim that fits just right, a trip to a tailor is well worth the extra cash for a killer pair of jeans.
Go seamless. Choosing the right type of undergarments is an important aspect of rocking white jeans — this definitely isn't the time to wear your favorite pair of hot pink bikini-style undies! Instead, look for seamless styles (we like Victoria Secret's line) in colors that match your skintone for a VPL-free look.
Take care. To maintain that gorgeous, stark-white shade, always remember to carefully follow the manufacturer's care label before you wash these jeans. Usually, this involves washing the jeans either separately or with other white clothing and drying on a low-heat setting. And, if you're prone to impromptu spills, don't underestimate the power of a Tide to Go Pen.
Be confident! Since white pants are a little trickier to wear then your average pair of jeans, having confidence is key. If you're still hesitant about wearing these jeans, at least try on a pair the next time you're out shopping — you might be pleasantly surprised. And remember, as long as you are comfortable and feel good in your white jeans, that's all that matters.
5 Fall-Appropriate Outfit Ideas
Outfit #1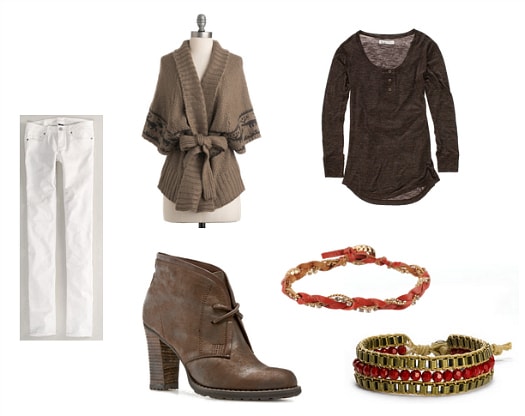 Product Info: Jeans- American Eagle Outfitters, Sweater- ModCloth, Henley- Madewell, Boots- DSW, Woven Bracelet- Forever 21, Beaded Bracelet- Nordstrom
Outfit #2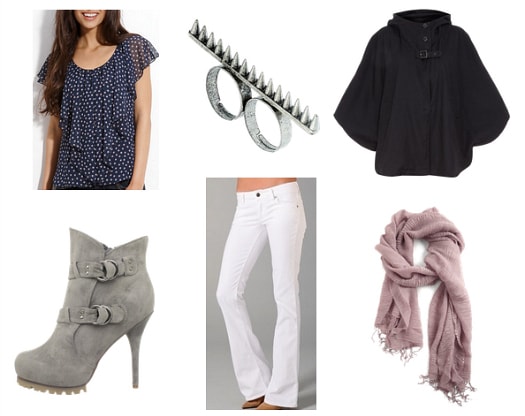 Product Info: Blouse- Nordstrom, Ring- Miss Selfridge, Coat- Dorothy Perkins, Boots- Endless, Jeans- Shopbop, Scarf- ModCloth
Outfit #3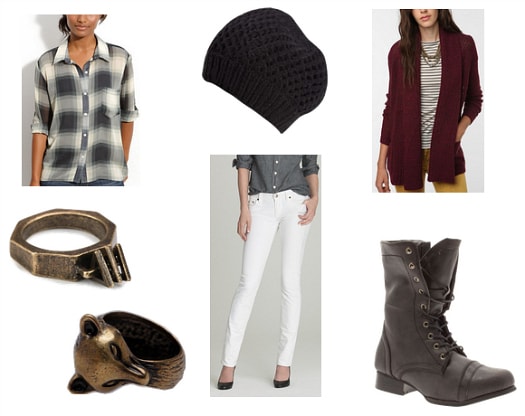 Product Info: Shirt- Nordstrom, Hat- Jigsaw, Cardigan- Urban Outfitters, Octagonal Ring- Endless, Fox Ring- Need Supply, Jeans- J. Crew, Boots- Debenhams
Outfit #4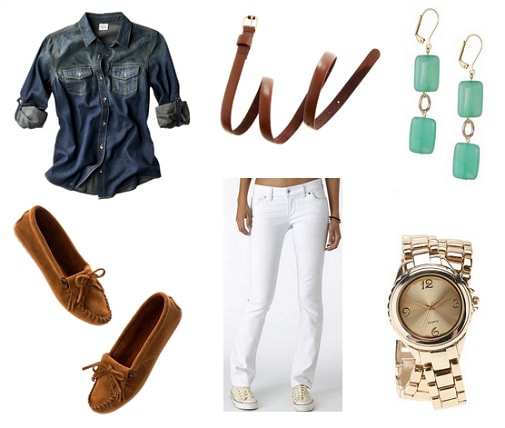 Product Info: Shirt- Target, Belt- Madewell, Earrings- Pink Mascara, Moccasins- Madewell, Jeans- Delia's, Watch- Urban Outfitters
Outfit #5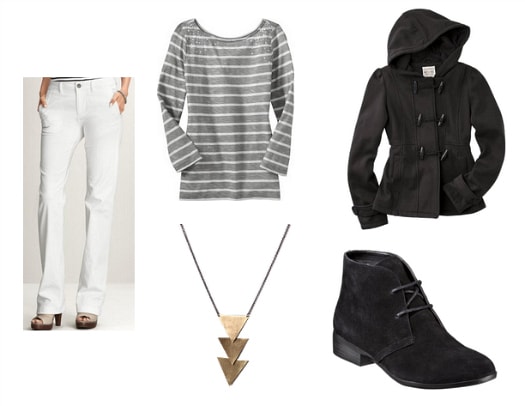 Product Info: Jeans- Banana Republic, Top- Old Navy, Coat- Target, Necklace- Urban Outfitters, Boots- Target
What do you think?
Would you ever wear white jeans? What do you think of these outfits? Which one is your favorite? How would you wear white denim? Let me know what you think by leaving a comment below!