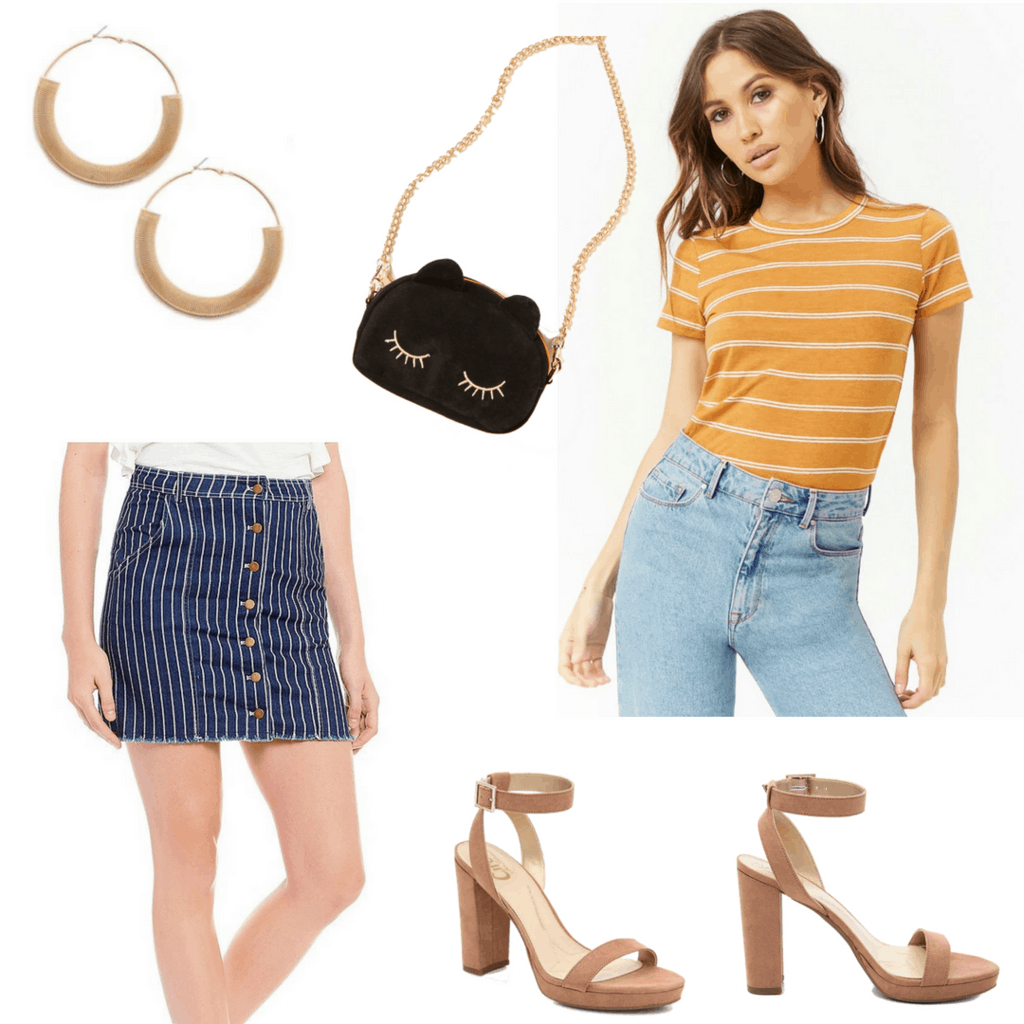 This week, I'm feeling a little nostalgic. Summer will be coming to a close soon and talk about school has already filled many of my conversations. On top of this, new TV shows are coming out with throwback settings including the 2000s, '90s, and '80s. (I don't even know why I'm feeling nostalgic about the '80s since I was born in the mid-'90s!)
For instance, Stranger Things recently came out with their new teaser trailer for season 3 and it shows Steve working at an ice cream shop in the mall's food court. Which, by the way, looks and feels just as cringey as my first job working at a small Pizza Hut in a resort hotel. Yet, it totally makes me nostalgic and has been affecting my wardrobe choices.
Anyway, I'm here to show you how to pair stripes with stripes and due to my nostalgia, these outfits may or may not have taken on some retro vibes! I hope you enjoy.
How to Wear Stripes With Stripes While Hanging Out at the Mall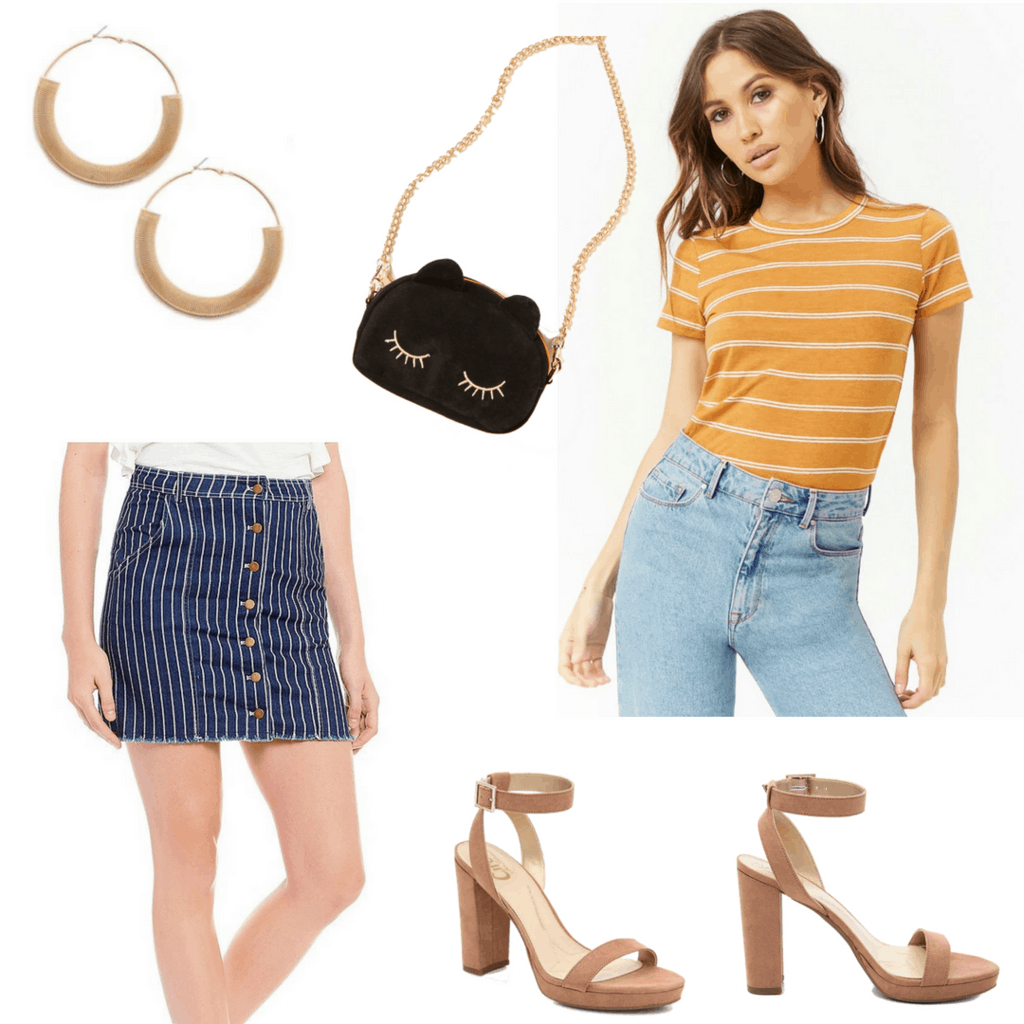 Products: Hoops – Forever 21; Purse – Modcloth; Shirt – Forever 21; Skirt – Dillard's, Heels – DSW 
After scanning tons of stores, I'm excited to report that denim skirts are making a comeback for fall (and I'm not sure how I feel about this yet). I did happen to fall in love with this striped high-waisted denim skirt from Dillard's. It's a fun and quirky take on a denim skirt while also being a little more school-appropriate than your typical micro-mini.
When I'm pairing stripes with stripes, I like to switch up the directions of the stripes by featuring them on one garment in a vertical fashion and on another garment in a horizontal fashion. This breaks up the cluster of stripes and keeps the shirt's stripes from looking like a mismatched run-on of the skirt's stripes.
With the addition of platform heels and larger-than-life hoops, you will have a retro fun aesthetic while meeting up with your girlfriends for back-to-school shopping!
How to Wear Stripes with Stripes on a Flight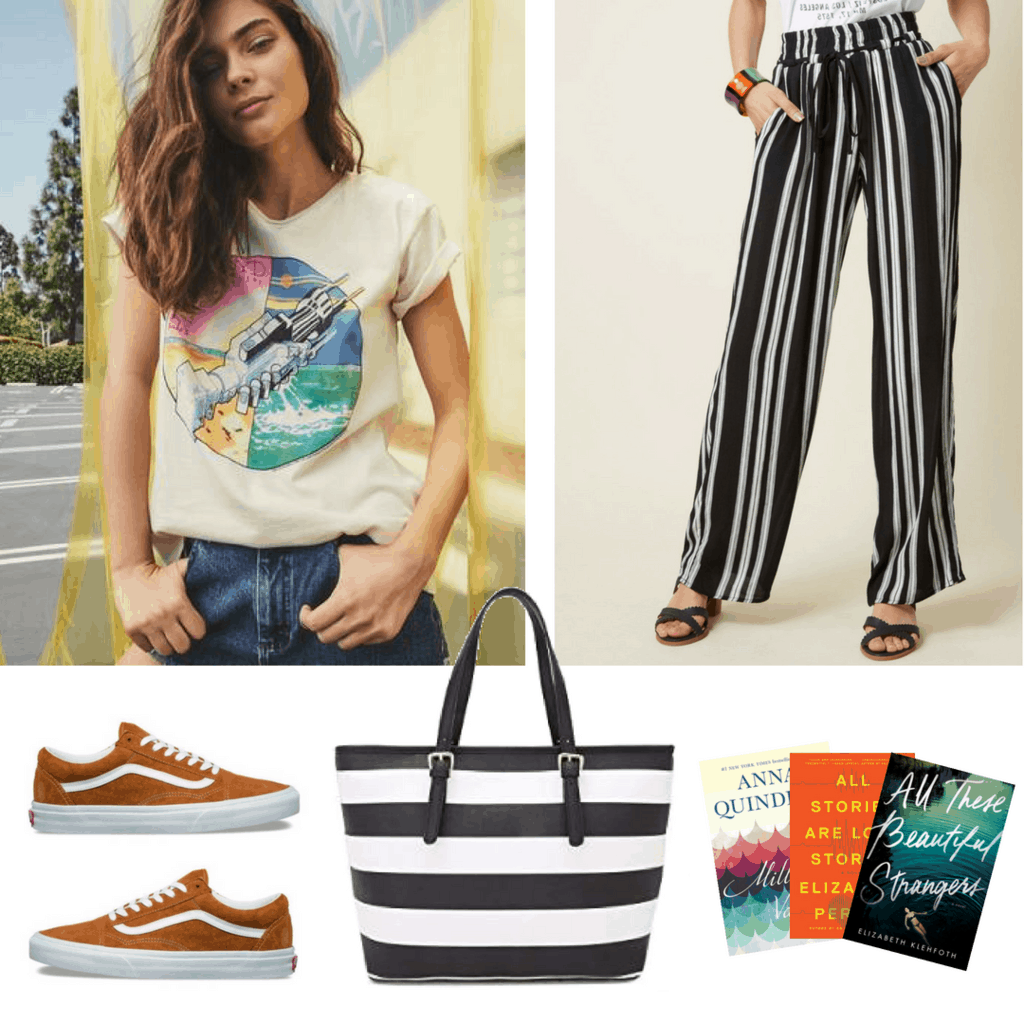 Products: Shirt – Junk Food Clothing; Pants – Modcloth; Shoes – Vans; Bag – Amazon; Book 1 – Amazon, Book 2 – Amazon, Book 3 – Amazon
A lot of us will be flying in August whether we're taking a last-minute vacation or heading back to our college towns in preparation for the Fall semester. While I would love to just show up at the airport in my pajamas, my conscience is telling me otherwise.
You can still be comfortable and look fashionable, though. Palazzo pants are my go-to when I want to feel like I'm wearing pajama pants but not look like I just rolled out of bed.
I paired these black and white striped palazzo pants from Modcloth with a larger-than-life striped bag for a perfect harmony of stripes. To look like a rocker from the '70s, throw on a psychedelic Pink Floyd concert shirt and style your hair in a wavy/shaggy long bob. After finding your old vans hiding in your closet, you will be ready to rock the flight, just fingers crossed there are no delays!
How to Wear Stripes with Stripes at the Bowling Alley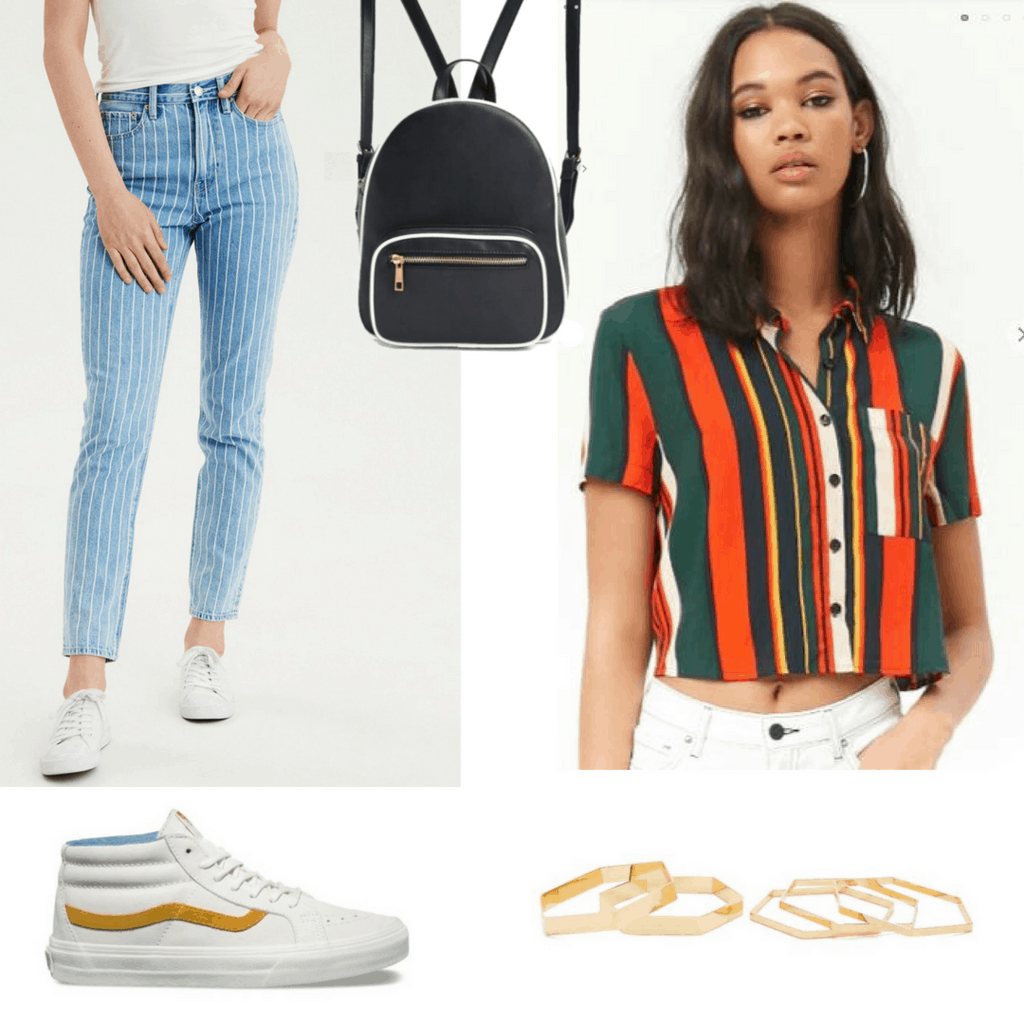 Products: Jeans – American Eagle; Mini Backpack – Forever 21; Shirt – Forever 21; Shoes – Vans; Bangles – Forever 21
One thing I love to do when I meet up with my college friends after a long summer is to take advantage of the Monday Special at Main Event. We spend the night talking, bowling, eating junk food and competing at DDR, laser tag, and pool.
For a night filled with activities, you need a laid-back outfit to fit the mood. I found these striped high-waisted jeans that look ultra cool with the multi-colored blouse from Forever 21. Although the back of the blouse isn't featured in the picture above, you have to check it out on F21's website because it has an amazing, unique cutout.
To change things up from the classic white tennis shoes, Vans have added their iconic stripe to a pair of white mid-tops — so cute! Don't forget to bring a mini backpack to carry your wallet while keeping your hands free for a fun-filled night.
What Do You Think?
For more ideas on styling stripes, be sure to see our guide to stripe outfits as seen on celebrities!
Are you obsessed with mixing patterns with your clothes? If you are, let us know some of your own tips & tricks down in the comments!