It's time for the next part in our series on adding more color to your winter wardrobe. (ICYMI, last time I shared some ways to wear red in winter.) With spring approaching, it's almost time to dig through the closet to pull out the light and airy colors of the season. However, before we jump into the pastel greens and baby blues, let's start with a year-round classic: pink!
Although some may look at pink as childish or overly gender-typical, this color can be flattering and approachable if you wear it in small amounts. Below I'll show you how to incorporate some pink into your winter outfits this week.
Bubblegum Sweater
Everyone has a sweater in the back of their closet that they just don't know what to do with, and this pink sweater is a prime example. Because of its unique fit, with its tight, half-turtleneck and baggy sleeves but tight wrist hems, it could be difficult to find a pairing. However, it's definitely not impossible to style if you have fun with it!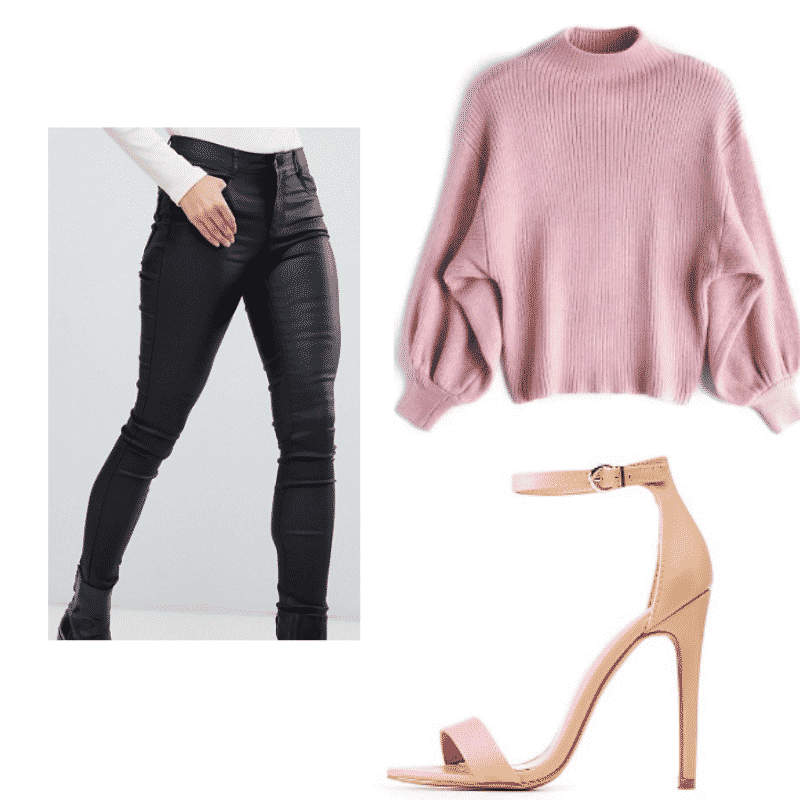 Products: Jeans – Asos, Heels – Charlotte Russe, Sweater – Zaful
For this look, we played around with girly-girl and punk rock vibes to produce something in the middle. By pairing the pretty sweater with these leather skinny jeans, while keeping a classic nude pair of heels in the mix, this look will have heads turning! While open toed heels aren't always the most practical winter shoe (and you could definitely swap in nude pumps if you preferred), with a warm sweater and heavy material jeans, you'll want to wear this outfit all year long.
Furry Friend
Colorful accent purses are so much fun and such an easy way to add personality to a basic outfit. This furry cross body is a perfect statement bag. With a baby pink color and tons of fuzzy texture, this accessory begs to be the star of an otherwise simple, chic ensemble.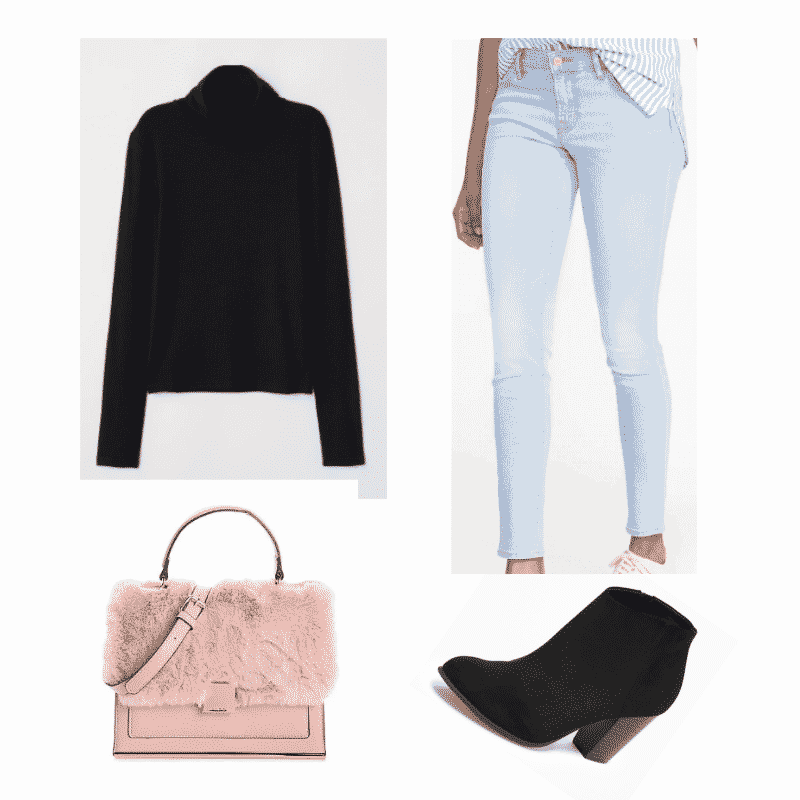 Products: Purse – DSW, Boots – Gap, Jeans – Gap, Top – H&M
I started this look with a light wash skinny jean, which looks great next to the pale pink bag. To find a shoe and sweater combo, stick to the basics and mix your favorite black turtleneck and black ankle booties. This look is simple, yet fabulous, basic, yet above average. Perfect for a first day back to class or shopping with the girls.
Slip-On Sneakers
Each and every one of us has probably worn this same sweater and jeans combo a few times this season. However, while the styling options are endless for this look, pairing it with a pink slip-on sneaker can add unexpected personality.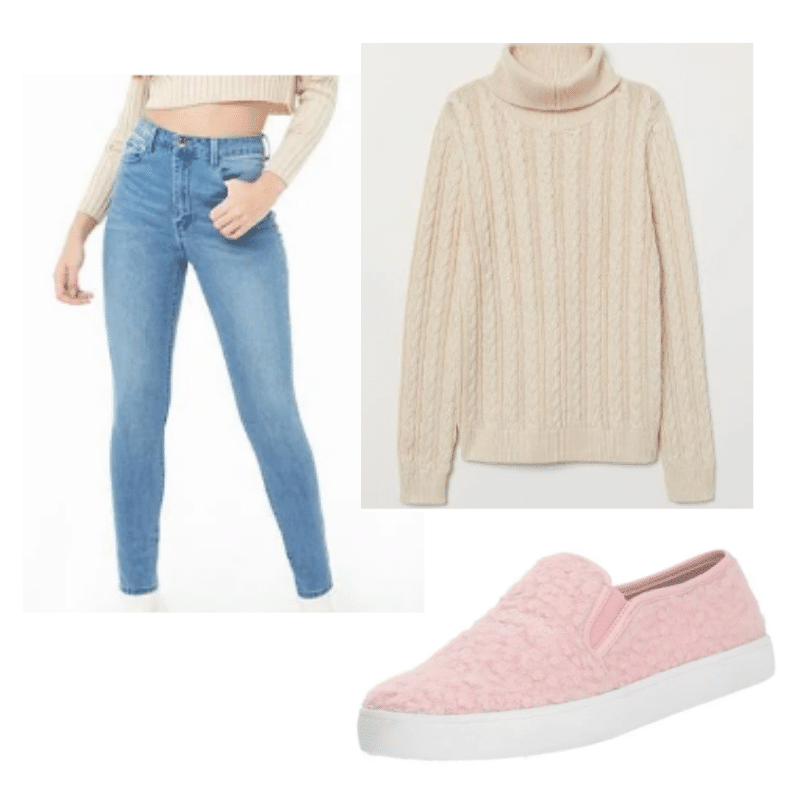 Products: Jeans – Forever 21, Shoes – Amazon, Top – H&M
There are many things that can be substituted in this look, such as the wash of the jeans and the color of the neutral sweater because the light pink shoes will pair with many combinations. This outfit would be best for casual daytime activities, but these shoes could be transitioned into a nighttime look by pairing them with a mini dress or a jumpsuit.
Fluffy and Fabulous
With fuzzy jackets being all the rage this past season, keep with the times in this extravagant and stylish look. With a combination of glam-girl and punk, this set is easily interchangeable and simple in its own way.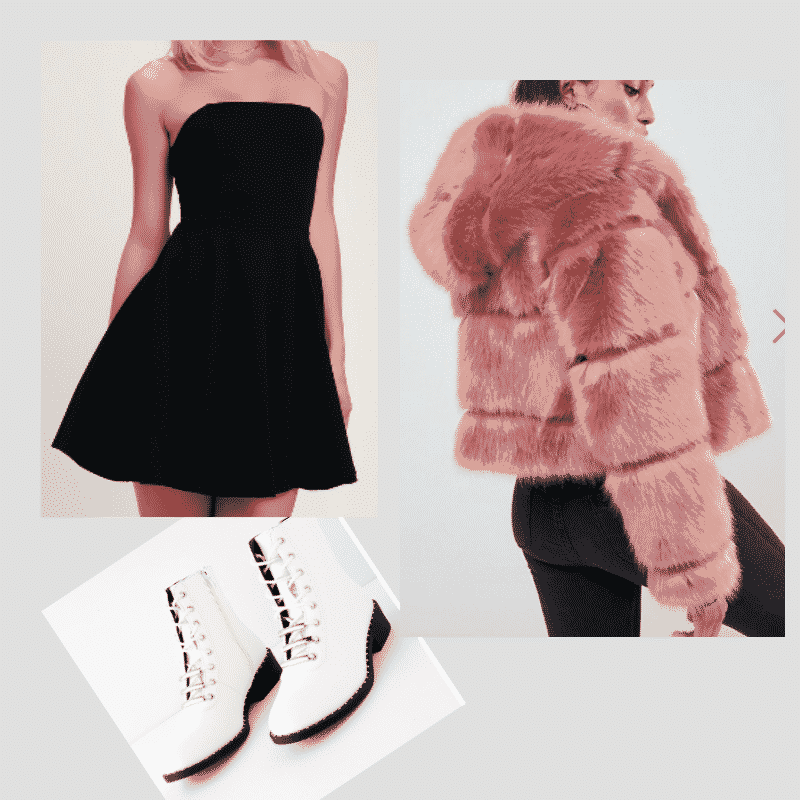 Products: Boots – Lulus, Dress – Lulus, Jacket – Asos
A black mini dress is definitely not always winter-appropriate, especially if you live somewhere cold. However, with a heavy and thick faux-fur jacket like this, you'll be good to go. Sticking with the winter theme, white combat boots add a rebellious vibe to the outfit, to contrast the furry pink and sleek black dress.
Pretty in Pink
This is one of my personal favorite go-to looks, and it proves that a pale pink sweater dress can go a long way. Pink is such a versatile color, any neutral can be paired with it to accessorize the look. You can dress up the look with metallic extras, or dress casually with basic black accents (as seen below). The choice is yours!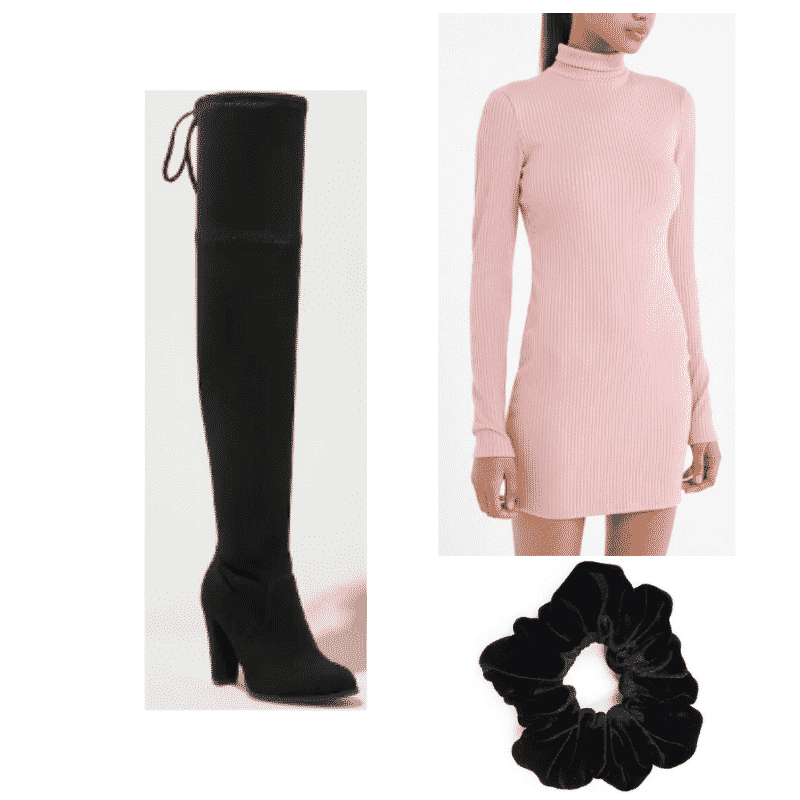 Products: Boots – Target, Scrunchie – Sweaty Bands, Dress – Urban Outfitters
With the colder weather definitely here, having bare legs isn't ideal so try pairing the sweater with thigh-high black boots. For a very simplified and basic look, a velvet black scrunchie on the wrist or adorning a high pony will create an easygoing yet chic and modern look.
What do you think?
How will you be adding more pink into your wardrobe this season? Comment your favorite tips and tricks below!