Maybe it's just me, but when hot weather rolls around, my fashion sense seems to take a nosedive. All I really feel like throwing on during the summer are lightweight sundresses or running shorts and a tee shirt.
However, thanks to Pinterest, I've renewed my inspiration for summer dressing. We all know layering is key to getting the most mileage out of your favorite pieces (see our guide to how to layer for full details), and this concept still applies during the summer.
Below are three outfits that incorporate summer layering techniques to create stylish looks that are perfect for warmer weather. Scroll down to see them all:
Outfit #1: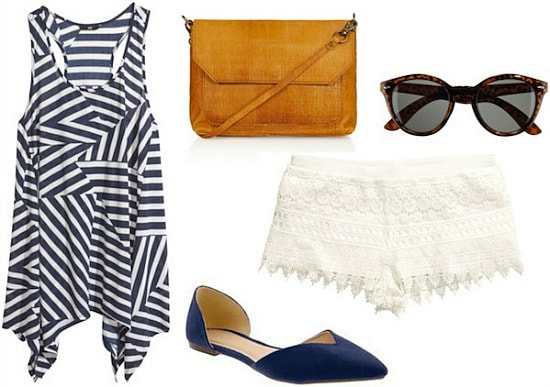 Product Information: Tank, Bag, Sunglasses, Shorts, Flats
Inspired by this outfit from Life, Love and the Pursuit of Shoes, this ensemble features a play on texture and shape that creates visual interest without adding unnecessary weight and bulk. I love the idea of lace shorts peeking out from beneath a longer top with an interesting hem, and the combination of navy blue, white and cognac looks crisp and fresh for summer.
Outfit #2: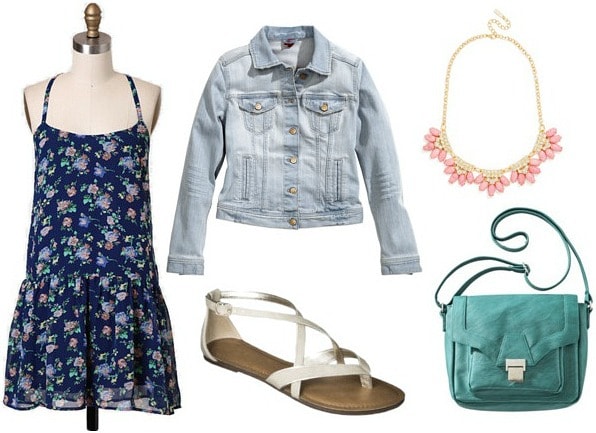 Product Information: Dress, Jacket, Necklace, Bag, Sandals
Layering a sparkly statement necklace under the collar of a denim jacket is a great way to enhance a go-to outfit. I also love the contrast of a drop-waist hem paired with a cropped jacket. Of course, you could always switch out the jacket for a denim vest on even warmer days.
Outfit #3: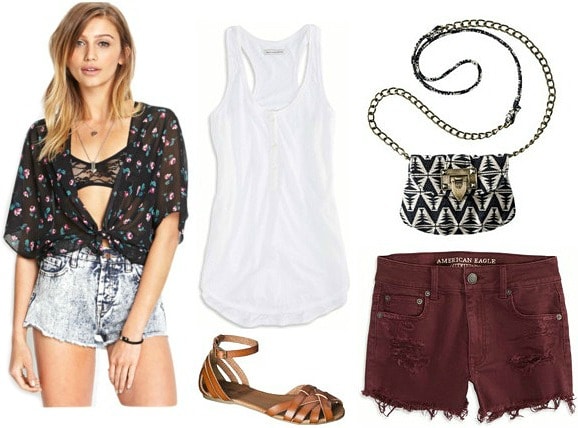 Product Information: Jacket, Tank, Bag, Shorts, Sandals
These lightweight floral kimono jackets are super trendy right now and make for the perfect summer layering piece. Play with some pattern-mixing by combining a floral print jacket with a black-and-white printed cross-body bag for a boho-chic look. High-waisted shorts, a simple tank, and leather sandals finish off this easygoing summer outfit.
Tell me what you think!
What are your tricks for looking cute during the summer months? Do you like to layer in the summer? Would you wear any of these looks? Which one is your favorite? Remember to leave a comment and tell me your thoughts!